Rad Power Bikes RadCity is a well-rounded e-bike with an affordable price tag, perfect for commuting, hauling groceries, or replacing your car.
Rad Power Bikes is a Seattle-based bicycle company known for fat, hybrid, folding, and cargo electric bicycles.
RadCity is one of its best-selling models available with a step-over (RadCity 4) and step-through (RadCity 3) frame packed with numerous accessories and zippy electronics.
Recently, the brand also launched the 'Plus' version of this e-bike, dubbed RadCity 5 Plus, which boasts more range, more speed, better brakes, and a more user-friendly design.
Keep reading for the complete rundown of this capable commuter and find out if it's the right choice for you.
RadCity Quick Specs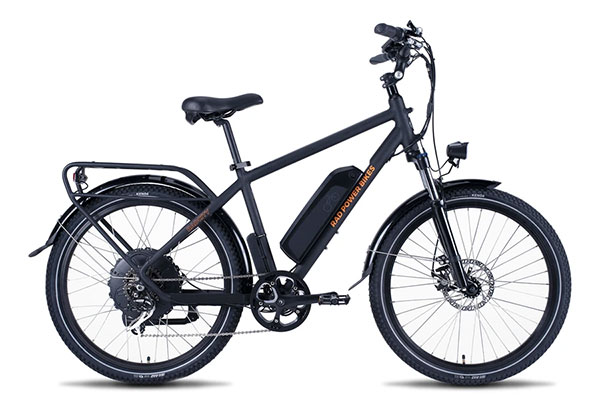 Motor: 750W rear hub motor (direct drive on older models, geared on 'Plus' model)
Battery: 48V 14Ah (672 Wh)
Range: 25-45 mi (45-72 km)
Top speed: 20 mph (32 km/h)
Payload: 275 lb (125 kg)
Frame: 6061 aluminum (step-over or step-through)
Suspension: 60 mm front suspension fork
Drivetrain: Shimano Altus 7-speed
Brakes: Hydraulic disc brakes
Extra Features: Rear rack, fenders, battery-powered lights, kickstand, PAS and throttle, puncture-resistant tires
Electric Components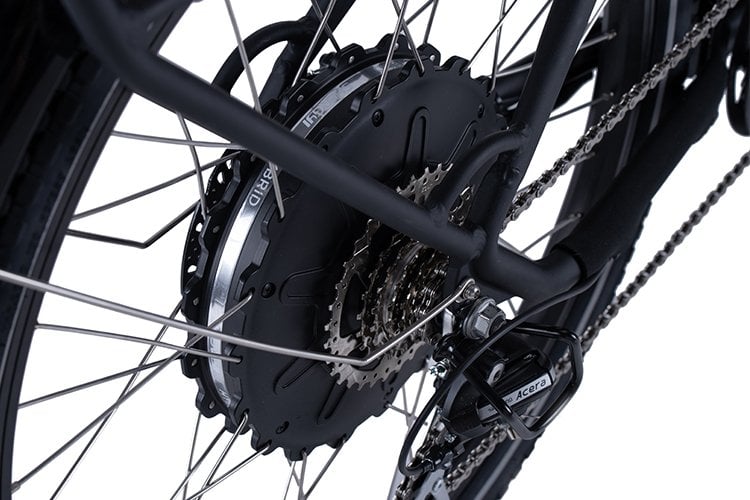 RadCity is one of Rad Power Bikes' best-sellers thanks to having competitive performance despite the affordable price.
RadCity 4 and RadCity 3 boast a 750W Shengyi direct-drive hub motor that provides smooth acceleration and features regenerative braking that recharges the battery any time you apply the brakes. This unit packs 40 Nm of torque and assists you up to 20 mph with five pedal-assist levels or a half-twist throttle.
The 48V, 14Ah (672Wh) battery promises 25–45 miles of range, depending on if you mostly use pedal assistance or rely on throttle more. The battery is not integrated but sits atop the down tube. That is a slight downside as it takes up real estate inside the front triangle.
To round everything off, a backlit LCD screen comes with numerous functions, such as a charge indicator, speedometer, odometer, trip distance, pedal assist level indicator, wattmeter, and more.
All things considered, RadCity doesn't lack power when climbing and the 30-mile average range expectancy is good enough to make you feel comfortable heading out on a long commute or leisure ride.
Drivetrain and Brakes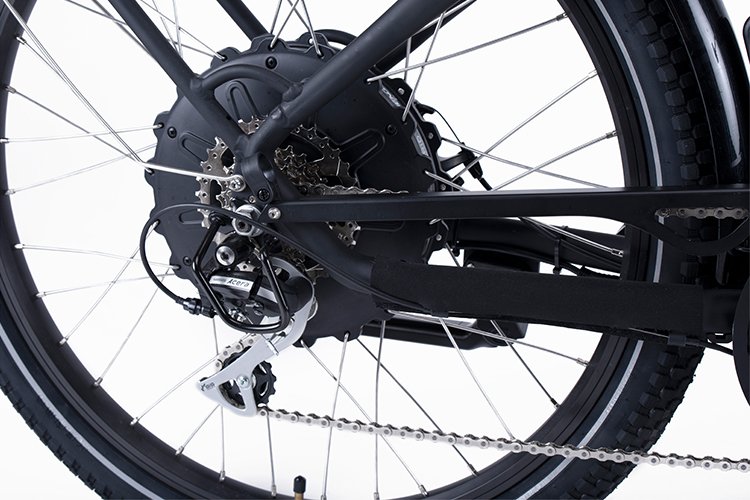 Rad Power Bikes' RadCity doesn't disappoint when it comes to other bike parts either.
It comes with a 7-speed Shimano Altus rear derailleur, which is a decent entry-level groupset. It will allow you to climb hills with more ease and pedal comfortably even if you happen to run out of battery.
Read More: Bike Groupsets
The mechanical disc brakes have lots of stopping power thanks to 180mm rotors, though they require more finger strength to actuate compared to hydraulic brakes.
Considering that RadCity's top speed is 20 mph, you will be able to stop on a dime pretty much any time, even if you're forced to perform emergency braking.
Frame and Accessories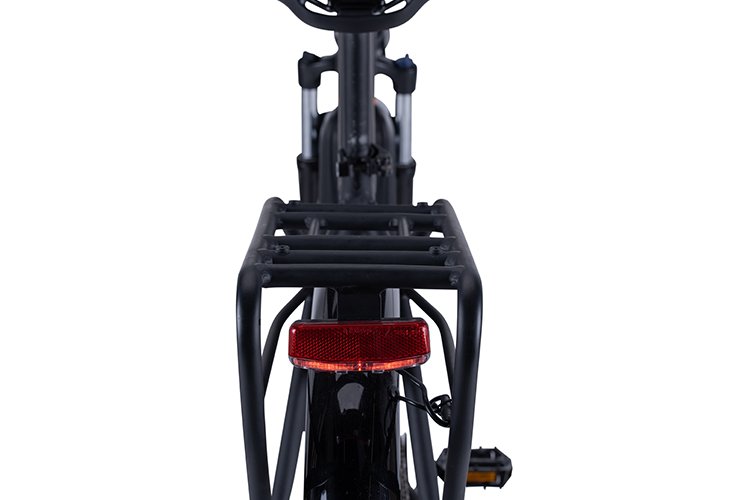 RadCity is suitable for men and women, as well as for short and tall riders. That's possible thanks to its step-over and step-through aluminum frames rideable by people with 21″ to 34″ inseams.
The frame comes complete with an 80mm suspension fork that reduces road chatter and vibration. It also makes this bike suitable for rides on gravel roads and even on light trails.
But what makes RadCity so popular and gives it the best commuter status is the accessories.
This bike has everything you'd ever need to ride to work every day, do grocery hauls, or go on long rides and picnics with your friends.
Out-of-the-box accessories include an integrated rear rack, fenders, kickstand, bright headlight, stoplight, adjustable stem, and a comfy saddle.
If you want to personalize it further, Rad Power Bikes gives you the option to also equip it with a front rack, front basket, mirror, suspension seat post, and a lot more.
In this regard, RadCity offers by far the most value for the money compared to all similarly priced models on the market. If customizability and practicality are high on your list of priorities, this commuter will check most of your boxes.
New and Improved RadCity 5 Plus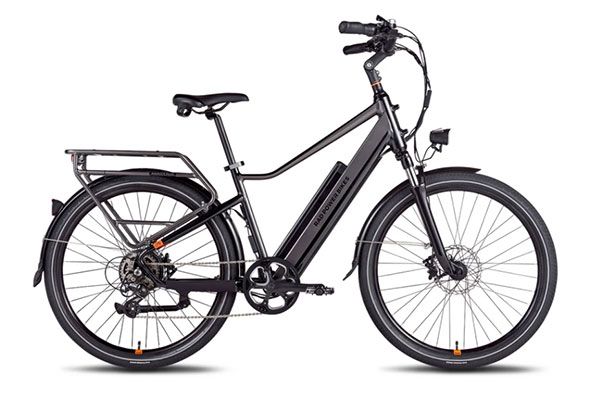 Rad Power Bikes has just launched the premium version of its best-selling commuter, named RadCity 5 Plus.
The 'Plus' in the name refers to the company's practice to upgrade an existing model by giving it higher-spec components, new features, and improved utility.
RadCity 5 Plus has a lot in common with the older models but boasts several improvements that make it more modern, more powerful, and even more practical.
What's New?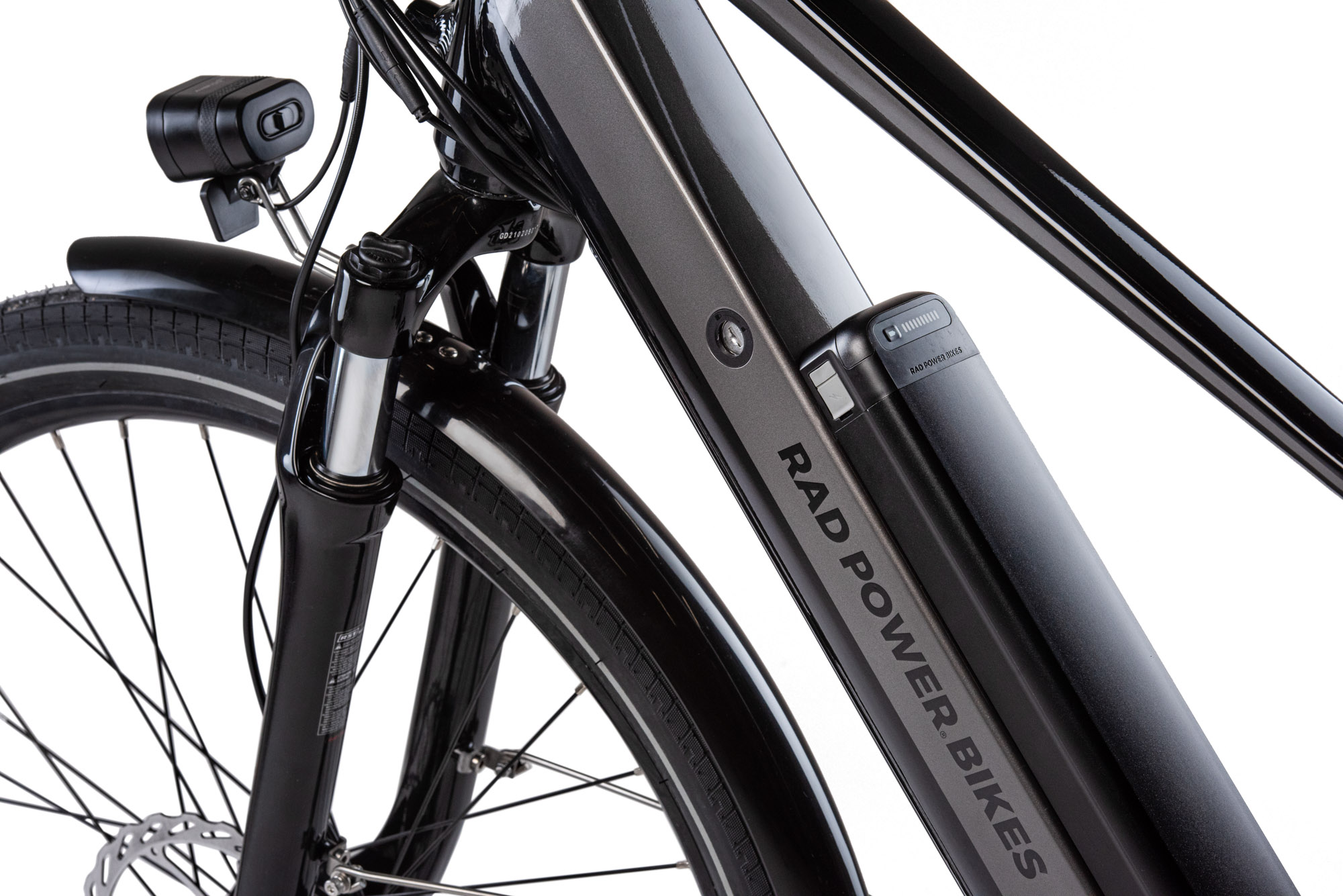 First of all, instead of a direct-drive unit, Rad Power Bikes opted for a lighter and sleeker brushless geared rear hub motor. You still get 750W of power, but the company promises 40% more speed when climbing steep hills.
The battery keeps the same capacity (48V 14Ah 672Wh) but now it's semi-integrated into the down tube. Not only does this look better, but it also protects the battery and frees up space in the front triangle. Thanks to more efficient tires, you can also expect an 11% increase in range.
Another big improvement comes in the form of two LED screens. The main one sits in the middle of the bars and shows the odometer, power, speed, distance, and so on. The auxiliary screen is located on the left, next to the remote control buttons, and shows battery charge, PAS level, and headlight status.
The brakes have also been rehauled, so RadCity 5 Plus sports powerful hydraulic disc brakes instead of mechanical discs. That's a significant upgrade, especially in terms of safety and user experience.
Finally, the old 80mm fork is replaced with a shorter model with 50mm of travel. That decreases the weight of the bicycle and lowers the geometry, which allows RadCity 5 Plus to perform better on paved roads.
All of these upgrades work well together, modernizing RadCity without making it lose its former appeal.
We have other reviews on Rad Power Bikes' too, for example, RadTrike, RadWagon, and RadRover 6 Plus.
FAQ
Final Verdict
When it comes to daily commutes, grocery hauls, and leisure rides, you'd be hardpressed to find more value than what Rad Power Bikes RadCity offers for this amount of money.
This is an excellent class 2 e-bike perfect for different types of riders with varying demands. It's no wonder this is one of Rad Power Bikes' best sellers.
The older RadCity models were already good enough, but the latest 'Plus' model offers lots of upgrades for a slight increase in price.
Therefore, if you want a reliable and affordable commuter from a trustworthy brand with great customer support, RadCity is pretty much a no-brainer.
There are no comments yet, add one below.