Check out our top selection of the best mountain bike shoes — flat and clipless — for men and women. Best models for trail riding, bikepacking, downhill, and more.
Finding the best mountain bike shoes in the plethora of options on the market is a daunting task. There are countless brands, models, closure systems, materials, and a lot of marketing fluff to go over.
The right shoes will improve your performance and comfort, making your pedaling more efficient and your rides more enjoyable.
Our guide will answer any questions you have and our list will show you the best models that have worked like a charm for thousands of riders.
But before we start, if you're new to the cycling world, see our guide on how to choose cycling shoes first.
Clipless vs Flat Mountain Bike Shoes
The first thing that you need to ask yourself before splurging on your new pair of mountain bike shoes is whether clipless or flat will work better for you.
Each type has a unique set of advantages and disadvantages and the choice boils down to what kind of riding you do and what your preferences are.
Here's a quick lowdown.
Clipless Shoes
The best clipless mountain bike shoes have metal cleats bolted to the bottom of the soles that attach to clipless pedals. With your shoe clipped into the pedal, you will have more control and better power transfer, which will make it a lot easier to pedal, bunnyhop, and climb.
However, being clipped in also means that it will be more difficult to free your foot for extra support when cornering or if you lose balance. It's up to you to decide whether the advantages outweigh the drawbacks or vice versa.
Flat Shoes
Flat mountain bike shoes are used with flat pedals, most of which have studs that provide extra grip. These shoes have flat, grippy rubber soles which come in handy if you need to walk on slippery terrain.
With flat pedals, you get more freedom to use your feet for additional support, but you lose a bit of efficiency when climbing. A lot of riders also feel uneasy riding off-road while clipped in, so flat shoes eliminate this element of fear and boost confidence.
Types of Closure Systems
Most of the best mountain bike shoes on our list come with one of the three most popular closure systems: dial, velcro, or laces. But how do you know which one is best for you?
Just as in the case of clipless vs. flats, all three systems have pros and cons. Read more about it below to find out which one fits your needs and style of riding the best.
Dial
Dial closure systems, such as BOA, SLW2, or Tecno 3, have a simple knob that you can turn mid-ride to loosen or tighten your shoe. They're extremely easy and practical to use, but they're typically found on mid-range to high-end models.
This is the preferred system of most riders, as it offers the most closing force and the best micro-adjustability. The only downside is that the parts can wear out and might need replacing after some time, which is neither difficult nor too expensive.
Velcro
Velcro is by far the most widespread closure system that can be found on shoes in every price category. It's super-easy to use it and finding the right tension is a breeze.
The only downside to this system is that the velcro straps can lose grip if they get muddy. Also, some lower-quality velcros can lose grip over time.
Laces
Everybody knows how laces work. When it comes to mountain bike shoes, laces are typically found on flat models, but some XC models also use this system.
Laces provide even pressure over the foot when tightened and can be easily replaced if they get damaged over time. Their only downside is that it's impossible to adjust the tightness mid-ride (unless you're very brave and skilled) and they can get stained over time.
How to Choose the Best Mountain Bike Shoes?
Finding the best MTB clipless shoes for your style of riding takes some time and effort. In addition to deciding between clipless and flat shoes and choosing one of the closure systems, there are a few other things to factor in.
To really nail down your choice, you should expand the equation by considering your riding style, preferred fit, weather conditions, and budget.
How Do You Ride?
Do you walk a lot on your rides or do you rarely get off the bike? If you combine riding with a lot of walking, look for flat shoes with flexible soles that will make it easier to walk. Otherwise, you can go for a model with stiffer soles that will improve your pedaling efficiency.
Moreover, if you often use your feet to support your body while cornering, consider getting flat shoes as they'll give you more freedom. Also, if you're a beginner and you're still building confidence, being clipped in might make it harder for you to relax on tough sections.
Weather Conditions
Weather can also impact which shoes you choose. If you ride in very wet and cold conditions, it's best to look for mountain bike shoes that are built to keep your feet dry and warm. As a rule of thumb, flat shoes are generally warmer than clipless because of thicker rubber soles.
On the other hand, if you ride in hot and humid areas, look for shoes that are well ventilated and made from synthetic materials that dry easily.
Consider the Fit
All bike shoes fit differently, so unless you have experience with a lot of different models, you shouldn't buy without trying. Some brands are known for making narrow shoes, whereas others make them wider. Without trying, you won't know which one fits your feet anatomy best.
Once you try them, the shoes should feel comfortable, your toes should have enough room to wiggle slightly, the arch should have good support, and your heel should not slide up and down.
---
Best Clipless Mountain Bike Shoes
---
Bontrager Evoke
BOA closure system
Heavy-duty rubberized upper material
Tough outsoles suitable for walking
A versatile bike shoe with a reasonable price tag that provides ample amounts of support and protection in the gnarliest of conditions.
Bontrager Evoke features thick Tachyon rubber outsoles that guarantee grip on slippery surfaces. The nylon composite soles are stiff enough for great power transfer but not too stiff for walking.
Your feet will thank you for the protection and breathability that the strong synthetic upper provides, in combination with the durable GnarGuard rubberized coating.
The Evoke shoes use a single BOA L6 dial to fine-tune the tension and achieve a precise fit for most riders. It's easy to use it and it allows for mid-ride micro-adjustments.
Keep in mind that these shoes provide a roomy feel, so pay close attention to the size chart to make sure you get the right fit.
These are the best clipless mountain bike shoes for trail, XC, or CX riding.
Related: Best Cycling Socks
Pearl iZumi X-Alp Summit
BOA closure system
Breathable synthetic nylon air mesh
Nylon composite Soles
Grippy rubber soles
X-Alp Summit is one of the best mountain bike shoes in terms of design if you ask us. They look amazing and come jam-packed with features that you'll be happy to have out on the trails.
The Summit's resemble running shoes more than traditional cycling shoes when it comes to the looks and the feel. They have a synthetic PU and 3D nylon air mesh that is breathable and durable, so they're ideal for hot and humid conditions.
The sticky rubber outsole gives you more than enough grip if you need to push your bike up those impossibly steep sections or even carry it over rock gardens.
What we like the most is the BOA 6-Point closure system that lets you fine-tune the fit, even while riding.
The X-Alp Summit shoes are suitable for trail and enduro rides, as the 2-bolt cleat compatibility ensures great pedaling efficiency and the rubber sole is perfect for walking.
Tommaso Montagna 100/200
Two types of closure systems: velcro or buckle
Two-bolt cleat system (cleats not included)
Reinforced armor toe box
Tommaso Montagna 100/200 shoes are affordable, versatile, and incredibly durable. The 100 model comes with three velcro straps, whereas the 200 model has two velcro straps and a buckle to adjust the tension. However, the price tag is almost the same.
The fiberglass-reinforced soles are as stiff as necessary to give you support and power transfer when you stomp the pedals hard.
On the other hand, the durable synthetic leather upper is breathable, whereas the rubberized toe box will protect your feet from impacts.
Tommaso Montagna are one of the best clipless mountain bike shoes for beginners and intermediate riders. They're ideal for XC and trail riding, as well as for commuting and touring.
SIDI Trace 2
Tecno 3 closure system
Politex material upper
Reinforced heel
SIDI doesn't need any special introduction. It has been the preferred brand of serious enthusiasts and pro riders for decades. And there's a good reason for that.
The SIDI Trace 2 shoes come with the recognizable Tecno 3 closure system that provides a customizable fit. It's combined with two velcro straps, so your feet are not going anywhere.
The upper is made from politex material that's resistant to scratches, discoloration, and abrasions. Thanks to it, these shoes will look and feel like new for longer.
The reinforced heel is a special feature whose purpose is to give you additional leverage when pedaling and provide protection.
While these might not be the best shoes for hike-a-bike adventures, they're ideal for long days of pedaling.
Related: Best Cycling Shoes
Shimano ME5
BOA L6 closure system
TORBAL torsion midsoles
Aggressive, grippy rubber outsoles
The magic of the Shimano ME5 shoes is in the materials and the sole. The aggressive tread of the rubber sole is perfect for walking on loose, wet, and slippery terrain.
When it comes to the best MTB shoes, we care both about the looks and the performance. These shoes look sleek thanks to the all-black design and the synthetic leather upper that's resistant to wear and tear.
Most riders will find the fit easy to adjust, as the shoes come with a BOA closure system paired with a velcro strap behind the toe box.
However, it's worth noting that some reviews mention that the sizing runs wide, so keep that in mind if you have long and narrow feet.
Use them for trails, XC, or CX riding and reap the benefits of stiffness and comfort.
Giro Ventana
Lightweight and stylish mountain bike shoes
Fastlace closure system
Sticky rubber soles
Giro Ventana is an elegant, sleek, and well-designed shoe that gets the job done for a wide variety of riders. These are light and breathable mountain biking shoes with a mesh upper material that lends ample amounts of airflow.
If you find yourself frequently getting on and off your bike to push or pedal during your rides, Giro Ventana is the right pick. The sticky rubber soles provide great grip, but the soles are not too stiff for moderate walking stints.
For maximum protection, the heel and toe boxes are reinforced with rubber and the footbed is made from molded EVA foam.
Those who appreciate simplicity will also like the fastlace closure system with cord lock and soft lace guides. You'll get the fit and feel of a running shoe in seconds by pulling on the cord end.
These are one of the best clipless mountain bike shoes for trails, commuting, XC, or even gravel and cyclocross rides.
---
Best Flat Mountain Bike Shoes
---
Ride Concepts Vice
Unique hexagonal outsole design
Stylish suede upper
3mm of EVA for additional support and comfort
Ride Concepts Vice are some of the best flat mountain bike shoes as they introduce some interesting features at a low price point. They were designed with dirt jump, slopestyle, and BMX athletes in mind, so you get a good idea of what they are good for. If you stick to trails or downhill, there are better choices on this list.
Vice are stylish MTB shoes with a suede upper that looks amazing and protects the feet but doesn't get along with mud and water. The D3O impact protection material under the heel and toe and a reinforced toe bumper will protect your feet.
The most important feature, however, is the outsole with an inverse hexagonal tread design. It allows the studs on the pedal to grip the shoes and eliminate any chance of slippage.
We recommend Ride Concepts Vice mountain bike shoes if you ride in dry weather and spend the majority of time dirt jumping or slopestyle riding.
Five Ten Freerider
Super-grippy rubber outsole
Lightweight and breathable
Lace closure system
Five Ten Freerider is by far one of the most popular and best-selling shoes on this list. It is a classic that has proven its worth in the real world time and again.
These skate-style shoes provide extreme grip for pedaling and walking and the oversized design guarantees comfort and wiggle room.
The outsole is made from Stealth S1 rubber, which is Five Ten's proprietary material that has great reputation for durability and stickiness. On the other hand, the upper is made from coated leather and features a textile lining for a smoother feel.
The main reason why these have been one of the best flat pedal mountain bike shoes for years is that they are light, breathable, comfortable, and perfect for walking and pedaling.
Get them if you ride trails or all-mountain routes and you need an affordable and proven option.
Specialized 2FO Roost
Grippy rubber soles
Casual design with a suede upper
Body geometry footbed
Specialized 2FO Roost shoes have possibly the best balance between appearance and performance on this list. Their casual design will make you fit in even during the after-ride cafe meetups.
Specialized proprietary rubber compound sticks to the pedals like glue and is on par with Five Ten's industry-leading soles.
Performance features include a body geometry footbed and a cushioned EVA midsole that will keep your feet snug and secure.
The upper is made from a combination of leather and suede, so it looks great and ensures breathability. However, the suede is not really wet-weather-friendly, so take that into consideration if you ride somewhere with a lot of rainfall.
Get Specialized 2FO Roost if you want one of the best flat mountain bike shoes that don't look dorky but perform surprisingly well on the trails.
Five Ten Trail Cross Mid Pro
Neoprene sleeve
Sticky rubber outsoles
Breathable mesh upper
Five Ten is the undisputed king of the best flat pedal mountain bike shoes, which they proved again with the Trail Cross Mid Pro model.
These are hike-a-bike shoes that excel both when it comes to walking and pedaling all day long. As you can see, the most eye-catching feature about them is the neoprene sleeve that keeps pebbles and debris out of the shoe.
The upper is made from a breathable, high-abrasion mesh, with toe caps that will protect your feet from impact. You also get a pro-moderator medial and lateral support that will keep your midsoles nice and snug while pedaling or descending.
Five Ten also thought about the laces getting tangled into the drivetrain, so there are bungees used to stow them and prevent that from happening.
Give Five Ten Trail Cross Mid Pro shoes a try if you love riding trails but you do a lot of hike-a-bike action as well.
Ride Concepts Wildcat
Hexagonal rubber outsole pattern
D30 insole and EVA midsole
Synthetic leather upper
Ride Concepts Wildcat flat mountain bike shoes are for those who like the casual look and the comfort that comes with it.
The rubber sole has a recognizable hexagonal pattern that grips the pedals and doesn't let go no matter the trail turbulence. The rubber is also super-grippy when walking, which you'll appreciate if some hill is too steep or if you need to walk to the cafe after the ride.
Like many other Ride Concepts shoes, the Wildcat comes with the D30 high-impact zone insole technology and EVA midsoles that take comfort, support, and protection to the next level.
The upper is a combination of heavy-duty synthetic leather and high-abrasion mesh, so it is very durable yet allows your feet to breathe and stay cool.
Buy them if you want stealthy shoes that are packed with features that guarantee on-trail performance.
Crank Brothers Stamp Lace
Specially designed rubber outsole
Ideal for gravity riders
Reliable lace closure
Crank Brothers are best known for making MTB pedals, but as you'll soon see, they make some of the best flat pedal mountain bike shoes as well.
The Stamp Lace model is intended for gravity riders who need maximum grip, protection, and support when hitting rowdy downhills.
They're equipped with Crank's high-friction, low-rebound rubber outsoles that stay glued to the pedals no matter what.
The treads on the outsoles have been carefully designed to provide maximum contact and retention with the flat pedal pins. But, this tread is also great for walking, as the rubber feels sticky even on slippery rocks.
The upper is made from a durable and breathable synthetic material that repels water and keeps your feet dry on those extra-wet days.
Get these if you want an abundance of grip, comfort, and style.
---
Best Women's Mountain Bike Shoes
---
Giro Ventana W Fastlace Women's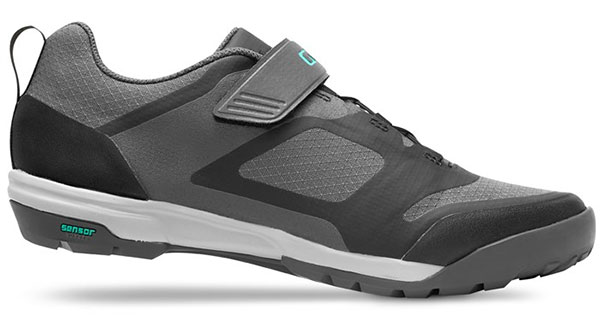 Fastlace closure system
EVA cushioning midsole
Heel and toe rubber reinforcements
Giro Ventana are the do-it-all best women's mountain bike shoes with a simple design and high-quality build. They are not too stiff to prevent short walking adventures up a steep slope, and not too soft to affect your pedaling performance negatively.
The Fastlace closure system features a cord lock and soft lace guides so it's easy to use it and it stays securely locked. The additional velcro strap on top will give you even more support on grueling climbs.
Giro Ventana shoes have a sticky Sensor rubber compound outsole and rubber reinforcements around the heel and toe. On top of that, the midsole is made from injected EVA padding, so the shoes feel comfortable and supportive.
If you need well-made and good-looking shoes to ride trails, cross country, or even commute in, Giro Ventana is a safe bet.
Five Ten Freerider Pro Women's
Stealth S1 rubber outsoles
Quick-drying synthetic upper
Reinforced toe boxes for added protection
Five Ten Freerider Pro shoes can be seen in both World Championships and on the local trails. They're the go-to choice of professionals and amateurs who want shoes that simply get the job done without too much fuss.
The Freerider Pro's success lies in the fact that it has Stealth S1 rubber outsoles that are known to be some of the grippiest in the industry.
Plus, the weather-friendly synthetic uppers are very comfortable and dry quickly, so these shoes are suitable for all riding conditions.
The comfort is also improved with the help of EVA midsoles and Ortholite insoles, whereas impact-resistant Poron toe boxes provide protection in case of a crash.
Buy Five Ten Freerider Pro mountain bike shoes if you want to find out why they are women riders' favorites.
Pearl Izumi X-Alp Divide Women's
Aggressive tread rubber outsole
Reinforced toe cap
Seamless synthetic upper
Pearl Izumi X-Alp Divide is a pair of heavy-duty yet lightweight women's shoes that are perfect for all-day pedaling.
They use two secure velcro straps to adjust tension, so it's easy to find the right fit both for your toes and the upper part of your feet.
The X-Alp Divide shoes feature a bonded, seamless upper that reduces weight, removes clutter, and improves durability. In addition, a reinforced toe cap further improves protection.
The rubber outsole has an aggressive tread that will no doubt provide more than enough grip even on muddy and slippery terrain. However, these shoes are quite stiff, so they're not ideal for long walks.
Get the Pearl Izumi X-Alp Divide women's shoes if your rides consist of day-long pedaling with occasional hike-a-bike efforts.
Ride Concepts Wildcat Women's
Super-sticky rubber outsole compound
Mid-height design
Lace-up & Velcro closure design
A well-researched list of the best women's mountain bike shoes would not be complete without the Ride Concepts Wildcat shoes. The women's version is completely the same as the men's, the only difference being in the sizing and the fit.
The Wildcat shoes have a mid-height design that provides excellent protection for the ankles, which is super-important if you ride aggressively, especially on descents. On top of that, the rubber soles are gluelike, so they'll keep your feet securely planted on the pedals.
Other features that made us include these shoes in our list include the D30 protective insoles, toe box protection, EVA midsole for comfort, and a breathable synthetic upper.
We are also fans of the casual design that will make you fit in with the crowds even off the bike.
Scott MTB Comp BOA Lady
ErgoLogic footbed
BOA L6 closure system
Durable, abrasion-resistant upper
Scott MTB Comp is a very popular model of mountain bike shoes. The low price is what makes them a favorite choice of beginner female riders, but their sturdy build is more than suitable for more experienced riders as well.
The closure system consists of a modern BOA L6 dial combined with a lower velcro strap that will keep your entire foot in place when you push and pull hard on the pedals.
The sole is made of fiberglass-reinforced nylon that's extremely stiff, so MTB Comp BOA shoes are perfect for climbing and XC routes.
If you value comfort above all else, you'll also appreciate the ErgoLogic footbed that customizes itself to the shape of your feet.
All in all, if you want to ride tough trails and super-long XC routes, Scott MTB Comp BOA are one of the best women's mountain bike shoes for all-day pedaling.
FAQ
There are no comments yet, add one below.