With the best cycling shoes on your feet, you'll achieve better power transfer, smaller chance of injury, and more efficient pedaling. Let's find out what the best ones are then!
Clipless cycling shoes provide one of the highest performance boosts of all upgrades you can make to your bike, gear, and equipment.
Your feet are one of the most important contact points between you and your bike and the bike shoes are what connect these two pieces of the puzzle.
There are plenty of choices though, so it can be hard to determine what's best. That's why we're introducing the best cycling shoes in 2023, in our opinion!
If you don't know how to choose and what to look out for, read this one first: Cycling Advice: Cycling Shoes 101
DZR JetLag Nero
Best Cycling Shoes for Casual Rides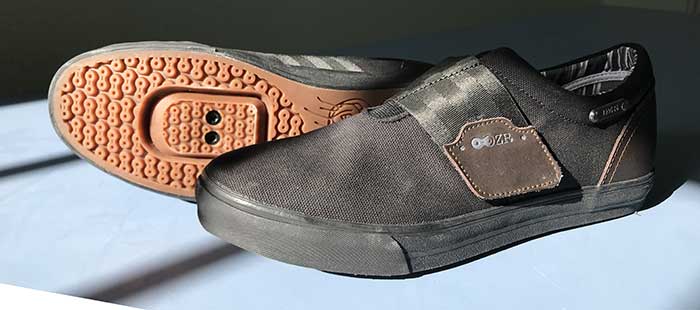 Use: Multi-purpose
Type: SPD
Colors: Black
MSRP $99
DZR JetLag Nero is a good-looking casual cycling shoe suitable for SPD pedals. If you do a long commute to go to work, neither regular shoes nor cycling-specific shoes will be a very good choice.
Related: Best Bike Pedals
That's where these multi-purpose cycling/casual shoes come into play. At first glance, you'd never say they can attach to clipless pedals. Until you look at the soles.
They blend nicely with your business or casual clothes and make your cycling more efficient.
DZR JetLag Nero shoes are made from breathable synthetic materials and have a durable natural rubber outsole that gives you plenty of grip when walking.
The one-strap design with velcro closures is easy to use and you can even re-adjust it mid-ride!
If you need a good and affordable casual cycling shoe, DZR JetLag Nego is a great choice.
Shimano RC1
Best Entry-Level Road Bike Shoes
Use: Road
Type: 3-hole
Colors: Black
MSRP $100
Shimano RC1 is an excellent entry-level cycling shoe. These are some of the best road bike shoes, compatible with 3-hole cleats.
Its lightweight nylon soles are reinforced with glass fiber which makes them super-stiff and improves power transfer a great deal.
The upper on these Shimano cycling shoes is made from synthetic leather and features 3 hook-and-loop straps that allow you to tighten the shoes with precision and eliminate uncomfortable pressure points.
Shimano RC1 also features durable, wide heel pads that provide walking stability when you're off the bike.
Excellent road cycle shoes for beginners and those on a tight budget!
Giro Privateer
Best Cycling Shoes with Laces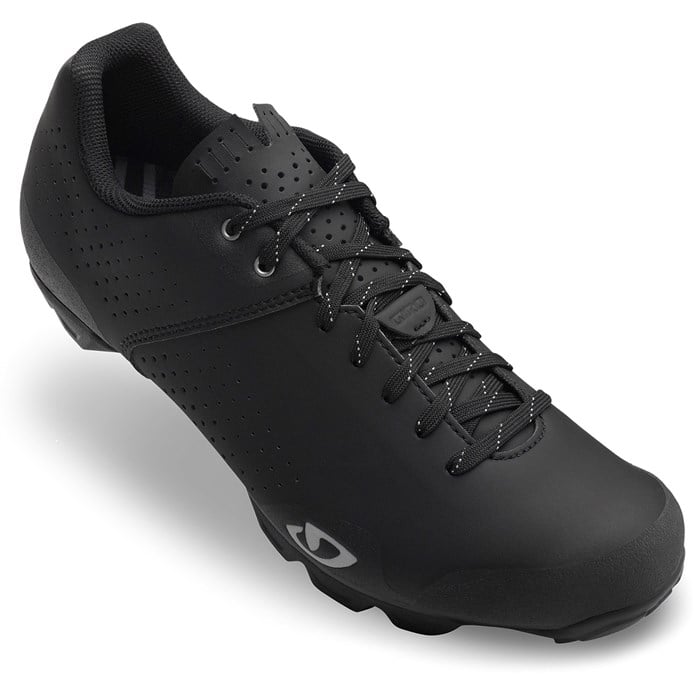 Use: Mountain
Type: SPD
Colors: Black / Olive
MSRP $140
Giro Privateer are straightforward and no-fuss mountain bike shoes. They feature old-fashioned, tried and true laces and a 2-hole design for SPD cleats.
The upper consists of breathable microfiber, ideal for warm weather. It is both welded and stitched, so you can expect it to last for a long time.
The soles are made from Co-Molded Nylon with rubber outsoles for plenty of traction. There's also a mid-foot scuff guard and a molded EVA footbed for unprecedented comfort.
So if you want a simple MTB design that's comfortable and performs well, Giro Privateer will meet your demands.
Shimano XC1
Best Cycling Shoes for All-Mountain and Enduro
Use: Mountain
Type: SPD
Colors: Black
MSRP $100
Shimano XC1 are one of the best mid-range all-mountain and enduro clipless shoes you can get. They're stiff in all the right places and soft in all other areas.
The XC1 is made from lightweight glass fiber–reinforced nylon soles that ensure excellent power transfer. The outsole is made from sticky rubber so you'll have a fantastic grip in all conditions.
The upper on these Shimano shoes is made from synthetic leather that's durable and pretty cozy. The fastening is done with 3 durable hook-and-loop straps that you can adjust on the go if need be.
If you want to feel comfortable, safe, and efficient on All-MTB and enduro rides, Shimano XC1 is a foolproof as far as mens cycling shoes goes.
Related: Best Mountain Bike Shoes
Sidi Dominator
Best Cycling Shoes for Wide Feet
Use: Mountain
Type: SPD
Colors: Black / Gray
MSRP $260
If you want to get the most stiffness and the best support, then look for the best carbon cycling shoes such as the Sidi Dominator SR7 Shadow Mega.
These are best mountain bike shoes compatible with SPD cleats, perfect for men with slightly wider feet than average.
These Sidi cycling shoes consist of carbon composite soles that provide stiffness and durability and Microtech microfiber upper that is quite comfortable and water-repellent.
The strapping system consists of two hook-and-loop Velcro straps and one Caliper Buckle 2-way ratchet strap that allows for on-bike tension adjustments.
Get these Sidi bike shoes if you want a tried and true brand loved by professionals and casual cyclists alike. Also, get them if you're looking for the best cycling shoes for wide feet.
Shimano SH-ME501
Best Cycling Shoes for Downhills
Use: Mountain
Type: SPD
Colors: Blue / Black
MSRP $170
Shimano SH-ME501 clipless shoes do not have the catchiest of names out there. However, they're an excellent trail-specific choice that attracts buyers both with its low price and useful features.
Reinforced armor provides fantastic protection, durability, and stiffness when you're on the bike. When you get off and have to push or carry your bike, Michelin's high-performance, dual-density rubber outsole will give you all the grip and traction you need.
The strapping is done with a Boa L6 dial which allows for micro-adjustments and the Torsion midsole (TORBAL) provides natural flow when you're descending.
It's obvious that Shimano SH-ME501 is a serious trail shoe with a lot to offer at a low price compared to other bicycling shoes.
Tommaso Pista
Best Value Women's MTB Shoes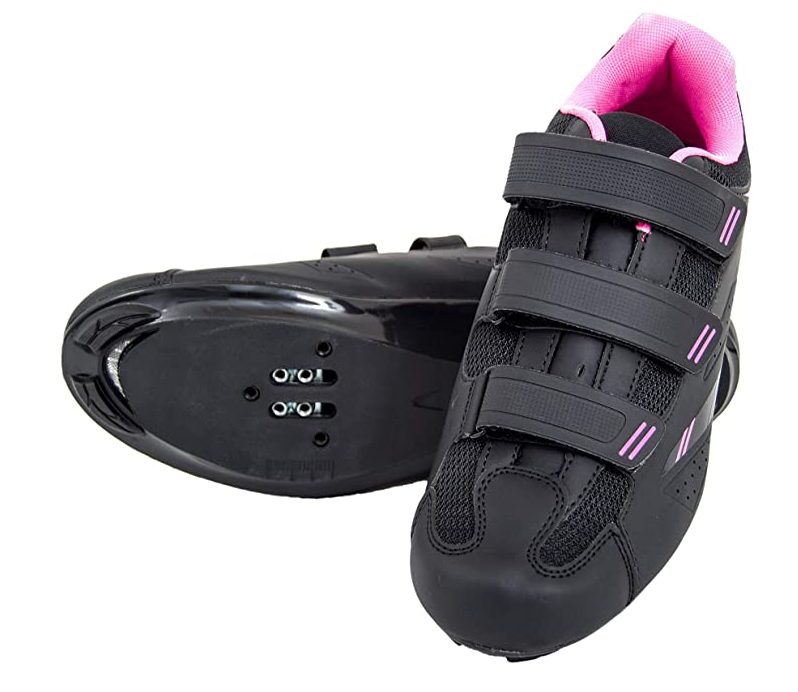 Use: MTB (Women's)
Type: SPD / SPD-SL / Look
Colors: Black/Pink, Black/Blue, White/Silver
MSRP Check on Amazon
Tommaso Pista is a mountain biking shoes characterized by excellent ventilation, stiffness, comfort, and all-around compatibility.
These are women's MTB shoes with both 2 and 3-hole cleat bolt patterns, which means that they are compatible with all types of cleats.
They feature a stiff reinforced nylon sole that provides excellent power transfer through the pedals and a breathable upper with three Velcro straps.
Tommaso Pista also features an air-port up-front for better air-flow, as well as mesh inserts for ventilation.
By far one of the best choices when it comes to versatile women's entry-level shoes, ideal for different uses.
---
ROAD BIKE CYCLING SHOES
---
Shimano SH-RC500
Best Entry-Level Women's Road Bike Shoes
Use: Road (Women's)
Type: 3-hole
Colors: Navy / White
MSRP $160
Shimano SH-RC500 is an affordable women's road cycling shoe that offers everything you need to feel comfortable on long rides and pedal efficiently.
SH-RC500 features light carbon fiber reinforced nylon soles designed to significantly improve stiffness without adding unnecessary weight. Strapping is done with a BOA system and a lower velcro strap that disperses pressure on your foot evenly.
These Shimano road shoes are compatible with 3-bolt cleats, so you can attach SPD SL cleats. They're light and breathable, which you will appreciate if you love climbing.
All in all, Shimano SH-RC500 is an excellent women's road shoe ideal both for rookies and seasoned veterans.
Specialized S-Works 7
Lightest for Road Racing
Use: Road
Type: SPD-SL / Look
Colors: White, Blue, Black
MSRP $400
If you realize the importance of clipless shoes on your riding performance and you want only the best of the best for your feet, then your search ends with the Specialized S-Works 7 road bike shoes.
The Specialized S-Works 7 Road Bike Shoes feature a brand-new Powerline carbon sole — the lightest and stiffest carbon sole to ever come out of the factory. It minimizes power loss and directs all of it through the pedals.
Two independent alloy Boa S3-Snap dials will allow you to find the perfect fit and adjust it mid-ride with ease. The heels feature Specialized's Padlock construction which improves comfort and provides better acceleration.
In short, Specialized S-Works 7 are one of the best cycling shoes that ensure stiffness, durability, and performance.
Bontrager Circuit
Best Color Selection
Use: Road
Type: 3-hole
Colors: Black / Navy / Yellow
MSRP $140
Bontrager Circuit are road clipless shoes with a 3-hole design that's compatible with all road cleats and corresponding pedals.
These shoes combine a sturdy, stiff, and light Nylon-composite Bronze Series soles that will increase your wattage. They're rated 7 out of 14 on Bontrager's stiffness index, so they offer a good compromise between stiffness and comfort.
The synthetic mesh and TPU uppers are perforated for breathable, so they provide excellent air flow and comfort. Perfect for summer rides.
Moreover, the combination of BOA and a lower velcro strap will envelop your entire foot, containing it comfortably and securely.
Finally, Bontrager Circuit shoes are available in three colors, so it's easy to match them to your bike and outfit.
Pearl Izumi Sugar
Best Women's with Laces
Use: Road (Women's)
Type: SPD / SPD-SL / Look
Colors: Black-Pink
MSRP $130
The Pearl Izumi Sugar clipless shoes are the perfect combination of the modern and classic cycling world. They feature a lace-up system and a stiff, high-tech sole.
If you're old-school and you prefer lacing up your shoes, Pearl Izumi Sugar is a great choice for women.
Another reason why these are excellent road bike shoes is that they have a stiff carbon fiber plate under the ball of your foot that ensures the best power transfer you can get. Moreover, the upper is ventilated and breathes well.
These Pearl Izumi shoes are compatible with both 2-bolt and 3-bolt cleats, which gives them plenty of versatility.
Giro Rumble VR
Best Cycling Shoes for Commuters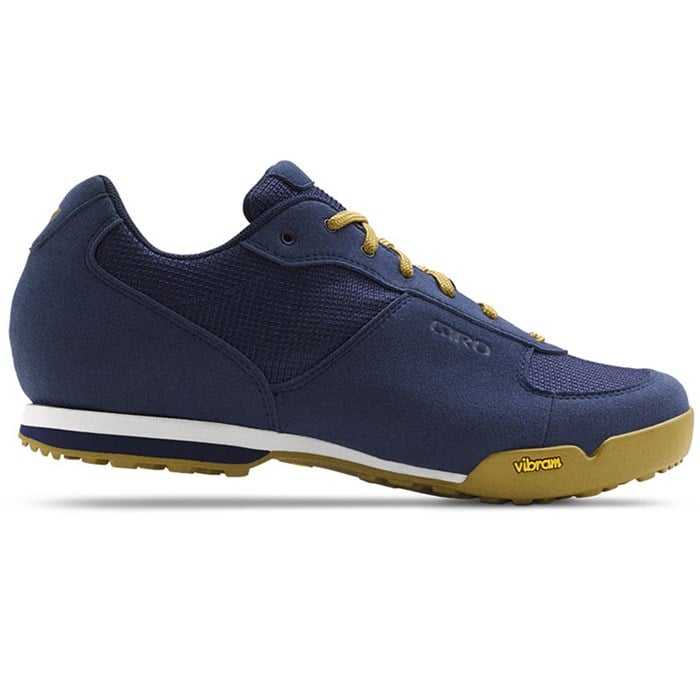 Use: Casual
Type: SPD
Colors: Black / Blue
MSRP $100
Are you interested in reaping the benefits of clipless shoes but you think most of them look kind of dorky? Then Giro Rumble VR is the right choice for you.
These are SPD cycling shoes that double as everyday casual shoes you can wear to work, school, or to the store.
They have a soft rubber sole with a deep recess reserved for cleats. This means that they won't scratch and click on hard surfaces as you walk down the pavement.
The upper is made from synthetic leather and ties with simple laces.
Giro Rumble VR shoes are pretty stylish as well and go perfectly with any casual clothing combination.
FAQ
Final Thoughts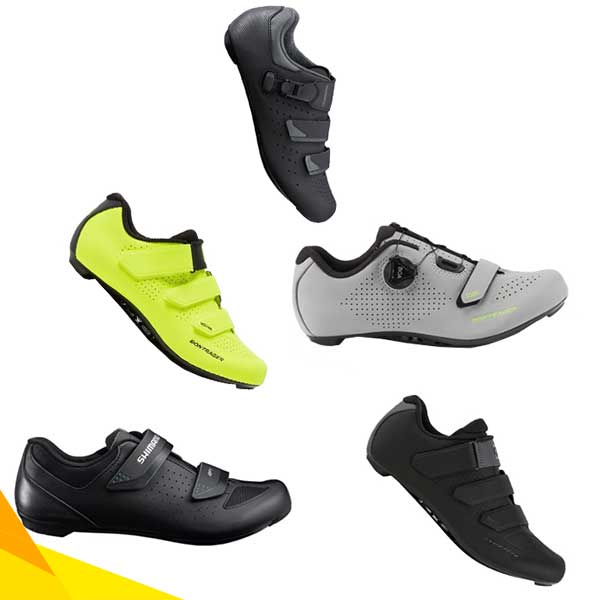 Making a switch from platform pedals and casual shoes to clipless pedals and bike shoes is one of the most significant changes you can make when it comes to improving your cycling performance.
That's why we spent the extra time to create a versatile selection and help as many confused riders as possible.
This list includes a variety of cycling shoes suitable for beginners, professional riders, commuters, and casual riders. There are models for narrow and wide feet as well.
If you have experience with any of these shoes or you have any questions or comments, let us know in the comments below!