Here are our top picks of best bike pedals for road cycling, mountain biking, and gravel riding. Clipless and flat models for different applications!
Choosing the right type of pedals for your bike and your style of riding is incredibly important. After all, your pedals are one of the three most important contact points on the bike—the bars and saddle being the other two.
Note: If you're new to the cycling world, make sure to read about cycling shoes to learn about how they work, different types, and what to look out for.
With the right bike pedals, you'll improve power transfer, reduce the chance of injuries, as well as increase confidence and comfort.
So without further ado, here are the best bike pedals for mountain biking, road cycling, and gravel riding that offer the most bang for the buck!
Consider Also: Used Bike Pedals on The Pro's Closet
Best Mountain Bike Pedals
---
1. Race Face Chester
The Best Mountain Bike Platform Pedals
Replaceable steel pins
Serviceable internals
Tough pedal body
Seven colors
Race Face Chester is one of the best mountain bike platform pedals that don't cost much. They're built around a slim and lightweight concave platform that provides excellent grip and support when pedaling.
Related: Best Cycling Shoes
The pedal body is made from a nylon composite, which is a tough and light material, so the pedals weigh just 12 ounces. They can handle a lot of bashing and trashing on rocks and roots before you'll see any serious wear.
However, what made us include the Race Face Chester pedals is the 8 replaceable hex traction pins per side. These are made from steel, so they're super durable and provide all the traction you need even in muddy conditions.
Perhaps most importantly, the Chromoly steel axle is sealed and the internals (cartridge bearings and DU bushings) are easily serviceable. Therefore, if you take good care of them, these mountain bike pedals can last you for years.
2. Shimano XTR PD-M9100
Best Clipless Mountain Bike Pedals
Lightweight aluminum body
2 axle length options
Best for XC and trail riding
Shimano XTR pedals have been the go-to choice of MTB racers for years. The reason is simple—they're the pinnacle of SPD engineering and the best clipless mountain bike pedals around.
The XTR M9100's body is made from aluminum and has a wider contact area for better power transfer. The design sheds mud better than ever before and offers better support when pedaling.
To ensure the best possible fit, you can choose from two axle length options, with a three-millimeter difference in length.
Other notable features include adjustable tension, serviceable bearings, and a bulletproof body. The PD-M9100 pedals weigh just 310g, so they'll not weigh you down while grinding your way up toward a KOM.
Shimano XTR pedals are slightly up there with the pricing. However, they'll give you unmatched pedaling efficiency, especially if you're a racer or a serious amateur.
Related: Best Mountain Bike Shoes
3. OneUp Components Aluminum Pedal
Durable Mountain Bike Pedals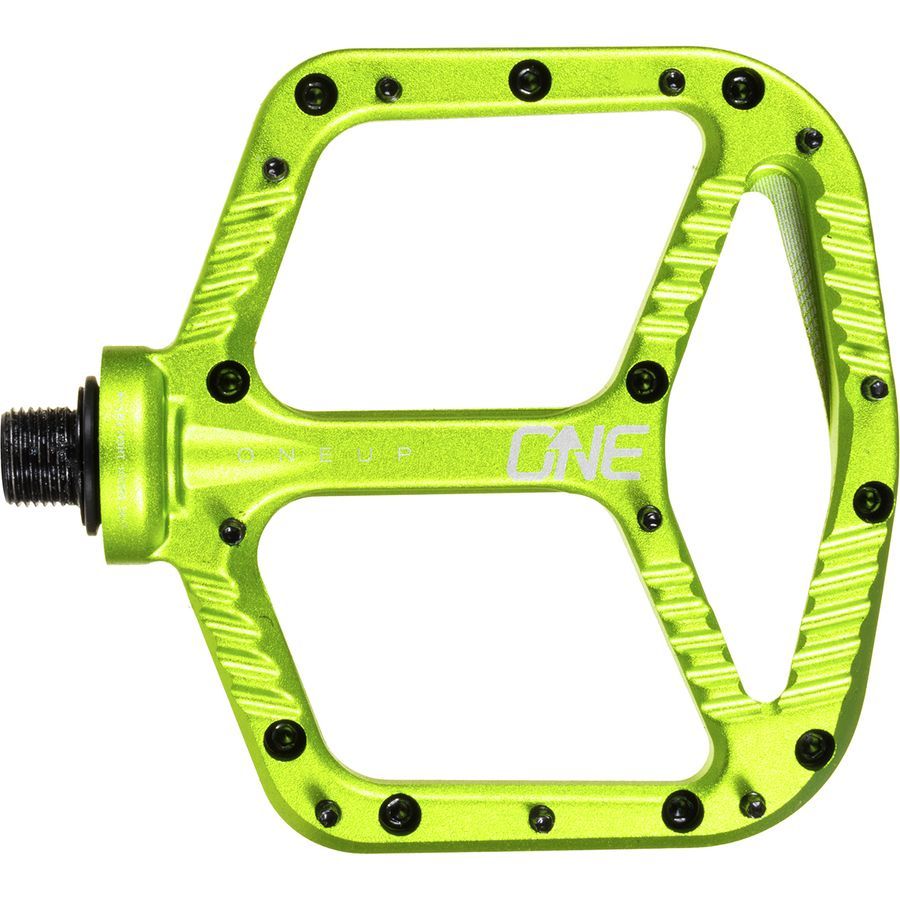 Aluminum body in three colors
10 removable pins
Sealed cartridge bearings
Weigh 355g
OneUp Components Aluminum Pedal is a durable, grippy, and streamlined mid-tier choice. As the name tells you, these pedals are made from aluminum, which makes them lightweight yet resistant to hard daily trail abuse.
These OneUp pedals are very grippy thanks to 10 removable hexagonal pins on each side. That makes them a great choice for rowdy trail rides and enduro events.
Another reason why we like them is the sealed cartridge bearings that deliver smooth performance. They keep the water and gunk out, so you'll need to service your pedals less often than usual.
OneUp pedals are all about comfort, confidence, and grip, so they feature a subtle convex profile that rests perfectly underfoot and prevents slippage.
Buy them if you want some of the best bike pedals for mountain bikes at a reasonable price.
4. Shimano PD-M520
Budget-Friendly Mountain Bike Pedals
Budget-friendly
Low-maintenance design
Great mud-shedding properties
Shimano PD-M520 is a pair of versatile budget SPDs ideal for all-around MTB riding. These are classic Shimano SPD pedals that are the go-to choice for beginners and budget-minded riders.
The M520s have been introduced years ago but are still the best mountain bike pedals in 2023. Their open design is exceptionally good at shedding mud and bringing the weight down.
Of course, they're also quite easy to maintain and service thanks to the sealed bearing cartridge axle. It keeps everything dry and clean inside and it's easy to take apart and rebuild.
What we like the most about these pedals is how economical the design is. The body is small and the cleat mechanism is crisp, precise, and secure, despite the price.
Related: Shimano M530 SPD Pedals Test & Review
Get Shimano M520s if you're a beginner and you need a dependable pair of SPD pedals that won't break your bank.
5. Shimano Deore Pedals
Heavy-Duty Aluminum Pedals
Cast and machined aluminum body
8 pins per side
Sealed bearings
If you hate doing research and nitpicking at all the different details, just choose the Shimano Deore pedals. You can't go wrong with them as they're strong, reliable, and perform really well.
The body is made from cast and machined aluminum, so these pedals are as durable as they can be. They come in multiple colors to match your bike.
Each side features 8 heavy-duty removable pins that will lock your foot in place while pedaling or descending. That's what makes them one of the best mountain bike pedals on this list.
Even though maintenance is simple, there won't be much of it due to completely sealed bearings and a Chromoly steel axle. You'll find little if no gunk inside after months of having fun on the trails.
Buy them if you race, ride more seriously, or just want the best possible trail experience.
Best Road Bike Pedals
---
1. Shimano Ultegra PD-R8000
Best Clipless Road Bike Pedals
Carbon-composite body
Extra-wide platform for better power transfer
Durable construction and reliable mechanism
Ultegra is a word that stands for reliability and performance in the cycling world. The Ultegra R8000 SPD-SL road pedals are just as renowned as the many's favorite groupsets of the same name.
They're made from a lightweight carbon composite body that makes them very stiff and brings the weight down to just 248 grams.
These pedals are a popular choice because they provide pro-level performance at a price point that's not out of reach for the average road rider.
Ultegra R8000 pedals also feature an adjustable tension clip-in mechanism so they're suitable for different types of riders. That makes them the best clipless pedals for road bikes across the board
Their durable stainless-steel body plates keep the construction stiff and the wide bearing placement improves power transfer.
See why Shimano Ultegra road pedals are the go-to choice for so many road riders out there!
2. Shimano PD-EH500 Dual-Sided
Best Clipless Pedals For Beginners
Dual-sided road bike pedals
Compatible with SPD cycling shoes
Weigh 383 grams per pair
If you've never ridden clipless pedals on your road bike before, making the transition can be daunting. Even the best bike pedals will make you feel insecure at first.
That's why we recommend the dual-sided Shimano PD-EH500 model. You get the characteristics of the best flat pedals for road bikes on one side and a clipless mechanism on the other side.
This combo, therefore, allows you to ride in your SPD clipless shoes or your casual shoes. You can use them for serious training and fitness riding or for commuting and leisure riding.
You can easily adjust the entry and release tension settings using a hex key, whereas the flat side has 8 removable pins for improved grip.
In short, you should get the Shimano PD-EH500 pedals if you want the best of both worlds—flat and clipless.
3. Look Classic 3
Lightweight Clipless Pedals
Affordable price
Three colors available
Lightweight composite material
The Look Classic 3 road bike pedals are a fantastic inexpensive option that will give you all the benefits you're looking to get from clipless pedals.
The body is made from a durable and lightweight composite material that's available in three colors—black, white, and red. The axle, however, is made from Chromoly steel, which ensures reliability and durability.
These SPD-SL pedals are suitable for both beginner and advanced riders, so they are one of the best road bike pedals in this price range for a variety of riders.
Look Classic 3 pedals are a popular choice among roadies because they have a wide contact surface but weigh only 348g for the pair. That will give you an excellent power transfer.
These are the best bike pedals for you if you want to do serious training or enter amateur races!
4. Look KEO Blade Carbon Pedals
Lightest Carbon Pedals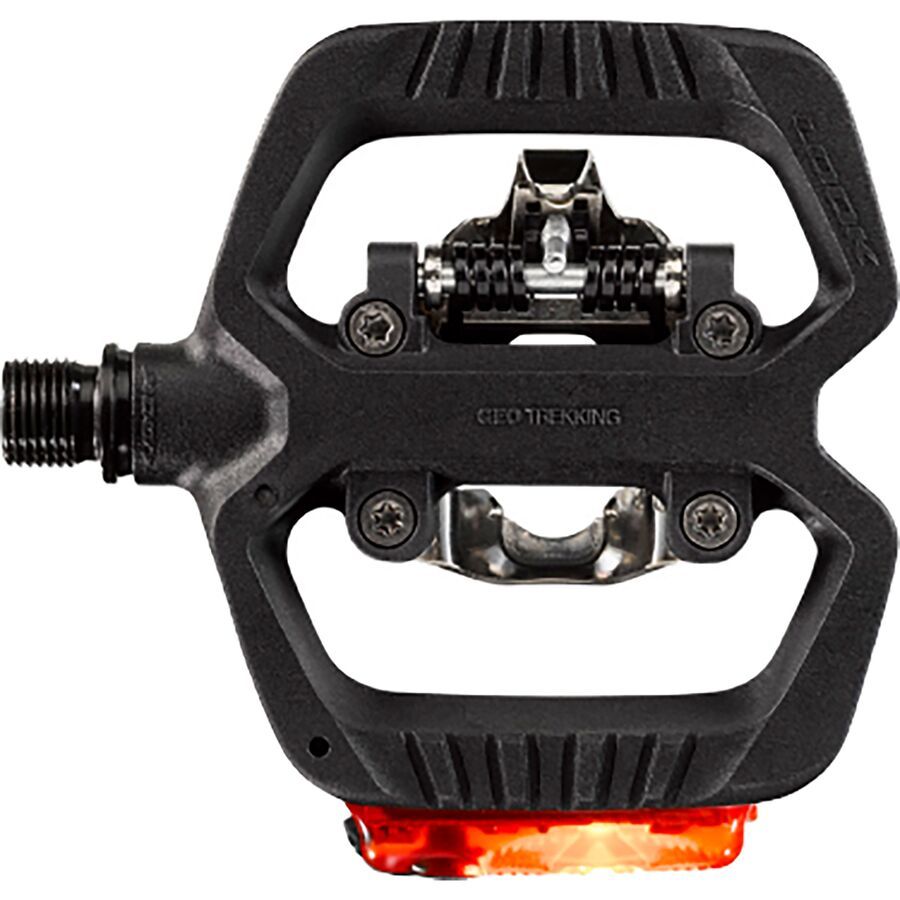 Single-sided pedals
Adjustable tension
Lightweight and stiff carbon
The Look KEO Blade are the best bike pedals for you if you want to save weight and increase speed and performance.
These are single-sided pedals attach to SPD shoes to offer a firm hook that won't come undone while sprinting or climbing out of the saddle.
The upside of these Look pedals is the weight. At around 300g for the pair, they are some of the lightest pedals out there, but that won't make a big difference unless you ride seriously.
Look KEO Blade pedals are also great for amateur racers who are making a transition to a higher category. However, they are also a popular choice among pro cyclists and casual roadies.
Related: How to Prepare For a Bike Trip
Get them if you're looking for stiffness, low weight, and durability.
5. Garmin Rally RS200 Power Meter Pedal
Best Power Meter Pedals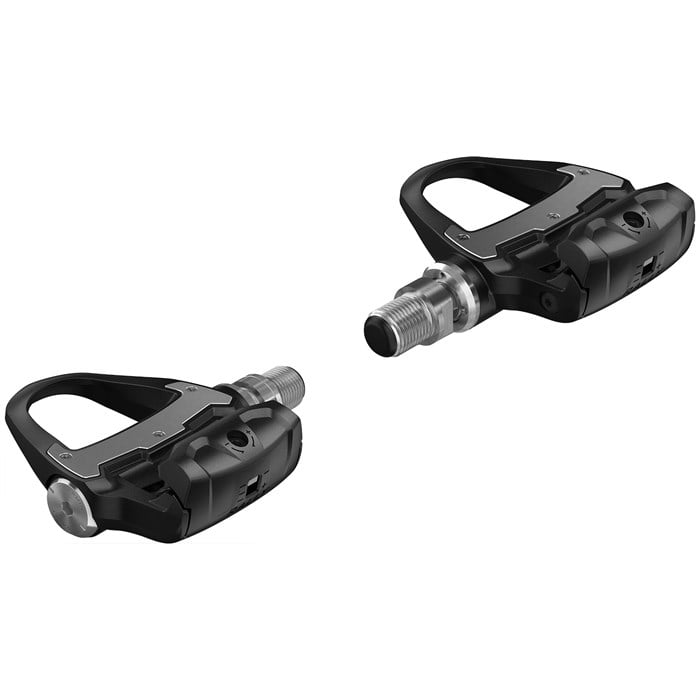 Dual-sided power reading
+/- 1% accuracy
Power phase measuring
If you want to become the best cyclist that you can be, you have to do structured training. However, you can't do that without knowing your power. That's where the Garmin Rally RS200 Power Meter pedals fit in.
Cycling has become a sport driven by data and Garmin Rally RS200 will tell you all you need to know about your performance. They boast an accuracy of +/- 1% and Power Phase measuring that will tell you where you're producing power in the pedal stroke. You'll also get readings about the balance between your left/right leg power.
On top of that, the battery lasts 120 hours and the pedals support ANT+ and Bluetooth connectivity. Therefore, you can easily connect them to any device you have and ride for months.
So if you want the best road bike pedals with power data, the choice is simple—we recommend Garmin Rally RS200.
Best Pedals For Gravel Bikes
---
1. Shimano M540 SPD Bike Pedals
The Best Pedals For Gravel Bikes
Great mud-shedding
Fluorine-coated binding claws
Tested design
The Shimano M540 SPD pedals are similar to the M520 model we showed above, but they feature some significant improvements. They're lighter, sleeker, and easier to get in and out of.
If you ride gravel, it's really important to be able to clip in and out fast, especially when climbing a rocky section. These pedals have fluorine-coated binding claws that make your cleats slide in and out with more ease.
Shimano M540s are dual-sided SPD pedals, so that will make entry and release easier as well. Thanks to lightweight materials, they weigh 352g for the pair, which is pretty good at this price point.
However, the reason why these are one of the best pedals for gravel bikes is their open design. It lets mud pass through easily without clogging the mechanism.
We recommend buying them if you're a gravel enthusiast or a beginner looking for a timeless, tried, and true SPD pedal.
2. Crank Brothers Candy 1
Lightweight Composite Pedals
Lightweight
Wide platform
4-way-entry
If you're always trying to make your bike slimmer and reduce the weight anywhere you can, you'll love the Crank Brothers Candy 1 pedals.
They are made from a one-piece lightweight composite body coupled with Crank Brothers' eggbeater design, which brings the weight down to a mere 294g.
We love that they're pretty easy to clip in and out of thanks to the 4-way-entry feature and the open design sheds mud exceptionally well.
If you're picky about pedal float, Candy 1 pedals offer customizable float and release angle, so you can personalize them to fit your style of riding.
Most importantly, the bearings are completely sealed, so don't be afraid to ride on bad days either.
Simply said, these are the best platform pedals for gravel bikes in this price range, considering the weight and all the available features.
3. Garmin Rally XC100 Power Meter Pedals
The Best Power Meter Pedals For Gravel Bikes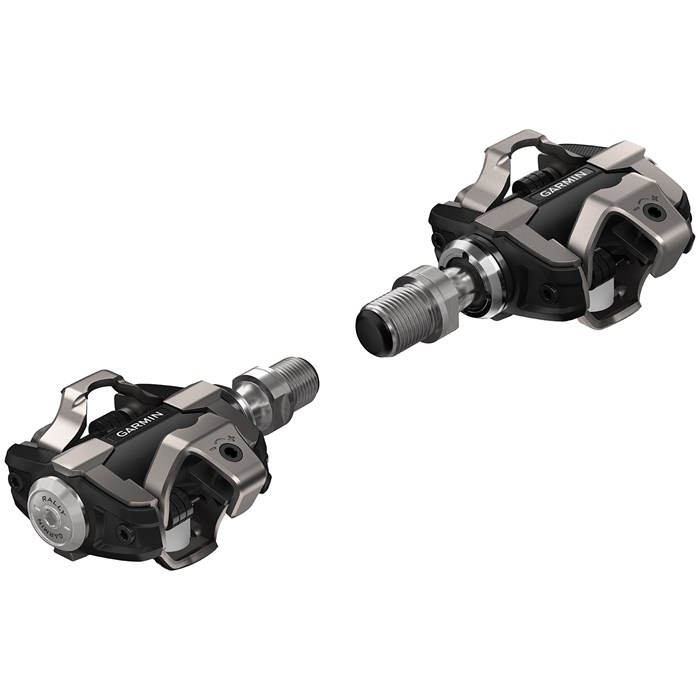 One-sided power reading
ANT+ and Bluetooth connectivity
Aluminum, Cr-Mo, Stainless Steel materials
Within 1% accuracy
You can get really good at cycling by just pedaling harder. However, to make significant gains, you need to know your power data, even when it comes to gravel riding.
The Garmin Rally XC100 power meter pedals are a foolproof choice for gravel riders as they are reasonably priced but jam-packed with features.
They boast a 120-hour battery life, ANT+, and Bluetooth connectivity, a transferable spindle, and reliable readings with +/- 1% accuracy.
Keep in mind that only the right pedal measures your power and the data is doubled to accurately predict your left-leg performance. If you wish, you can upgrade later to the dual-sensing system.
The Garmin Rally XC100 pedals weigh around 450g for the pair, which is decent for power meter pedals at this price.
If you use them wisely, they can transform your gravel performance and training!
FAQ
There are no comments yet, add one below.