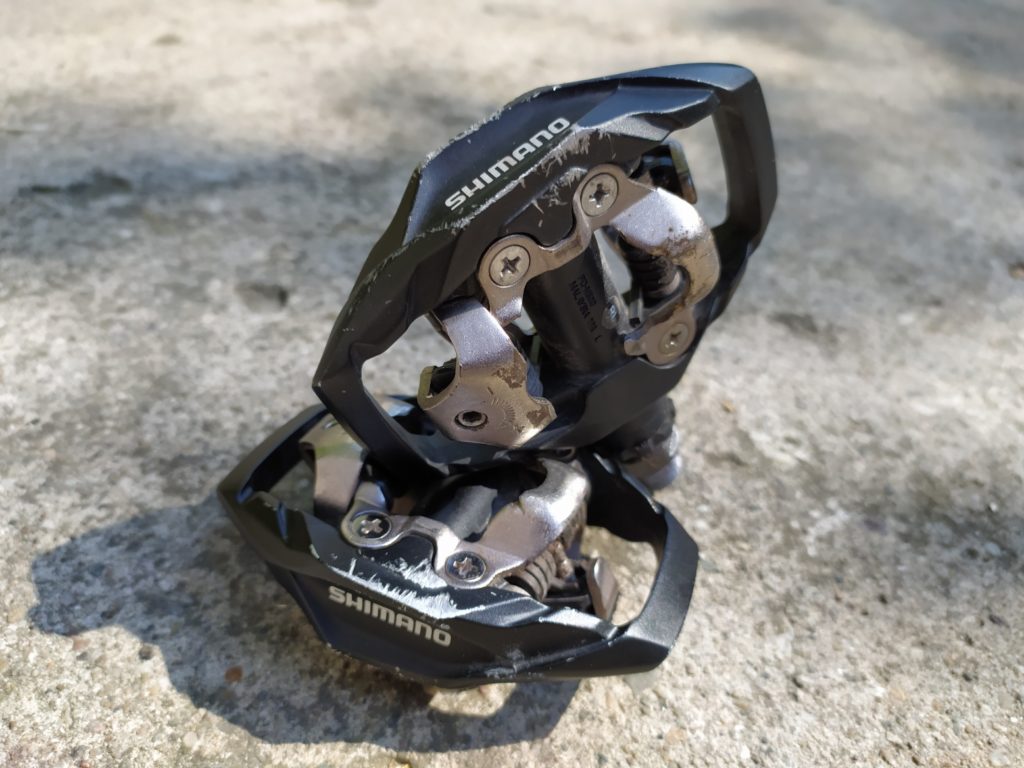 Shimano M530 are affordable all-around SPD pedals that offer hard-to-believe performance at an even harder-to-believe price. See how they did in our test and review below.
A lot of cyclists are aware of the benefits that clipless pedals and shoes can give them, but they are usually reluctant to give them a try because of the price.
The Shimano M530 pedals I have here today cost between $50 and $70, depending on where and when you look and provide you with excellent performance and reliability that I dare say is comparable to much more expensive and high-end Shimano pedals such as XTR M9120, XT M8120, or M8020, which cost double or triple as much.
I got these pedals as a budget everyday solution that I can use and abuse, bang on curbs and rocks, and not worry much. I did not really expect much, but I've been pleasantly surprised at how well they've been performing so far.
After having them for around two months and riding more than 1,000 miles with them, I feel I can objectively talk about their advantages and disadvantages and share my overall impression.
Key specs:
Type: SPD Mountain
Price: $72
Weight: 453g
Intended use: XC, All-Mountain, Enduro, Gravel, Commuting, etc.
Our Rating: 4.5/5 – Exceptional value for your money
Budget-Friendly Pedals
First of all, Shimano M530 are budget-friendly SPD pedals that look very similar to Shimano's XTR and XT trail pedals. Looking from afar, you'd find it hard to discern between the two.
Related: Best Bike Pedals
They have a mini platform built around the SPD mechanism in the middle, which protects the mechanism and provides additional support when pedaling.
Overall, I like the looks, but I've found that the paint chips pretty easily, though that's something that happens with all pedals, so you should not worry too much about it.
A good thing is that you can install them easily either by using a 6mm Allen wrench or a standard pedal wrench, which is not something that you get with most pedals out there.
My first impression when I started riding with the Shimano M530 pedals is that they are a solid product despite the low price.
Using the Pedals
Clipping in is very easy and precise, followed by a recognizably loud click that you hear and feel every single time. It definitely helps you to be certain that you are clipped in that you can start pedaling hard. Plus, the cage around the mechanism makes it easier to locate the clipping jaws with the cleats.
The same can be said for unclipping. I got these with Shimano's SH-51 cleats and I haven't unclipped them accidentally. On the other hand, I haven't had trouble unclipping quickly and easily whenever I needed to either.
Related: Best Cycling Shoes To Buy?
Still, even though the clipping in/out is precise, it feels a bit clunkier and not as smooth as on the XTRs.
You can adjust the tension of the mechanism with a 3mm Allen key, choosing from 20 tension levels. The best way to do it is to turn the adjuster all the way in either direction and then count the rotations. Make sure the settings are equal on all four sides to avoid unpleasant surprises.
Perfect For Beginners
Due to the price, the Shimano M530 pedals are an excellent choice for riders on a tight budget and beginners who are still not sure whether or not clipless pedals are for them.
If you're still struggling to clip in, the platform will allow you to pedal a bit if you don't clip in immediately at a traffic light, for example. However, don't expect to pedal comfortably with casual shoes for more than a few miles because the cage is slippery and does not provide good support and power transfer on its own. You can pedal to the nearby store in running shoes, but that's pretty much it.
The good thing about the glossy paint job is that it does not allow mud to stick to the pedals that easily. I've used more expensive Shimano pedals for muddy MTB and gravel rides, and I can say that the M530 are even better than their more expensive siblings in that regard. There's good mud clearance, so the brown pow just slips right off.
Additional Features
So far, I've used these pedals for different types of rides, including training and intervals. Even though they are cheap, they provide excellent power transfer because of the mini platform and feel quite secure once you clip in. I've pulled hard on them while grinding up steep hills and never thought that they might unclip or felt that my foot had too much flow.
I've banged them and scratched them quite a bit, as you can see from the images, and they still work perfectly.
One thing I've noticed is that surface rust can appear on the mechanism after a wet ride, but that's not something I'd worry about in the long run.
A big feature I love and another reason I think these pedals are the best bang for the buck is the sealed bearings that are super easy to service at home. Plus, they keep grit, mud, and water out pretty well, as I've ridden through a lot of water and rain and they still work as smoothly as they did on the first day. The cup and cone bearing system is easy to disassemble, clean, and regrease with simple tools.
Weight
That being said, the only thing that might push some cyclists away from these pedals is the weight. They weigh around 453g for the pair, which might seem like much to riders who try to get marginal gains by shedding every possible gram.
However, they are only around 50g heavier than the Shimano XTR M9120 which costs close to $200. Do you really think 50g will make you faster uphill and help you get a KOM/QOM? If that's so, then go for it.
Related: DZR Jetlag Nero Cycling Shoes
Personally, I think there are much better ways to spend the remaining $150, on bike and kit upgrades that will provide you with much better gains.
Final Thoughts
All things considered, the Shimano M530 SPD pedals are surprisingly good considering the price and the category. These are the least-expensive pedals from Shimano's mini-platform series, costing two or three times less compared to other similar models.
I love how easy it is to clip in and out, as well as the confidence and the power transfer they offer. They're user-friendly, look good, offer adjustable tension, and are really easy to service at home.
The only disadvantage, as I've mentioned, is the weight. If they were a bit lighter, I'd feel comfortable recommending them to any rider out there. But, if you are set on saving as much weight as possible, there might be better choices out there, though they will cost you more.
The final verdict is that Shimano M530 pedals offer a remarkable value, performance, and durability for a low price, which is on par with much more expensive pedals that the majority of average riders don't really need.