Ordering bikes for kids online is becoming more and more popular nowadays. It is because there are no shop-keeping or warehouse costs, which makes the prices even lower!
And since everything is moved online, you don't have to try your bike first. Other people have done it for you.
You should try your bike first! FALSE
I'll show you three FOUR methods you can use to find the right bike size for your child.
NB! Ordering a bike online for a kid is much easier than for grown-ups.
Feeling more confident?
Good.
So if you have questions about kids' bike sizes, here are the answers!
Method 1: Age & Tire Size
Level: Simple (Not so accurate)
Choosing the right kids' bike size based on the age and the tire size is the simplest method around. Basically, the idea is this: Smaller kids ride bikes with smaller wheels and bigger kids ride bikes with bigger wheels.
Voila! It's that simple.
Actually, it's even simpler with the help of our bike size chart for kids:
| | | | | | | | |
| --- | --- | --- | --- | --- | --- | --- | --- |
| Age | 2-4 | 3-5 | 4-6 | 5-8 | 7-9 | 8-11 | 10-14 |
| Wheel Size | 12-inch bike | 14-inch bike | 16-inch bike | 18-inch bike | 20-inch bike | 24-inch bikes | 26-inch bikes |
As a result: Now you know how to measure a kid's bike by selecting the right tire size.
This method works in the majority of cases as kids generally grow at the same pace. However, as always in life, there are exceptions to this rule.
If you are afraid that your child is taller or shorter than the average for their age, then you can use the…
Method 2: Standover (Inseam) Height Method
Level: Better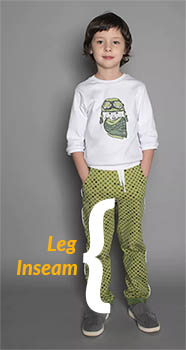 This is another very simple method of determining kids' bike sizes, though it takes a bit more effort.
What you need to do first is measure your kid's leg inseam. It takes only 30 seconds and all you need is a tape measure.
With shoes on, have your child stand with feet slightly apart.
Measure the height from the ground up to the crotch.
That's the leg inseam.
Keep in mind that you might need to convert the result into inches if you measured it in centimeters (cm). To do that, just divide your result by 2.54 (for example, 40cm equals 15.75 inches).
Moreover, different bikes require different saddle heights. Bikes for teens and a toddler bicycle will differ greatly in this regard. The best method to find the right saddle height is by using the leg inseam measure.
Related: Best Bikes For Teenagers
As a result: Now you know how to measure a bike size for kids based on their standover height. Scroll below to find the right saddle height.
Why is the standover height that important? With the right standover height, your kid will be able to get off the bike whenever necessary and feel stable and in full control. There's nothing worse for confidence than a bike that feels too big and doesn't let you touch the ground with your feet.
Method 3: Kids Size Chart
Level: Good!
How to size a bike for a kid with more certainty? Consider several methods all at once.
If you want to make sure to choose the right kids' bike size, you should take into consideration 1) Age, 2) Height, 3) Inseam, and 4) Tire Size.
We tried to gather all of this data into one kids' bike size chart that you can see below. It should work for most kids, except for some exceptions.
| | | | | | |
| --- | --- | --- | --- | --- | --- |
| Age | Height (Inch) | Height (cm) | Leg Inseam (Inch) | Leg Inseam (cm) | Tire Size |
| 2 | 2'9″ – 3'1″ | 85-90cm | 12″ – 14″ | 85 – 90cm | 10″ |
| 3-4 | 3'1″ – 3'3″ | 90-100cm | 14″-17″ | 35-42cm | 12″ |
| 4-5 | 3'3″ – 3'7″ | 100-110cm | 16″-20″ | 40-50cm | 14″ |
| 5-6 | 3'7″ – 3-8″ | 110-115cm | 18″-22″ | 45-50cm | 16″ |
| 6-8 | 3'8″ – 4'0″ | 115-120cm | 20″-24″ | 50-60cm | 18″ |
| 7-9 | 4'0″ – 4'5″ | 120-135cm | 22″-25″ | 55-63cm | 20″ |
| 9-11 | 4'5″ – 4'9″ | 135-145cm | 24″-28″ | 60-72cm | 24″ |
| 11-14 | 5'+ | 145cm + | 28″+ | 72cm+ | 26″ |
As a result: You can double-check the results. If you're satisfied, you can choose the right bike based on these results.
If you find that some numbers don't match and you're getting different results based on different criteria, keep in mind that all kids are different. As they get older, the discrepancies between individuals become even larger.
If you're still getting different results and you can't make a choice, check out the last method:
Method 4: From A to Z
Level: Best
Sometimes, choosing the right kids' bike size based only on one method can be confusing. You can get results that don't add up and just make things worse than before (though that's rare).
If you want to double-check your results or just make sure you are getting the most accurate results possible, then follow the steps below:
Measure the inseam (second method).
Choose the right bike size based on age and wheels (first method).
Choose the right type: Balance / Training Wheels / Pedal Bike.
NB! We don't suggest going for a kids' bike with training wheels.
Balance bikes provide a much better and more natural learning platform. Training wheels give a false sense of security and don't really allow kids to learn how to balance on two wheels on their own.
Kids learn most quickly and most easily when moving from a balance bike straight to a pedal bike.
Right Saddle Height (vs Standover Height)


Choosing the right saddle height is extremely important for all riders, especially for kids. If you place the saddle too low or too high, your child is likely to feel a lack of control and lack of confidence.
The right saddle height differs from one situation to another, depending on the type of bike used. Here's a rough guide you can follow:
Balance bikes – The seat should be 1″ to 1.5″ below the child's inseam.
Training wheels – 0 – 3″ above the child's inseam.
1st pedal bike – The saddle height should be the same as the child's inseam.
Next pedal bike – 2″ to 4″ above their inseam.
This is important to keep in mind to improve the stability and comfort of your kid on the bike. It's important for them to be able to touch the ground with their feet without getting hurt.
Otherwise, they might feel unstable or lack confidence.
NB! Always wear a helmet! See our top bike helmets for kids
FAQ
To Wrap It Up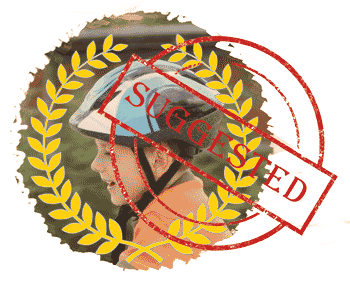 At first, choosing the right size bike for kids might seem daunting and complicated. But it isn't. In most cases, it should be easy to find the right size by using only the first method.
However, to make sure you are getting the most accurate results, we recommend going through all four methods presented in this kids' bike size guide. That way, you will 100% end up with the right size.
Therefore, when it comes to buying kids bicycles, trying the bike out before purchasing is not necessary. Just follow the steps above and you will be good to go!