Cannondale Trail 3 is a bike with a reasonable price and unreasonable money to value ratio. It's the best mid-range model Cannondale's Trail series has to offer.
There's no reason not to ride a quality trail bike and have fun off-road every day if you're going shopping with a limited budget.
Technology that was considered high-end just a few years ago is now available on mid-range MTBs such as Cannondale Trail 3.
At $1,300, this bike is accessible to almost any trail enthusiast, plus it packs a powerful punch when it comes in contact with dirt, mud, rocks, and gravel.
Here's our detailed review if you like what you've seen so far!
Cannondale Trail 3: Main Specifications
Trail 3 is a competent bike that's bound to help you improve your off-road skills and ignite your passion for riding more.
Cannondale Trail 3 comes with excellent components supplied by big brands such as SRAM, Shimano, RockShox, and WTB that guarantee high performance.
This hardtail 29er has a decent list of specs considering the price:
Frame: SmartForm C2 alloy, with SAVE technology
Fork: RockShox Judy Silver TK, 120mm
Front Derailleur: None
Rear Derailleur: SRAM SX Eagle 12-spd
Number of Gears: 12
Brakes: Shimano MT200 hydro disc, 180/160 rotors
Rims: WTB STX i23 TCS, tubeless-ready
Tires: WTB Breakout Comp, 27.5″/29″ x 2.3″
Weight: 31.9 lbs.
MSRP $1,300
Full Review of Cannondale Trail 3
If you are a trail enthusiast and an intermediate rider in search of a low-priced but high-specked bike, Trail 3 should be able to spark your interest.
Some of the things you might like include size-specific wheels and tires, comfortable and actionable geometry, and excellent components.
Our full review below will tell you all about its good and bad sides and show you whether or not it is a good buy.
Advanced Aluminum Frame and Front Suspension
Cannondale's entire Trail series is best-known for its premium SmartForm aluminum frames with SAVE micro-suspension technology. This frame has a tapered head tube that makes it compatible with high-end forks and internal cable routing that keeps everything working smooth longer.
The frame's geometry and performance are finalized with an excellent RockShox Judy Silver air fork with 120 mm of travel, compatible with both 27.5″ and 29″ wheels. With a remote lockout switch, you can easily engage it or disengage it.
Cannondale's Smart Wheel Sensor
A big selling point of the Trail 3 bike is Cannondale's Smart Wheel Sensor. It's fitted on the front wheel and helps you track your activities. It will measure your speed, distance, and calories burned, so you always know how hard and how long to ride.
This sensor also allows you to register your bike and reminds you of any upcoming services in order to keep your bike well-maintained and running smoothly.
You can control it using your smartphone, by installing Cannondale's free app.
Strong Hydraulic Disc Brakes
A good mountain bike is only as good as its brakes. Luckily Cannondale Trail 3 comes with Shimano MT200 hydraulic disc brakes that have excellent stopping properties.
They're combined with a 180mm front rotor and a 160mm rear rotor, so they'll bring you to a full stop in no time. They're also known for precision braking that allows riders to control the speed in all types of conditions.
Wide-Range SRAM SX Eagle Drivetrain
A few years ago, 1×12 drivetrains could only be seen on bikes that costed double what Trail 3 sells for. Now, thanks to SRAM SX Eagle, even intermediate and budget-conscious riders can enjoy the simplicity and practicality of this setup.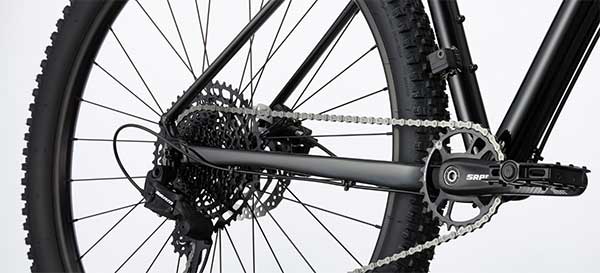 Trail 3's drivetrain consists of a compact 30T crank and a wide-range 11-50T cassette, both of which are from the SRAM SX Eagle group. You won't run out of granny gears no matter how steep the hill in front of you is.
Weakest Link: Weight
The be frank, at $1,300, Cannondale Trail 3 does not really have any big disadvantages. The biggest one is its weight, which could be lower.
The entire bike weighs 31.9 lbs. (14.5 kg), which is not too heavy, but there's certainly room for some dieting. You might feel some sluggishness when riding uphill or trying to accelerate fast.
To slim it down, a good place to start would be the wheels.
Will Cannondale Trail 3 Meet Your Needs?
If you have your expectations set right, Trail 3 will easily meet them and even exceed them. This is a remarkable bike that will shine on low-impact trails, gravel roads, fire roads, and on casual rides.
If you're looking for a bike that can do a little bit of everything when it comes to off-road-riding disciplines, Trail 3 will give you that luxury. You can even ride it on paved roads, though it's better-suited for rough terrains.
Cannondale Trail 3 is built for durability, handling, and long XC rides that require comfortable geometry and reliable components.
Other Trail Series Overviews
Trail 1 – Top model with excellent components and a 120 mm air fork travel, intended for trail enthusiasts.
Trail 2 – High-specked mid-range model with a 1×12 SRAM SX drivetrain and an air fork, made for intermediate trail riders.
Trail 3 – A reasonably priced model for trail beginners and enthusiasts with excellent value for money, 120mm of travel, hydraulic disc brakes, and 12 wide-range gears.
Trail 4 – Excellent introductory model with a 100mm RockShox coil fork, 10-speed Deore drivetrain, and tubeless-ready wheels and tires, good for on and off-road rides.
Trail 5 – Entry-level trail bike with a solid aluminum frame, decent Shimano components, and 100 mm of travel, that all trail beginners will love.
Trail 6 – Affordable bike with quality branded parts, front suspension and hydro brakes, perfect for beginner riders wishing to get a taste of the trails.
Trail 7 – Versatile MTB with 24 gears, excellent for trails, gravel, and dirt roads, aimed towards casual and recreational riders.
Trail 8 – Cheapest Cannondale Trail model with reliable and durable components for the money, ideal for budget-conscious cyclists.
See our review of Trail SL Series for even more similar bikes.
Final Thoughts: Good Value for the Money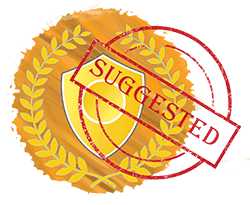 Our final conclusion after analyzing Cannondale Trail 3 and considering its good and bad sides is that this bike is a good buy.
Are there better bikes out there? Yes, many. Are there better bikes for this amount of money? Hardly any. Cannondale's attention to detail is hard to beat.
Size-specific wheels make it easy to fit this bike to any rider out there and the Smart Wheel Sensor makes you feel you're riding a more high-end machine.
If you want to ride off-road on a regular basis and have an equal amount of fun on paved roads on the way to the trails, Cannondale Trail 3 will keep you happy for a long time.
There are no comments yet, add one below.