Cannondale Trail 8 is an affordable mountain bike that helps develop a passion for the trails and serves as the perfect first off-roader.
Having a limited budget does not mean you can't get a real trail bike and have some fun exploring local dirt roads and bike trails.
Cannondale Trail 8 comes with all the necessary features to do this — front suspension, disc brakes, wide tires — and leaves enough money in your pocket for other important stuff.
WINNER of our Best Mountain Bikes Under $500 review!
Quick Overview of Trail 8
The Trail 8 costs just upwards of $650 but comes with some seriously dirt-ready components. It's a versatile bike that works great for commuting, off-roading, casual daily rides, losing weight… you name it!
To achieve such a low price, compromises had to be made in certain areas, but that's nothing an average rider would notice and should be worried about.
Key Specs
Frame: SmartForm C3 alloy aluminum
Fork: SR Suntour M3030, 75mm
Front Derailleur: Shimano Altus, 34.9 clamp, 2-Speed
Rear Derailleur: Shimano Tourney, 7-Speed
Number of Gears: 14
Brakes: Tektro mechanical disc, 160/160mm rotors
Rims: WTB SX19, 32h
Tires: WTB Ranger Comp, 27.5/29 x 2.25 in.
Weight: 32 lbs. 14.4 oz. (14.92 kg)

Trail 8 Main Features
Cannondale Trail 8 is slowly becoming one of the most popular mountain bikes in the $700 price range.
It does not come as a surprise that so many people like it, as it is a good-looking package that includes everything a beginner rider might need and nothing that would raise the price unnecessarily.
These are some of the things that stand out about it.
Lightweight Aluminum Frame with Front Suspension
Cannondale Trail 8, like all other Trail models, is built around a lightweight and high-performing
SmartForm C3 aluminum frame. This is a tried and true frame that has proven its worth time and again.
It features internal derailleur cable routing, two water bottle mounts, and rear rack mounts. The gray paint job suits it well and makes it look like a higher-priced hardtail and the yellow color is quite exciting as well.
The combination of a lightweight and compliant aluminum frame and a plush Suntour fork make Cannondale Trail 8 a capable and comfortable trail machine.
The SR Suntour suspension fork is fitted on the front, offering 75 mm of travel. This fork is on the heavy side due to a coil spring, but you'll be happy it's there when you steer off the paved roads and the terrain beneath the tires turns less than ideal.
Introductory Shimano Components
One of the things that make Cannondale Trail 8 an entry-level mountain bike are its components. The front and rear Shimano derailleurs are definitely not made to be abused. The front end gets a Shimano Altus, whereas the rear and shifts with a Shimano Tourney derailleur.
However, as long as you don't intend to do serious trail riding, jumping, and dropping, Altus and Tourney will do the job well.
The 11-34T, 7-speed cassette and the 36/22T crankset put a total of 14 gears at your disposal. The range of gears is pretty wide, so this bike will climb well.
Dependable Mechanical Disc Brakes
A proper mountain bike can simply not be imagined without a pair of disc brakes. Cannondale Trail 8 more than checks this requirement with its Tektro mechanical discs.
These brakes are paired with 160 mm rotors front and rear, which translates to plenty of stopping power on demand.
Disc brakes show their true advantages in wet and rainy weather, so Trail 8 is ready for all conditions.
Variable Wheel Size: 27.5″ & 29″
Depending on how tall you are, Cannondale Trail 8 can roll on either 27.5″ or 29″ wheels. Namely, this bike is available in four sizes:
XS: 4'6″ – 5'2″ (27.5 inches)
S: 5'1″ – 5'4″ (27.5 inches)
M: 5'4″ – 5'8″ (29 inches)
L: 5'7″ – 6'0″ (29 inches)
XL: 6'0″ – 6'3″ (29 inches)
Therefore, the wheel size depends on the size of the frame you choose.
The variable wheel sizing on Cannondale Trail 8 ensures that you'll get the perfect fit and end up with a bike that feels good in your hands and rides swiftly.
The WTB Ranger Comp tires are 2.25″ in width, regardless of the diameter. This setup means more grip in corners and better descending capabilities while making the bike faster on straights. A 2.25″ tire is not too gnarly, so it won't feel too sluggish on paved roads.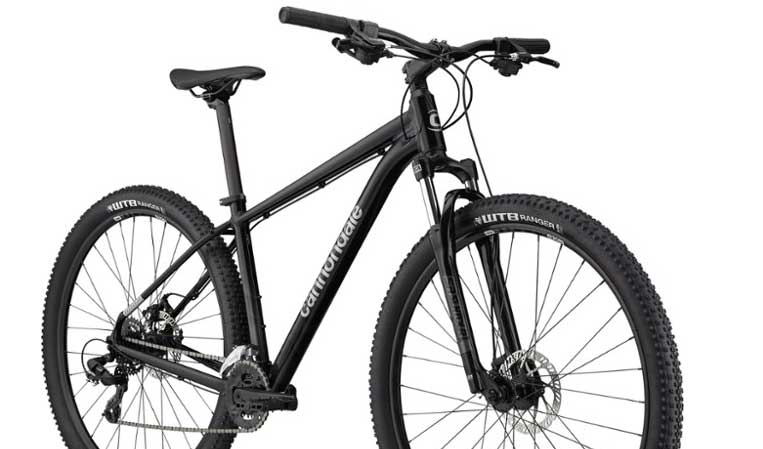 Versatile Trail Bike
Versatility is one of Trail 8's main properties. It's a bike that can suit the needs of the entire family, acting as both a day-to-day commuter and as a proper trail bike for dirt, gravel, and forest roads.
Of course, Trail 8 will feel most at home staying off paved roads and getting dusty and dirty. But thanks to its progressive, upright geometry, it also rides well when taken on different trails and surfaces.
Cannondale Trail 8 Women's Model
Trail 8 is available in a women's version as well, which has some important differences compared to the unisex model.
The main difference is the shape of the frame—a slanted top-tube increases stand-over clearance allowing shorter riders to mount and dismount more easily. However, the frame sizes are completely the same.
The paintwork is different as well, as the women's version sports an attractive gray/turquoise gradient. We like it as it looks a lot more feminine.
Unsurprisingly, all of the components are completely the same, except for the saddle—the women's version comes with a Cannondale Stage 2 Women's saddle.
In our opinion, the only reason to go for the women's model is if you like the paintwork better or if you need more standover clearance. Otherwise, feel free to get the unisex model if you like it better or if that's all that's in stock, even if you are a woman.
Is Cannondale Trail 8 for You?
Cannondale Trail 8 is an entry-level bicycle with lots of introductory components. As such, it's most suitable for beginner riders and those who are still learning the ropes of off-road riding.
If you want a two-wheeler to spend more time outside, get fit, improve your health, and explore the area, you'll be riding Trail 8 with a smile on your face.
However, if you are an experienced mountain biker and you want to improve your off-roading skills, Shimano entry-level components and a low-level Suntour fork won't cut it for you.
Other Trail Series Overviews
Trail 1 – Top model with excellent components and a 120 mm air fork travel, intended for trail enthusiasts.
Trail 2 – High-specked mid-range model with a 1×12 SRAM SX drivetrain and an air fork, made for intermediate trail riders.
Trail 3 – A reasonably priced model for trail beginners and enthusiasts with excellent value for money, 120mm of travel, hydraulic disc brakes, and 12 wide-range gears.
Trail 4 – Excellent introductory model with a 100mm Rockshox coil fork, 10-speed Deore drivetrain, and tubeless-ready wheels and tires, good for on and off-road rides.
Trail 5 – Entry-level trail bike with a solid aluminum frame, decent Shimano components, and 100 mm of travel, that all trail beginners will love.
Trail 6 – Affordable bike with quality branded parts, front suspension and hydro brakes, perfect for beginner riders wishing to get a taste of the trails.
Trail 7 – Versatile MTB with 16 gears, excellent for trails, gravel, and dirt roads, aimed towards casual and recreational riders.
Trail 8 – Cheapest Cannondale Trail model with reliable and durable components for the money, ideal for budget-conscious cyclists.
Related: Trail SL Series
Verdict: Is Trail 8 Worth the Money?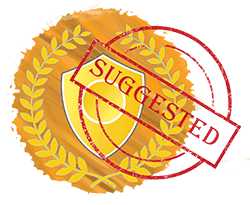 Trail 8 costs just $650, which is hard to believe considering the attention to detail that apparently went into making it. Sure, it has some entry-level components, but it also has both 27.5″ and 29″ wheels, disc brakes, durable quality tires, and phenomenal looks.
Therefore, Trail 8 is definitely worth the money. If you fit into the rider profile we depicted above, there's no reason not to buy it. It should serve you well for miles and years to come.