In this review, I will reveal the nine different best mountain bikes under $500 you can buy online!
---
PLEASE NOTE: Due to the COVID-19 situation, all mountain bikes under $500 are sold out. That's why we had to include models that cost a bit more to offer you the next best choice available.

We do our best to keep this review up-to-date with bikes in stock, but it's not an easy task. If you don't find what you're looking for here, check the links below for places where you can conduct your own research and find more bikes. Consider other reviews in our MTB section or read our article on the current cycling situation.

Consider buying pre-owner bikes from The Pro's Closet

Or see our Best Mountain Bikes list 
---
Finding the right mountain bike for you can be tricky because you want to take it up to the mountains and you need it to perform.
After all, you want a good bike that will actually last. Read below, I have the best mountain bikes under $500 right here. Before buying a good mountain bike under $500, here are the best 9 you need to consider!
REVEALED: The 9 Best Mountain Bikes Under $500 For Everyone!
---
Well, these top 9 picks are the best mountain bikes for under $500 dollars. Enjoy!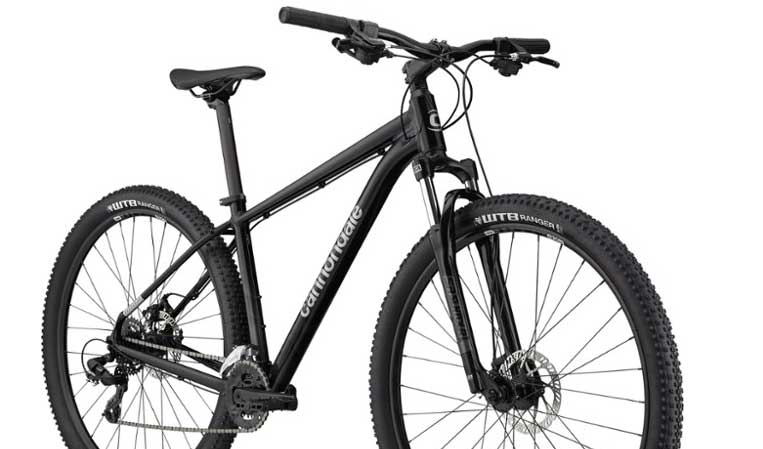 Best MTB Around $500
Cannondale Trail 8 is an affordable bike, perfect for being your first bicycle for hitting the off-road. It is affordable, good-looking, and incredibly easy to maintain.
It has a popular SmartForm C3 alloy frame that Cannondale makes especially for their trail bikes. Durability is its main trait, but it is also pretty lightweight for this price, as the whole bike weighs around 32 lbs.
The SR Suntour fork travels 75 mm up and down to absorb any imperfection and bumps on the road. This is not a good choice to do high jumps and aggressive descents, but it is an ideal choice for relaxed, recreational rides on fire roads and moderate trails.
The value Cannondale Trail 8 offers at $510 is hard to beat, making it the best bang for the buck in the Trail series.
If you want comfort, that's exactly what the Cannondale Trail 8 bike can offer. This bike has 14 gears which you can change using reliable Shimano front and rear derailleurs, as well as Shimano shifters.
The highlight are the mechanical disc brakes which are really going to make a big difference whenever you need to stop suddenly or go for a faster descent. Add to that the 2.25″ wide WTB Ranger Comp tires and you have a bike that is safe and stable, which is the most important thing.
To sum, if you want a cheap but quality bike that will take you through the forest and up the mountain on a relaxed ride, don't hesitate to get the Cannondale Trail 8.
2.

Cannondale Trail Tango 3 Women's
Best Choice with 27.5″ or 29″ wheels
I am quite excited to introduce this great deal from Cannondale!
The venerable brand is well known in the cycling industry, which is why we recommend a lot of their bikes.
Cannondale Trail Tango 3secures its place as one of the top affordable women's mountain bikes. With its unique, low-slung top tube, Cannondale's SmartForm C3 aluminum frame design does more than just look good – it enhances rider confidence and performance on rough terrain by decreasing the bike's standover height.
The bike is available in a beautiful emerald green color that should appeal to the majority of people.
Trail Tango 3's components are suitable for entry-level mountain biking and include an SR Suntour XCM-RL fork with 100 mm of travel and Shimano MT200 hydraulic disc brakes for excellent stopping power. All this is rolling on 27.5″ or 29" wheels (depending on the frame size) with WTB Ranger 2.25″ tires.
I'm compelled to point out the Cannondale handlebar, stem, saddle, and seat post – these components are found even on much more expensive Cannondale bikes and work like a charm!
27″ & 29" wheels
WTB Ranger tires for impressive off- and on-road action
Hydraulic disc brakes
18 gears
Cannondale Trail Tango 3 is a fantastic women's bike for everyone's garage as it comes with 27.5″ or 29″ tires and suits different mountain and recreational biking purposes!
I've found several user reviews online, most of which give 4-star and 5-star ratings. The owners gave high marks to every aspect of the bike and found it a superlative holiday gift. So, this review definitely confirms our own thoughts about the bike and the value it represents!
Aesthetically, Cannondale has done a fine job of on the Trail Tango 3. Despite the low price, it doesn't look like a cheap mountain bike.
This bike is available for just under $800, yet it's enough bike to bring your trail adventures to the next level. This great value will provide years of performance and riding bliss to the entry-level rider you have in mind.
3.

Cannondale Cujo 20 Plus
Best Value Kids' MTB
The best aspects about the Cannondale Cujo 20 Plus are:
Low weight
Wide and stable 2.6″ tires
Mechanical disc brakes
7 gears
Really attractive looks!
It's time to update our list of the best kids' mountain bike that you can get for around $500. The newest addition is the Cannondale Cujo 20 Plus. It has earned its place on the list because it provides unprecedented value for such a small amount of money.f
The low overall weight is achieved thanks to the SmartForm C3 Aluminum frame with relaxed kids-specific geometry. It puts the rider in a more upright and easygoing position. Therefore, kids will feel more confident and ride more.
Cujo 20 has a rigid fork, wide tires, and 20″ wheels. Therefore, it is pretty easy to operate and it can be ridden over a variety of terrain.
Shimano Components
Even though Cannondale Cujo 20 Plus costs around $500, it does not use any no-name components. Instead, most of the components are provided by Shimano. They're entry-level choices, but Shimano parts work really well even at this level. Your kid will have 7 speeds in total and an 11-34T cassette, which is perfect for some decent off-road riding. Plus, 1x drivetrains are easier to use.
When it comes to braking, it is always a surprise to see disc brakes on a cheap mountain bike. It tells me that the company is not cutting corners, but trying to deliver a useful product to the customer. Disc brakes make all the difference on the trails. Thus, it's good to know that Cujo 20 Plus has a pair of Tektro Mechanical discs. These come with Tektro brake levers that are easy to fully engage.
Cannondale Cujo 20 Plus is a simple and versatile kids' mountain bike that does well on paved and unpaved roads, in the forest, and on moderate trails.
As we said, the wheels are 20″ in diameter and the tires are 2.6″ wide, with some nice and grippy knobs. You'll also get a pair of platform pedals and a comfy Cannondale Ergo saddle. Therefore, all you need to do is hop on and go explore!
Conclusion: Cannondale Cujo 20 Plus is the right choice if you want to buy your child a cheap mountain bike with Shimano components to have frequent recreational rides on nearby dirt roads.
4.

Diamondback Overdrive 29
Best Range of Gears
As you know, Diamondback has been consistent in making some of the best entry-level bikes out there. They also have a good guarantee.
They provide value where it is most needed, such as with components and strong wheels. Also, following high-value standards, almost all bikes have disc brakes which aren't common on cheap mountain bikes.
When choosing inexpensive bikes, Diamondback stands out for offering good quality.
This Diamondback is the best mountain bike under $500 because it is made of high-quality materials, so it offers good value for the price. It has
29″ wheels and disc brakes which allow you to negotiable obstacles and stop quickly. It has WTB Nine Line tires, 2.25″ wide, which are the most widely used brand on traction bikes and a good deal of mountain bikes.
Assembling might require some technical knowledge. However, the bike might be a little on the heavier side, due to its aluminum frame. Keep in mind that it has Presta valves, so you'll need an appropriate pump!
Keep in mind that the price of Diamondback Overdrive 29 can now be over $500, but that does not make it less of a bargain.
However, nowadays, almost every MTB has Prestos, which require a Presto-specific pump, such as this good pump. Some time ago, nobody used to have a pump for Prestos, but these valves are now considerably more popular, so it's not a problem anymore.
Good Components: This hardtail bike has a Shimano Acera rear derailleur. I wouldn't advise going any cheaper than that, so if you have an extra $50, run to your local bike shop and buy the next level.
It isn't strictly necessary but if you can you should. For the price, you'll get a lot more in terms of durability and precision. The components on this bike are going to last until you decide to wrap yourself around a tree, but maybe you shouldn't do that.
Double Walled Rims: Many bike manufacturers, especially online, lower the price by using weak rims that can bend easily. However, the rims, like the frame, are very important, especially on budget mountain bikes because some manufacturers want to put very cheap parts on them. The double-walled rims on this Diamondback basically mean that they have two layers for greater strength.
Suntour XCT with 80 mm of travel will make the ride smooth as butter.
Find your size and purchase safely from Amazon
Cheapest We Could Find
It's fairly cheaply priced. For under $500 – actually below $300 in most cases when I checked. But what about the components? In this price range, you can't expect anything superb, but there can be a nice balance between the price and quality. This Finiss Merax is hugely popular on Amazon with over 100+ reviews.
Let's look closer and see what the reason for all of the attention is.
It rolls on 26" wheels, which are double-walled. That makes them slightly stronger compared to single-walled rims, but heavier too. It is only available in one size (19") for riders from 5'10" to 6'2". The frame material is aluminum, which Merax claims has been heat treated. Typically bikes have 1 color-scheme and different frame sizes, this Merax has 1 size and 2 different color-schemes!
Full Review: Finiss Merax
Components
Merax claims its weight to be around 33 pounds. It's not light, but decent for the price. It mainly uses Shimano low-level components which are better than some third-party components. Its 24 gears are absolutely enough for different riding situations.
Finiss Merax is a massive bargain as it costs right around $250 but offers components that usually cost at least $500.
It has a front shock with 80 mm of travel. Typically, the best mountain bikes under $500 have 100 mm which is better, but this bike is much cheaper too. It can perform, but if you're above 200 pounds, then it could be too much for the shock. You can always upgrade the front shock if you feel the need.
It has both front and rear disc brakes.
Assembly
You will need some tools to assemble it. Just make sure to attach the pedals, wheels, handlebars, and to pump up the tires. The assembly instructions are good, but if you're not familiar with bike assembly, then you might want to bring the bike to a local bike shop and have them do it for a fairly inexpensive price.
Bottom line
This is a good pick for those who are looking at the best mountain bikes for under $500. Check the best sellers and feedback on Amazon — they tell the same thing, this bike is worth buying at this price range!
Find your size and purchase safely from Amazon
6.

Co-op Cycles DRT 1.1
Full DRT Series review
Co-op Cycles may sound like a new brand to your ear, but we've monitored it for several years now. It's owned by REI.com, the maker of a few pretty slick mountain bikes priced at under $500 range.
Unisex
21 gears
Five sizes to accommodate riders from 5'0″ to 6'3" in height
Free warranty tune-up from REI.com
Powerful hydraulic disc brakes
The DRT 1.1 is designed for cycling enthusiasts who want to take up trail riding and spend some time in nature. You can see the curved top tube, which lowers the standover clearance and makes this bike a good choice for men and women alike.
Co-Op Cycles DRT 1.1 has a number of stand-out features that put it on par with more expensive trail bikes, even though it costs only around $550.
The DRT 1.1 is the best mountain bike at this price because of the excellent component spec and tailored fit for recreational trail riding. The bike employs lightweight 6061 aluminum alloy frame tubing coupled with 100 mm of travel on the front suspension, which will make all trail surfaces feel much smoother, and also will increase the rider's control and confidence.
Another standout feature of DRT 1.1 is that it has not only disc brakes but hydraulic disc brakes. This means that you'll need less power to operate these brakes than you would need for non-hydraulic ones.
The bike's overall weight of 31 lbs. won't prohibit a rider from carrying it up and down stairs. All MTBs around $500 weigh similarly, if not more. The bike requires minimal mechanical prowess to assemble – the provided comprehensive instructions and tools make it easy!
User reviews confirm our thoughts – DRT 1.1 is very intuitive and easy to feel comfortable on, and some owners point out that it's a steal at this price. The word is out!
Finally, DRT 1.1 is a great choice for riders who are making their initial foray into mountain biking and seeking a reliable "companion" to see it through. We hope that more and more beginner riders discover Co-op Cycles because it looks like they might be the new Diamondback – proven to be reliable and a great value!
7.

Mongoose Malus Fat Bike
Our Top Pick – Best Fat Bike Under $500!
Fat tire bikes are versatile workhorses of the cycling world, which can tackle any kind of terrain. Thanks to their monstrously wide tires, you can comfortably and confidently ride a fat bike over rocks, through mud, and even over deep snow. It won't give in in any situation.
Mongoose makes many different types of bicycles, but we like their MTB line the most. This MTB review page would not have been complete without a fat bike, as they are becoming more and more popular. With that in mind, when choosing mountain bikes under $500, the Mongoose Malus fat tire bike was the most logical choice.
Moreover, fat bikes are usually more robust and less complicated than other types of bikes, which makes them the perfect candidate for entry-level riders since maintenance is much easier.
Related: Cycling Shoes 101
Sturdy build 
The wheels are 26″ in diameter and come with a set of knobby 4″ wide tires that can basically go anywhere. All fat bikes usually come with disc brakes, since they need more stopping power because of their higher weight. Mongoose Malus has a set of mechanical disc brakes, which might need more strength in your fingers to fully engage, but they brake much more efficiently than V-brakes. We believe that each best fat tire bike under $500 should have disc brakes.
Mongoose Malus comes with a steel frame that puts an emphasis on comfort and strength but does not sacrifice speed and weight too much.
Shimano components
At this price, you cannot expect high-end components, that's for sure. However, Mongoose Malus doesn't give you the cheapest components either. It comes with a 1×7 drivetrain operated with a Shimano rear derailleur.
Fat bikes usually do not come with a lot of gears since they are intended for extreme terrains and conditions where you do not need to go very fast. Therefore, the seven speeds on Malus will certainly suffice.
Related: Best Fat Bikes
Give it a try! All in all, fat tire bikes are really fun machines, but they are much more than a toy. If you haven't ridden one so far, we recommend Mongoose Malus as it's great value for the price – fat bike for under $500 – give it a try!
Find your size and purchase safely from Amazon
8.

Specialized Women's Pitch
Best Trail Range for Women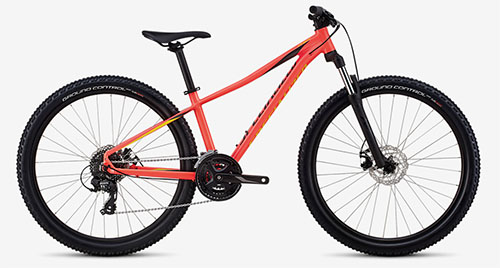 All of the bikes from the Women's Pitch family are made using the Specialized's tried and tested A1 aluminum frame and 27.5″ wheels. This makes the bike lightweight and versatile, so it can be ridden on different types of roads and for different purposes.
Specialized is doing a lot to popularize mountain biking among entry-level riders and women. The entire Specialized Women's Pitch line is the right tool for this job because the bikes cost little, look good, and have plenty of beginner-friendly features.
You can see straight away that these are proper ladylike bikes, because of the feminine paint jobs which are done in several colors. The bikes look really nice on the streets and ride even better, even though they are quite affordable.
The suspension is great as well. Depending on the size of the bike you get, the front fork will have either 80 or 100 mm of travel. Either of the two is a good amount of travel for fun rides on bumpy fire roads or recreational rides on moderate trails.
It makes the ride smooth and eliminates the majority of vibrations. The fork and the frame allow for 2.3″ wide tires, which is a lot. You'll get plenty of grip from the knobby tires even if you ride in wet conditions.
The Specialized Pitch line of women's trail bikes offers an excellent selection of models with a range of components and features to fit every pocket.
The number of gears is sometimes a problem with cheap bikes, but the Specialized Women's Pitch line has between 24 and 27 gears, which is plenty. You won't need more than that. It also has a variety of entry-level Shimano groupsets, including derailleurs and shifters.
What we like the most are the disc brakes, which really make a big difference in ride quality compared to a set of V-brakes. Cheaper models have mechanical discs, whereas the more expensive models have hydraulic ones.
All in all, we quite like these bikes and think they're an excellent choice for women beginner riders since they have female geometry and women-specific parts. Feel free to buy one of them if you want to start off-road cycling as a complete beginner and learn the beauties of the sport.
9.
Prevelo Alpha Four Kids' Bike
Best Bike for Kids Under $500
We believe that kids should start riding bikes at an early age. It's fun and it's good for their health! That's why we're wrapping up this list with the best kids' bike under $500! We're talking about the Prevelo Alpha Four which is a versatile choice that does well both on and off-road.
It features 24″ wheels which makes this bike suitable for kids between 7 and 11 years old. However, depending on their height, even older kids can enjoy this beautiful MTB.
Great Components for the Price
The basic Prevelo Alpha Four model costs just $500. However, if you wish to, you add some accessories on it which will ramp up the price. You can equip it with the following:
Kickstand
Custom color grips
Incredibell bicycle bell
Rider name lettering
USB rechargeable lights
Easy-to-use grip shifter
Even if you choose none of these, the stock model is already equipped enough to guarantee a fun and quality ride. Alpha Four has eight speeds that can be shifted with a Shimano Altus derailleur and Shimano Rapidfire Shifters. That's perfect to teach your kid how multi-gear drivetrains work.
Prevelo Alpha Four is a kids' mountain bike with an adult approach making it a serious contender on the trails.
Prevelo Alpha Four also has front and rear alloy V-brakes and Kenda's 24″ x 1.5″ tires, both of which inspire confidence and stability.
The fork is on this bike is rigid, but most kids don't really need front suspension as they don't ride too hard. In return, the weight is reduced quite a bit, so Alpha Four weighs just 21.2 lbs / 9.6 kg.
If you want your child to spend more time outside and fall in love with cycling on a fun and quality bike, then Prevelo Alpha Four is a no-brainer.
---
And… Which one to choose?
We tested eight bikes and found them all to be great values and competent machines. But which one would be the best for you?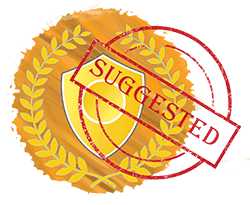 Let's investigate…
If you want a true taste of mountain biking in a fantastic women's trail bike, then you should look for the Cannondale Trail Tango 3. However, the best trail mountain bike around $500 that we've located is the Co-op DRT 1.1.
The Diamondback Overdrive 29 is a great performer for several years already.
Seriously!
But, if some aspect of the bike does not suit your fancy, our next-best alternative would be the Cannondale Trail 8. We've got great feedback from our readers on all of these solid options. The best kids' mountain bike comes in the form of the Cannondale Cujo 20 Plus.
Full-suspension bikes are exciting to ride, as many dirt cyclists will attest. However, the only full-suspension bike we've found in this price range was the Diamondback Recoil 29, which is out of stock now. We have yet to identify another suitably-similar model, but we'll be sure to let you know if/when we do. For all-terrain fat bikers, we found the Mongoose Malus to be the best pick.
Fact time: Women can always use men's bikes, and many do. However, the best trail-specific mountain bike around $500 that we've located is the Co-op DRT 1.1. You should also consider the Specialized Women's Pitch. Great bikes in this line!
For the most part, you get what you pay for. If low price is your priority and you are satisfied with weaker components, then we'll suggest the Finiss Merax, which will fulfil its duties if maintained regularly and not abused.
Finally, if you're looking for a bike to surprise your kid with, then Prevelo Alpha Four is guaranteed to put a smile on their face.
---
Not Sure how to Assemble a Bike? Click Here To Order Proper Bike Assembly From Amazon!
---
If you didn't find what you were looking for, here's a quick tip for you. Find your bike on REI, JensonUSA, evo, Backcountry, Planet Cyclery mountain bike category (sorted by price)
---
OVERALL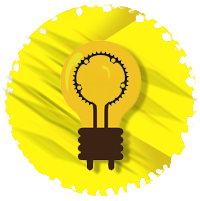 One may be hesitant to purchase a cheap mountain bike online, but there are some strong contenders. When it comes to branded bikes, you pay at least 30% for the name alone, while lesser-known best budget mountain bike manufacturers work hard to make quality bikes that could rival "Scotts" or "Treks". You can read about them here on Bikeradar. All of the bikes have a firm lightweight and high-quality frames and the only way to go up is to buy a carbon fiber frame, which is considerably pricier than the cheap mountain bikes discussed here.
I suggest you buy only the best hardtail mountain bikes because full-suspension bikes need more money and you can't afford them in this price range.
While they might require some basic assembling, i.e handlebar or rims installed, we would advise any one of these bikes as top-notch entry-level options and you shouldn't worry about the less than perfect quality – they are great for training and exploring new roads.
I hope you found the best mountain bikes under $500!
Consider buying pre-owner bikes from The Pro's Closet
Related MTB Reviews
---
Other articles