When it comes to cycling, Schwinn is an entry-level brand you will hear a lot about, and they have an incredible heritage when it comes to bikes, especially mountain bikes.
In this article, we will speak about the legendary Schwinn mountain bikes and what makes the brand unique. It's not rare to see a Schwinn mountain bike at a bike park ripping down a trail.
One thing Schwinn does excellently is they offer entry-level bikes to suit everyone.
Schwinn makes solid bikes for beginners, over the years, has produced not just mountain bikes but some absolute classics such as the Schwinn Paramount, which broke the cycling fastest mile on a bicycle at 108mph.
You also have the classic Tank Cruisers and the Sting Ray, which were iconic bikes in their time and sort after classics now.
Schwinn was founded in 1985 in Chicago by Ignaz Schwinn, a German mechanical engineer. History was made a year after in 1896 when cyclist Major Taylor became the World Champion on a Schwinn, and they grew quickly from there.
Schwinn Mountain Bikes
When mountain bikes were born, Schwinn thought it was going to be a passing fad and originally did put a mountain bike together, but it wasn't as good as the competition and didn't do as well off-road as intended. The bike itself wasn't even listed in the product catalog. It took Schwinn a while to get it right.
It wasn't until around 1986, when Ned Overend won two Mountain Biking National Championships for the Schwinn team, that people really started to notice how excellent the mountain bikes had become.
We're going to take a look at the current Schwinn mountain bike lineup and tell you why it's an excellent idea to consider them when it's time for a new mountain bike. Now Schwinn focuses on budget mountain bikes, that offer good value for money.
One thing that makes Schwinn very different from other bike brands is that they typically use only one frame size on some models and just change the wheel size. Then on other models, they will adjust the frame size and keep the wheel size the same.
Schwinn Mesa
Schwinn Mesa is a hardtail mountain bike. They currently have three in the range – 1, 2, and 3. They are all made of lightweight aluminum and are strong and robust.
The Mesa 3 is the only model that comes in men's and women's. Mesa 1 and 2 are unisex frames.
The lower the number, the better components that the bike has. They come with front suspension, typically a Zoom fork with 60mm of travel. It is going to dampen light bumps but not something you're going to want to take to a downhill mountain bike course.
The geometry is comfortable, and this bike is going to be a pleasure to go on and off-road with. These bikes will suit users from 5'0″ all the way to 6'5″ depending on the frame size.
The brakes are rim brakes on the Mesa 3, but on the Mesa 2, you get mechanical disc brakes which give good stopping power. On Mesa 1, you get powerful hydraulic disc brakes. The gearing is Shimano, and they make excellent quality components.
Related: Cycling Tips For Beginners
Each bike uses a triple front chainset and a large cassette on the rear. You won't struggle with hills as there are many options.
Mesa 3 and 2 have 21 speeds, but Mesa 1 has 24. They all use 27.5″ tires which makes the bikes fun and agile to be off-road, and they are also equipped with 2.25″ grippy tires to help control.
Schwinn High Timber
Schwinn High Timber, like the Mesa, is a hardtail mountain bike and comes in many different models. The High Timber comes in two levels of performance – standard and ALX. The standard is basic, and the ALX has upgraded components.
The frames they use on all the High Timbers are lightweight aluminum, and they have front suspension, which is going to take all the bumps out of the road, but you're not going to want to go to extremely technical courses with this bike.
Schwinn High Timber will suit users from 4'8″ all the way to 6'2″ depending on the wheel size and model.
Then you have the brakes. On the standard models, you have rim brakes which are going to give you ok stopping power, and on the ALX, you get disc brakes which are much better at stopping and in all conditions.
The gearing is the Shimano triple crank with 7 speeds on the rear, giving you a 21 speed in total. Both standard and ALX use this. They use the REVOSHIFT twist system, and it is an excellent reliable groupset that will easily get you up steep hills.
Then we come to wheels, and unlike the Mesa, the High Timber has various sizes. You have wheels as small as 24″ for juniors, and then it goes to 26″, 27.5″, and 29″ for tall adults. This is excellent from Schwinn, and it makes the bike much more suited to your height and size.
Schwinn Traxion
Schwinn Traxion is an absolute beast, and this bike has some excellent capabilities. Unlike the other bikes above, this is a full-suspension mountain bike and not only has front forks but a rear shock.
The frame is aluminum, and it is designed to stay very agile and help the rider with harsh off-road terrain while being robust and lightweight.
The Traxion has some excellent abilities and is much more suited to a trail than on the road. If you're at the height of 5'8″ to 6'2″, this bike is going to suit you. If you require smaller, the Protocol below is the right bike for you.
To back up this off-road performance, you will need disc brakes, and the Traxion has them, and they will be very helpful on a trail. Then you have the groupset. Like the other bikes, the Traxion has a Shimano triple front crank, but it is equipped with an 8-speed cassette on the rear. It's going to give you a few more gears for those demanding climbs.
See more: Best Full Suspension Mountain Bikes
It also has trigger shifters instead of twist shifters which are a lovely touch and much better for off-road riding. The wheels come in 29″ with large 2.25″ tires, which really helps the bike roll over obstacles such as tree stumps and rocks quickly.
Schwinn Protocol
Schwinn Protocol, much like the Traxion, is a full-suspension mountain bike. It has dual suspension, forks on the front, shock on the rear, and will be very capable when it comes to getting nice and muddy.
Like all the Schwinn bikes, it's made on aluminum and is going to be relatively lightweight and super strong. This is a bike that is going to be at home more in the mud than on the road but will be able to go anywhere.
If you are at a height of 5'3″ to 5'8″, this bike will be the right size for you. Any taller the Traxion above will cover you.
This trail lover is using mechanical disc brakes for better stopping power, and it is going to make slowing down much easier no matter what the conditions. The gearing is a triple crank at the front and a 7-speed cassette at the rear, so a few gears less than the bike above but still has those trigger shifters for quick shifts through the gears.
This bike is suited to shorter people than the Traxion, so Schwinn has given it smaller wheels at the size of 26″. This makes it much better for the user and does add a lot of control to the rider but takes away some top speed.
Didn't find what you were looking for? Take a look at our overview of Schwinn Electric Bikes.
Final Thoughts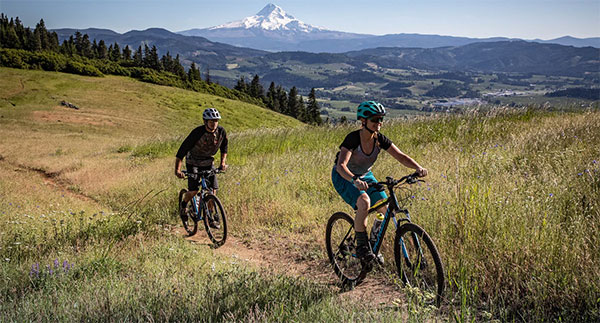 Schwinn makes great bikes. They are not making super high-end performance bikes, but they are making something for people that might want to go at weekends for a ride or a family group outing dragging the kids alongside.
Schwinn mountain bikes are probably some of the best entry-level bikes. Although they might be cheaper than most brands, the quality is still there.
They use strong aluminum frames and Shimano components, and as a package, they come in at an amazingly low price.
Schwinn mountain bike is a good choice if you are looking to get into cycling and don't want to break the bank. They also look great and hold resale value when it comes to getting rid of or upgrading to something with a little more performance. Schwinn is at the top of our list for solid entry-level mountain bikes.