Schwinn is one of the oldest bicycle manufacturers still up and running. But are Schwinn bikes still good? Check out our detailed Schwinn bikes review below to find out.
Schwinn is an iconic USA-based cycling brand with a long tradition of making excellent bicycles.
However, many were left wondering if Schwinn bikes are still worth the money after the company was sold off to Pacific Cycle in 2001.
If you are a beginner or a casual cyclist, Schwinn is still worth your attention. That's why we're writing this detailed Schwinn Bikes review to show you the brand's lineup and tell you about its rich history.
Take a look at our guide below!
History of Schwinn Bikes
Schwinn Bikes was founded back in 1895 in Chicago by a German-born mechanical engineer called Ignaz Schwinn.

It didn't take long for Schwinn to become the biggest bicycle manufacturer in the USA and retain that status for the better part of the 20th century.
However, due to heavy competition in the 1990s, Schwinn's sales dropped and the company was forced to declare bankruptcy.
Pacific Cycle bought what was left of this iconic American brand and started selling Schwinn models as "box store" bikes at Walmart, Target, and Toys R Us.
Schwinn bicycles are not what they used to be, but that doesn't mean they're bad.
In addition to "department store" models, the company also makes higher-end bikes known as the Signature Series. These include road, mountain, hybrid, cruiser, urban, electric, and kids bicycles that can be found on Schwinn's website.
Mountain | Cruisers | Hybrids | Electric | Kids | Tricycles | Fitness
---
Mountain
---
Mesa 3
---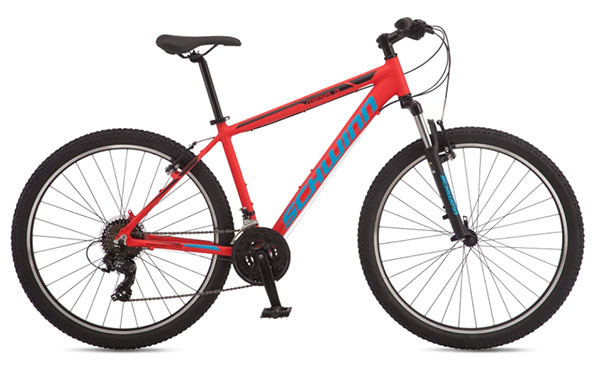 21 gears
26″ or 27.5″ wheels
100mm front suspension
Schwinn has a phenomenal offer for beginner mountain bikers and casual riders who love the comfort and practicality of MTBs. Mesa 3 is a great example.
This is an entry-level Schwinn mountain bike that costs $450 and features an aluminum frame, front suspension, and 26″ or 27.5″ wheels. The Zoom fork has 100mm of travel, which is great for XC rides and light trails.
Mesa 3 has basic components, but you don't need much more if you don't intend to ride on serious trails. It also gives you 21 gears, streamlined rim brakes, and wide tires for excellent grip on any unpaved road.
Apart from a decent overall build, this Schwinn bike also looks good due to the attractive red finish. You won't regret buying it as it will introduce you to the ropes of the MTB world.
High Timber
---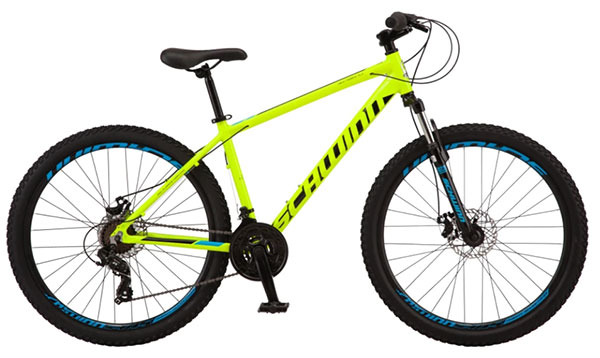 Mechanical disc brakes
21-speed Shimano drivetrain
Front suspension fork
If you have a limited budget but you're looking for a Schwinn mountain bike that can do some proper off-roading, the High Timber model is for you.
This is a 27.5″ MTB with capable 2.2″ wide tires that will provide you with enough grip for any type of surface. The front suspension fork is entry-level, but you'll be happy to have it when the terrain becomes bumpy.
The High Timber Schwinn mountain bike also features 21 gears with Shimano components and an aluminum frame with relaxed upright geometry.
However, the highlight on the list of specs is the disc brakes. Though these are mechanical disc brakes, they offer superior stopping power compared to rim brakes.
To sum, with the High Timber bike, you get a proper entry-level MTB for just $390, which is an excellent deal if you're a beginner or leisure rider.
Traxion
---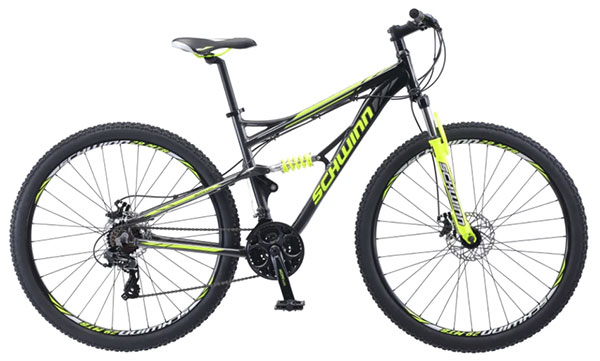 Full-suspension aluminum frame
24 gears
Mechanical disc brakes
We don't often recommend cheap full-suspension bikes because manufacturers often take shortcuts to be able to make both front and rear suspension fit the price.
However, Schwinn Traxion is a solid FS bike if you maintain realistic expectations about what it can and can't do. The fork and rear shock will not survive abuse on extreme trails, but they'll get the job done on dirt and gravel roads and moderate trails.
Traxion also has 24 gears with a Shimano rear derailleur and capable 29 x 2.25″ knobby tires. Of course, mechanical disc brakes come with the package as well, so you can both climb and descend confidently.
This bike is made around a lightweight and strong aluminum frame that doesn't feature internal cable routing, which is one of the main downsides.
Get this Schwinn mountain bike if you want the highest level of comfort without paying the highest price!
---
Cruisers
---
Huron 7
---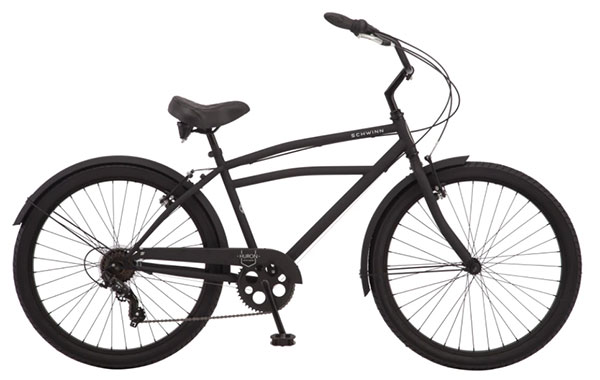 Stylish and retro Schwinn cruiser bike
7-speed drivetrain
Comfy dual-suspension saddle
Few things can beat riding on a cruiser bike on a warm day, along a beach, just chilling and soaking up the sunshine. If you share our opinion, then Schwinn Huron 7 is the right bike for you.
This is an adult Schwinn cruiser bike that's suitable for both men and women. It has a stylish and retro frame that's available in three good-looking colors—gray, black, and red.
Unlike many other cruisers, Huron 7 has a 7-speed drivetrain, so it's actually easy to pedal even uphill. It also features front and rear rim brakes for good stopping power and even front and rear fenders to keep you dry and clean.
The best thing about this cruiser is definitely the upright geometry, adjustable swept-back handlebar, and dual-suspension saddle. You'll feel like riding on a cloud on it.
Twinn Classic Tandem
---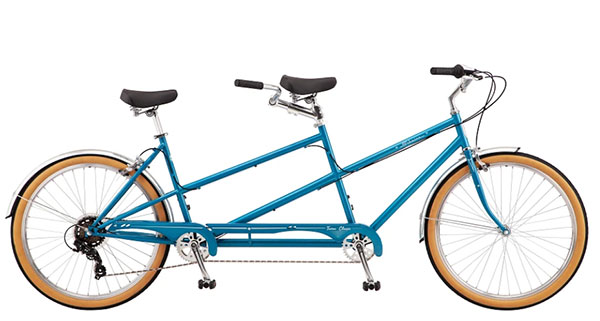 Steel tandem frame
7-speed drivetrain
650b x 45c tires
Riding a bike is much more enjoyable when you share it with someone you love. If you think the same, you should consider getting the Schwinn Twinn tandem bike and ride together with friends and family.
Schwinn Twinn is built around a low-step steel tandem frame that looks stylish and rides smoothly. It's available in an attractive blue color with tan-wall tires.
This bike also features a Shimano 7-speed drivetrain for easier climbing, alloy caliper brakes for reliable stopping, and 650b x 45c urban tires that can roll on unpaved roads as well.
Another thing you'll like about Schwinn Twinn is the dual-spring saddle and swept-back handlebars that exude comfort. You'll also get front and rear fenders to stay dry and clean if you get caught up in a shower.
It's the right bike for you if you love easy cycling in good company on a sunny Sunday!
---
Hybrids
---
Collegiate
---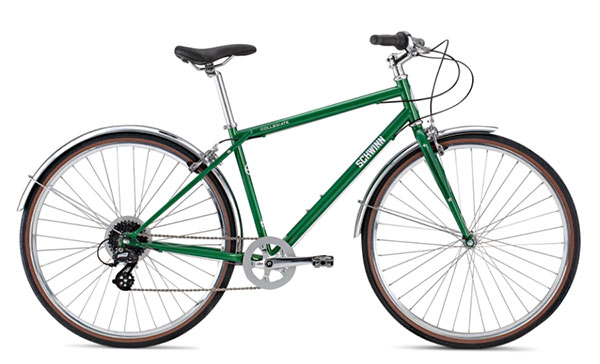 USA-made steel frame
8-speed drivetrain
Sweptback handlebars
Schwinn Collegiate is a classic hybrid bike with an attractive old-school-cool look. This model is special because each bicycle was designed in Madison, Wisconsin and the steel frames were hand-welded in Detroit, by Detroit Bikes. 
In addition to being hand-made in the USA, Schwinn Collegiate is also easy to ride and maintain. It's equipped with a 1×8 Shimano drivetrain and simple front and rear caliper brakes that offer great stopping performance.
This bike is ideal for urban commutes and casual rides thanks to the aluminum 700C wheels and wider tires. The package also includes front and rear polished fenders that will allow you to ride year-round.
Finally, Schwinn Collegiate is suitable both for men and for women as it's available with a step-over and a step-through frame.
Definitely shortlist it if you want a durable USA-made steel hybrid that looks amazing and is fun to ride.
Discover
---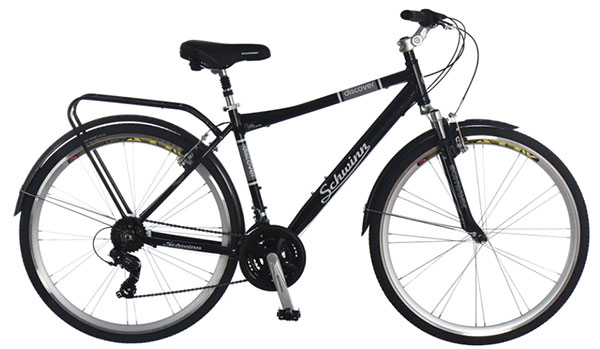 Lightweight aluminum frame and wheels
21-speed drivetrain
Adjustable stem and suspension seat post
Schwinn Discover is here to help you discover what the word "comfortable" really means. This is a hybrid comfort bike with front suspension, wide tires, and relaxed urban geometry.
It's outfitted with a lightweight aluminum frame that's available in black and white paint jobs. The frame also features an integrated rear rack, so you can carry panniers or attach a child seat and take your child along for the ride.
Schwinn Discover offers 21 gears with entry-level SRAM components, basic V-brakes, and really strong and light alloy rims. It also has front and rear fenders that will keep water and dirt off of your body when it starts raining.
We especially like the adjustable stem and the padded saddle with a suspension seat post that will completely eliminate road vibrations.
If you want an authentic and affordable hybrid bike that will get the job done on any type of road, get Schwinn Discover.
GTX 2
---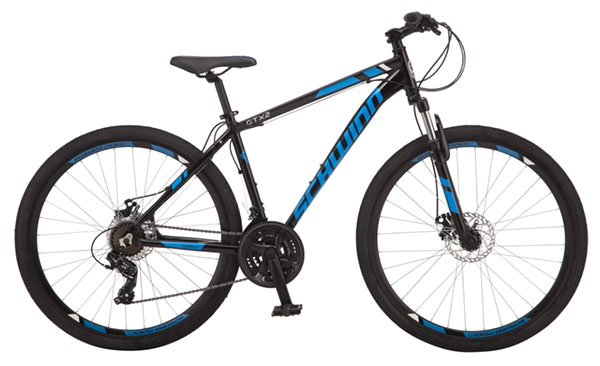 21 speeds
Front suspension
Lifetime warranty on the frame
Sometimes you don't want to race, break records, or snag KOMs/QOMs. Instead, you just want to be on the move. That's what Schwinn GTX 2 is for. This is a simple hybrid with front suspension that's suitable for male and female leisure riders.
It has a lightweight and durable aluminum frame that comes with a lifetime warranty. Due to rolling on 700C wheels, this bike is suitable for riders who are between 5'4″ and 6'2″ tall.
Schwinn also equipped the GTX 2 with 21 gears so you won't be lacking granny gears when the road starts going up. You'll also get trustworthy Shimano components, so shifting will be smooth and crisp.
The mechanical disc brakes are the cherry on the top as they are a rare find in this price range. If you were using V-brakes before, you'll be astonished to find out how much better braking with discs is.
---
Electric Bikes
---
eVantage
---
Bosch mid-drive motor and battery
11-speed SRAM Apex drivetrain
Multi-surface 650B x 47mm tires
In our opinion, eVantage is the best Schwinn electric bike and the best model this brand makes. This is a versatile e-bike with great components and powerful electronics, available in several versions. Namely, you can get the eVantage RXe, FXe, or FXe Women's.
The RXe model is basically a gravel/commuter e-bike with drop bars, disc brakes, 650B x 47mm tires, and a SRAM Apex 11-speed drivetrain.
The eVantage FXe models differ in that they have flat bars instead of drop bars, so they are more suitable for city riding.
eVantage bikes are equipped with high-quality Bosch mid-drive motors that will assist you up to 20MPH on the FXe models or up to 28MPH on the RXe model.
Get one of the Schwinn eVantage bikes if you want a good-looking and even better-performing e-bike for city or gravel riding.
eVoyageur
---
Bafang mid-drive motor
8-speed Shimano drivetrain
Disc brakes and a suspension seat post
The eVoyageur is a more affordable hybrid Schwinn electric bike suitable for commuters and casual riders who need some assistance.
It's powered by a Bafang MaxDrive mid-drive motor that offers 5 levels of pedal assist that will help you climb hills faster. The battery is mounted on the down tube so it's not integrated into the frame, but it offers plenty of range.
The lightweight aluminum frame is combined with a SR Suntour NEX fork for utmost comfort on bumpy roads. You'll also get an 8-speed Shimano drivetrain that will allow you to keep pedaling without much effort.
Disc brakes and a suspension seat post also enter the $2,800 price tag, which is a pleasant surprise.
So if you want an affordable but powerful Schwinn electric bike to ride to work, to school, around the neighborhood, or on bike paths, the eVoyageur is all you really need.
---
Kids
---
Sting-Ray
---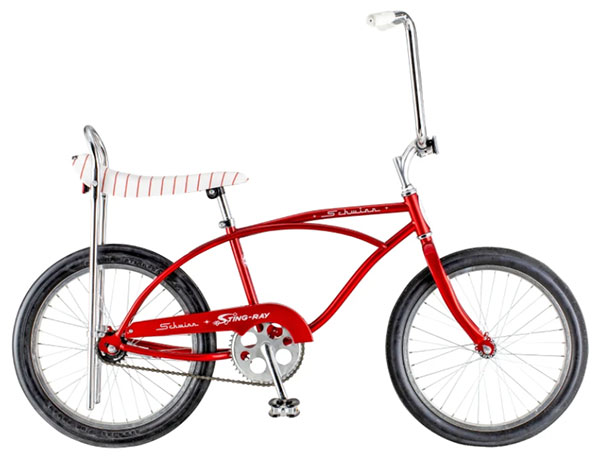 Classic design introduced in 1963
Durable and iconic steel frame
Banana seat and riser ape handlebar
Schwinn is one of the companies with the longest tradition in the cycling industry. The Sting-Ray kids' bike was first introduced in 1963, quickly becoming one of the most popular kids' bikes in the USA. To everyone's delight, it's back again!
This is a uniquely designed single-speed bike with a recognizable steel frame and the classic banana seat. Chances are your rode it when you were a child, and now it's time for your child to continue that legacy.
It's equipped with a fun and simple coaster brake, 20″ wheels, a racing slick rear tire, high-rise ape bars, and classic white rubber grips.
Due to its streamlined build, Schwinn Sting-Ray is intuitive to use, so it's perfect for kids to practice riding and to fall in love with bicycles.
Best of all, the Sting-Ray is very affordable as well.
Elm
---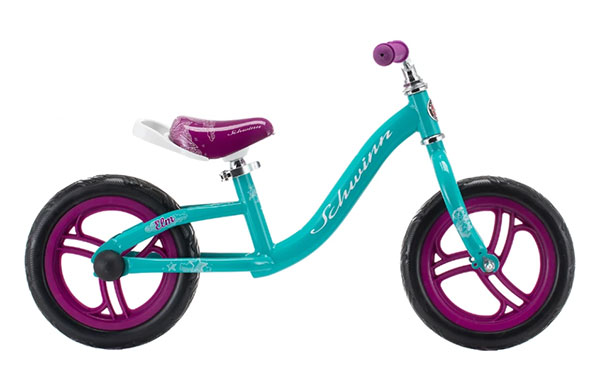 Beautiful design for boys and girls
Puncture-proof foam tires
Lightweight 12″ wheels
If you want to help your children learn how to ride a bike, you should get them a balance bike. Schwinn Elm 12″ is a great choice that does not cost much.
Balance bikes are designed without a drivetrain or pedals. Children use their feet to push against the ground and propel themselves, which lets them easily learn how to balance on two wheels. This is a superior way of learning how to ride a bike compared to using training wheels.
In particular, this balance bicycle rolls on tiny 12″ wheels with puncture-resistant foam tires and lightweight rims.
It fits children between 28 and 38 inches tall and comes in blue, pink and green colors, so it's suitable for boys and girls of different ages.
This is one of the best gifts that you can get that your kids will remember for a lifetime.
Roadster Tricycle
---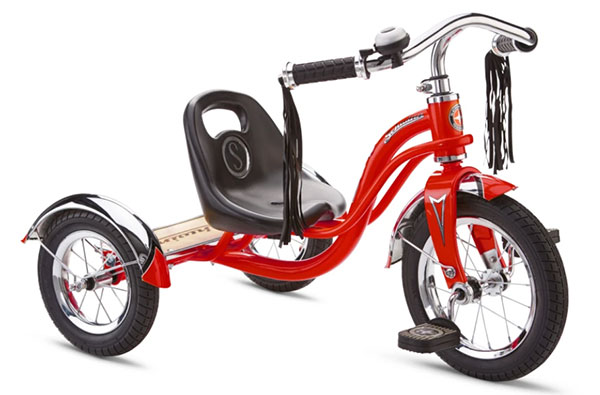 Seven attractive boys' and girls' colors
A low center of gravity improves stability
Comes with fenders, a bell, and mustache handlebars with tassels
A tricycle is an iconic kids' toy that every generation wants and enjoys. Schwinn has been making trikes for a long time and Roadster has been one of their best-selling models for years.
The Roadster tricycle is made around a durable steel frame that has a low center of gravity, so it's easy to ride which builds confidence.
The sculpted seat is adjustable in five positions so this trike fits kids between 3 and 5 years old. It's the perfect first cycle!
In addition to these features, Roadster also has a wooden deck that can carry your kid's favorite toy, a mustache handlebar with tassels, and even a bell.
The package also includes chrome fenders and seven attractive colors to choose from that are suitable for boys and girls alike!
---
Tricycles
---
eMeridian Trike
---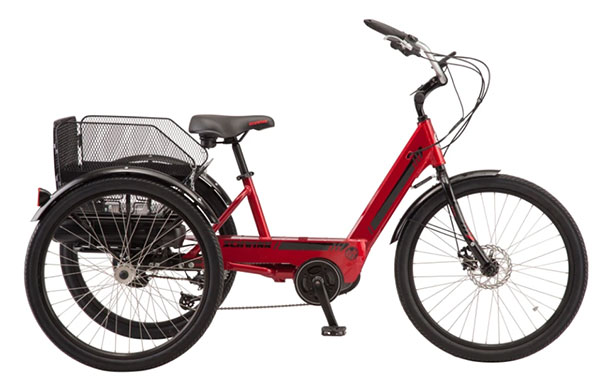 A powerful motor and high-capacity battery
A large basket to carry your necessities
16 mph maximum assisted speed
Our mobility and balance can suffer as we age, but that's not a reason to stop cycling. An electric trike such as Schwinn Meridian can help you regain your freedom and independence or reignite your passion for cycling.
eMeridian is an adult tricycle with a 350W Bafang motor that can assist you up to 16 mph and a 630Wh battery that ensures a long range. You also get disc brakes for secure stopping.
This trike has 26″ wheels so it fits riders between 5'4″ and 6'2″ tall. The frame is made from steel, which means it is incredibly strong and can support heavier riders.
Schwinn eMeridian is quite practical as well. It features a large rear basket, fenders, and an extra-large seat. Therefore you can ride it to the grocery store and go out even when the road is damp.
Meridian Single Speed Tricycle
---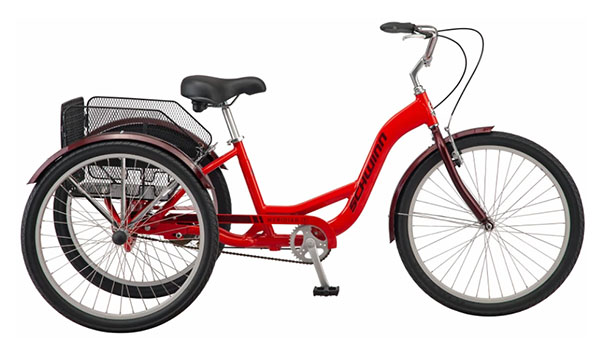 Durable steel frame with low standover clearance
Single-speed drivetrain
Large basket with mesh sidewalls
If you like the idea of riding a trike but you don't think you need an e-motor to push you along, you can save some money and get the Schwinn Meridian single-speed trike.
This adult tricycle shares a lot of the features with its electric twin but instead comes with a single-speed drivetrain that's easy to use and maintain.
Since you probably won't be going too fast on it, you don't need disc brakes, so this model has a trusty front V-brake and a coaster brake instead.
The Meridian trike also has a large basket, fenders, adjustable handlebars, and efficient 26″ wheels. The steel frame is suitable for men and women and comes in two attractive colors.
Get it if you want to ride every day without worrying about balance and stability.
---
Fitness Bikes
---
Schwinn 570R
---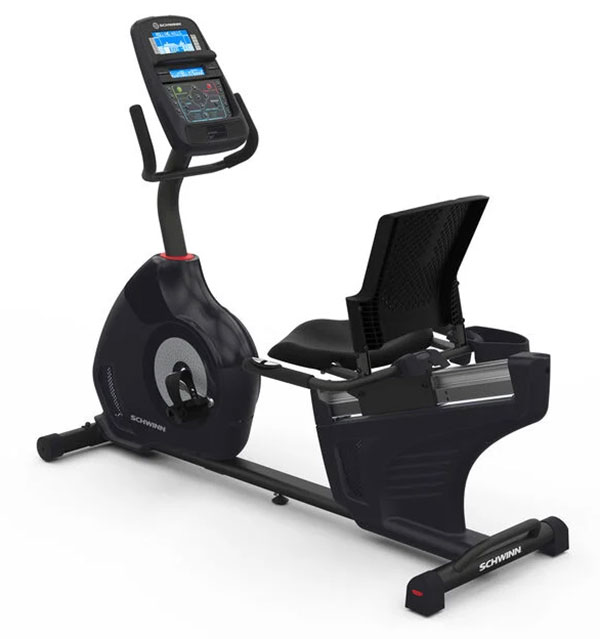 Recumbent Schwinn exercise bike
Bluetooth® connectivity and Explore the World™ compatibility
29 workout presets
Schwinn 570R is one of the best recumbent exercise bikes you can get for the money. It's packed to the brim with advanced features but you don't have to break the bank to get it.
It's built around a walk-through frame for easy access, paired up with an ergonomic ventilated seat that will support your back on longer rides.
Keep in mind that this bike is known as Schwinn 270 in countries with a 110V electrical outlet.
When it comes to advanced features, this Schwinn recumbent bike has Bluetooth connectivity, Explore the World compatibility, 29 workout presets, 25 resistance levels, two blue backlit LCD screens, a fan, and even built-in speakers.
Get it if you love techy features, data, entertainment, and want to track all of your workouts with an app.
Schwinn 510R/230 Recumbent Bike
---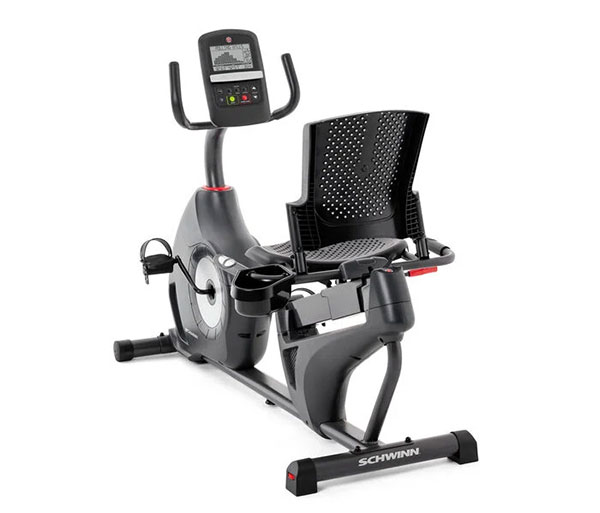 Bluetooth compatibility
13 workout programs
Compatible with popular cycling apps
Schwinn 510R is the most affordable recumbent bike made by Schwinn, but it still delivers incredible value through modern features and a user-friendly design. It allows you to exercise indoors while experiencing all the excitement of outdoor adventures thanks to Explore the World®, Zwift®, and Kinomap® compatibility.
In addition to that, you get Bluetooth heart rate, 5.5″ segmented LCD screen, 13 workout programs, and 16 magnetic resistance levels.
If you live in a country with a 110V electrical outlet, this bike will be sold as Schwinn 230.
The LCD screen tracks your speed, RPM, heart rate, calories, distance, and time, so you'll always know how hard you're working. We also love the ergonomic seat as it's comfortable and well ventilated.
You can use the Schwinn 510R recumbent bike to warm up, recover, lose weight, or do strenuous workouts. It can do it all at a reasonably low price.
Schwinn IC8
---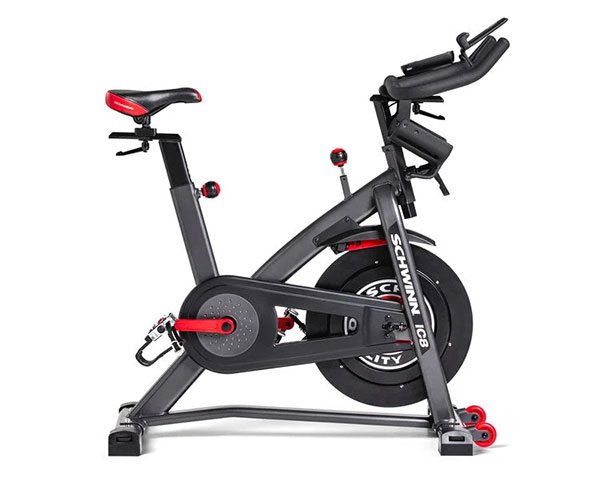 Bluetooth connectivity
Full-color backlit LCD display
Horizontal and vertical adjustment of the seat and handlebars
Schwinn IC8 (also known as IC4 in countries with 110V electrical outlets) is an indoor bicycle that lets you get an authentic cycling experience in your living room.
This is an advanced indoor Schwinn exercise bike with Bluetooth connectivity and a full-color backlit LCD display. Thanks to these features, you can connect to apps like Explore the World™, Zwift®, and more to make your workouts more entertaining.
This Schwinn bike is powered with smooth magnetic resistance with 100 micro-adjustable resistance levels. You can easily find the right difficulty to do any kind of workout. Moreover, you also get a media rack and a USB charging station to charge your devices with your own power.
In addition to these features, Schwinn IC8 also has a water bottle holder and a holder for dumbbells. It's an excellent budget model that's suitable for beginners and experienced cyclists.
Check out our list of the best recumbent bikes!
FAQ
---
Are Schwinn bikes good quality?
Schwinn bikes are definitely not what they used to be, but they're still worth the money. Nowadays, Schwinn makes entry-level bikes that don't cost much which makes them ideal for beginners and casual riders. They're made with quality affordable materials that will last if taken good care of.
Why are Schwinn bikes so expensive?
Actually, Schwinn bikes are not expensive at all. Schwinn mostly makes entry-level bikes that cost little but offer decent features for beginners and casual riders. They might be slightly more expensive than similar models because Schwinn is a popular brand, but they're still quite affordable.
Is Schwinn a good brand of bike?
Schwinn is a great brand for beginners and amateur hobby riders. Sadly, most Schwinn bikes are no longer suitable for more serious riders because they're made with entry-level components that limit performance. If you're a casual rider, though, you'll be more than happy with any Schwinn bike.
Which is a better bike Trek or Schwinn?
Both Trek and Schwinn make good bicycles, but they're suitable for different types of riders. If you are a serious fitness rider or you aspire to race, get a Trek model. If you are a casual rider who just enjoys cycling, Schwinn will do the job at a low price.
Are Schwinn or Huffy bikes better?
Schwinn and Huffy bikes are comparable in terms of components, the materials used, and the overall build. However, in our opinion, Schwinn bikes are slightly better because they're made by a company with a long tradition. They might be more expensive, but they'll also last for much longer.
How can you tell if a Schwinn bike is vintage?
To find out how old a Schwinn bike is, you should first find the bike's serial number. It is typically located under the bottom bracket, on the chain-side dropout, or on the head tube. Once you obtain the serial number, you can visit the Schwinn Date Code website and learn more about your bike.
How much is an old Schwinn bicycle worth?
The price of an old Schwinn bicycle depends on how rare the model is and how well preserved it is. For example, a beat-up Schwinn bike that requires extensive restoration can only be worth $50. But a rare model in good condition, such as the 1920 Schwinn Excelsior, can retail for as much as $1,000.
Our Thoughts
---
To sum things up, it seems that Schwinn is very much alive and kicking, manufacturing quality bikes in various categories.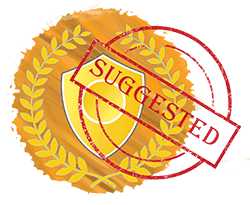 Are Schwinn bikes still worth your money? Our answer is a definite Yes. 
But are Schwinn bikes the same quality as they used to be? Most of them aren't, though the brand still makes some higher-end bikes introduced through the Signature Series lineup.
All things considered, our Schwinn Bikes review should have shown you that this is still a reputable brand with a long list of good-looking models to choose from.
If you own a Schwinn bike or you used to own one before, let us know what you think about it in the comments below!