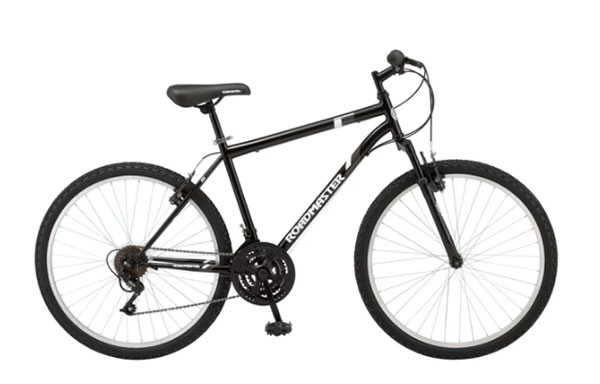 Roadmaster bikes make some of the most popular bikes for kids, women, and men today. One of their best-selling bikes is the Roadmaster Granite Peak bike, an all-around mountain bike for cyclists.
The Granite Peak bike is durable and affordable for short commutes, leisure riding around your neighborhood, and light trails.
Riding a bike is an excellent way for people of all ages to keep fit and add to their routine.
Here are some features of Roadmaster Granite Peak that will help you stay healthy while enjoying a bike ride.
Main Specifications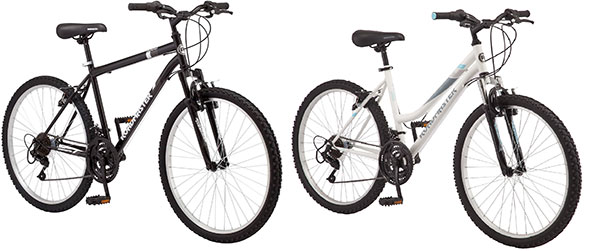 Some of the main specifications include:
Steel Frame (step-over and step-through)
18-speed drivetrain
26″ wheels
Linear pull brake style
Frame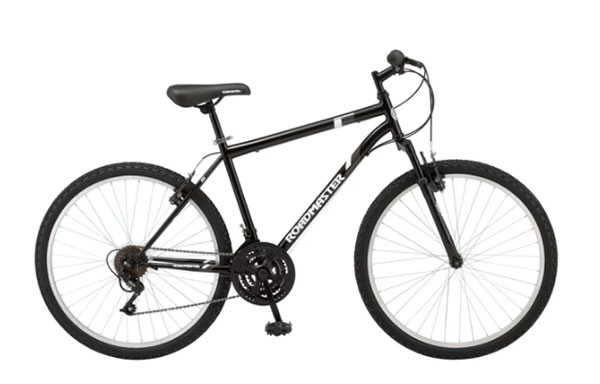 The Roadmaster Granite Peak mountain bike has many versatile features to handle different terrains and riding environments. With models for both women and men, all cyclists can get a piece of the quality Roadmasters has to offer.
The frames on these bikes consist of high-quality steel, which is durable to handle any road bumps better. With a front suspension fork, it is better at handling different terrains and navigating difficult paths when cycling. This bike also weighs 40 pounds and comes in the color black and blue.
Speed
The Roadmaster Granite peak bike also features 18-speed shifters for simpler shifting on the trail with Shimano rear derailleurs. It also features durable tires of different sizes to ensure you get a smooth ride each time you go cycling.
The weight capacity of this bike is 300lbs. With tire-thread grips, the bike rolls well on the ground giving you more confidence while maneuvering trails. The alloy rim also makes it more stable on various cycling paths.
Comfort
You will get quality braking power with the linear-pull brake style on this mountain bike. Your comfort is also a priority with this mountain bike.
It features a padded seat and handlebars with a comfort grip to keep you comfortable during long-distance rides. The seat is easily height-adjustable to fit different riders without the need for tools.
Sizing
Roadmaster has many mountain bikes in the market, so it can be difficult to choose the right one. Using the sizing chart, you can select the 24″ or 26″ tires Granite Peak mountain bike. You can adjust the seat of this mountain bike without any tools.
This makes the Roadmaster Granite Peak suitable for cyclists between 5'2″ to 6'2″. If you select the right frame size, it will ensure you get more control and flexibility when on the bike.
How Does Granite Peak Compare To Others?
Granite Peak vs. Merax Finiss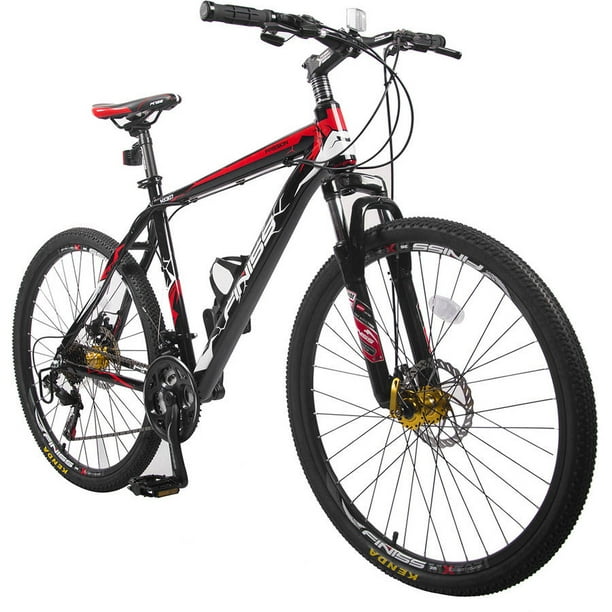 The Merax Finiss mountain bike is in some ways similar to the Roadmaster Granite Peak. They both have models with 26 inches tires. Whereas the Granite Peak has a steel frame, the Merax Finiss has a more lightweight aluminum frame.
Both these bikes have front suspensions to make your rides smoother and more enjoyable. If you like fast riding, the Merax Finiss bike has 24 speeds, while the Granite Peak mountain bike has 18 speeds. Merax Finiss bike has a weight capacity of 330 lbs, which is more than the Granite Peak's 300 lbs weight capacity for riders.
Check out our review on Merax Finiss.
Granite Peak vs. Co-op Cycles DRT 1.0
The Co-op Cycles DRT 1.0 is a quality bike for small riders that also features 26inch wheels. This bike has an aluminum frame, unlike the Granite Peak mountain bike with a steel frame. Aluminum is lighter than steel which might reduce the overall weight of the Co-op Cycles DRT 1.0 bike.
Like the Granite Peak, this bike also has a weight limit of 300lbs, which accommodates more cyclists. They both have Shimano derailleurs to offer you a smooth ride and easily shift gears. The Co-op Cycles DRT 1.0 is faster with 21 gears, while the Granite Peak has 18 speeds to handle different terrains.
Check out our review on the Co-op DRT series.
Granite Peak vs. Cannondale Trail 8
The Cannondale Trail 8 is a light yet durable mountain bike for you to use during those challenging bike rides. It works well on low-impact trails, gravel roads, and for relaxing rides. It has a light SmartForm C3 aluminum frame that offers you a more flexible frame than other mountain bikes.
The SAVE micro-suspension gives you additional control and ensures you enjoy a smooth ride. Unlike the 26 inch wheels on the Granite Peak mountain bike, the Cannondale has 27.5-inch wheels with larger sizes having 29″ wheels. With this bike riding rough terrain will be fun and fast for different cyclists.
We have a review on Cannondale Trail 8, check it out!
Bottom Line
Experience freedom with the Roadmaster Granite bikes while going to work, exploring new trails, or tackling terrain.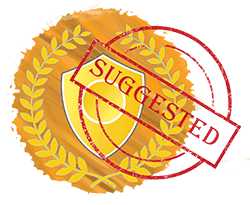 These bikes are long-lasting and fun to ride to get you to your destination. With a fork suspension to offer you more control of the path and tires to better grip the dirt or pavement, you will enjoy mountain biking on this Roadmaster bike.
If you are looking for stability and reliability in your first mountain bike, the Granite Peak bike is the best choice for you. The price range is also affordable for cyclists looking to try a different mountain bike.
However, you should be wary – this isn't a professional hardcore mountain bike. It has its limits and is still a cheaper kind of bike, which is why it's a great bike for beginners.