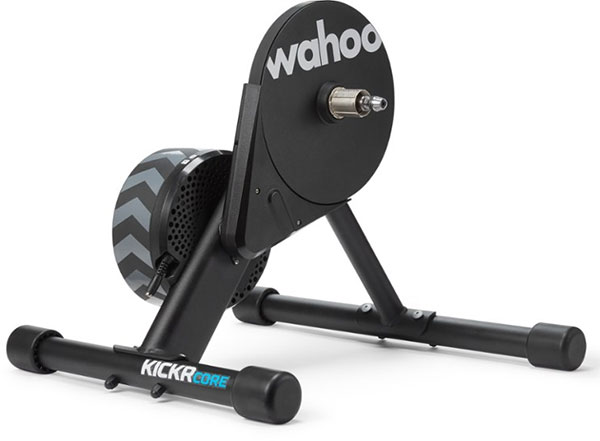 Built by one of the leading trainer manufacturers in the world, the Wahoo Kickr Core is one of the most capable direct smart trainers in the world. Known for its near-silent flywheel and realistic ride feel, the Kickr Core is compatible with basically every virtual riding app in existence.
Let's take a closer look at the Wahoo Kickr Core Direct Drive Smart Trainer, and learn why everyone loves Wahoo.
The Wahoo Kickr Core Smart Trainer is one of the most popular indoor trainers in the world, and for good reason.
Rivals have found the price point difficult to match because, at $900, the Wahoo Kickr Core is a discount worth taking. Compared to its parent trainer, the Wahoo Kickr, the Kickr Core sacrifices fairly little compared to its $300 price drop.
Built to live up to its legendary namesake, KICKR CORE Smart Trainer delivers a realistic, accurate, and quiet indoor ride.
Connectable with Wahoo Climb and Wahoo Headwind, it can offer a real-life riding experience that few others can match.
Wahoo Kickr Core Key Specifications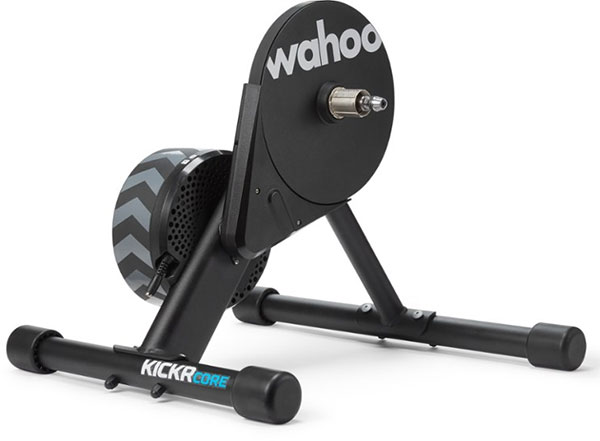 The key specifications of the Wahoo Kickr Core reveal a surprising amount of technology and features for a smart trainer at this mid-level price point:
Price: $900
Maximum Power Rating: 1800W
Maximum Simulated Gradient: +/-16%
Integration Capabilities: ANT+ FE-C and Bluetooth technology
Power Accuracy: ± 2%
One of the advantages of the Wahoo Kickr Core not including a cassette is that you can put on whatever cassette you want.
The Kickr Core is compatible with 8, 9, 10, and 11-speed cassettes, and don't sweat the installation process. The Wahoo Fitness app includes step-by-step guides to help you through the process, in addition to helping you set up your Wahoo heart rate monitor, head unit, or smart trainer.
Not many cycling companies offer an app as detailed and extensive as Wahoo's, making it an underrated perk of going with a Wahoo trainer.
The Wahoo Kickr Core can support up to three Bluetooth connections at once, making it one of the most technologically capable smart trainers, especially at a mid-level price point.
A wide variety of bikes of all different shapes and sizes will fit on the Wahoo Kickr Core which is compatible with a number of axles: 130X5-135X5, 142X12, and 12×148.
When indoor training is the name of the game, you want to be able to connect to apps – The Wahoo Kickr Core works with ANT+™ FE-C & Bluetooth and is compatible with just about every app under the sun: Zwift, BKool, RGT Cycling, Kinomap, Wahoo THE SUF, Bikevo, and more.
A Cheaper Version of the WAHOO Kickr
The Wahoo Kickr Core was designed as the cheaper child of the Wahoo Kickr, one of the original and most popular direct-drive smart trainers. As one of the world's foremost producers of indoor training equipment, Wahoo has been leading the way in more than one category in the indoor training space.
Known for its high quality, low noise levels, and great ride feel, the Wahoo Kickr was and is one of the most popular direct-drive smart trainers in the world.
When the Wahoo Kickr Core was first introduced in 2018, it came on as a middle-of-the-road offering from Wahoo. Between the Kickr ($1,200) and Snap ($500), Kickr Core ($900) serves as the middle ground in terms of price and quality.
But when you dive into the details, it's easy to argue that the Wahoo Kickr Core is a lot closer to the Wahoo Kickr than it is to Wahoo's offering of a wheel-on smart trainer.
Wahoo Indoor Trainers — Something for Everyone
Wahoo currently offers four different indoor training options:
Two direct-drive smart trainers
One wheel-on smart trainer
One indoor smart bike
Compared to other manufactures, Wahoo has a relatively small array of offerings. But in terms of quality and price point, they have all the major bases covered.
Starting at $499.99, the Wahoo Kickr Snap is the most basic offering from Wahoo, but don't let that fool you into thinking it's a piece of junk. In fact, the Wahoo Kickr Snap is one of the most highly-rated wheel-on smart trainers on the market, with a power measurement accuracy of +/-3%.
Wahoo also produces one of the only purpose-built indoor training smart bikes in the world. At a heavy price tag of $3,499.99, the Wahoo Kickr Bike is built for the dedicated indoor training enthusiast.
With a number of Wahoo options to choose from, you can start narrowing it down by determining which type of indoor trainer you need: direct drive, wheel-on, or a smart bike.
Related: Best Indoor Bike Trainers
Direct Drive Trainers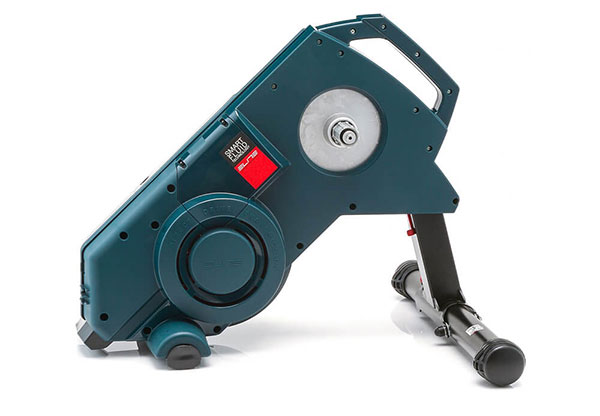 Direct drive trainers attach directly to the rear dropouts, meaning that you have to remove the rear wheel in order to attach your bike to the trainer. This is one of those minor inconveniences that doesn't seem too bothersome at first, but if you're planning on taking your bike on/off the trainer multiple times a week, the annoyance quickly adds up.
This is something that wheel-on trainers and a smart bike never have to deal with.
An integral design allows direct drive trainers to be more stable than wheel-on trainers, as well as provide significantly better power accuracy. Committed indoor cyclists and dedicated e-Racers would never opt for a wheel-on trainer, simply for this reason.
Direct drive trainers also provide a better ride feel and increased efficiency, simply due to their design alone. This means better power transfer and fewer wasted watts – a sentence that every cyclist is happy to hear. Thanks to all of these upgrades, direct-drive trainers are typically 2-3 times the price as similar wheel-on options.
Wheel-On Trainers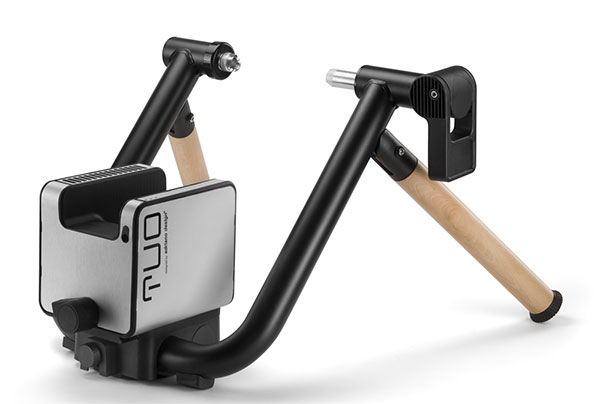 The best wheel-on trainers typically achieve a power accuracy of +/-5%, while direct-drive smart trainers can achieve an accuracy of +/- 1-3%. Wahoo has managed to achieve something special in its wheel-on smart trainer, the Wahoo Kickr Snap which measures power accurately to +/-3%.
At just over half the price of the Wahoo Kickr Core, the Wahoo Kickr Snap is the wheel-on trainer from Wahoo that challenges the best on the market.
Like other wheel-on trainers, the Wahoo Kickr Snap is more portable and easier to set up than direct drive trainers such as the Wahoo Kickr or Wahoo Kickr Core. Compatible with road, TT, and mountain bikes, the Kickr Snap includes its very own high-end flywheel technology that simulates the real-world resistance of the road, according to Wahoo.
"The convenient, easy-to-use KICKR SNAP is the perfect companion for an entry-level cyclist or weekend warrior. Featuring the legendary KICKR flywheel technology, in an approachable wheel-on design, KICKR SNAP indoor trainer delivers the same resistance and realistic ride feel experienced cycling outdoors."
Most wheel-on trainers are lighter and less stable than direct drive trainers, with a worse ride feel and lower ratings of power accuracy, max power measurements, and simulated gradients.
As bad as that sounds, Wahoo has managed to limit their losses more than almost any other competitor. The Kickr Snap can simulate up to a +/- 12% gradient, and – as previously mentioned – is ridiculously accurate, measuring power to +/-3% and offering 1500w of resistance.
Where Wahoo Stands
For those looking for the ultimate indoor training machine, look no further than the Wahoo Kickr Bike. When it comes to overall ride feel, nothing can beat an indoor bike that is built for virtual training.
The Kickr Bike combines the Kickr's resistance and gradient-matching technology with a seamless build that is both adjustable and comfortable, creating an indoor training experience like no other.
"KICKR BIKE combines KICKR's legendary ride feel with cutting-edge innovations like integrated grade simulation to create a trainer that blurs the line between virtual and reality."
Wahoo KICKR vs Wahoo KICKR Core
At $1,199, the Wahoo Kickr includes a bigger flywheel and comes with a cassette. That's the short answer.
The longer answer is that, for an extra $300, you get a much more realistic ride feel, better power accuracy and measurement, and the cassette right out of the box.
And that's not all: the Wahoo Kickr can simulate up to a +/-20% gradient, and measure up to 2,200w at 40kph. That's a big jump up from the Kickr Core which can handle 1800w and a +/-16% gradient.
As the final kick in the Kickr Core's teeth, the Kickr boasts a doubly accurate power measurement of +/-1% compared to the Kickr Core's +/-2%.
In terms of power measurement and technological capability, the Kickr is better than the Kickr Core in every single way. The Kickr's feet are also much more adjustable, whereas the Kickr Core has feet that don't have the ability to bend or adjust to uneven surfaces.
Casual cyclists won't see much of a need for the superior Wahoo Kickr, but dedicated indoor cyclists and e-Racers will certainly appreciate the upgraded features.
Elite Suito vs Wahoo Kickr Core
At $799.99, the Elite Suito is in the same category of direct drive smart trainer as the Wahoo Kickr Core.
However, the Elite Suito comes with a cassette and is significantly louder than other direct-drive smart trainers. The power accuracies of each trainer fall with half a percent of each other, and both trainers have similar maximum power readings and simulated gradients.
So that begs that question: Why spend an extra $100 (plus a cassette) on the Wahoo Kickr Core versus the Elite Suito?
The Elite Suito is known for being the simplest direct-drive smart trainer that you'll ever set up. Five minutes from the time you open the box to the time you're on your bike and riding. One point for the Elite Suito. But the Suito is not known for having great ride quality.
On the other hand, Wahoo is known for making some of the best and most high-quality smart trainers in the world.
Years of testing, trial, and error, have led them to their current designs which features incredible flywheel and integrated technology, making them some of the quietest and most capable trainers on the market.
When it comes to the question of price, it's mostly a difference that you'll have to feel. It's impossible to write in as many words how much better the Wahoo Kickr Core feels compared to the Elite Suito. But the difference is significant, as significant as the differing price points.
Wahoo Kickr Core Considerations
One of the biggest downsides of the Wahoo Kickr Core is its stiff legs. There were few sacrifices made from the Wahoo Kickr to the Wahoo Kickr Core, but this leg design was one of them.
The Kickr Core's legs are stiff and unbendable; whereas the Kickr comes with legs that fold under the body of the trainer for better transportation and storage.
This is something to consider if you move your trainer around a lot – If you plant it in your basement floor as soon as it's out of the box, then the stiff legs of the Wahoo Kickr Core shouldn't be too big of an issue.
The Wahoo Kickr also comes with a larger flywheel – 16 lbs. versus the Kickr Core's which weighs 12 lbs. It affects a number of performance factors including power measurement, overall ride feel, and response to changes in gradient.
While the size of the flywheel affects the ride feel of Kickr Core, there are a number of Wahoo accessories that you can add to improve the overall ride feel and indoor riding experience.
Compatible with both the Kickr, Kickr Core, and Kickr Snap, Wahoo offers the Climb, Headwind, and Axis to simulate changes in gradient, headwinds, and the wind's cooling effect, and the freedom to steer as if riding on the open road.
Wahoo includes a detailed guide on their website that tells you which of their trainer models are compatible with a number of Wahoo accessories.
Overall, the Wahoo Kickr Core is one of the most accurate mid-level direct-drive smart trainers on the market, with a high-tech flywheel and Wahoo accessories to make virtual training feel as real as possible.
Other Wahoo Trainers
Perhaps you want a little bit more accuracy and an even better ride feel, or your budget is keeping you from springing for the Kickr or Kickr Core.
If the Wahoo Kickr Core isn't exactly what you're looking for, there are a number of other options from Wahoo to satisfy your indoor training needs. Starting at $449.99, Wahoo offers wheel-on trainers, two direct-drive options, and even an indoor smart bike.
Wahoo Kickr – A bigger flywheel and included cassette make the Kickr better than the Kickr Core in almost every way. Increased power capabilities and improved ride feel are two of the most noticeable differences. The only negative is the $1,200 price tag.
Wahoo Kickr Snap – The wheel-on offering from Wahoo is the most accurate on the market, and some would say, the very best. Priced at $500, the Wahoo Kickr Snap measures power accurate to +/-3% and can generate 1500w of resistance.
Wahoo Kickr Bike – How better to summarize it than, "The Ultimate Indoor Training Machine." Built for riders who would rather ride inside than out, and have their choice at the endless virtual roads, races, and events, there's nothing better than the purpose-built indoor training smart bike, the Wahoo Kickr Bike.
Looking for more information? We have similar reviews on Tacx NEO, Tacx Flux, Saris H3, and Elite Suito.