One of the most impressive indoor trainers we've ever seen, the Wahoo KICKR Bike is a next-level piece of cycling technology.
The entire unit is customized you fit your desires and preferences, and boasts power and electronic capabilities that are nothing but the best.
The KICKR Bike Simulator offers an unforgettable riding experience, and while it does come with some downsides, it is still the best of the best.
The customizable electronic features of the KICKR Bike put it a step ahead of even the top-end direct-drive smart trainers such as the Wahoo KICKR or Tacx NEO 2T.
The Bike Simulator seems pricy at first, but you'll see soon enough that it's worth the price.
Let's take a closer look at the Wahoo KICKR Bike.
The Ultimate Indoor Riding Experience
The Wahoo KICKR Bike is an indoor smart bike that will blow you away.
It features unmatched power accuracy, a nearly silent belt drive, and flywheel, and can simulate up to a +20% gradient.
An equally customizable fit via the Wahoo Fitness app is the cherry on top of an incredible piece of cycling engineering, and one that we can't keep our hands off.
Wahoo KICKR Bike Key Specifications
Price: $3,800
Maximum Simulated Gradient: +20% / -15%
Integration Capabilities: ANT+ FEC and Bluetooth
Maximum Power Output: 2200 Watts
Quieter than even the best direct-drive smart trainers, the KICKR Bike's belt-driven motor is so quiet that you could be riding the bike and on a work call at the same time. Not that we recommend it, but it's possible!
The Wahoo KICKR Bike automatically connects with third-party training apps such as Zwift or TrainerRoad. It works with smartphones, tablets, laptops, and computers.
At the front of the KICKR Bike is the KICKR Climb. Wahoo's specialized indoor cycling tool that raises and lowers the front end of your bike to simulate climbing and descending.
The KICKR Bike can simulate ascents up to +20%, and descents as harrowing as -15%, creating the ultimate indoor cycling experience.
Unlike direct-drive smart trainers, the KICKR Bike houses a lock/unlock button that can be used to control the physical tilt of the front of the bike via the KICKR Climb.
This is especially useful for up-and-down hilly routes, where you'd rather just ride smooth than be getting jerked up and down every few seconds.
Next to the lock/unlock button is an LED display that will show you what gear you're in, as well as the current gradient percentage.
In terms of power accuracy, the KICKR Bike is on par with the top-end direct-drive smart trainers and measures power accurately to +/-1%. With a maximum power rating of 2200w, there are very few riders who would ever be worried about pushing the limits.
Related: How To Improve Your Cycling
If you're gearing up for the next Zwift Racing League season, you'll find the KICKR Bike is more than capable.
Setup And Build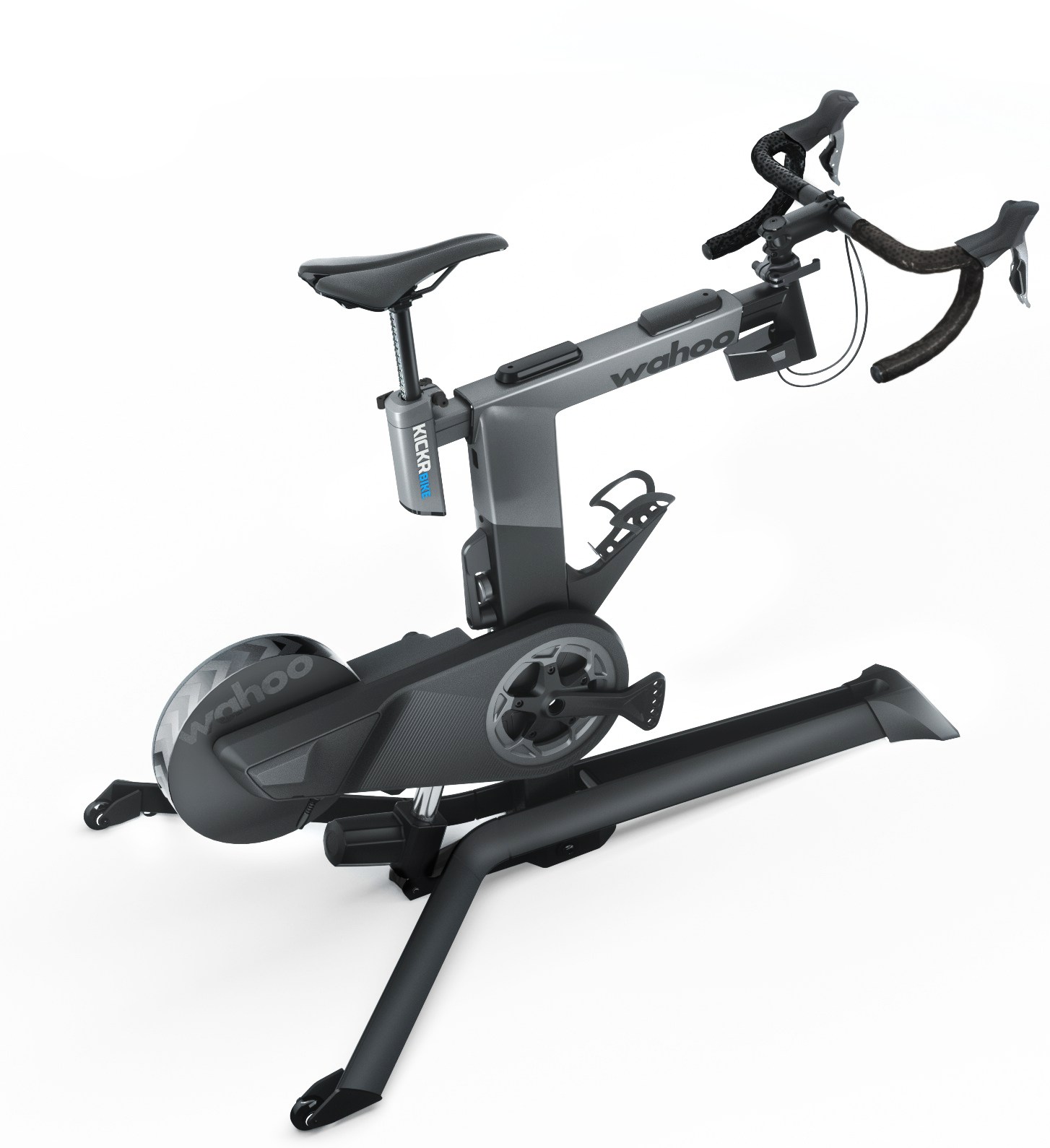 The Wahoo KICKR Bike requires a bit more assembly than most direct drive smart trainers. But even so, it's a fairly simple process.
Inside the shipping box is the KICKR Bike itself, as well as the extras. The extras include AC Power Adapter, Allen wrenches, platform pedals, the handlebar assembly, saddle, and seat post assembly.
Putting it all together may be a bit of a pain, but this is also the perfect opportunity to adjust your KICKR Bike's fit. It gives you the chance to tailor it specifically for your unique riding position. More on Wahoo's app-driven fit process in a minute.
Just about anyone can fit on the Wahoo KICKR Bike, whose user height allowances range from 5 feet (152 cm) to 6 feet 4 inches (193 cm) tall.
The maximum user weight of 250lbs is a bit more limiting. But it still covers the vast majority of riders that be interested in a $3,800 indoor smart bike.
Made of aluminum and steel, the Wahoo KICKR Bike is the only indoor training bike you'll ever need.
Designed to last years on end, the KICKR Bike boasts physical and electronic construction of the highest order.
There are no extra sensors needed, as the KICKR Bike measures speed, distance, power, and cadence, all internally.
The KICKR Bike's flywheel is unlike any direct drive smart trainer. Instead of the flywheel alone, the KICKR Bike pairs the flywheel with an enhanced motor that creates an incredibly accurate, responsive, and realistic feel.
This is one of a number of features that are exclusive to the KICKR Bike, and indoor smart bikes in general.
You will never get a ride that feel as smooth and as crisp on a direct drive smart trainer, and especially not a wheel-on trainer.
Connectivity
One convenient feature of the KICKR Bike is its auto-calibration. The unit doesn't require a calibration procedure. That means you can jump on and ride without ever having to worry about your power accuracy.
Like many other Wahoo products, the KICKR Bike connects to the Wahoo Fitness app (which is free). You can find guided instructions on setting up and fitting your KICKR Bike on there.
Using the geometry of your outdoor bike, you can choose from one of three options: professional fit, measure my bike, and measure my body.
From there, the app will talk you through each step. It's pretty easy to get your KICKR Bike adjusted to fit your unique body proportions.
The entire Wahoo Fitness app is one of the most underrated features of the KICKR Bike. The same goes for many other Wahoo products.
Wahoo has created a really smooth and impressive app. One that is incredibly useful and provides users with a lot of options.
It doesn't matter if they are first-time riders or aspiring pros.
Of course, the KICKR Bike has top-of-the-line wireless technology. ANT+ and Bluetooth capabilities allow the Bike to connect to smartphones, apps, computers, and GPS. For example Wahoo ELEMNT Bolt simultaneously or separately.
The KICKR Bike can actually support up to three Bluetooth connections at once. That puts it a step above other leading smart trainers.
Fit And Components
Speaking of fit, the KICKR Bike has five points of adjustable fit, with quick-release levers to tighten them in place.
These points are the: stack, reach, setback, saddle height, and frame height. The crank arm is even adjustable, with five different crank lengths to choose from 165, 167.5, 170, 172.5, and 175mm.
The KICKR Bike comes with a pair of flat pedals, which is nice to have if you haven't yet gotten your new set of Speedplays. In the middle of the frame, you'll find just one water bottle holder.
At the front of the bike, where you can adjust the stack and reach, you will find the KICKR Bike's shifters. These shifters are completely electronic.
They can be customized to match the shifters of some of the most popular component manufacturers, such as Shimano, SRAM, and Campagnolo.
That's a really cool feature since it allows you to choose shifting configurations that perhaps you've never even used before.
If you have Shimano 105 on your outdoor bike, for example, you could try out the Shimano Di2 configuration on your KICKR Bike for no extra cost. It's totally up to you.
All the same lines as the customizable shifters, you will find the programmable gearing at the rear of the KICKR Bike.
No matter the range or setup of your outdoor bike, you can customize the KICKR Bike's gearing configuration by choosing the number of speeds and teeth on the cassette.
Whether you want a 1X, 2X, or triple-chainring upfront, the choice is yours on the Wahoo KICKR Bike.
By the way, the brake levers on the KICKR Bike actually work. Depending on your training app of choice, they might not slow down your avatar in-game. But the KICKR Bike's brake levers will quickly stop the flywheel from spinning.
Anyone with children or pets knows that this feature is invaluable. You never know when someone or something is going to come flying towards your rapidly spinning flywheel.
The completeness of the Wahoo KICKR Bike may be intimidating for some potential buyers. It's never going to be your actual outdoor bike, after all.
There are a number of different ways that you can customize your KICKR Bike using more than just the fit.
You can swap your own saddle onto the KICKR Bike, as well as replace the handlebars with the exact pair that you prefer. And you can put whatever pedals you want onto the crank arms. As mentioned above, they come in five different length options.
Now that we've looked at the impressive details of the Wahoo KICKR Bike. However, there are some potential downsides that might start showing on the journey.
Wahoo KICKR Bike Considerations
$3,800 is not something that everyone would just be happy to spend. That's why it might seem scary to spend that amount on an indoor trainer. However, this trainer might be worth it. Let's take a look at the possible downsides that might happen along the way.
The KICKR Bike has a class-leading ride feel, the unit is still limited by its (lack of) lateral movement.
Dedicated indoor cyclists will know the faint feeling of side-to-side movement associated with outdoor riding, and how that movement disappears on many indoor trainers. Rocker plates, such as the Saris MP1 Nfinity Platform, have set out to change that.
They've created both lateral and fore-aft movements while riding the indoor trainer.
These products don't exactly simulate outdoor riding. Still, they do offer an extra few degrees of movement that products like the KICKR Bike do not have.
Another big downside of the KICKR Bike is its incredibly thick top tube.
It's much wider than a traditional road bike's top tube, which means that anyone with thick thighs or a narrow thigh gap could experience their thighs rubbing on the top tube.
This could become a huge problem, and anyone with pedaling imbalances could even bump their knees on the top tube if they're not careful.
It's worth investigating the KICKR Bike's top tube width versus your thigh gap before making the final purchase.
The KICKR Bike only has one USB port, which is fewer than cheaper indoor smart bikes. It's a bit of a disappointment for a dedicated indoor smart bike.
There is also nowhere to put your phone or tablet once you plug it into the USB port. Other indoor smart bikes have built-in platforms or stand to help support other devices.
Wahoo has left the front of the KICKR Bike completely bare. Sure, it looks great – like a real, outdoor bike – but it is also highly inconvenient.
Other Wahoo Indoor Trainers
If the Wahoo KICKR Bike isn't the right fit for you – or it simply costs too much – there are a number of other indoor trainer options from Wahoo.
Wahoo KICKR ($1,200) – One of the most popular smart trainers in the world, the Wahoo KICKR is a fantastic direct-drive smart trainer. With power capabilities and accuracy that rival the KICKR Bike, you'd be hard-pressed to find a better option under $1300. The KICKR's silent flywheel creates a smooth and realistic ride that is top-of-the-line for direct drive trainers.
Wahoo KICKR Snap ($500) – The wheel-on smart trainer option from Wahoo, which is one of the best in this category (sensing a theme?). The KICKR Snap has a claimed +/-3% power accuracy, which is the best of any wheel-on smart trainer. For less than the price of the Wahoo KICKR Climb, you get a light and portable wheel-on smart trainer. It can generate 1500w of resistance and a +/-12% simulated gradient.
Wahoo KICKR Core ($900) – A slightly cheaper version of the Wahoo KICKR, the KICKR Core is more different than just the KICKR without a cassette. The KICKR Core has a power accuracy reading of +/-2%, and can handle 1800w of power. All in all, the KICKR Core is one of the best direct-drive smart trainers at a mid-level price point.
If you're interested in more bike trainers, see our reviews of Tacx Neo, Stages SC2, and Stages SB20.
Or see the Best Indoor Bike Trainers (in our opinion).
Summary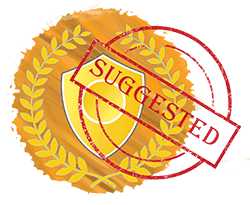 For the price of almost three Wahoo KICKRs, you get the ultimate indoor training bike, with all the electronic and power capabilities you could ever ask for.
The entire machine is custom-fit to you and can be readjusted in a matter of minutes.
Once you step foot on the Wahoo KICKR Bike, it will be hard to go back to a traditional bike + smart trainer setup.
The KICKR Bike is so quiet and so smooth, that it's difficult to imagine anything else.
For the ultimate indoor training experience – if your wallet can take it – try out the Wahoo KICKR Bike.
There are no comments yet, add one below.