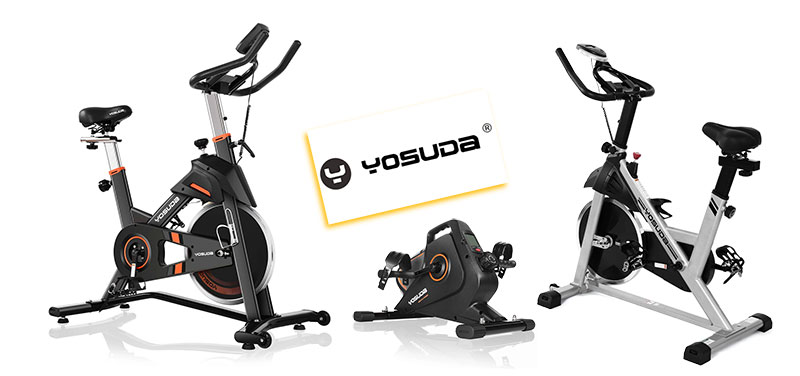 If you're looking for capable and convenient stationary exercise bikes for less than $300, you've come to the right place.
Sacrifice the saddle, frame, and handlebars, and you'll get a small and portable exercise bike that you can use almost anywhere.
The Yosuda line-up is perfect for cyclists of all ages and abilities, including dedicated indoor riders, senior citizens, and even rehab patients.
Today, we look at three of Yosuda's best, from the YB001 and YB007A to YBM-1. Welcome to our Yosuda bike review.
Affordable Stationary Cycling Bikes
Yosuda's place in the indoor cycling market is not up against Wahoo, Stages, and Saris.
Instead of creating high-end indoor smart bikes, Yosuda builds affordable at-home exercise bikes for riders of all abilities.
Whether your goal is to break a sweat or regain muscle strength, Yosuda has an affordable exercise bike for you. In this article, we'll look at three different Yosuda models, from the higher-end YB007A cycling bike to the Under Desk YBM-1
Let's take a closer look at these three stationary bikes from Yosuda.
Yosuda YB001
Price: $259
Number of Adjustable Resistance Levels: Friction resistance, adjustable
Flywheel Weight (Total Weight): 35lbs (73lbs)
Assembled Dimensions: 40L x 22W x 45H in
Yosuda YB001 is your everyday exercise bike. What sets it apart from so many other basic models of exercise bikes? For starters, it is less than half the price of comparable at-home stationary bikes.
Other units cost upwards of $500 for the most basic models and $1,000+ for stationary bikes with smart technology. The YB001 serves as an affordable entry point for cyclists looking to get an exercise bike at home.
On top of that, the YB001 has a large, padded saddle that is as comfortable as can be. It is adjustable in four different ways and coupled with the two-way adjusting handlebars. The YB001 will be a wide variety of rider shapes and sizes.
There are two rollaway wheels on the front of the YB001 that make it easy to transport and reposition the entire unit, which weighs 73lbs.
Upfront, you'll find an LCD monitor that will track and display Time, Distance, Speed, Calories, and Odometer. These numbers will make it easier for you to track your progress with every pedal stroke.
On the Yosuda exercise bike, in between your legs will be an easy-to-reach bottle cage. Next to that are the cage pedals to give you more support while pedaling. Resistance is controlled by an adjustable knob just in front of the bottle cage.
The friction resistance unit is continuously adjustable, putting no limit on how hard or easy you can go.
The Yosuda YB001 is built with a 35lb flywheel and silent belt drive, so you can ride whenever you'd like. You don't have to worry about waking the neighbors. There is even a brake pad upfront that reduces noise and improves the durability of the entire frame.
Related: Kinetic Bike Trainers
Built with a high-grade steel frame skeleton and cast-metal components, the YB001 is built to last, no matter how many miles you log on it.
Yosuda YB007A
Price: $300
Number of Adjustable Resistance Levels: Friction resistance, adjustable
Flywheel Weight (Total Weight): 40lbs (86lbs)
Assembled Dimensions: 44.5L x 21.7W x 45.3H in
Essentially an upgraded Yosuda YB001, the YB007A is a capable and durable exercise bike meant for serious stationary cyclists.
The YB007A certainly looks better than the YB001, thanks to a carefully crafted, aesthetic design, and striking color scheme.
Its frame tube has been thickened to create a rock-solid feeling that beats comparable stationary bikes. The Yosuda YB007A has a bearing capacity of 330lbs making it one of the best-built stationary bikes on the market – and for less than $400.
Like the Yosuda YB001, the YB007A comes with two portability wheels on the front of the frame, so if and when you need to move the unit, you simply tip it forward and wheel it around.
Built with a 40lb flywheel and silent belt drive, the YB007A is the smoothest and quietest stationary bike from Yosuda. Like the YB001, the YB007A has a four-way adjustable saddle that is now optimized to be ergonomic, breathable, and soft.
The multifunctional monitor on the Yosuda YB007A is an obvious upgrade from the YB001, as it now displays Time, Speed, RPM (cadence), Distance, Calories Burned, and Odometer. In addition, the YB007A comes with an iPad holder so that you can stay motivated and entertained while riding.
To adjust the bike's resistance, there is a knob located just in front of and below the handlebars. With the turn of the knob, you can adjust your resistance in unlimited increments, allowing you to simulate uphills, downhills, intervals, and sprints.
A felted wool brake is quieter than before, and more durable than any other brakes on Yosuda stationary bikes.
Yosuda YBM-1 (Magnetic Under Desk)
Price: $228.50
Number of Adjustable Resistance: Levels 8
Flywheel Weight: 22 lbs
Assembled Dimensions: 21.26L x 12.29W x 10.95H in
The smallest and most compact Yosuda bike model is the Under Desk Cycling bike YBM-1. One of the most portable stationary bikes in the world, the YBM-1 is perfect for at-home workouts, or simply pedaling along while doing some work.
The YBM-1 is great for seniors or those with limited mobility. It can be set up in just about any room and with any chair.
See more: Best Bikes For Seniors
Yosuda uses a samarium cobalt magnet to provide internal resistance to the YBM-1. This creates a smooth and quiet pedal stroke that won't interrupt your work or favorite TV show.
With eight different resistance levels, you can take the YBM-1 for an easy ride, or crush a sweat-inducing workout. The entire unit weighs just 22 lbs and can be easily transported using the carrying handle on top.
Four anti-slip rubber pads help keep the unit in place, even under the highest load.
You can use the YBM-1 to work out both your arms and legs (albeit, not at the same time), as the entire cycling bike can be picked up and transported from floor to countertop in a matter of seconds.
The Under Desk bike can be used to increase mobility and extend lifespan, all while the rider is working, reading writing, or just watching TV. Seniors will love the easy-read monitor that tracks Time, Distance, Speed, and Calories.
The YBM-1 is also great for athletes coming back from injury. Having had three knee surgeries myself, I know the importance of having a light exercise bike that can be used to increase blood circulation and promote healing.
Related: Best Recumbent (Exercise) Bikes
Yosuda Pro Magnetic Exercise Bike
Price: $640
Number of Adjustable Resistance Levels: Magnetic resistance, adjustable
Flywheel Weight: 40lbs
Assembled Dimensions: 40L x 22W x 45H in
The Yosuda Pro Magnetic Exercise Bike looks great with its classic look and modern detailing. It's very streamlined, but every panel has a purpose in protecting the bike from sweat getting into it.
It is coming in at $640, and offers a good value for money ratio. This new updated model is strengthened to work with users up to 350lbs. Adjustable handlebars allow everyone in the family to use it comfortably, and the new drivetrain system makes it incredibly quiet and under 20db under heavy use.
This Yosuda bike is made to be solid and comfortable. Not only are you getting a bike that will feel sturdy under heavy cycling loads, but you also get a comfortable saddle to help with those longer rides, and a tablet stand for watching films or TV.
With its front transport wheels and having the flywheel situated next to them, the Yosuda exercise bike is easy to move.
You have an LCD monitor that will track and display Time, Distance, Speed, Calories, and Odometer. This data will help you track your fitness and also make it easy to work towards goals with structured training. Under this, between your legs, you have a bottle cage so you can take water with you on the bike for those longer sessions.
The best thing about this bike is on the inside. This has a completely magnetic frictionless belt drive system. This means when you ride, the resistance is made by magnetics and not friction-based like other bikes on the market.
It makes it incredibly quiet and will entertain anyone from a better to a professional as far as resistance goes. It also means the bike doesn't require new brake pads and is much smoother to use.
The Yosuda Pro Magnetic Exercise bike is built to last, and not only does it look great, but it also performs well.
Yosuda Rowing Machine 100
Price: $570
Number of Adjustable Resistance: Levels 8
Flywheel Weight: 10lbs
Assembled Dimensions: 74.8L 19.3W 27.6H
The Yosuda Rowing Machine 100 offers good value for the money, and few other brands can match such a great value for money.
This rowing machine has been made with quality and comfort in mind. It's made from premium heavy-duty commercial grade steel and can take a user weight of 350lbs. The stride length is 49.2″, so also equipped for tall people all the way up to 6'6″.
Yosuda rowing machine's seat design is made to be comfortable under heavy movement when rowing.
The rowing machine features a screen so you can stay entertained for those longer sessions. Under this, you have an LCD screen that will display distance, time, count, total count, and calories burned.
The Yosuda rowing machine has a lightweight 10lbs flywheel on a magnetic system. This will give you eight levels of resistance and a very quiet workout, no matter how hard you push it. It's smooth to use and is going to be a lot of fun. Rowing can use a lot of muscles and burn a lot of calories in a short amount of time.
It's very easy to move around with its transport wheels on the front and only weighs around 30kg in total. Home rowers are becoming very popular, and the Yosuda Rowing Machine 100 is great to get fitness up and calories burning.
Yosuda Accessories
Yosuda also can provide you with multiple accessories. If there happens to be a situation where you'll need Yosuda bike parts, then you have the option to purchase them from the Yosuda accessories section.
There are plenty of Yosuda bike parts to choose from, plus, they are reasonably priced. After a lot of use, some parts are prone to wear, but this isn't a problem on Yosuda bicycles.
Considerations
You won't get any smart technology on these Yosuda stationary bikes. That means no Bluetooth, no power meter or head unit connection, and no third-party riding app such as Zwift.
The upside is that these Yosuda bike models are cheap compared to indoor smart bikes, but with that, you'll have to make a few big sacrifices.
Yosuda bikes don't come with click-easy gears as you would find on indoor smart bikes or on your own road bikes.
Instead, you'll have to manually adjust the resistance, usually by twisting a knob. This practice can be a bit annoying if you like to adjust resistance frequently, especially since you'll have to take a hand off the bars every time.
That said, there is an upside here as well: adjustable friction resistance means that you have access to continuous infinite resistance adjustment, something that you won't find on a bike with gears and a cassette.
These bikes are not made for people who are looking for a long list of extras. But Yosuda exercise bikes are great for starting on your fitness journey, or if you just want to move your body a bit more.
If you're looking for more advanced training options, then we have several smart bike options. Varying from Stages SC2 Plus and Stages SB20 to Tacx Neo.
Or see our list of the Best Indoor Bike Trainers
Let's Compare The Yosuda Bikes Models
When it comes to the display screens, the YBM-1's are much smaller and more limited than the other Yosuda models.
The YBM-1 is missing the Odometer from its display which is already much smaller and less clear than the LCD monitors on the other two models.
Since the YBM-1 doesn't come with handlebars (or frame or saddle), you won't be put in the usual cycling position while pedaling. If done improperly, this could lead to muscular imbalances and possible injury.
But with that said, most will have an easy time setting up the YBM-1 in many different locations and seating positions.
With a little bit of trial and error, you'll find what's most comfortable for you.
The Yosuda bikes YB007A is an upgrade from the YB001 in many ways. First, there is the new and improved monitor which displays RPM (cadence) and the iPad holder which the YB001 does not have. The YB007A also has a new and improved belt drive that is thicker and more durable than its predecessor, and a 40lb flywheel that makes for a smooth and silent ride.
On the YB007A is a felted wool brake, made with pure wool, which is quieter and more durable than previous brake designs and materials.
All in all, the Yosuda bikes YB007A is a solid upgrade from the YB001, while both upright exercise bikes are almost in a different league from the YBM-1 which is perfect for seniors and rehab patients.
Summary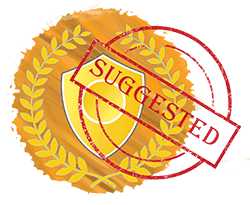 Yosuda has created a wonderful range of affordable at-home exercise bikes, meant for riders of all ages and abilities.
For less than a third of the cost of direct drive smart trainers, you can get a fully capable, stationary exercise bike from Yosuda, and one that has a larger flywheel and sturdier base than most smart trainers.
The Yosuda bike YBM-1 is a great option for a certain audience: seniors, casual at-home workers, or rehab patients.
For less than $150, you get a light and portable exercise bike that you can set up anywhere from the living room to the local café, and use either your arms or legs at various resistance levels to get in a workout or to simply get your blood pumping.
Both the Yosuda bikes YB001 and YB007A are great options for affordable at-home stationary bikes. To us, there is a clear winner.
The YB007A has several significant upgrades, including the monitor, flywheel, brake, and design. For just a small upgrade, there's no reason that you shouldn't spring for the Yosuda YB007A.