This is a spin bike rather than a smart bike. The Stages SC2 Plus is your purpose-built indoor bike for thousands of hours of workouts and spin classes. Its super adjustable frame is built to last, with a sturdy aluminum build that is as silent as can be.
The manually adjustable knob might be a pain, but that's why it's a bit cheaper than indoor smart bikes.
The Stages SC2 Plus has the potential to be the perfect fit for an indoor spin enthusiast.
"The trusted choice of SoulCycle, REVD, and others, the Stages SC2 Plus shares many core features with our range-topping SB20 Smart Bike including a robust frame designed for years of trouble-free hard rides and Gates Carbon Belt drive for silent, maintenance-free power transmission.."
Let's take a closer look at the Stages SC2 Plus Indoor Bike.
A Studio – Not a Smart – Bike
The bullhorn bars are the first dead giveaway – the Stages SC2 Plus is not your usual indoor bike.
Instead, it has the look and feel of a spin class bike, uses magnetic resistance rather than electronic, and a handlebar and saddle combination that will feel awkward to seasoned 'roadies'.
However, the SC2 Plus is significantly cheaper than many indoor smart bikes, coming in at $2,650. You'll save on the cost, but you'll be missing out on a number of features including automatically adjusted electronic resistance, smoother transitions in third-party apps such as Zwift and TrainerRoad, and ERG mode capabilities.
The SC2 Plus is highly adjustable and built using a sturdy aluminum frame, Stages RhythmBar™, and a CarbonGlyde™ Carbon Fiber Belt, making it one of the most durable and long-lasting indoor bike options.
Stages SC2 Plus Studio Bike Key Specifications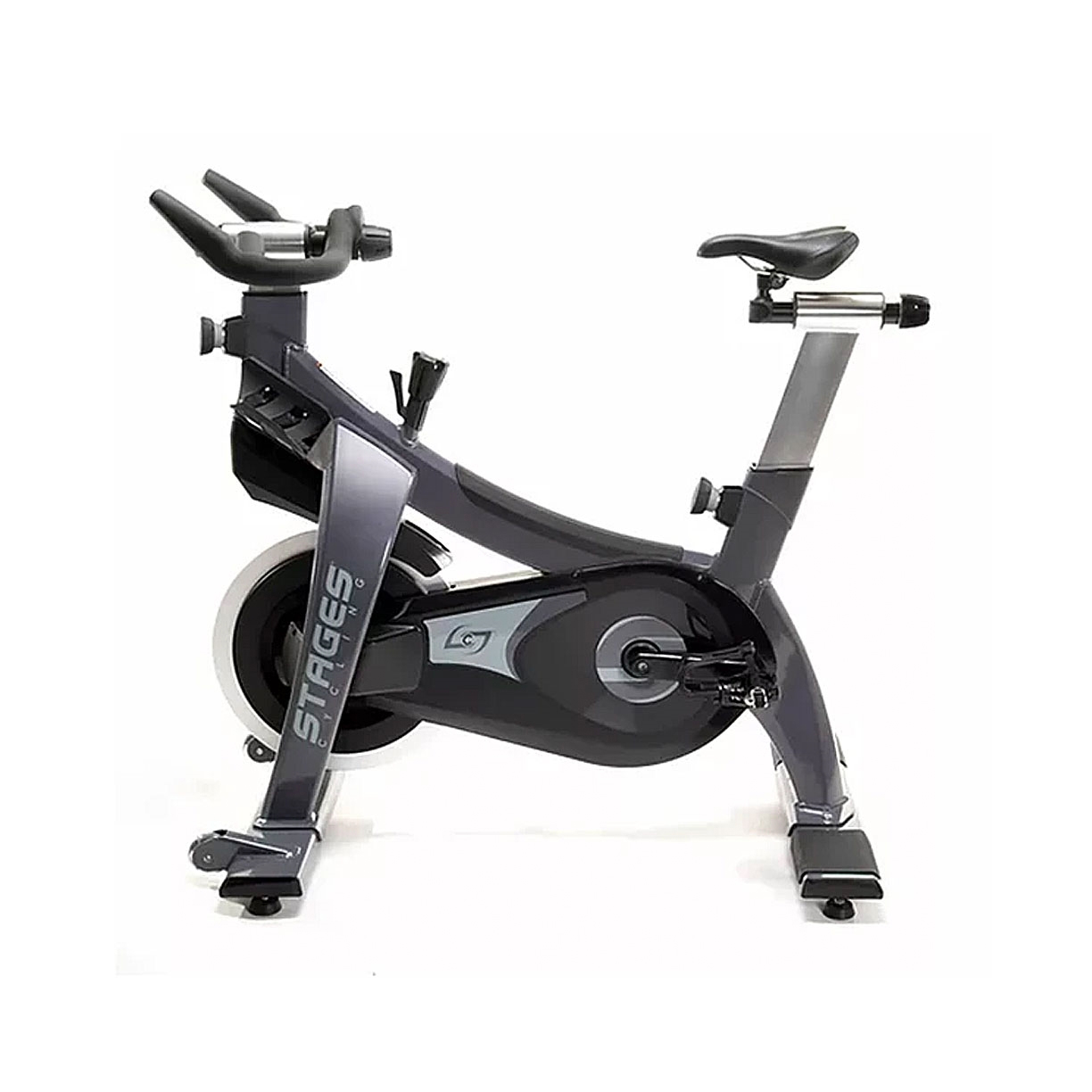 Price: $2,650
Maximum Power Rating: Unlimited
Flywheel Weight: 50lbs
Integration Capabilities: ANT+ and Bluetooth
Power Accuracy: ± 1.5%
The SC2 Plus uses pop-pin adjustments to fit riders all the way from 4'10" to 6'10", and maximum rider weight of 350lbs. The bike comes with a 170mm crank that includes the dual-sided Stages Gen 3 power meter.
The dual-sided Stages Gen 3 power meter transmits the SC2 Plus's power reading to a number of external devices, plus third-party apps. With over 2000+ hours of power meter battery life, the Gen 3 meter is built to last as long as the SC2 Plus itself.
The SC2 Plus comes with a "high-inertia, cast iron perimeter weighted flywheel" that does not freewheel. It does come with an emergency push to stop, just in case. This creates an interesting ride feel that isn't horrible but isn't very realistic either. As soon as you start coasting, the wheel grinds to a halt, and it can be tough to get it going again. But once you have it up the speed, the flywheel is smooth and silent.
Features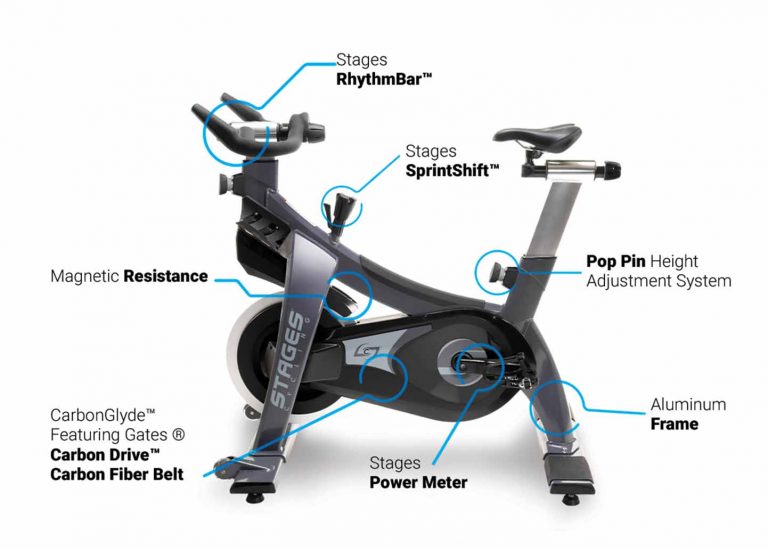 One of the biggest differences between the SC2 Plus and other indoor smart bikes is its look and fit: spin class vs road cycling. Instead of traditional drop bars or aero bars, the SC2 Plus comes with Stages RhythmBar™ handlebars and dual-sided pedals which include SPD cleats on one side, and toe cages on the other.
The SC2 Plus uses ANT+™ FE-C & Bluetooth technology and can connect to third-party apps like Zwift, TrainerRoad, FulGaz, BKool, RGT Cycling, and more.
Resistance is controlled magnetically on the SC2 Plus, and can be manually adjusted using the knob on the top tube area of the bike, or using the 'SprintShift' levers on the handlebars. These 'SprintShift' buttons have three settings and produce a major shift in resistance – like shifting from the little ring to the big ring – and can be used to go from an 'easy' effort to a 'hard' effort.
The SC2 Plus's resistance system is vastly different from similar indoor smart bikes, which automatically control their electronic resistance via third-party apps such as Zwift and TrainerRoad.
The Stages SC2 Plus is as silent as other high-end indoor bikes. It's even quieter than popular direct drive trainers such as the Wahoo KICKR, so you should have no trouble keeping the noise levels down in your indoor training space.
Now that we've seen some of the unique specifications of the SC2 Plus, let's see how it compares to Stages' top-end indoor smart bike, the Stages SB20.
Stages SC2 Plus vs Stages SB20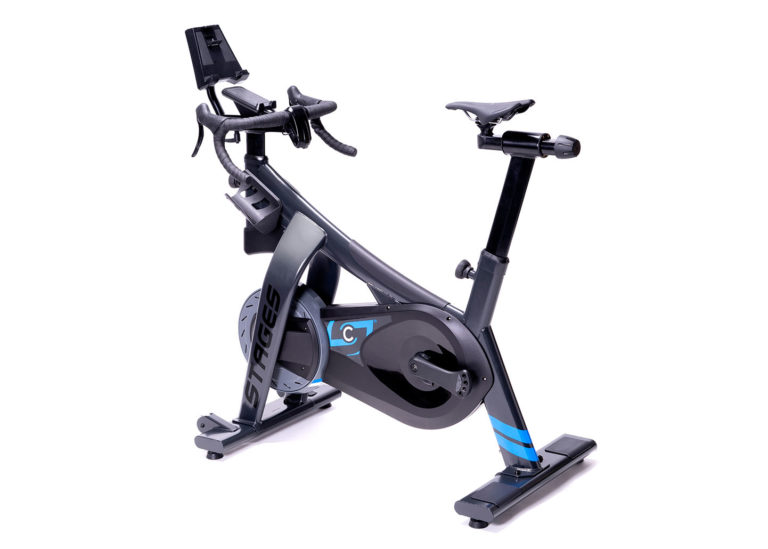 The Stages SB20 features the same massive flywheel as the SC2 Plus, which weighs in at 50 lbs and produces a smooth ride feel. The SB20 uses electronic resistance as opposed to magnetic, which creates a much more life-like feeling.
Perhaps the biggest difference between the SC2 Plus and SB20 is how their resistance functions. While the SC2 Plus uses manual control via the knob or 'SprintShift' levers, the SB20 uses electronically controlled resistance via third-party apps, with the option of manually adjusting the resistance via its shift-type buttons.
Stages have also worked out a number of kinks on the SB20 that few competitors have; one being ERG mode forgiveness.
Like the SC2 Plus, the SB20 is very adjustable. A wide range of riders can fit on the SB20. The SB20 also offers four different crank lengths, from 165 to 175mm. At the same time, the SC2 Plus only comes with a 170mm crank.
While the SC2 Plus pedals come with SPD cleats and toe cages on opposing sides, the SB20 comes with no pedals.
The SB20 also comes with Stages Gen 3 Dual-sided power meters with a claimed power accuracy of +/-1.5%. That makes it one of the most accurate smart bikes on the market.
Lastly, the SB20 comes with a traditional set of road handlebars and a saddle, which can be replaced. Overall, you can create a more traditional and customizable fit on the SB20 as opposed to the SC2 Plus.
If you're looking for a direct drive trainer, then see our reviews of Saris H3, Elite Suito, and Tacx Flux.
If you are looking for an exercise bike that would be a bit more simple, then our review of Yosuda Stationary Bikes might be useful for you.
Stages SC2 Plus Smart Bike Considerations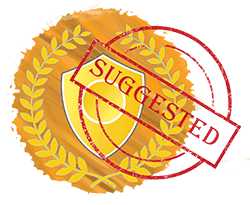 As discussed above, the defining difference between the SC2 Plus and other indoor smart bikes is its manually-controlled magnetic resistance.
Other bikes use electronically-controlled, automatically adjusted resistance that connects to third-party apps, and can be used for workouts in ERG mode. While the SC2 Plus can connect to these apps, it won't simulate the power and resistance automatically. You'll need to do it yourself by adjusting the knob or 'SprintShift' levers on the SC2 Plus.
Obviously, this is a huge downside for anyone who wants to feel like they're riding in the real world, to simulate hills, compete in virtual races, or knock out some tough threshold intervals.
The SC2 Plus is not meant for road riders – Instead, it's meant for indoor cycling enthusiasts and those who prefer spin class over Zwift and TrainerRoad.
It is both annoying and difficult to do a Zwift race or an ERG mode workout on the SC2 Plus, thanks to its manual resistance knob and limited capabilities.
Its RhythmBar™ setup and SPD/toe cage pedal combinations will make traditional road cyclists cringe.
But the SC2 Plus has its own style and one that millions of people around the world already love. The cast iron flywheel of the SC2 Plus will certainly hurt its ride feel, but that's another thing to consider with its price.
The SC2 Plus is still smooth and silent, making it the ideal indoor training bike for apartment living, or riding with someone nearby.
There are no comments yet, add one below.