Introducing Elite's top trainer, the Elite Direto XR. With a massive power ceiling and claimed +/-1.5% power accuracy, from the outside looking in, there isn't a better direct-drive smart trainer out there for less than a thousand dollars.
Elite Direto is one of the most capable smart trainers on the market, and there's a good reason why.
The Elite Directo might not be perfect, but it is still a fantastic trainer presented at an industry-leading price point.
Since we've taken a look at so many different smart trainers, it would be a shame not to introduce this bad boy.
Let's dive right into it!
Elite's Top-End Indoor Smart Trainer
The Elite Direto XR Smart Trainer rivals the Elite Suito as the most practical indoor trainer in the world. Both are simple and easy to set up, and they even come with the cassette pre-installed.
You don't need to be a mechanic to set up the Direto XR in less than five minutes, including plugging in the power cord that is over two meters long.
In the Direto XR, Elite has upgraded a number of internal and external features to create a direct drive smart trainer that rivals the best on the market.
The Wahoo KICKR and Tacx NEO 2T are still a step-up from the Elite Direto XR. The small downside is that they also cost $200 and $400 more, respectively.
Overall, the Direto XR is a fantastic smart trainer with great value. It's perfect for serious indoor cyclists who are setting their goals on riding, racing, and competing on the indoor trainer.
Let's take a closer look at the Elite Direto XR Interactive Smart Trainer.
Elite Direto XR Interactive Smart Trainer Key Specifications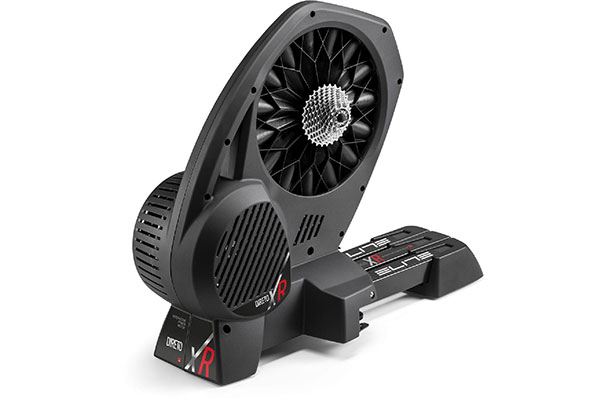 Price: $1,000
Maximum Power Rating: 2300w at 40kph
Maximum Simulated Gradient: +/-24%
Integration Capabilities: ANT+ FE-C and Bluetooth technology
Power Accuracy: ±1.5%
Elite has truly stepped up its game with the Direto XR.
Power accuracy has gone from +/-2.5% to +/-1.5%. The power ceiling has been increased from 1900w to 2300w (not that many were complaining). The maximum simulated gradient has shot up from +/-18% to +/-24%.
All in all, these are industry-leading power numbers, numbers that other manufacturers struggle to keep up with. Sure, you can find similar ratings and capabilities on an indoor smart bike, but only if you're willing to spend two or three times more than the Direto XR.
The Direto XR has axle compatibility for 130-135x5mm, 142x12mm thru-axle, and adapter-assisted compatibility with 135×10-12mm and 148x12mm.
The new flywheel is slightly bigger than previous models, increasing in size from 9lbs to 10lbs. That little bit of weight goes a long way when it comes to improving the inertia and ride feel of the Direto XR.
On top of that, the Direto XR comes with vastly improved ERG mode capabilities that work better than ever with apps like Zwift, TrainerRoad, or Wahoo The SUF.
Claiming +/-1.5% power accuracy is taking a risk, but Elite has backed it up with one of the most accurate direct-drive smart trainers on the market. The Direto XR is precise and accurate across a variety of tests, including dual-recorded Zwift races and solo workouts.
Saving the best for last, one of the most underrated features of the Elite Direto XR is its performance in ERG mode. Elite trainers of the past have struggled to produce consistent resistance during ERG mode workouts, while the Direto XR knocks it out of the park.
If your main goal on the trainer is to nail tons of ERG mode workouts, there's no better trainer than the Elite Direto XR.
Of course, nothing is perfect, and thus we have a few flaws of the Elite Direto XR.
Set-Up
Straight out of the box, the Elite Direto XR is already a step ahead of the competition. Elite pack the Direto XR sideways, so that when you open the top of the box and then put the box on its side, you simply slide the trainer out.
This is a heck of a lot easier than trying to pull a heavy trainer out of a tall box. And when you're paying a premium price, you don't want to be sweating and swearing while setting up your new trainer.
The base of the Direto XR is supported by three separate arms, of which the outside two are moveable. You can splay these legs out to the side. They even have micro-adjustment knobs on the bottom. They make it possible to alter the height on uneven surfaces.
Included with the Direto XR is a cassette, which is compatible with 11-speed Shimano or SRAM. The Direto XR works with a much wider range of cassettes – from 8-speed through 12-speeds. You'll just need adapters for anything that is SRAM XD/XDR, 12-speed SRAM NX, or Campagnolo.
Speaking of compatibility, the Direto XR works with a wide variety of bikes, including track bikes, cyclocross bikes, and mountain bikes.
Firmware updates go through the free-to-use Direto Upgrado app, where you can find other information and notes about your trainer if need be.
There are three status lights in the front end, that show the status of ANT+ FE-C and Bluetooth connectivity. Elite's internal wireless technology is some of the best out there, and the features here on the Direto XR are second-to-none.
In summary, the Elite Direto XR is compatible with every app, smartphone, software, computer, and tablet via iOS, Android, MacOS, and Windows.
The Direto XR comes with a front-wheel block, but you can also use the Elite Sterzo Smart which will allow you to steer while riding on courses like in Zwift or Rouvy.
Elite Direto XR Considerations
The Direto XR is not as quiet as other high-end direct-drive smart trainers, including the Wahoo KICKR Core which comes in at just $899. And with that, we begin thinking about the price point.
At $1,000, the Elite Direto XR is significantly cheaper than other high-end smart trainers such as the Wahoo KICKR ($1,199.99) or Tacx NEO 2T ($1,399.99). But why is that?
The differences between the Direto XR and these other top-end trainers are hard to spot. Instead, it is more of a feeling than a part or feature that separates these trainers. By no means does the Elite Direto XR feel "bad," but the inertia and resistance provided by its 10lbs are significantly different from more expensive trainers.
Like most other direct-drive smart trainers, the Direto XR needs to be plugged in for it to work. That means you won't be able to use it in the parking lot to warm up for your local TT.
However, the unit is already big and heavy enough. You probably wouldn't want to transport it from your pain cave to the car for a 30-minute warm-up.
The foldable legs help narrow the unit for storage. But still, it is still a big piece of equipment that is not very easy to transport or store.
If the Elite Direto XR is a bit too big for your budget, or it just doesn't seem like the right fit, Elite offers a number of other trainers, from wheel-on options to interactive smart rollers.
We've written reviews on other smart trainers too – like Tacx Flux and Tacx Flow. We also have reviews on smart bikes. From Stages SC2 Plus and Stages SB20 to Tacx Neo Smart Bike.
Other Elite Indoor Trainers
Elite offers a lot more than just the Direto XR. In fact, Elite carries one of the most substantial line-ups of any indoor trainer company.
From wheel-on trainers and interactive smart trainers to everything in between, Elite has you covered.
Here are Elite's Indoor Trainer Options:
Suito ($799.99) – A solid direct-drive smart trainer with a maximum power measurement of 1900w. The Suito measures power to +/-2.5% accuracy and can simulate up to a +/-15% slope.
Tuo ($529.99) – Elite's only wheel-on trainer, with smart capabilities and a 1300w power ceiling. Zwift and BKool-certified, the Tuo is one of the most capable wheel-on trainers out there. It has a maximum simulated slope of +/-10% and power accuracy measured to +/-5%.
Arion ($259.99) – This set of rollers allows you to ride freely on top of the spinning drums. It offers easy and realistic training session that feels just like riding on the road. The Elite Arion is super light, easy to use, and even easier to transport.
Arion Mag ($379.99) – A simple set of basic rollers with a maximum 520w of resistance. The unit includes three levels of integrated magnetic resistance and a Misuro B+ sensor. It can be used to connect to third-party apps like TrainerRoad or Kinomap.
Quick-Motion basic rollers ($569.99) – Basic rollers with 425w of resistance, and a free-floating platform that makes you feel like you're riding outside.
Nero Interactive Smart Rollers ($899.99) – Interactive rollers that can simulate up to a 7% gradient, and handle 830w.
Novo Force ($249.99) – A basic wheel-on smart trainer with internal magnetic resistance and a power ceiling of 690w. Like the Arion Mag, the Novo Force uses a Misuro B+ sensor to connect to third-party apps. The unit features a roller made from Elastogel. It improves tire adherence, as well as decreases noise and tire wear.
Tuno ($349.99) – A better wheel-on trainer than the Novo Force thanks to a fluid resistance unit rather than magnetic. The Misuro B+ sensor is not included.
Related: Best Indoor Bike Trainers
Summary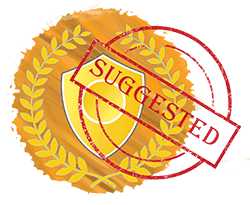 The Elite Direto XR is one of the most capable direct-drive smart trainers on the market, with a power ceiling of 2300w at 40kph, and a maximum simulated gradient of +/-24%.
But let's be honest, how many of us are even getting close to utilizing these features? These capabilities come at a price, and if you're never going to break 1200w, or have any desire to ride up more than a +15% grade, then these features are complete overkill.
The ERG mode accuracy and capability of the Elite Direto XR is second-to-none. Elite have vastly improved their algorithm in accordance with the new 10lb, and the result is nothing short of fantastic. For serious indoor workouts, go with the Elite Direto XR.
Ride feel and noise levels are two of the small sacrifices that you'll make with the Direto XR when compared to the more expensive Wahoo KICKR or Tacx NEO 2T.
The Direto XR is not the best in these two categories. That's what knocks it down from a top-end trainer to a high-end smart trainer.
Overall, the Elite Direto XR has one of the best values of any direct drive smart trainer thanks to massive technological capabilities and great quality all around.
There are a few sacrifices you'll need to make, but at this price point, there's no reason to pass up on the Elite Direto XR.
There are no comments yet, add one below.