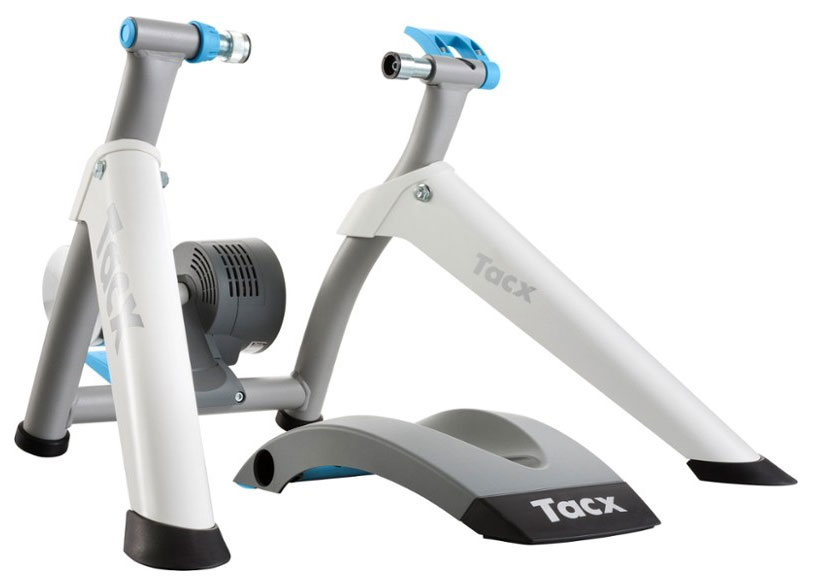 The Tacx Flow Smart is the cheapest smart trainer on the market, with a range of capabilities that typically come at twice the price. Using Bluetooth and ANT+ technology, the Tacx Flow is one of the most capable wheel-on trainers in the world for under $500.
A small flywheel and lightweight design sacrifice the realistic road feel that you'll find in higher-end smart trainers.
But when you consider its price, the Tacx Flow might offer the biggest 'bang for your buck' out of any of today's indoor trainers.
For year-round training and a fully interactive indoor cycling experience, the Tacx Flow Smart trainer offers everything you need. Its wheel-on design allows for easy setup and storage. It even connects to your favorite apps, such as Zwift, Tacx and TrainerRoad.
Let's take a closer look, shall we?
The Affordable Smart Trainer Option
The Tacx Flow Smart Trainer is cheap, easy to set up, and billed at just $369.99. Designed for the indoor cyclist on a budget, the trainer measures power, speed, and cadence without the need for external sensors.
This trainer is not designed for dedicated racers or serious indoor cyclists. The quality is simply not there, and neither are the high-end smart capabilities. With a power ceiling of 800w and power accuracy of +/-5%, you don't want to be on the Tacx Flow for a Zwift League race.
The Smart Trainer is designed for cyclists looking for an affordable entry-level smart trainer that will last them the entire winter, and probably even longer.
Let's take a look at the quick-and-easy setup process of the Smart Trainer.
The unit comes folded inside the packing box, and the only assembly required is using two bolts to fix the resistance unit to the lower portion of the trainer (see picture above). Even if you're terrible with tools, it's a super-easy task that anyone can do.
From there, you simply adjust the blue levers around the trainer to, first open it up, and then slide your bike and its rear wheel into the assembly. Once you have the resistance drum tightened onto the rear wheel, you're ready to ride.
Wheel-on Trainers versus Direct Drive Trainers
It is important to note that the Tacx Flow Smart trainer is a wheel-on trainer, as opposed to direct drive smart trainers or an indoor smart bike. The latter options are much more capable, expensive, and specifically designed for indoor riding. Wheel-on trainers are much lighter, easier to set up, and more portable – making them the pre-race trainer of choice.
Wheel-on trainers typically tend to measure power a bit less accurately, at about +/-5%. Direct drive smart trainers can measure power accurately to +/-3% and sometimes as low as +/-1%. The power accuracy of +/-5% is right in line with most other wheel-on smart trainers. Which is a big advantage once you consider its price.
Direct drive trainers are much more capable than wheel-on trainers in a few key ways:
Better ride feel
Measure power more accurately
More stable
Quieter
Simulate steeper gradients
Measure a higher maximum power
Self-calibrating (most models)
However, direct-drive trainers typically start at $700-800, with the higher-end models being $1,000-1,300. That's a massive upcharge compared to the Tacx Flow's $369.99 price tag.
So why is the Tacx Flow so cheap? And how does it stack up to other entry-level smart trainers?
Tacx Flow Key Specifications
The cheap build of the Tacx Flow means there are sacrifices in its quality. Let's dive into the details.
Price: $369.99
Maximum Power Rating: 800w at 40kph
Maximum Simulated Gradient: ±6%
Integration Capabilities: ANT+ FE-C and Bluetooth technology
Power Accuracy: ±5%
The Tacx Flow is made with a 1.6kg flywheel that doesn't offer a very realistic ride feel – The larger a trainer's flywheel is, the more realistic its ride feel. Compared to the Wahoo Kickr Core's 12 lb. flywheel, or the Wahoo Kickr's 16 lb. flywheel, the Tacx Flow's isn't even close. However, that's the price you (don't) pay for an incredibly affordable smart trainer.
In terms of gradient and maximum power output, the Tacx Flow offers a relatively low grade for both metrics. Many other wheel-on smart trainers are capable of >+/-8% gradients and >1000w, but here, the Tacx Flow falls short.
Tacx also offers its own indoor training software that includes a number of carefully designed training plans built for riders of all abilities. You can ride the Tacx Flow Smart trainer with or without the software which offers its own unique films and virtual training experiences.
"Enjoy your time in the saddle even more with a library of high-quality training films that lets you experience the rush of riding the steep hills of the Alps or the cobblestone roads of Milan. Race against live opponents and virtual training partners, link your Strava account to ride on 3-D maps, and even create your own workouts based on slope, power, heart rate, or FTP."
Tacx Flow vs Tacx Boost
At $299.99, you could guess that the Tacx Boost is a lot like the Tacx Flow, maybe even an earlier generation. But the models are actually quite different – the biggest is that the Tacx Boost is a basic indoor trainer, not a smart trainer.
For $70 more, you could get all of the smart capabilities of the Flow, that are not offered in the Boost. However, the Boost does boast a 1050w ceiling that beats the Flow; but other than that, they are very much the same.
Both are light and portable, easy to set up, and easy to use wheel-on trainers. If you're really budget-strapped, go with the Tacx Boost. Otherwise, the Tacx Flow is worth the upgrade in almost every way.
Related: Best Indoor Bike Trainers
Other Tacx Trainers
While Tacx Flow and Tacx Boost are a bit more basic models, Tacx also offers some more hardcore products:
Considerations of the Tacx Flow
With just a 1.6kg flywheel, the Tacx Flow Smart trainer lacks the real-world ride feel of other smart trainers. Its wheel-on design limits its capabilities as well, including simulated gradient and maximum power measurement.
All things considered, the Tacx Flow Smart trainer is an 'OK' trainer, until you consider its price…
While it sacrifices in quality, the Tacx Flow makes up for it in simple and smart capabilities. The trainer is light and storable, and it comes with a price tag that won't make your eyes water.
You'll be hard-pressed to find another smart trainer for under $400, especially one with the diverse capabilities of the Tacx Flow. Of course, a cheap product comes with its faults; but for most buyers, it is certainly worth it.
The Tacx Flow is about as loud as any other wheel-on trainer – compared to its competitors, it is neither the worst nor best, at least in this department. You can expect to hear the hum of the trainer over the noise of your drivetrain, but it probably won't be enough to drive your neighbors up the wall.
If you want to learn more about similar bike trainers, check out our reviews on Saris M2, Wahoo KICKR Core, and KICKR Snap.
Conclusion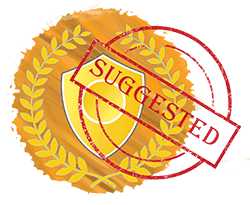 Easy to set up and use right out of the box, its wheel-on design helps make the Tacx Flow work for a wide range of bikes and customers.
Only elite indoor riders will be bothered by the +/-6% simulated gradients, +/-5% power accuracy, and 800w ceiling.
As an entry-level smart trainer, there's nothing better than the Tacx Flow. While it sacrifices in quality, it makes up for in price. For under $370, it's almost impossible to find a smart trainer with as many capabilities as the Tacx Flow.
| | | |
| --- | --- | --- |
| Points of Improvement for Tacx Flow | | What we like about Tacx Flow |
| Low power accuracy | | Easy to set up |
| Potential for wheel slip | | Light and portable design |
| Low power ceiling | | Low price |
There are no comments yet, add one below.