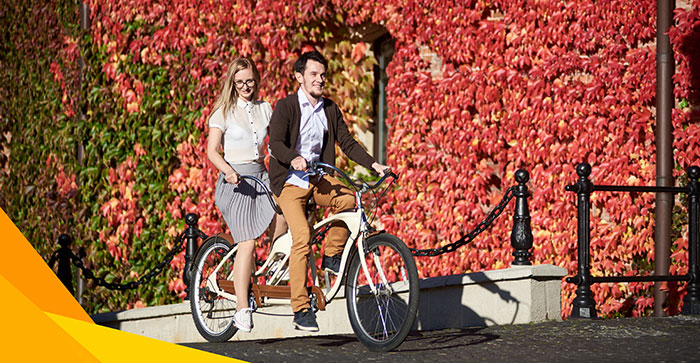 Tandem bikes make cycling exciting and allow riders of different fitness levels to ride together. Riding with kids or a spouse has never been easier and more fun.
Cycling is joyful and enjoyable, but just like everything else in life, it's so much better when shared with someone else.
That's why you should consider giving a try to a tandem bike.
In addition to that, tandems are also faster than solo bikes on flat ground, so you can potentially cover more ground for the same amount of effort and time.
Beware: a tandem bike has the power to make or break a relationship, though the former is much more common! After overcoming the initial challenges of tandem bike riding, you'll see relationships with your family, kids, and friends strengthen.
If you don't know where to start, our guide will explain the basics and show a few of the best tandem bikes we believe you can buy.
Tandem Bike Types
Tandem bicycles come in many different shapes, sizes, and arrangements. Tandems for two riders sitting behind each other are the most common, but there are other types as well.
Here are a few of the most popular ones that you can expect to encounter in shops and out on the road.
Side-by-side tandem bike: A tandem built for two or more people who ride by sitting next to each other, rather than behind one another.
Tandem mountain bike: This type has wide, knobby tires and low gearing. It's suitable for riding off-road, on light trails, dirt, and gravel roads. It can even have front and rear suspension.
Tandem recumbent bike: A tandem bike that places the riders in a laid-back reclining position.
Tandem road bike: This type has narrower and faster tires, higher gears, and lighter components. It's intended for going fast on smooth roads.
Hybrid tandem bike: A good choice for all-around tandem bike riding on paved and unpaved roads, commuting, and fitness cycling.
Electric tandem bike: A tandem bike with an electric motor and battery that assists the riders and helps them go faster and climb hills with more ease.
Kids tandem bike: This is a tandem bike with smaller wheels built for kids. Some tandem bikes are suitable for one adult rider (pilot) and one or more shorter riders (stokers).
3-4 person tandem bike: This tandem has enough seating positions to accommodate three or four riders. There are even five-seat tandems, such as the ones that were used by pacers in track racing in the past.
Foldable tandem bike: Finding room for storage is one of the biggest downsides of tandem bikes. This type folds down which makes it easier to transport it or store it away.
Tandem cruiser bike: This type has relaxed geometry, upright riding position, wide tires, and comfortable saddles. It's ideal for leisure rides on bike paths and along beaches.
---
---
Schwinn Twinn Tandem
Best Bike Tandem with Suspension
Step-through frame
21-speed drivetrain
Comfort-oriented design
Team up with your favorite person and ride along the beach with a big, silly smile on your face. The Schwinn Twinn tandem bike comes with a sturdy steel frame with a step-over design that looks great and is easy to ride.
This Schwinn tandem bike is equipped with a 7-speed Shimano drivetrain and powerful disc brakes. Therefore, don't be afraid to choose routes with climbs and descents, if the stoker is up for the challenge.
Schwinn Twinn prioritizes comfort with dual-spring saddles and swept-back handlebars that will place you in a relaxed, upright riding position. It comes with suspension forks as well which takes the lumps out of the lesser maintained roads.
It doesn't lack style either, which is pretty obvious at the first glance: the chunky tires and the sleek silver colorway looks amazing.
Get the Schwinn Twinn tandem bike if you yearn for comfortable rides on both paved and unpaved roads, as well as any type of terrain.
See More: Full Review of Schwinn Bikes
Kulana Lua
Most Vibrant Cruiser-Style Tandem Bicycle
7-speed or single-speed drivetrain
White-wall tires
Cruiser-style handlebar
The Kulana Lua tandem bike screams summertime, sunny days, a breeze in the hair, and quality time with friends and family.
This colorful fun factory rolls on 26″ wheels and accommodates two riders who are 5'4″ to 6'2″ tall. Its low-step frame is easy to mount and dismount, plus it comes in bright orange and yellow colorways.
Depending on the terrain in your area, you can get Kulana Lua with a 7-speed Shimano drivetrain or with a single-speed setup. The former has front and rear V-brakes, whereas the latter only has a coaster brake, which is not ideal.
This tandem bike also has high-rise stems and cruiser-style handlebars that create a comfortable upright riding position. On top of that, you'll enjoy every second spent on its dual-spring saddles.
Get it if you want an attractive and attractively affordable tandem for fun, leisure rides.
Kent Synergy
The Sportiest Two-Wheeler
Aluminum frame
Sturdy 37-hole wheels
21 wide-range gears
Kent Synergy is a heavy-duty hybrid tandem bike with a lightweight and rigid 6067 aluminum frame. Those who want to climb with a bit more ease should consider getting it.
It comes with versatile 26″ wheels, so it's great for teenagers and adults—basically, the entire family can enjoy riding it.
Related: Best Bikes For Teenagers
If there are hills in your area, you should be able to climb them easily thanks to 21 wide-range gears. On the descents, you can control the speed with solid front and rear V-brakes.
Heavier riders will also appreciate the overbuilt 37-hole double-wall aluminum rims that can withstand up to 400 lbs of weight. This tandem also comes with front and rear reflectors and the tires have reflective details that will improve visibility on low-vis rides.
If you need a fast tandem for commutes and weekend fitness rides, Kent Synergy fits the bill.
Interested in more Kent bikes? See our review of Kent Bayside (it's a cruiser bike).
---
Kid-Friendly Tandem Bikes
---
Burley Piccolo Trailer Bike
Best Tandem Bike Add-On For Riding With Kids
Age range: 4-10 years
7-gear drivetrain
Suitable for one child
The Burley Piccolo is perfect to share the joy of riding a bicycle with your kids. You can attach this to your current bike to turn it into a tandem for you and a younger one to enjoy.
Read more: How to Cycle With Kids
The tandem bike add-on rolls on a 20″ wheel and comes with 7 gears. The front handlebar is locked, so the steering is done by the rider in the front.
This tandem add-on is going to be an excellent tool to help younger riders get used to riding a bike themselves and is a great teaching tool.
Kazam Co-Pilot Bike Trailer
Best Removable Tandem Add-On
Foldable steel frame
Durable 20″ wheel
Adjustable saddle and handlebar height
The Kazam Co-Pilot Bike Trailer is an easy way to turn any solo bike into a kids' tandem bike and take your child for a ride. All you need to do is attach this trailer to the back of your bike and start pedaling. The trailer has a drivetrain of its own, so your partner in adventure can do some work as well!
Related: Best Kids Bikes
The Kazam trailer has a weight limit of 75 lbs. and features an adjustable saddle and handlebar height. Therefore, it's suitable for kids with 16.5" – 26" inseams (approximately 4-9 years old).
It attaches to the bike with a simple quick-release system that works on all bicycles with a seat post. We wouldn't attach it to a carbon seat post, though, but it should work in all other cases.
Kazam also boasts a sturdy 20″ wheel and a foldable frame, so you can easily put it into a car trunk and take it along on any adventure. This kids' tandem bike trailer also includes a safety light and a hi-vis flag for nighttime adventures.
---
A Fun Way to Spend Time with Friends and Family
Tandems are fun, there's no doubt about that. But, to the uninitiated, these strange machines might also look confusing.
Dive deep time—let's explain some of the basics and see how tandem bicycles differ from solo bikes that we're used to seeing and riding.
First things first:
What is a tandem bike?
A tandem is a bicycle built to be ridden by more than one person. Two-person tandems are the most common, but models built for more riders exist as well. Riders typically sit one behind the other, but there are also side-by-side tandems that place riders next to each other.
Tandem Bike Riding Basics Explained
A Tandem bike allows two people to ride together and arrive at their destination at the same time, regardless of the fitness level of each person.
Tandem bike riding requires teamwork, so each rider has a role to fulfill. The person in front is called the 'pilot', whereas the person in the back is called the 'stoker.'
The pilot's role is to steer, pedal, shift gears, brake, and warn the stoker of any bumps, potholes, or sudden changes of pace. On the other hand, the stoker's role is to pedal, take photos, keep the conversation going, and soak in the scenery.
Even though both cranksets are linked together with a chain and rotate at the same cadence, the two riders don't need to produce the same power. One rider can do all the hard work, whereas the other can simply enjoy the ride, which is usually the case when riding a tandem bike with kids.
As a rule of thumb, the stronger and more experienced rider should always sit in the front because of the pilot's more complex role. The stoker should make sure not to make any sudden movements so as not to compromise the balance of the bicycle.
If you're new to the tandem world, keep in mind that the first few rides can be challenging and even frustrating. It's important not to give up because the joy that follows is worth the initial difficulties.
Top Features of Tandem Bikes
Tandems are similar to solo bikes in many regards: they have a frame, two wheels, and a drivetrain.
However, tandems also have a few unique features: a third brake, multiple handlebars, saddles, and cranksets, as well as unique gear ranges.
If you're shopping around for a tandem bicycle or you just want to learn more, here are a few of the most important features you should be familiar with.
Strong Frame
Tandem bikes have long frames that accommodate at least two riders. Steel and aluminum are the most common materials, but carbon and titanium frames are not hard to come by either.
The front triangle typically has a step-over design for structural reasons, but the rear end of the frame can also have a step-through design. This is a great solution for kids' tandem bikes and tandems for the elderly.
The best tandem bikes usually have a weight capacity of around 400-550 lbs., so their frames are built strong, with wide tubes and additional structural support.
Overbuilt Wheels
A tandem bike has two wheels, just like a solo bicycle, even though it carries two riders and thus double the weight. Therefore, its wheels need to be stronger than usual.
This is usually achieved with sturdier rims, beefier hubs, and more spokes—40 to 48 spokes is the standard, but 36-spoke wheels exist as well.
Third Brake
The third brake is an interesting feature that's only found on tandem bicycles. It's mounted on the rear hub and serves as a supplement to the two main brakes. It can also be used as a drag brake when descending and as a parking brake when you stop for a break.
Basically, a drag brake allows you to set a certain amount of braking force and then further modulate the speed with regular brakes. You can also use it as a normal brake to help dissipate heat better when descending.
Wide Gear Range
Tandem bicycles are faster on descents and flat sections but can be slower on climbs. Therefore, you need a bigger range of gears than on a solo bicycle in order to maintain a comfortable cadence at high and low speeds.
The best tandem bikes out there typically have gears that go as low as those on a mountain bike and as high as those on a road racing bike. Electric tandem bikes are also becoming more popular nowadays, as the electric motor helps you climb hills easier and maintain a higher average speed.
Frequently Asked Questions
There are no comments yet, add one below.