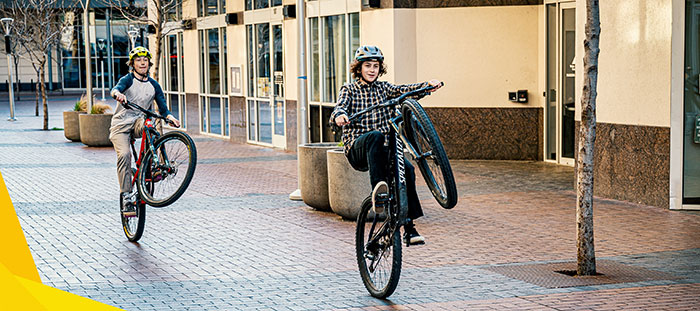 Best bikes for teens to ride to school, explore local trails, or zoom around the neighborhood on pavement and bike paths. 
Whether or not you're old enough to drive a car, you should consider cycling as a much better way of transportation. It's quick, fun, and it'll get you in shape.
Above all, it's cheap and gives you more independence by not having to ask your parents for gas money every time you need to go somewhere. As a parent, I definitely appreciate that as well!
So no matter if you're a teen looking for a bike that matches your style or a parent looking to buy one for their child, our list is a great place to start!
Check out the best bikes for teens we recommend, including hybrid, city, cruiser, mountain, and road models!
Jump straight to the bikes: Commuters | Mountain Bikes | Road Bikes
A Short Introduction to Bikes for Teens
Bikes for teens are not much different from bikes for adults. That said, there are a few distinctions to make and factors to take into consideration, but we'll talk about that later.
As most teenagers (but not all) are shorter than adults, they need bikes with smaller wheels (typically 24″ or 26″). Though some tall teenagers can easily ride bikes with 27.5″ or even 700C/28″/29″ wheels.
We should also consider the type of bike, its complexity, and even its appearance, which is an important factor for teens.
---
Commuters
---
Priority Coast
Comfy saddle and handlebars
Easy maintenance
Front brake and fenders
Full Review of Priority Bicycles
Priority Coast is a good-looking and stylish bike that's comfortable to ride and super easy to take care of.
It offers some advanced technologies, such as the carbon belt instead of a chain, and lots of customizations.
Coast's aluminum frame is available in step-over and step-through variations, so it's suitable for all types of outfits. Moreover, it comes in four colorways, so it will easily match your style.
When it comes to gears, Priority Coast is available with a single-speed or 3-speed drivetrain. If you live in a completely flat area get the former; otherwise, the 3-speed version is a must.
What we also like about this bike is the lack of maintenance. The gears are sealed inside the rear hub and the drive belt requires no cleaning or lubrication. Just sit and ride every day!
This is a decent girls' 26-inch bike that fits riders between 5'0″–5'11" with the step-through frame or 5'5″–6'5″ with the step-over frame.
Get it if you want one of the comfiest and most stylish cruiser bikes for teens to ride to school, to your friends, or have fun on local bike paths.
Public Bikes C7 24″
Step-through frame
Shimano 7-speed drivetrain
Stylish paintwork and accessories
Full Review of Public Bikes
Public Bikes C7 is one of the most colorful bikes for teens that we found. If you like bright colors, its yellow, turquoise, and pink colorways will blow you away.
The C7 is a step-through city bike with an upright riding position that's great for going from point A to point B quickly.
It rolls on 24″ wheels and really cute cream-colored tires that are suitable for riders 4'4″–4'10" tall. The bike comes with fenders, so you won't spoil your favorite outfit even if it rains.
Public C7 is called this way because its Shimano drivetrain offers 7 gears. This is good news if you live in a hilly area and the only way forward is over a climb.
The list of components also includes powerful front and rear V-brakes and relaxed riser handlebars.
Public also equipped it with a chainguard and kickstand, which anyone will appreciate when it comes to everyday practicality.
Buy Public C7 if you want an attractive and affordable bike that's simple, stylish, and durable.
State Bicycle Co. Klunker
Unique Klunker design
2.3″ trail-ready tires
Incredibly simple to ride and maintain
Full Review of State Bicycle Co.
What the heck is a Klunker? It's a mash-up of parts taken from a cruiser, mountain bike, and BMX. This retro-inspired bike is our favorite bicycle for teenagers.
The Klunker has a cruiser frame, mountain bike wheels and tires, and BMX-style handlebars. So apart from looking amazing, it's also amazingly versatile.
Related: Best BMX Bikes
You can ride it on light trails, gravel and dirt roads, town streets, pavements, and winding cycle paths.
If you want to be seen and leave a lasting impression wherever you go, this State Bicycle Co. Klunker is a winner.
Another reason why we included it on this list is the easy-to-use single-speed drivetrain. Moreover, it only has a coaster brake, so it's easy to control in that regard as well.
Keep in mind that this bike rolls on 27.5″ wheels so it's sized for riders between 5'5″ and 6'3″ tall.
In our opinion, it's one of the best bikes for a teenage boy who wants to ride a little bit of everything.
Cannondale Quick CX 2
Stunning looks
High-quality Shimano components
Powerful disc brakes
At around $800, there are few better choices for all-around riding and commuting than Cannondale Quick CX 2.
This aluminum hybrid bike is lightweight, comfortable, and durable, which are all characteristics that best bikes for teens should have.
The City Sport Geometry puts the rider in a relaxed position that's sporty enough to balance the ride between comfort and speed. Perfect if you're running late for school or a date. It also has suspension to take all the rough lumps out of the road.
The Shimano Alivio 9-speed drivetrain and Tektro mechanical disc brakes are both of high quality and perfect for longer rides. Therefore, we recommend this bike for fitness riders and hobbyists as well.
However, what drew us the most toward Cannondale Quick CX 2 is its appearance. The shiny blue paintwork perfectly matches the stealthy 700c x 40mm tires and results in eye-catching looks.
Moreover, the 40mm tires are suitable for smooth and bumpy roads, so don't be afraid to take a gravel detour from time to time.
We recommend it to teens who appreciate both form and function and want a light bike for commutes, workouts, or weekend escapades with friends.
24 gears
Mechanical disc brakes
All-road tires
Co-op Cycles CTY 1.1 has been a best-seller among teens and adults for years. The reason is simple—unmatched value for the money you get by buying it.
When it comes to bikes for a teenage girl, we believe the CTY 1.1 is one of the best choices. It looks good, it has a relaxed geometry and a low top tube for easier access.
CTY 1.1 also boasts 24 gears thanks to a Shimano 3×8 drivetrain, which makes it perfect for riding in hilly areas. The powerful mechanical disc brakes only reinforce this statement, offering reliable stopping power no matter the terrain or weather.
However, keep in mind that this bike has 700C wheels, so it's suitable for riders between 5'3″ and 6'3″ tall. The tires are 40mm wide, which is ideal for all-road riding—read tarmac, gravel, and even dirt.
The only disadvantage is the lack of accessories, such as fenders or a kickstand, but you can easily add those with minimal spending.
Buy it if you want one of the fastest bikes on this list that will last and work well for years to come.
---
Mountain Bikes
---
Trail-ready suspension
Powerful hydraulic disc brakes
Super-wide 2.6″ tires to conquer mud and split puddles
Is there anything more fun than riding a mountain bike through mud, puddles, and over obstacles? Well, there wasn't when I was a teen and I hope little has changed.
If this is your preferred way of having fun, the Co-op Cycles' REV DRT is definitely a mountain bike that will put a big smile on your face.
Its 24″ wheels are paired with massive 2.6″ knobby tires so you can hit trails, dirt roads, and pedal through some deep mud. FUN!
REV DRT also has an SR Suntour XCT 80mm fork that makes the ride less jittery and improves control when going over bumps, roots, and rocks.
Moreover, Co-op Cycles also decided to give it an 8-speed drivetrain for easier climbing and hydraulic disc brakes for more confident descending.
In simple terms, Co-op Cycles REV DRT has all you need to really explore local trails and forests, as well as your love for mountain biking. It has high-quality components and its aluminum frame and 24″ wheels make it suitable for shorter riders.
Marin Bobcat Trail 3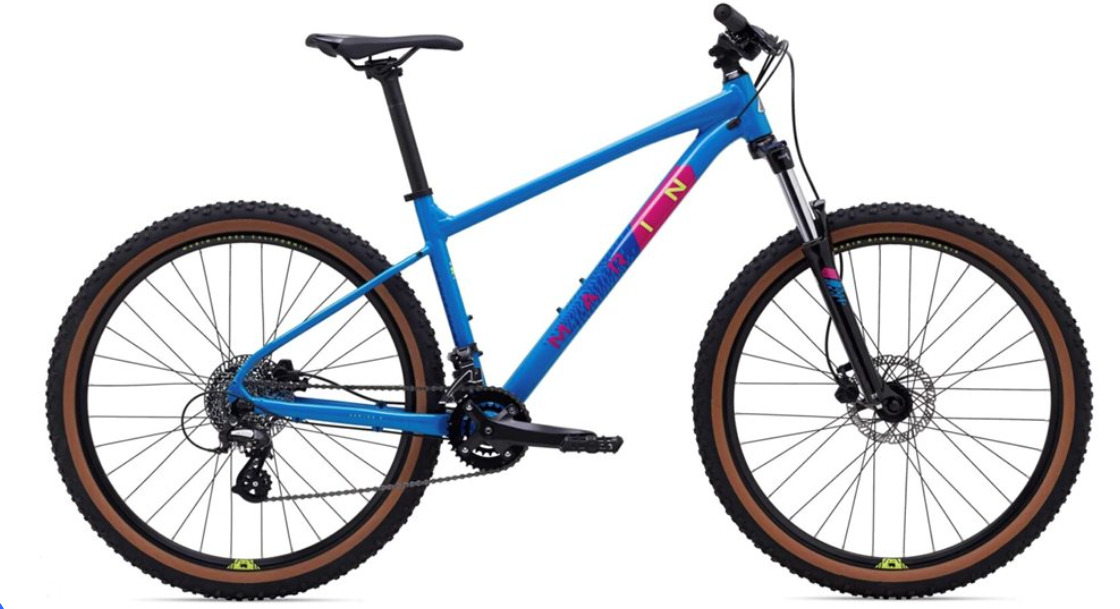 Suitable for proper trail riding
2×8 drivetrain & hydraulic disc brakes
27.5″ Wheelset
Full Review of Marin Bikes
I fell in love with cycling when I was a teen and never looked back. If the same happened to you or your child, it's a good idea to get a capable bike that you can use to build skills and ride more seriously.
Marin Bobcat Trail 3 is a high-quality aluminum trail bike with mid-range components and an accessible $819 price tag.
It sports Shimano Altus 8-speed components that offer excellent performance even for experienced riders.
It also boasts Tektro hydraulic disc brakes that will stop you on a dime and improve your control of the bike on technical sections of the trail.
The Bobcat Trail 3 bike also boasts an SR Suntour XCM HLO DS fork with 120mm Travel and 2.25″ tires that work together to improve comfort and enhance grip.
Once you have a bit more skills and you're ready for fast descents, it's good to know that you can also equip Marin Bobcat Trail 3 with a dropper post.
The Bobcat Trail has 27.5″ wheels which will make the bike fast on acceleration and feel very agile, alongside the comfortable off-road geometry, it produces an amazing ride.
Schwinn High Timber
Different frame shapes and wheel sizes available
Suspension fork
Mechanical disc brakes & 21 gears
If you're on a tight budget and you need a girl's 26-bike for light trail and off-road riding, Schwinn's High Timber is hard to beat.
This is a great mountain bike for teenage girls, but it's an excellent choice for boys as well. It's available in various colors and frame designs, so it suits different riders.
Moreover, Schwinn High Timber is available will all wheel sizes (24″, 26″, 27.5″ & 29″), so it's one of the best bikes for teens of all ages and heights.
When it comes to the components, this teen mountain bike sports 21 gears, mechanical disc brakes, and entry-level front suspension.
Internal cable routing is another nice surprise in this price range, and so are the wide knobby tires.
It's definitely suitable for off-road riding, but we wouldn't recommend abusing it on rough trails—that's not what it's made for.
The 24″ wheels are ideal for 4'8″–5'6″ riders, whereas teens between 5'4″—6'2″ tall should get the 26″ version.
See more: Best Mountain Bikes For Kids
State Bicycle Co. 4130 All-Road
Durable steel frame
Bikepacking ready
Disc brakes and 1×11 drivetrain
State Bicycle Co. 4130 All-Road is a teen mountain bike for those who love off-road adventures.
If you want to join your parents on a bikepacking trip, or if you as a parent want your teenager to come along, this is the bike to get.
It's built around a 4130 Steel frame with thru-axles, compatible with 650b and 700c wheels. The frame is available in four sizes that fit riders 5'1″ to 6'5″ tall, so near anyone can ride it.
The SBC All-Road is equipped with a 1×11 drivetrain and mechanical disc brakes, so it's capable of navigating rough off-road routes. Plus it rolls on 700c x 38mm or 650b x 2.1″ tires that are just as capable.
Still, the best thing about this bicycle for teenagers is all the mounts. You can equip it with front and rear racks, mudguards, and two water bottles. All you need for a multi-day trip.
However, if you're not that into bikepacking, you can simply use this bike for year-round commutes. It's durable, sturdy, and decently affordable.
---
Road Bikes for Teens
---
Tommaso Imola
Wide gear range
Narrow and fast tires
Relaxed upright geometry
Tommaso Imola is an affordable aluminum road bike for teens who want a bit more speed on smooth paved roads. Imola is equipped with entry-level components, but it works wonders for beginner cyclists.
It has a Shimano Claris 3×8 drivetrain, which means you'll have more than enough gears to tackle different terrain and ride a variety of gradients. The rim brakes save some weight, though they are not as powerful as disc brakes.
Another reason why this is one of the best bikes for teens is the relaxed geometry. Tommaso Imola will put you in a more upright riding position that you can maintain for longer without discomfort.
It rolls on 700C wheels and 25mm tires, so you should stick to smooth paved roads while riding it. Though you can expect the comfy handlebar and saddle to offset some of the annoying road chatter.
Finally, Tomasso Imola comes in six frame sizes suitable for riders 4'9″–6'5″ tall, so you should have an easy time finding the right fit.
Public Bikes R18 Drop Bar
Retro steel frame and fork
Shimano Sora 2×9 groupset
Versatile 700c x 28mm tires
The Public Bikes R18 is a steel road bike for everyday use. You can use it to commute, run errands, go to school, or just get from one place to another fast.
If you appreciate the retro appeal, then this bike definitely speaks your language. It's available in British Racing Green or Cream colorways and faux leather saddle and bar tape. It looks amazing.
In addition to great looks, Public Bikes R18 also boasts a Shimano Sora 2×9 groupset coupled with powerful dual-pivot caliper brakes. That's a great setup for day-to-day riding or even fitness.
Public equipped this bike with front and rear fenders, so you can keep riding no matter the weather conditions. In addition to that, you can also add two water bottles and a rear rack to stay hydrated and carry books or other necessities.
All in all, this is a beautiful bike for a teenage boy or a bike for a teenage girl who wants a two-wheeler that will match their distinctive style.
---
What to Keep In Mind
---
Wheel Sizes
It's impossible to recommend a specific wheel size for all teenagers—they come in all sizes and shapes.
A bike with 26″ wheels is considered to be a safe choice for most teenagers, but it could be too small or too big for some riders.
Therefore, the only way to make the right choice is based on height and inseam length. We've written about bike sizes at length before, so we recommend giving that material a thorough read. We've also written about kids' bikes sizes, so check out that guide as well.
As you can see below, we chose to show you a little bit of everything, including models with 24″, 26″, 27.5″, and 700C wheels.
If you're interested in even more, see our explanation of different wheel sizes and why they matter
Bike Types

Different types of bikes for teens are better on different surfaces and types of terrain.
Some teenagers love exploring trails and dirt roads, others prefer to stick to paved roads, pavement, and bike paths.
For that reason, we chose to include a little bit of everything on our list. We're showing you recommendations for commuters (hybrid, cruiser & city bikes), mountain bikers, and purebred roadies.
Consider also: Best Electric Bikes For Kids
The first thing to consider when buying a bike for yourself or as a gift is the rider's needs. Here's a quick guide to help you match those needs to one of the categories below.
Commuters: A great choice for teens who plan to ride a bike to get from one place to another and stick to paved roads and bike paths.
Mountain Bikes: Excellent for teenagers who love nature, trails, and don't mind some mud. Also a good choice for commuting and all-around riding.
Road Bikes: Consider this type for teens who have already shown an interest in cycling and wish to take it to the next level, be it through fitness or racing.
Budget
Last but not least, money is another important factor, no matter if you're a parent or a teen with limited pocket money.
As you can see, most bikes for teens on our list cost between $500 and $1,000. We believe there's no reason to spend a lot more than that unless the bike is intended for racing or serious fitness riding.
Most teenagers are still growing, so chances are they will eventually need a bigger bike. You don't want to spend thousands on a bike that will be unusable in a few years.
Moreover, a lot of teenagers abuse their bikes and know little about maintenance, or ride them a few times and then lose interest for good. That's why we recommend getting an affordable bike.
Down the road, if the love for cycling is still there, you can buy something of higher quality that will perform better and be suitable for more serious riding.
FAQ
There are no comments yet, add one below.