When it comes to bike storage ideas, you will often hear about the N+1 rule. N+1 in cycling means there's always room for another bike to own or ride. This is all well and good, but unfortunately, we don't always have space for extra bikes in our flat or house.
Bikes take up a lot of space and can just be awkward to keep.
Though you don't need to worry, there's a solution that comes in the form of bike mounting racks. What you might not know is in the past few years, companies have been working on great bike storage ideas so you can store your bikes much easier and keep them out the way and safe from getting broken.
This article will tell you all about the different bicycle storage ideas. From wall-mounted hooks to bike pully systems, there's a solution for every cyclist.
#1: Wall-Mount Hooks
Wall-mount hooks are one of the most popular types of indoor bike storage ideas. As you can guess from their name, these are hooks that are mounted on the wall, that you use to hang your bike(s) on.
They come in different shapes and sizes and use different mechanisms to keep your bike neatly stored. Some are just inconspicuous metal hooks that grab the front or rear wheel, whereas others are more prominent and usually hold the bike by the top tube.
Depending on the position of the bike when stored, we can distinguish between two types of wall-mount hooks.
Vertical Hooks — This type holds the bike upright in a vertical position, with wheels resting against the wall. Most often, a hook is used to grab front or rear wheel, while the other wheel just leans against the wall.
Horizontal Hooks — If you want to store your bike vertically, this is one of the best options. A simple platform is mounted on the wall and holds the bike by the top tube or the saddle. The design can vary from a simple plank or hook to a more intricate system that includes some storage area.
Wall-mounted racks are a good solution – they take up such little floor space and keep the bike well out of the way. It's easy to use, compared to racks where you might have to lift the bike above your head.
The main drawback of wall-mounted racks is, that firstly, they are a permanent fixture and need to be screwed to the wall to work correctly. Secondly, we recommend keeping an eye on the weight limit of these because some e-bikes do surpass this.
Who is it For?
As far as bicycle storage ideas go, this option is versatile and allows you to set up bike storage anywhere. You can hang your bikes in your living room as art or place them in the garage, out of your way.
It may not be a great solution for renters, as many landlords do not allow tenants to drill holes in the walls. However, folks with their own houses and apartments can get away with just a few holes that can be masked easily if the hooks are ever taken off.
Wall-mount hooks are a better solution for road and city cyclists, just because you probably don't want to hang a muddy bike on the wall unless you clean your bike after every ride.
We also highly recommend checking the weight of your bike and the limit on the hanger before purchasing too. When people ask how to hang bikes in the garage, is the best solution in our opinion.
Or see storage products on REI
#2: Freestanding Racks
Freestanding bike racks are very popular among cyclists for a variety of reasons. They're easy to install, do not require putting holes in the walls, and can hold multiple bikes.
They make the bike accessible and what's great about free-standing racks is they can be moved around unlike a wall-mounted rack which is a permanent fixture.
Related: Best Garage Bike Racks
As their name implies, freestanding racks have a wide and secure platform that stands on the ground and does not require any screws in the walls. Therefore, if you are renting a house or an apartment, this is a great solution that isn't going to lose you your deposit at the end of your tenancy.
Freestanding racks usually store bikes horizontally, hanging by the top tube. Depending on your ceiling height and what model you get, you can store two or even three bikes this way. Vertical freestanding racks exist as well, but they are not as common as horizontal models.
What we love about these racks is not only do they hold the bike securely and can be moved around easily it's the way they hold the bike. The bike stays safe and secure and typically it is supported on the frame the strongest part of the bike.
These racks often come with additional hooks that can be used to hang helmets, gloves, shoes, clothes, and anything else that comes to your mind, making it one of the best bike storage ideas for people with lots of cycling equipment.
Who is it For?
Freestanding racks are perfect if your space is constantly moving. If you need to store your bikes in your house, but want the option to move the storage solution around, then these are the perfect racks for you.
Although they do take up a fair amount of floor space if you living in rented accommodation it means you're not drilling holes in the wall. As far as indoor bike storage ideas this is one of the best.
So if you have multiple bikes, and live in rented accommodation, with some space to spare the freestanding racks are a perfect solution for you.
The only drawback with free-standing racks is they typically take up a lot of floor space. This normally comes down to the fact they need to balance the bike and ensure it is not going to fall over.
Or see storage products on REI
#3: Floor-to-Ceiling Column Racks
If you're looking for a bike storage solution that takes up minimal floor space but also isn't a permanent fixture a floor-to-ceiling column could be perfect for you.
Floor-to-ceiling column racks are great indoor storage ideas. This is a non-invasive method that consists of a pole (column) that stands upright by applying pressure between the floor and the ceiling.
In many regards, this is a very similar solution to freestanding racks. Column racks do not require any hardware on your walls and can be placed anywhere in your home. They're perfect for apartment dwellers with rented homes who want to save as much space as possible but also have their bikes in a safe place.
To use a floor-to-ceiling mount you need to install a beam between your ceiling and your floor. This isn't a challenging task to do but you are going to want to make sure you follow the instructions as this solution relies on the pressure along the beam. Without enough pressure, it can fall over.
One of the downsides of this storage solution is that it requires a hard ceiling to mount. If your ceiling is made of gypsum or some other fragile material, you're likely to damage it if you try to install a column rack. The easy way to check your ceiling is to knock it and make sure it doesn't sound hollow.
Who is it For?
If you need to save as much space as possible, have multiple bikes to hang, and live in rented accommodation, then this is perfect for storing bikes indoors.
Floor-to-ceiling columns are a great solution for storing your bikes but have a limited audience. If you live in accommodation where you have the correct walls and ceiling then they're perfect.
Although this is one of the most intelligent solutions on this list it does have some drawbacks. It's only going to work in certain houses and flats as it completely depends on the foundations on the building for fitment.
You are limited depending on the height of the ceiling too as these will only work in a certain range.
Or see storage products on REI
#4: Indoor Ceiling Pulley Mechanism
Indoor pulley mechanisms are the most interesting bike storage solution. These systems consist of hooks or a platform that you attach your bike to and then lift it to the ceiling with a pulley mechanism. This way, your bikes do not take any floor or wall room. Hanging bikes can be good bike storage ideas to store bikes indoors safely.
This is a reliable solution and surprisingly very easy to use once you have the hang of it. Having your bike on the ceiling eliminates the need for any floor space and it's a statement when people come over.
There are two types of ceiling pulley mechanisms, depending on the position of the bikes:
Horizontal — The bikes are lifted up horizontally, so they take much less room. This system is perfect for those with low ceilings.
Vertical — This type lifts the bikes in a vertical position, with wheels facing up or down (depending on your preference). It takes more room and requires high ceilings.
More often than not, ceiling pulley mechanisms are designed to store just one bike, especially when it comes to horizontal models. However, some can lift several bikes, usually in a vertical position. This bike storage idea is ideal for apartments and tight spaces. If you want to free up additional space in your apartment, just strap your bike to the ceiling and forget about it until the next ride.
Who is it For?
Indoor ceiling pulley mechanisms are good bike storage ideas if you live in an apartment and lack space.
They do take some time to install and you are going to want to ensure you have the hang of how to use them before hanging a heavy bike on it. But they look good and clear all the floor space leaving more room to store bikes on the floor as well.
As far as storing bikes indoors, they do come with some drawbacks though. They do require installation to the ceiling and without a bike in them can be a bit of an eyesore if it's in a living space.
It also does take time to get them onto the ceiling. You need to ensure you know what you're doing so the bike doesn't come loose and fall on you.
Or see storage products on REI
#5: Indoor Bike Storage Furniture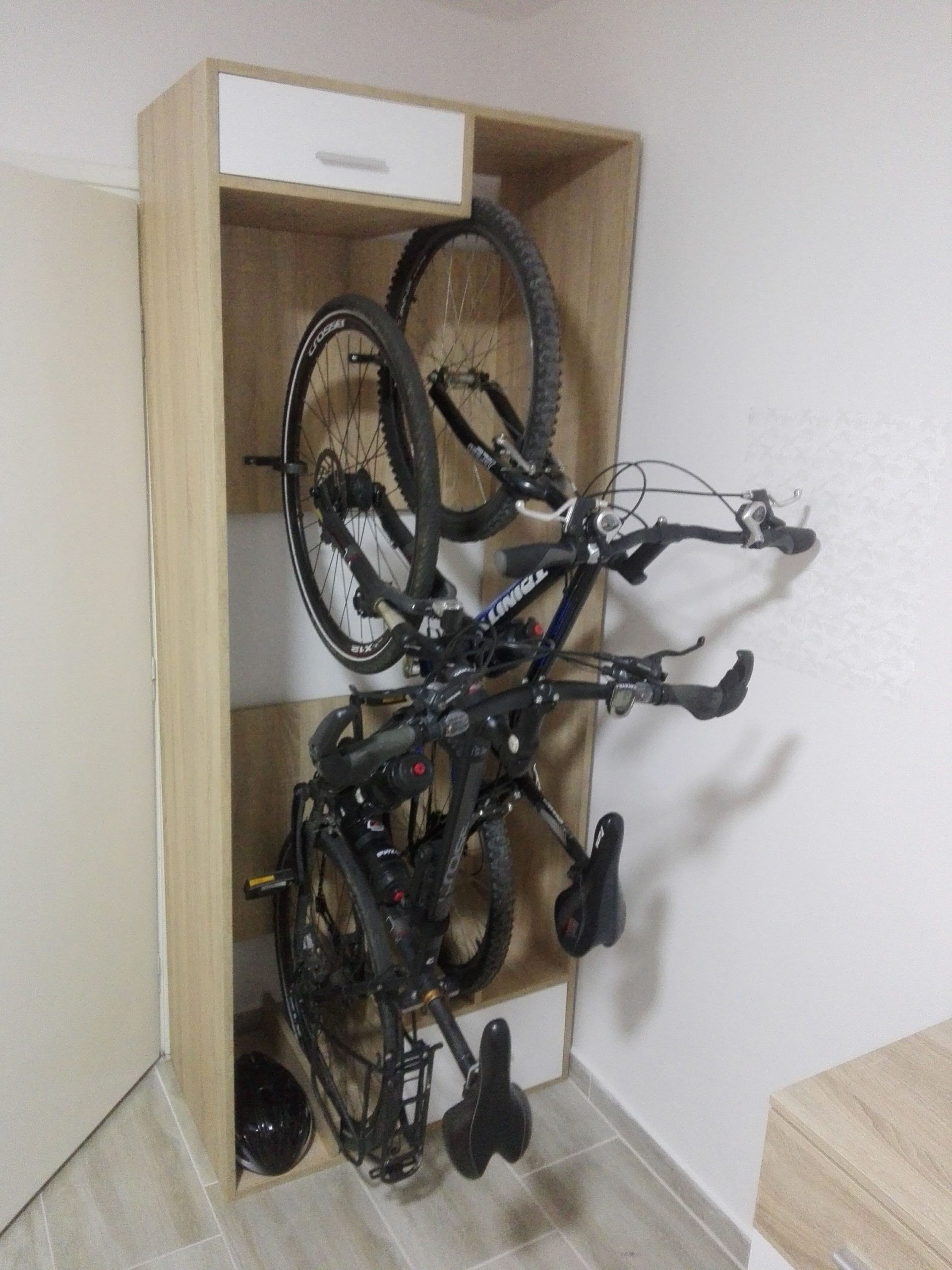 If you want a solution that looks good, stores your bike securely, and seamlessly integrates with the rest of your home, indoor bike storage furniture is the way to go. This is probably the prettiest and the most aesthetically pleasing solution you can choose.
Apart from storing your bike(s), bike furniture often also features plenty of room for additional items and even racks for your cycling clothing.
When it comes to bike storage furniture, only your imagination is the limit. You can integrate a bike stand into a cabinet, a bookshelf, a sofa, a bed, etc. My personal favorite is open bike storage closets with hooks that hold your bike and additional hooks, shelves, cabinets, and drawers for all of your gear, tools, and spares.
If you don't find a suitable moldel and you have some craftsmanship skills, you can easily build one yourself. You can also sketch a model you like and ask a local carpenter to build one for you.
Who is it For?
Indoor bike storage furniture is a great non-invasive bike storage ideas. Racks such as wall mounted or free-standing stand out like a sore thumb.
Using furniture to camouflage your bike is a great way of storing your bikes in a safe place but also helping them blend in. Some cyclists hide them fully away in a closet and others integrate a hook onto something as simple as a bookshelf.
This is one of the expensive bike storage solutions which can take up a fair bit of floor space but it makes your bike and your home blend together and we like that.
Or see storage products on REI
#6: Floor Racks
If you want a simple and basic bike storage solution, you can't go wrong with floor racks. They're most suitable for garages and outdoor spaces and may hold multiple bikes. Therefore, if you have a large bike collection and plenty of floor room, it's the cheapest and the quickest solution you can choose.
The biggest benefit of floor racks is that they are incredibly easy to install and use. You just place them wherever you want and place your front or rear wheel between the rails.
They are also an amazing way of keeping your bike more secure. Many cyclists lock their bikes to these racks in their garages or homes, because this heavily deters thieves from getting them. Hooked to a rack makes them very difficult to move.
If you intend to save floor space, then floor racks are not ideal. However, if you want to have your favorite bikes at hand's reach, you'll love the simplicity of design. Having a bike rack means getting your bike in and out is easy and it also works well when you have multiple bikes you are using throughout short spaces of time.
They're often used by large families who have multiple bikes, some of which they ride more or less often. Floor racks can be made from metal, plastic, or wood. If you like DIY projects and you're handy, you can easily make one with a good idea and just a few basic tools.
Who is it For?
Floor racks are ideal bike storage solutions if you have a space such as a garage. Cyclists with multiple bikes to store which are used day in and day out benefit from these racks heavily.
When used with a lock they also offer another level of security that the other options on this list don't offer. They do take up lots of floor space, but are ideal if you have the space to spare.
Or see storage products on REI
#7: Leaning Bike Stands
Leaning bike stands are pretty much the same as the free-standing racks we talked about earlier. However, instead of having a wide platform that rests on the floor, you lean them against the wall. They take up very little floor space and are extremely easy to use and take very little installation.
One of the benefits of this storage solution is that the construction is very simple and lightweight. So it's easy to move around or transport from one place to another. When buying one you will have to put it together which doesn't take long. When installed they lean against the wall and the angle counterbalances the weight of the bikes.
These bike stands can usually store two bikes that rest on their top tubes. Therefore, this storage solution is only good for bikes with step-over frames, unless you want to buy an additional adapter. So you have to be selective about what bikes you plan to store.
Who is it For?
Leaning bike stands are an ideal way to store bikes if you live in rented accommodation, are short on space, and need to move the stand often. They are very easy to install and are a very intelligent design.
We do recommend when using a leaning bike stand to ensure it's in a safe place to do so and to have a secondary strap to keep it balanced in case it gets knocked. Not the best solution for a home with children running around.
Or see storage products on REI
#8: Outdoor Bike Storage Sheds
If you have a big and secure yard and you want to keep your bike outside, a bike shed is the best solution. Bicycle storage sheds are usually constructed from heavy-duty metal, with sturdy doors and locks that keep your bikes safe from thieves or the elements. It makes excellent outdoor bike storage.
They are an excellent choice because, apart from having room for one or more bikes (usually more) they also offer plenty of room to store other cycling equipment such as helmets, shoes, spare wheels, a bike pump, or even some gardening tools.
Of course, a skilled thief could find a way to break into one. However, they can't do it without making a lot of noise. Therefore, it's a good idea to keep the bike shed close to your house, so you can hear if anything sketchy is going on.
Having a bike shed is also great because it keeps the bikes out of the house. After going out on a mountain bike and getting back tired and hungry we don't always want to wash our bikes and if they live in the house you can't avoid this.
What we love about having an outdoor shed is that no matter how messy the bike may be, you can deal with it at a later time.
Who is it For?
Outdoor bike storage sheds are great bike storage ideas if you want to store your bikes outside and have a safe and secure place to do this. They keep the house from getting messy and provide you get a secure shed.
The sheds do cost a fair amount of cash though, and it is a solid investment to make. It may not take space up in your house but it will in your garden. As far as bike storage solutions go they are a very permeant fixture.
Or see storage products on REI
#9: Outdoor Bike Storage Tents
Outdoor bike cover storage tents are very similar to bike storage sheds. The difference is that they are made from soft fabric instead of metal. Apart from the fabric that protects the bikes from the elements, they also have a free-standing structure that makes it easy to store bikes and access them.
Depending on the model, these outdoor bicycle cover tents can take one or more bikes. There is usually some leftover space you can use to store your gear and spares. The materials used are usually polyester and vinyl, so the bikes inside are completely protected from rain or snow.
Bike storage tents are a very good solution for cyclists who do not have enough room to store their bikes inside, have no garage, and limited space in their yard. As far as bicycle storage ideas go, bicycle covers make an excellent bike storage solution.
Before opting for this storage solution, consider how safe your neighborhood is. If there are known cases of bike theft, I'd recommend keeping the bike inside or in a bike shed. These would take a thief seconds to get inside so location is very important. What a lot of cyclists do is put these over an anchor on the floor where they can lock the bikes down on the inside for extra safety.
Who is it For?
Bike tents are a fantastic idea for storing your bikes. They can store multiple bikes, they look great, and are very cheap to buy as far as storage solutions go. We would only recommend these for people that have a safe space to put one, like a secure garden where nobody can get in.
Read more: "How To Store Your Belowed Bike" by Porch
Or see storage products on REI
Questions to Ask Yourself Before Deciding
To make sure you get the best possible bike bicycle storage ideas for your living conditions, answer these four quick questions.
Do you prefer keeping the bike inside or outside?
If you live in a house and you have a yard, you might want to consider keeping your bikes outside. Especially so if you have a lot of bikes and not enough free storage space inside. In that case, bike sheds and tents are unmatched.
Indoor storage is much safer, but outdoor storage is more practical. Before you take your bike inside, you'll probably want to give it a thorough rub down, which is something that's recommended, but that many people don't do.
Do you want to drill holes in your walls?
Do you have your own house/apartment or do you live as a tenant? If you are not allowed to drill holes in the walls or you just don't want to do it, then a freestanding rack or a leaning rack is the best solution. Bike storage columns and bike storage furniture are great options to look into as well.
If drilling the wall is no issue, wall or ceiling mounts are a much better solution as they free up a lot more space.
How much room do you have?
Next, take out your measuring tape and figure out how much room you can allocate to bike storage. Some storage solution are intended to save as much room as possible, whereas others are liberal with it.
If you want to free up as much floor room as possible, ceiling hoists are the way to go. However, if you prefer easy access and you have plenty of floor area, then you can't go wrong with a floor rack.
Do you plan to hide the bike or showcase it?
Last but not least, how in love are you with your bike? If you want to showcase it to everyone and turn it into an art piece, then bike storage furniture is the best solution. You can integrate it into your home with a cabinet, a closet, or even a sofa, and make it both practical and aesthetically pleasing.
On the other hand, if you prefer storing your bike away from sight when not riding it, then consider ceiling storage or bike sheds and bike tents.
What's your favorite bike storage solution? How do you store your bikes in your home? Do you have any better bike storage recommendations than these? Let us know in the comments below!