Looking to bring your rides to a whole new level with full suspension mountain bikes for trails? Well, read on.
We've gathered some of the best full suspension mountain bikes you can actually buy. Consider these if you want to take your rides up a notch. Here, you can find bikes from under $1,000 to much higher price points, with top-notch quality components.
These are versatile workhorses that you can use to discover the best trails hidden all around the place.
If you are looking for the best eMTBs, then click here
---
— For Beginners —
---
Co-op Cycles
D
RT
3.3
Winner! Best FS Bike for Descending
MSRP $3,299
What is the best affordable full-suspension mountain bike? Do you know? We do.
Here we have the Co-op Cycles DRT 3.3 which introduces mid-range riders to the dual suspension world with ease. DRT 3.3 is meant as a stepping stone in the full suspension world, especially for riders who plan to stick around.
It comes equipped with a Shimano SLX 1×12 drivetrain with a wide-range 10-51T cassette and a 32T crankset.
When it comes to the colors, this Co-op model is available in a beautiful Ember color with white details!
Co-op Cycles DRT 3.3 is by far the best full-suspension mountain bike for trail enthusiasts who are interested in learning the ropes of riding front and rear squish.
Thanks to an aggressive head tube angle, the handling is precise and perfectly suitable for challenging trails and descents, which is what most riders aspire to do.
It has 130mm of front travel provided by a RockShox Revelation Motion Control RC fork. The rear shock is a RockShox Deluxe Select+ from the same quality class with the same amount of travel. A dropper post is included in the package as well.
Co-op DRT 3.3 is equipped with Shimano SLX hydraulic disc brakes which means a lot on the trails when you're attacking sketchy descents and need precision and power.
This bike is available in five sizes and rolls on 29″ tires that are 2.4″ wide, so it's suitable for short and tall riders.
Get it if you want limited costs but unlimited fun.
Schwinn S29
Best for Budget-Minded Riders
Schwinn S29 is one of the most affordable full-suspension bikes you can get. As such, it's equipped with entry-level components and its suspension is not ideal for serious trail riding.
Please keep in mind that building a full-suspension frame raises the costs of the bike, even at the entry-level. So, when it comes to expensive bikes, you have to cut the costs somewhere to offer them at a more affordable price.
Still, this is an all-around capable model that does well on singletracks, in parks, and even on downhills thanks to its large 29″ wheels. Just don't abuse it too much and it will provide you with years of fun.
The front and rear suspension will dampen vibrations when you're riding off-road, so this bike is best suited for casual riders who have long scenic unpaved roads close to their home.
Schwinn S29 is a fantastic full-suspension bicycle for absolute beginners who want 29″ wheels and the best bang for their buck thanks to an affordable aluminum frame.
Schwinn S29 also comes with a 3×7 drivetrain that puts 21 wide-range gears at your disposal. There's a granny-gear as well that will never leave you lacking the right cadence for any hill. The stopping power is ensured by mechanical disc brakes with plenty of strength that is not often seen in this price range.
Full overview of Schwinn bikes
All in all, Schwinn S29 is a bargain as it gives you more than enough in terms of performance and style but doesn't leave you without a dime in your pocket!
---
— For Trails & Racing —
---
Scott Gambler 710
Best DH with 27.5 Tires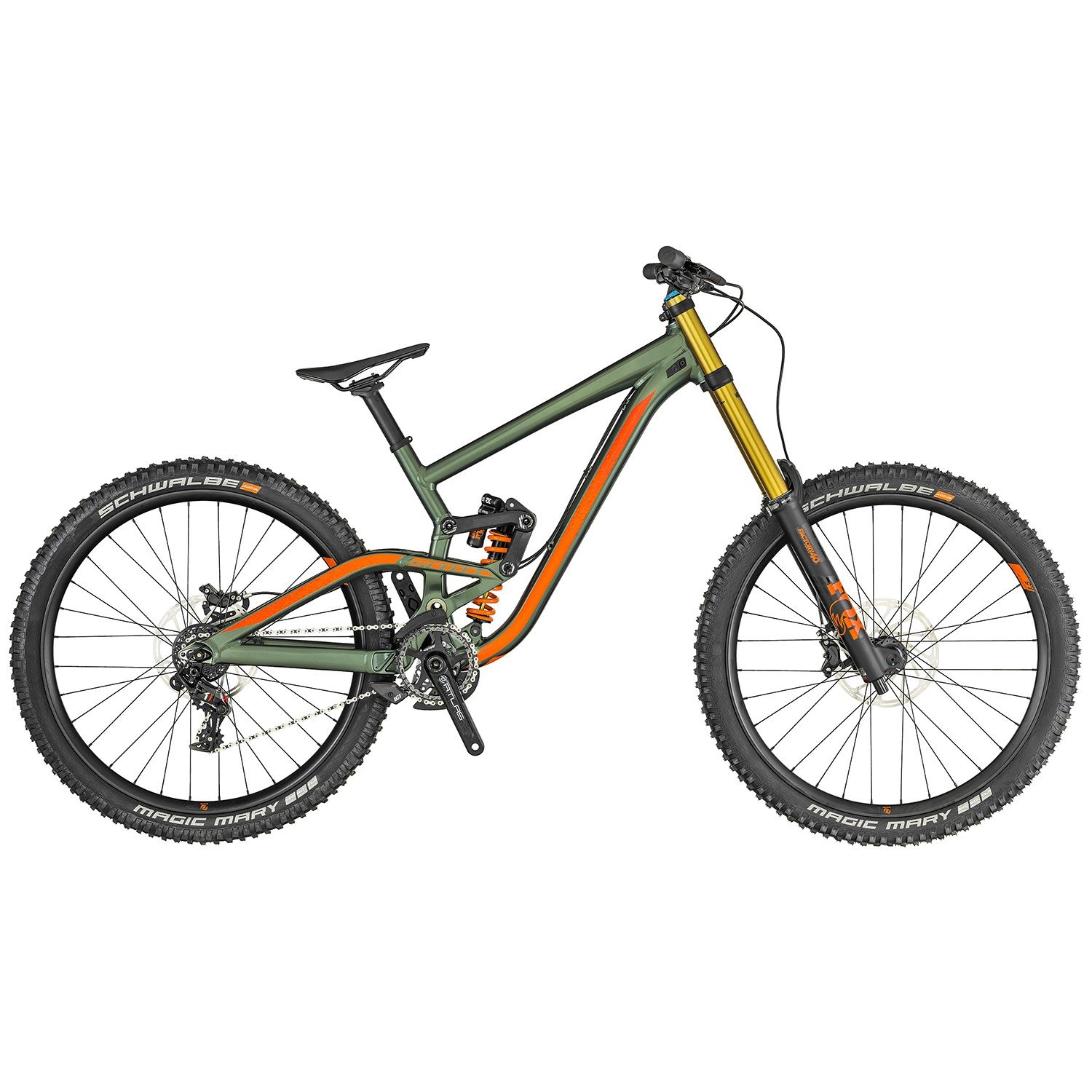 MSRP $6,800
The brand-new 2021 Scott Gambler 710 is an attractive and capable DH bike that will make itself visible on the trail in numerous ways. The most important of those are speed, great components, sturdy 27.5″ wheels, and versatile capabilities.
Scott Gambler 710 is a full aluminum bike that offers outstanding value for its price which is reflected in the carefully picked parts. Moreover, it has tons of travel, which makes it a serious contender on the trails.
If you're an experienced DH rider or you're planning to become one, the Gambler 710 bike is right for you. It offers 203mm of front and 210mm of rear travel with its Fox 40 Factory fork and the Fox DHX2 Factory Coil rear shock.
If you want to have a bike that's capable of bombing any descent, you should aim for a bike with the biggest amount of travel you can get, such as Scott Gambler 710.
Related: Best Gravel Mountain Bikes
Scott Gambler 710 has a super-slack 63-degree head tube angle that allows the bike to react the moment it gets input from the rider.
Other positive aspects include powerful SRAM Code RSC hydraulic disc brakes, and a DH-specific SRAM X01 DH Short Cage 7-Speed rear derailleur.
The only consideration with the Scott Gambler 710 bike is its weight, which is a bit higher than ideal due to the wider aluminum tubing. However, a responsive ride balances the weight out, so you won't feel it much when riding.
Norco Revolver
Widest 29″ Tires
MSRP  From $4,699
A top-notch carbon trail bike for around $4,700 can give you a lot in terms of on-trail performance, precision, and fun. Norco is shaking the market with this high-end carbon trail machine that we can best describe as exciting! Of course, we understand it costs a lot of money, but it's not that much when you consider the value you receive.
Norco Revolver is an outstanding trail bike that features 29er wheels, stiff and responsive handling, and mid-range reliable SRAM NX Eagle components.
When you're on the trail and hit the downhill part of the track, all you will be worrying about is travel. Luckily for you, the Revolver boasts a RockShox SID Select RL fork with 100 mm of adjustable travel and a lockout option for climbing. Therefore, you will have maximum squish when the trail becomes the hardest.
The rear shock is a RockShox SIDLuxe Select+, which also has several levels of adjustability to fine-tune your ride.
The head tube angle on the Revolver is 68.5 degrees, which is well balanced and helps make this bike ideal for steep climbs and technical descents.
On top of that, this Norco model comes with ultra-strong SRAM G2 R hydraulic disc brakes with massive rotors, as well as Maxxis Rekon Race 2.25″ tubeless-ready tires. It's a combination that translates to confidence on the challenging trails.
However, if you have more money to spare, you can get the Revolver FS 1 model with more travel, wider tires, better brakes, and SRAM GX Eagle components.
All in all, not many bikes will give you as much as Norco Revolver for such an attractive price.
GT Force AL Pro
Best For Gravity Riders
MSRP  $4,700
GT Force AL Pro is one of the best full-suspension bikes for gravity riders you can get right now. It has super-long travel and super-slack geometry, so there are few downhill courses that will present a challenge for it.
GT Force is built around an aluminum frame with a 64.5-degree head tube angle. This aggressive geometry will help you descend faster and tackle more technical trails.
Component-wise, the SRAM GX Eagle groupset puts 12 gears at your disposal and the SRAM G2 RSC hydraulic brakes will stop you on a dime and help you control your speed easily. That's possible thanks to massive rotors.
One of the more impressive parts of GT Force AL Pro is its Maxxis Minion 29″ x 2.5″ (f) and 2.4″ (r) tires that grip any kind of surface. Plus, they are wrapped around Stan's NoTubes Flow MK3 aluminum rims that are tubeless-ready.
Bottom line: The GT Force AL Pro is one of the best full suspension mountain bikes on this list for a reason! All in all, if you want some of the best components with a reasonable price tag, the aluminum GT Force AL Pro is the best FS bike for gravity courses.
Ibis Ripmo XX1
Crème de la Crème of Enduro Riding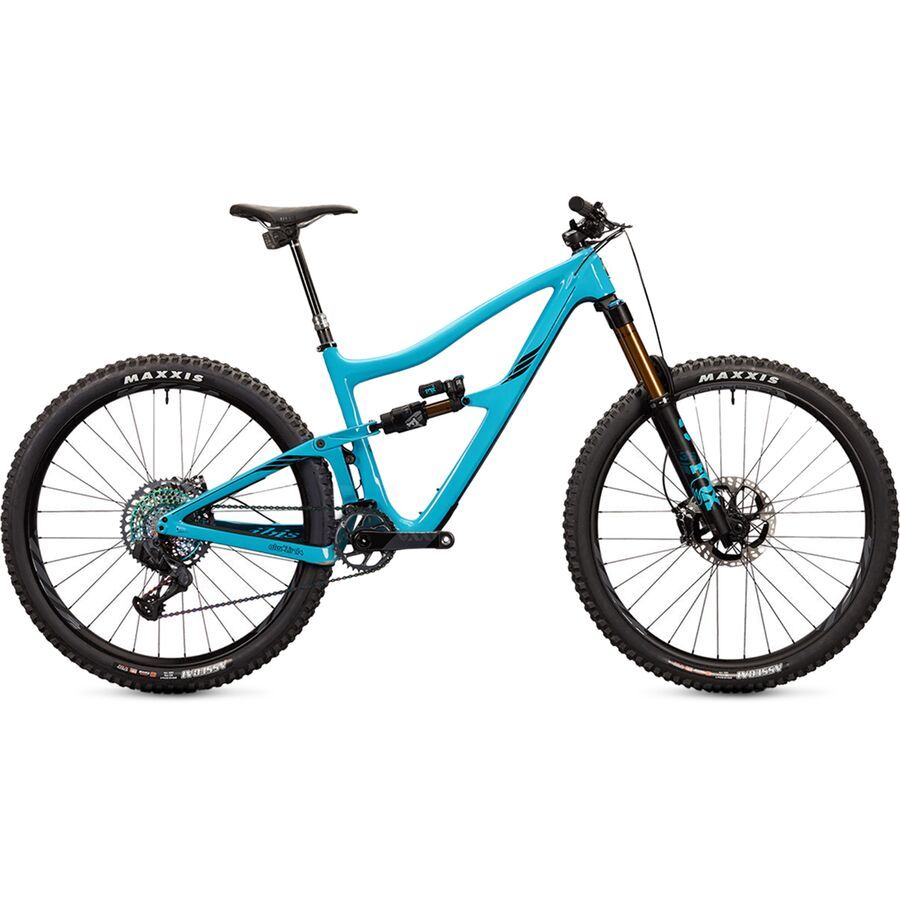 MSRP $11,699
Ibis Ripmo is a flagship carbon bike with a versatile nature that will allow you to use it for different types of riding. This bike is an improved version of the previous model, with 29″ wheels that put it in a completely different dimension when you're out on the trails.
Ripmo XX1 has a very high bottom bracket which means that you can finally start going more "over" obstacles than trying to find a way "around" them. It's a great choice to tackle rockier terrain thanks to the higher ground clearance.
This bike costs a whopping 11.5K, but it has some mouth-watering components and offers world-class performance. What impressed us the most and what you'll like the most is the 2021 Fox Float 36 GRIP 2 Factory fork and 2021 Fox Float Factory X2 with EVOL rear shock. They provide 160/147 mm of travel and come with some handy adjustments.
Few things can get in the way of Ibis Ripmo and hold their ground against its massive wheels, progressive geometry, and 147 mm of travel.
What also makes Ripley special are the Maxxis Assegai tires. They're 2.5″ wide and there's clearance for even wider rubber in the frame. The XX1 Eagle groupset with electronic shifting does not need any introduction. The same can be said for Shimano XTR 4-piston brakes.
The head tube angle is very steep, which is just right for more aggressive rides. This slack geometry is excellent for riders who like testing their limits and choosing challenging lines.
In conclusion – if you want to win podiums in world championship races, this is the bike that will help you do it.
Orbea OIZ M10
Best Race-Ready Full Suspension XC Bike
MSRP $5,199
If we had to use just one word to describe Orbea Oiz M10, it had to be FUN. If we could use two, then we'd characterize it as FUN and Capable.
Orbea Oiz M10 is a versatile high-end XC bike that can jump, descend, drop, and set rough and loose trails on fire.
The Oiz M10 plows trails with a pair of Maxxis Ikon 29″ x 2.20″ wide tires. These are some of the best tires you can find on any XC bike out there IMO.
The Shimano XT groupset is a real treat in this price range — it gives you 12 speeds, a wide-range drivetrain, and precise shifting.
Braking is provided by Shimano's XT hydraulic discs, combined with massive Shimano rotors that will disperse heat and enlarge the braking surface.
For those who like spending the day outside or even multiple days, Orbea has allocated enough room for two water bottle cages on the frame.
All in all, don't hesitate to get Orbea Oiz M10 if you want a high-performing and fun XC bike that's ready for races and all sorts of mountain adventures.
Bottom line is that the Orbea Oiz M10 is one of the best full suspension mountain bikes out there for the price.
---
— For Maximalists —
---
Santa Cruz Hightower
Best Carbon Trail Race Bike
MSRP  $6,749
Santa Cruz Hightower is a carbon fiber masterpiece of a trail bike with lots of amazing features and massive 29″ tires to support you on your way to the top of trail riding. That's why it is one of the best full suspension mountain bikes in the world.
First of all, we should tell you about the Fox 36 Float Performance Elite fork with 150 mm of travel, which is more than enough to get you over any obstacle on a high-paced run down the trails. It also comes with a RockShox Super Deluxe Select+ rear shock with 145mm of smooth travel.
When you get this bike out on the trails and the suspension starts working its magic with the help of the huge 29″ tires, you will realize that Santa Cruz Hightower's price is more than justified.
Related: Best Mountain Bikes
This Santa Cruz model also boasts high-quality Shimano XT components. It comes with a 12-speed drivetrain that will let you pedal where you thought it was impossible to do so before. The brakes are also Shimano XT hydraulic discs, with 180mm front and rear rotors.
In conclusion, Santa Cruz Hightower is the perfect carbon trail bike to choose if you have big dreams but you need a tiny push up the steepest climbs.
Salsa Rustler Carbon SLX
Most Attractive Design
MSRP $4,799
Salsa Rustler is made for fast rides on challenging trails that demand both guts and skills. It comes with 27.5-inch wheels, which makes it perfect for quick descents. It's built from carbon fiber, so it's impressively light and stiff.
The biggest highlight on Salsa Rustler is its suspension, as both the front and the rear suspension is capable and adjustable.
The fork is a RockShox Pike Select with 150 mm of travel, whereas the rear shock is Fox Float DPS Performance. You can select the perfect setting for any trail that you ride, which will help you break boundaries and reach new heights on the trail.
Related: Best Fat Tire Bikes
Salsa Rustler has Shimano SLX components, including a 12-speed drivetrain with a 10-51T cassette. The Shimano SLX 4-piston brakes are paired up with 180mm rotors, so you'll be able to stop on a dime anytime.
Salsa Rustler is one of the models from Salsa's carbon series aimed towards experienced trail riders who want to get as much bang for their buck as possible!
This bike comes with a relatively slack head tube angle, and in combination with the massive 27.5-inch wheels, so it's able to conquer any rocks, tree stumps, and other obstacles you put in front of it.
In conclusion, if your ideal trail ride involves a lot of fast-paced trail riding and a lot of challenging downhills that get your heart pumping hard, Salsa Rustler Carbon SLX will be your best friend.
---
— For Women —
---
Rocky Mountain Thunderbolt
Best Unisex 27.5 FS Bike
MSRP $2,299
Rocky Mountain Thunderbolt is a capable unisex full-suspension mountain bike intended for brave men and women who want to completely immerse themselves in the world of off-road riding.
This bike is built around an aluminum frame with a tapered head tube, internal routing, a downtube guard, and exquisite suspension.
The fork is a RockShox Recon Silver RL (150mm) with a motion-control damper, lockout, tapered steerer, and a 37mm offset.
The RockShox Deluxe Select+ rear shock has plenty of adjustability as well, which allows you to customize how the bike behaves depending on the terrain and your riding style.
Rocky Mountain Thunderbolt also touts a Shimano Deore mid-range 1×11 drivetrain with a huge 11-51T gear range. You can climb a wall with it!
The star of the show is the WTB Trail Boss Comp front and rear tires. They are 2.4″ wide, which means you will not be lacking grip no matter the terrain or surface.
Experienced riders will also know enough to appreciate Shimano MT200 hydraulic disc brakes that will embolden both male and female riders to take new and more challenging lines on their future rides.
Related: Full review of Rocky Mountain bikes
So, if you're on the lookout for an affordable and capable trail bike with massive tires and dependable components, Rocky Mountain Thunderbolt is the one.
Juliana Furtado CC X01 Reserve
Best Women's Full-Suspension Bike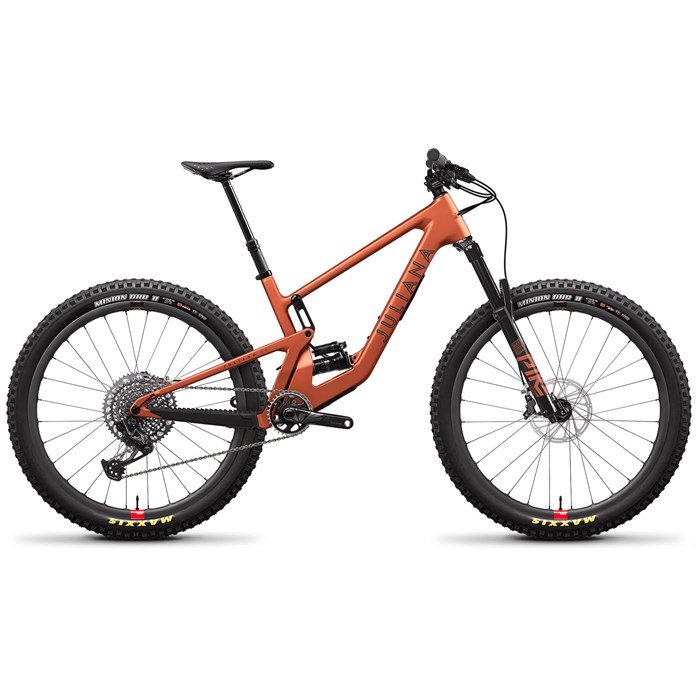 MSRP $8,949
We can wrap up this list with an excellent women's trail bike that easily proves its worth on the rides. Juliana Furtado CC X01 Reserve is a high-end full-suspension bike with a steep price and several aces up its sleeve.
If you're a female trail enthusiast looking to have as much fun on the trails as possible and excel in different categories, Juliana Furtado CC X01 Reserve will meet all your needs.
This is a versatile 27.5″ carbon trail bike intended for a little bit of everything on the trail. It has 140 mm of front and 130 mm of rear travel provided by a RockShox Pike Ultimate fork and a RockShox Super Deluxe Ultimate rear shock. This setup will let you go absolutely berserk on the downhills, as it's more than enough to deal with most obstacles on your rides.
Juliana Furtado CC X01 Reserve has a slack head tube angle of 65.7 degrees, which is perfect for downhill trail rides. It ensures a nimble, springy, and responsive ride, so you will truly feel the response of the bike to every bit of input you give it.
However, considering that Juliana Furtado has a bulky FS setup, it has a slightly higher weight as well. The SRAM G2 RSC hydraulic disc brakes do a fantastic job of supplying you with more than enough stopping power at demand.
All in all, if you have expectations and you want a well-equipped women's trail bike that can do a little bit of everything, we believe that this Juliana Furtado model is the one.
---
Didn't find it? Consider pre-owned Full Suspension bikes on The Pro's Closet
But, which one should you choose?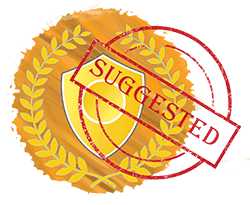 We've analyzed thousands of bikes so far which has taught us a lot of details about them, so we can help you out to make the right choice.
Riders who want to excel on trails on an FS bike should choose Co-op Cycles DRT 3.3. If you want one of the best unisex models and you plan to ride hard, choose Rocky Mountain Thunderbolt and you will get great value for your money. If you're looking for a capable beginner model with 29″ wheels, you can't go wrong with Schwinn S29.
But, if you're updating to a more capable aluminum DH bike, Scott Gambler 710 is for you. If your ideal type of mountain biking is trail and enduro riding, definitely check out the Intense Primer 29. However, if you're looking for a top-tier carbon trail bike that you can use for racing and exploring, then Santa Cruz Hightower is for you. We can't recommend the GT Force AL Pro any more if you want a fun and versatile gravity bike that can do it all in the mountains.
If you have money to spare and you want a top-of-the-line carbon 27.5″ bike, Salsa Rustler will make you happy. However, if you want the best spec'd carbon all-rounder that's fun and challenging to ride, choose Norco Revolver. The Orbea Oiz M10 is a phenomenal XC bike that you can buy if you want an all-around great performer.
If you want the best suspension setup you can get on this list for the money and 29″ tires, then Ibis Ripley AF is the right pick for you. If you want the best women's model and you have the money to spare, choose the Juliana Furtado CC X01 Reserve.
Happy trailing!