In this review, we will reveal the ten different best mountain bikes under $500 you can buy online in 2023!
Finding the right mountain bike for your needs can be tricky because you're likely looking for a bicycle that you can take off the beaten path to explore mountain trails and forest roads.
A good mountain bike, even one that costs under $500, should be reliable, equipped with suspension and wide tires, and have enough gears to allow you to climb hills.
These are the requirements we took into consideration when creating our list of the best mountain bikes under $500 below.
All of these models are perfect for beginners and recreational riders, so if you're looking for your first mountain bike, you've come to the right place!
Please note! Due to bike shortages, some of the bikes below cost slightly more than $500.
---
10 Best Budget Mountain Bikes Under $500
Here are our 10 best mountain bikes under $500, listed in no particular order.
We've reviewed some of these models in greater detail and linked to those reviews inside the descriptions, so you can find out more about any model you're interested in.
1. Co-op Cycles DRT 1.1
2. GT Aggressor Expert
3. Mongoose Switchback (Men's and Women's)
4. Outroad Fat Tire Bike
5. Schwinn Mesa
6. Huffy Carom
7. Mongoose Malus Fat Bike
8. Royce Union
9. Schwinn High Timber
10. Hiland 26 Aluminum MTB
---
1.

Co-op Cycles DRT 1.1
Slightly Over $500. Clear Winner With Discs And Multiple Sizes
MSRP: $599
Suitable for men and women
Best for short riders (4'9″ and up)
21 gears
Fork with 100 mm of travel
Hydraulic disc brakes
Co-op Cycles is a popular budget brand owned by REI and makes several pretty impressively equipped mountain bikes priced under or around the $500 range.
The DRT 1.1 is designed for cycling enthusiasts who want to take up trail riding and spend some time in nature.
Co-op Cycles DRT 1.1 has a number of stand-out features that put it on par with more expensive trail bikes, even though it costs only around $599.
The bike comes with a lightweight 6061 aluminum alloy frame coupled with a 100 mm front suspension fork, which will make all trail surfaces feel much smoother, and will also increase the rider's control and confidence.
Another standout feature of DRT 1.1 is its powerful Tektro hydraulic disc brakes. This means you need to apply less power to stop the bike and less maintenance overall, as hydraulic disc brakes are self-adjusting.
This cheap mountain bike also comes with a Shimano Tourney 3×7 drivetrain and shifters, and 27.5″ alloy rims with versatile 2.1″ tires. Therefore, you'll feel good climbing and descending steep hills.
Overall, the DRT 1.1 is a great choice for riders who are making their first steps into mountain biking and seeking a reliable companion.
---
2. GT Aggressor Expert

2nd Plance: Runner up!
MSRP: $570
27.5″ wheels
Durable aluminum frame
3×8 drivetrain
80 mm fork travel
GT Aggressor Expert is a budget mountain bike that may not be high-end but is an excellent choice for beginners and a good candidate for future component upgrades.
The GT Aggressor Expert secures its place as one of the top affordable hardtail bikes thanks to the attractive money-to-value ratio.
The bike is built around a durable aluminum frame that combines strength and comfort. There's plenty of standover clearance for short riders thanks to the slightly slanted top tube.
The Aggressor Exoert is a bargain hardtail mountain bike for everyday riding as it comes with wide WTB Ranger Comp tires and suits different mountain and recreational biking purposes!
This particular model comes in modern-looking and attractive silver or slate finishes that make it look more expensive than it is.
The GT Aggressor Expert's components are suitable for entry-level mountain biking and include an SR Suntour XCM fork with 80 mm of travel and Tektro hydraulic disc brakes. With the grip and comfort you get from the tires, you will feel confident to ride and explore dirt roads and trails.
This bike also has a 3×8 Shimano Tourney drivetrain, which is more than enough gearing for beginners and will allow you to climb moderately steep hills.
All in all, GT has done a good job on this bike. It will provide years of performance and fun to any entry-level rider.
---
3. Mongoose Switchback (Men's and Women's)
Best Affordable Hardtail MTB
MSRP: Check on Amazon
Suitable for men and women
Tectonic T1 Aluminum frame
Mechanical disc brakes
2×9, 2×8, or 3×7 drivetrain
Mongoose Switchback is a versatile hardtail mountain bike that's suitable for male and female riders. Plus, it comes in several versions, such as Expert, Comp, Sport, and Trail, each one offering slightly different components.
It has a lightweight, streamlined, and sleek aluminum frame available in seven attractive colors. The frame is not super lightweight, but it's not heavy either, especially considering the low price.
The coil suspension fork is basic but it's a great feature for recreational trail, gravel, and dirt riding. It offers 80 mm of travel, so it's not suitable for really rough trails, but it will easily deal with bumps on forest roads.
The Mongoose Switchback is also equipped with 18, 16, or 21 gears, depending on the model you choose, which is more than enough for entry-level riders. The groupsets vary as well, so you'll get Shimano Tourney or Altus, depending on the build.
Mongoose Switchback is a well-built mountain bike that delivers phenomenal value for the money to the average beginner trail rider.
Moreover, this bike comes with mechanical disc brakes that don't work as well as hydraulic disc brakes and require more frequent adjustments. However, they offer more than enough stopping power, especially for recreational off-road riding.
Finding the right fit on Mongoose Switchback is easy as the bike is available in Small, Medium, and Large sizes, designed for riders 5'1″ to 6'3″. All models also get 27.5 x 2.1″ knobby tires that will ensure plenty of grip in most conditions.
Mongoose Switchback is an entry-level bike so it's not recommendable for serious trail riding. However, it's perfectly suitable for casual off-road rides and exploring off the beaten path. It's a comfy, upright MTB that will do a great job of introducing you to the nuances of the sport.
---
4. Outroad Fat Tire Bike

Best for comfort with fat tires

MSRP: Check on Amazon
High-carbon steel frame
Mechanical disc brakes
26″ wheels with fat tires
21-speed drivetrain
The Outroad fat tire mountain bike has earned its place on our list because it provides unprecedented value for such a small amount of money.
The high-carbon steel frame comes with a trail-specific geometry and offers excellent durability, even though it weighs more than an aluminum frame. It puts the rider in a more upright and easygoing position, so you will feel more confident when riding sketchy trails.
The Outroad has a suspension fork, 26″ x 4″ fat tires, and has a maximum weight load of 440 lb. Therefore, it is suitable for different terrains and types of off-road riding, as well as for heavier riders.
Even though the Outroad costs much less than $500, it offers a decent set of components. Of course, it's equipped with low-tier parts, but they work well for beginners. You'll get 21 gears, a Shimano rear derailleur that shifts well, dual mechanical disc brakes, and even a kickstand to protect the paint.
The Outroad is a simple and versatile fat trail mountain bike that does well on paved and unpaved roads, in the forest, and on moderate trails.
The 4″ tires are knobby and wide, so you won't be lacking grip even if you ride through mud or on snow, which is where fat bikes excel. You'll also get a pair of platform pedals and a comfy saddle, so you have all you need to hop on and start exploring!
The Outroad mountain bike is the right choice if you want to buy an affordable mountain bike with decent components that you can ride on and off-road, enjoy the outdoors, lose weight, or get fit.
---
5. Schwinn Mesa
Best for Short Riders
MSRP: Check on Amazon
Suitable for riders  5'2″ to 5'6″ in height
Mechanical disc brakes
27.5″ wheels
21 speeds
As you know,
Schwinn
has been around for a long time, making quality bikes in different categories, one of which is mountain biking. They provide value where it is needed the most, for example with components and strong wheels.
Schwinn Mesa is one of the best mountain bikes under $500 because it is made of durable materials and offers good value for the price.
It has 27.5″ wheels and mechanical disc brakes which allows you to negotiate obstacles and stop quickly. Its knobby mountain tires are wide enough for off-road riding but not too wide for road commutes.
See more: Schwinn Mountain Bikes
Assembling might require some technical knowledge, though the bike ships mostly assembled already. Overall, Schwinn Mesa might be a little on the heavier side, considering it has entry-level front suspension, but that's common in this price range.
This suspension is not intended for serious trail riding, but it will significantly improve the overall comfort on off-road rides.
Schwinn Mesa is an entry-level bike intended for beginners and recreational riders. You can't really find too many faults with it considering the low price.
This hardtail bike also has a Shimano Tourney drivetrain that offers 21 gears. This is a low-tier groupset, so it can't handle too much abuse, but it's reliable and ready for everyday use.
Get it if you want an affordable hardtail bike suitable for shorter riders and available in multiple colors.
---
6. Huffy Carom
Best Gravel MTB Under $500
MSRP: $300
27.5 wheels
Aluminum frame
Mechanical disc brakes
8 speeds
The Huffy Carom costs less than $500 and offers a nice balance between price and quality, but keep in mind that you can't expect anything superb in this price range.
Huffy Carom rolls on double-walled 27.5-inch wheels and comes with medium-sized knobby tires suitable for on and off-road riding.
It is available in one size only (19") with a 31.5″ standover height, so some very short or very tall riders might not be able to ride it. The lightweight aluminum frame is stiff and lightweight and comes in one color only, but it's a modern and attractive black, with attractive red details.
The Huffy Carom mainly uses low-tier components, such as an 8-speed drivetrain and mechanical disc brakes. The cassete offers a pretty wide gear range, so you will have enough low gears to climb steep hills, as well as moderate gears for everyday rides.
Huffy Carom is a bargain as it costs under $500 but offers components that usually cost much more.
You will need some tools to assemble it. The assembly instructions are good, but if you're not familiar with bike assembly, then you might want to bring the bike to a local bike shop and have them do it for a fairly inexpensive price.
To sum, the Huffy Carom is a good pick for those who are looking for the best mountain bikes under $500 and don't necessarily plan to ride proper MTB trails.
---
7. Mongoose Malus Fat Bike
Best Fat Bike Under $500
MSRP: Check on Amazon
Durable steel frame
Knobby 4″ wide tires
Mechanical disc brakes
7-speed drivetrain
Mongoose makes several different types of bicycles, but we like their MTB lineup the most. So when choosing the best mountain bikes under $500 for this list, the Mongoose Malus was one of the most logical choices.
Fat bikes are usually more robust and less complicated than other types of bikes, offering plenty of traction, which makes them the perfect candidate for entry-level riders.
All fat bikes usually come with disc brakes, since they need more stopping power because of their heavier weight. Mongoose Malus has a set of mechanical disc brakes, which might need more frequent adjusting compared to hydraulic disc brakes, but they brake much more efficiently than linear-pull brakes.
Mongoose Malus comes with a steel frame that puts an emphasis on comfort and strength but does not sacrifice speed and weight too much.
At this price, you cannot expect high-end components but the Mongoose Malus doesn't come with the cheapest components either. It sports a 1×7 drivetrain with a Shimano Tourney rear derailleur.
Fat bikes usually do not come with a lot of gears since they are intended for extreme terrains and conditions where you do not need to go very fast. Therefore, the seven speeds on Malus will offer enough gear range for most riders.
Related: Best Fat Bikes
All in all, fat tire bikes are really fun machines, so if you haven't ridden one so far, we recommend Mongoose Malus as it offers great value for the price, looks good, and feels comfortable to ride.
---
8.

Royce Union

Best Mountain Bike Under $500 for Commutes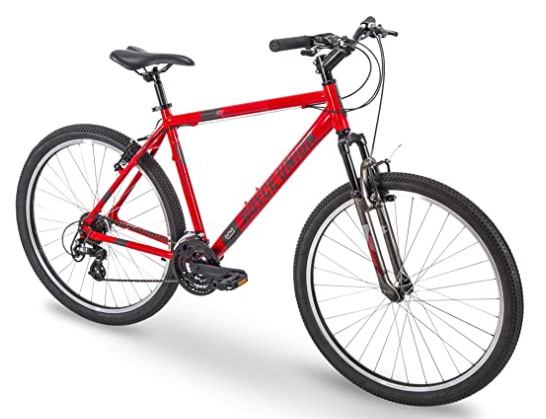 Aluminum Frame
27.5″ wheel size
21 gears
Five frame sizes
Royce is not a very well-known brand but it offers a few good mountain bikes intended for entry-level riders, for both men and women. Royce Union is a good example because it costs little, looks good, and has plenty of beginner-friendly features.
You can see straight away that this is not a mountain bike that's intended for trail riding, but more of a commuter mountain bike suitable for urban riding and light off-roading. The bike looks really nice on the streets and rides even better, even though it is quite affordable.
The Zoom front fork has 100 mm of travel which is a good amount of travel for fun rides on bumpy roads or recreational rides on moderate trails. It makes the ride smooth and eliminates the majority of vibrations.
The fork and the frame allow for wide knobby tires, which you'll love when the surface beneath you gets sketchy. You'll get plenty of grip even if you ride in wet conditions. Though, unfortunately, linear pull brakes are not the best in these conditions.
The Royce Union mountain bike offers phenomenal entry-level performance with a range of components and features to fit every pocket.
The number of gears is sometimes a problem with cheap bikes, but the Royce Union has 21 gears, which is plenty for most riders. The bike comes with Shimano Altus components, which is an excellent groupset in this price category.
All in all, Royce Union is a good choice for recreational riders. Feel free to buy it if you want to start off-road cycling as a complete beginner and have fun exploring your area.
---
9. Schwinn High Timber
Best MTB under $500 with 29″ Wheels
MSRP: Check on Amazon
Aluminum Frame
29″ wheels
21 speeds
Mechanical disc brakes
Schwinn High Timber is an affordable mountain bike, perfect for being your first bicycle for hitting the off-road and rough terrain. It is well-equipped, good-looking, and easy to maintain.
It has a lightweight and durable aluminum frame that improves comfort and achieves a modern look through internal cable routing. Great looks are this bike's main trait, but it is also pretty well-equipped for this price.
The Schwinn High Timber has a comfortable saddle that will support you well on longer rides and comes with platform pedals.
The value Schwinn High Timber offers at a very low price is hard to beat, making it the best bang for the buck in this category.
This bike has a 21-speed drivetrain so you don't need to worry whether or not you'll have the right gear for a steep climb. The High Timber also has front and rear mechanical disc brakes instead of V-brakes, which is a big plus on cheap mountain bikes.
The highlight is the wide 29″ tires that improve comfort and stability, which is the most important thing for beginner riders.
To sum up, if you want an affordable but quality bike that will show you all the beauties of riding off-road, don't hesitate to get the Schwinn High Timber mountain bike.
---
10. Hiland 26 Aluminum MTB
Best MTB Under $500 with 26″ Wheels
MSRP: Check on Amazon
26″ wheels
Front Suspension
Aluminum frame
Mechanical disc brakes
The Hiland 26 is a versatile choice that does well both on and off-road. It comes with 26″ wheels, so it's great for shorter adults, but it's also a good choice as the best kids' bike under $500.
Its 17″ frame is suitable for 5'0″ to 6'0″ riders, so it can be ridden by teens or taller school kids.
Related: Best Kids Bikes
This Hiland mountain bike costs well under $500, which makes this the perfect first mountain bike for you or your teen.
The stock model is equipped enough to guarantee a fun and quality ride. The Hiland 26 has a beginner-friendly 21-speed Shimano drivetrain that's pretty common on similarly-priced bikes and also comes with a kickstand to protect the paint.
The Hiland mountain bike comes with front and rear mechanical disc brakes that inspire confidence and stability.
The fork offers ample amounts of travel even though it's heavy, but most beginners don't really need loads of travel as they don't ride too hard.
If you want to spend more time outside and fall in love with cycling on a fun and quality bike, then the Hiland 26″ mountain bike is a no-brainer.
Conclusion: Which MTB Under $500 Is Best for You?
---
We tested ten bikes and found each one to be an excellent value and a competent machine. But which one is the best fit for you?
Let's find out!
For entry-level cyclists craving an authentic mountain biking experience, the affordable GT Aggressor Expert is a solid choice.
However, if you're seeking the best trail mountain bike around the $500 mark, the Co-op DRT 1.1 stands out. It boasts hydraulic disc brakes and is available in all sizes.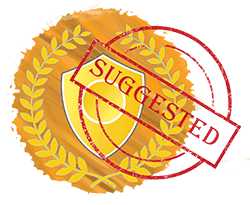 While the Mongoose Switchback is priced slightly above $500, it offers remarkable value for money, ensuring longevity and durability.
When it comes to the best trail mountain bikes, the Huffy Carom deserves a mention. And if you're in the market for a 29″ MTB, the Schwinn High Timber is an outstanding hardtail option.
For shorter riders, the ideal bike might seem elusive. However, the Schwinn Mesa is a perfect fit for those under 6 ft. tall. For those passionate about all-terrain fat biking, the Mongoose Malus stands out as the top recommendation.
A point to remember: While women can comfortably use men's bikes and many often do, the Royce Union is a particularly great option worth considering given its price point.
In the world of bikes, the adage "you get what you pay for" often rings true. If you're budget-conscious and can compromise on some components, the Outroad Fat Bike is a viable choice — as long as it's maintained regularly and treated with care.
Lastly, if you're in search of a special treat for yourself or a youngster, the Hiland 26″ MTB is sure to bring joy and satisfaction.
---
If you didn't find what you were looking for, here's a quick tip for you. Find your bike on REI, JensonUSA, or evo mountain bike categories (sorted by price).
---
Final Thoughts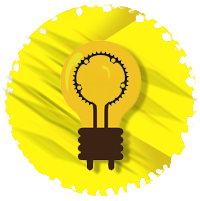 It can be difficult to find good mountain bikes under $500, especially now that all prices are rising and there are not enough bikes available.
Many are wary of purchasing inexpensive mountain bikes online, yet there are some surprisingly robust options out there.
When it comes to big-brand bikes, such as Cannondale, you're often paying a premium of at least 30% just for the name. On the other hand, some lesser-known budget mountain bike manufacturers diligently craft bikes that can stand toe-to-toe with renowned brands like "Scott" or "Trek". You can read more about it here on Bikeradar.
These budget-friendly options boast sturdy, modern frames of good quality. If you're aiming higher, the next step would be a carbon fiber frame – but those come with a significant price jump compared to the affordable options mentioned here.
To get the most bang for your buck, we recommend investing in best hardtail mountain bikes, as full-suspension bikes command a higher price, making them out of reach in this budget range. Plus, a dual suspension mountain bike for less than $500 would have some seriously low-tier.
Learn more: Mountain Bike Suspension Explained
While these budget bikes might need some basic assembly, like installing the handlebars or rims, we wholeheartedly endorse them as premier entry-level choices. Don't be deterred by minor imperfections; these bikes are excellent for honing skills and adventuring on new trails.
We trust you'll find one of the best mountain bikes under $500 above to be the right choice for your needs. If not, you may also consider buying pre-owned bikes from The Pro's Closet.
Related MTB Reviews
---
Other articles