In this review, we will reveal the
nine
different best budget hybrid bikes you can buy online!
Maybe you've heard people talking about hybrids and city-bikes. But what are they exactly, and why would you want to get one? Here's a short and best description of entry-level hybrid bikes for 2020.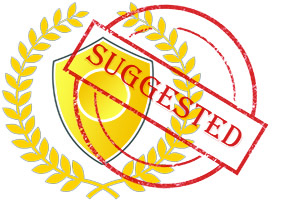 Likely the most popular type of bike is "the hybrid" as it smoothly blends the best characteristics of both road and mountain bikes into a composite that is easy to maintain, comfortable, fast, and pretty ideal for riding on streets and bike paths. Compared to a mountain bike it offers a more upright riding position and with it, a lot more comfortable.
See below to find out the best entry-level hybrid bikes for everyone and all the info that you need to know!
Here we go, picked the best cheap hybrid bikes on the market.
| # | Name | Gears | Suspension | Price |
| --- | --- | --- | --- | --- |
| 1 | Co-op Cycles CTY 1.1 | 3 x 8 | N/A | $549 |
| 2 | Cannondale Quick CX 2 | 2 x 9 | 50mm | $850 |
| 3 | Priority Contiinum Onyx | Hub gears | N/A | $1,099 |
| 4 | Trek Dual Sport 3 | 2 x 9 | 63mm | $860 |
| 5 | Salsa Journeyman 700c | 2 x 8 | N/A | $949 |
| 6 | Batch E-Commuter | 1 x 8 | N/A | $2,200 |
| 7 | Ghost Square Cross 1.8 (& Women's) | 3 x 9 | 50 mm | $699 |
| 8 | Tommaso La Forma | 3 x 9 | N/A | $775 |
| 9 | Schwinn Discover | 3 x 7 | 50 mm | Check on Amazon |
#1. Co-op Cycles CTY 1.1
Winner! Best Value Hybrid Bike
MSRP $549
The Co-op Cycles is REI's house brand and CTY 1.1 is a model that shows their value. They have created a highly versatile hybrid bike developed to make any urban rider happy. The Co-op CTY 1.1 is predominantly a beginner's commuter bike, but it can easily serve as a fitness bike for longer rides as well. The CTY 1.1 Step-Through is the same women-specific model.
The frame and fork are made from aluminum, so the bike is not at all heavy. Previous models of this bike were made of steel, so this is a great improvement. Aluminum is the best option when it comes to the ratio between strength and weight on cheap bikes and it is also quite comfortable on bumpy roads.
The Co-op Cycles CTY 1.1 has 24 gears which is more than enough choice for an entry-level cyclist. The groupsets that you will use to go through these gears are Shimano Tourney on the front and Shimano Acera on the back.
Co-op Cycles CTY 1.1 is the best value hybrid smasher for men and women thanks to step-through and step-over frames.
The combination of a high number of gears and 700c tires means that you will be able to zip pretty fast up and down city streets. The tire width is 40mm, so you won't have too much drag on asphalt but you'll have plenty of grip in wet weather. Moreover, as we know, city streets are rarely perfect, so this tire width will give you plenty of comfort and soak up lots of road vibrations.
Related: Buying from REI
Like many other hybrid bikes in this price range, the Co-op Cycles CTY 1.1 is fitted with Tektro's mechanical disc brakes. This is a choice that you can definitely depend on whether you have to make an emergency stop for any reason, or just slightly slow down. At first, you might need to fiddle around with them a bit, but once you adjust them correctly, they will work like a charm.
Finally, the Co-op CTY 1.1 & Step-Through does not come with any accessories, but these can easily be added. You can fit front and rear fenders on it, as well as a front and a rear rack and make it even more versatile. It will be a much better bike for any weather and any terrain and with front and rear panniers you can even take it on a short weekend or week-long tours.
It is one of the best hybrid bikes around $500.
#2. Salsa Journeyman Claris 700
Our Top Pick: Best Gravel Bike
MSRP $949
Full review: Journeyman series
Are you looking for the best entry-level gravel bike and you are ready to invest some money? This one will last you for years to come!
Several years ago, the goal most cyclists had was to have as many bicycles as they possibly could. One bike for every situation! However, that might change in 2020 as gravel bikes are becoming more and more popular.
Salsa Journeyman 700 is the perfect example of the versatility and the all-in-one concept which gravel bicycles successfully achieve.
The frame comes bejeweled with Shimano Claris derailleurs which are precise and reliable, so you should be quite happy with their performance. The drivetrain is a 2×8, which means you're likely to have a gear for any situation you find yourself in!
Journeyman 700 comes with an aluminum frame and fork, compatible with mechanical disc brakes and it's pretty lightweight. The frame is skinny and nimble and features relaxed geometry which will keep your body in a more upright position. Thus, Salsa Journeyman 700 provides great steering and stability, much like all gravel bikes.
Salsa Journeyman 700 comes with a reasonable price that offers a lot in terms of components and overall all-road performance.
Related: Best Locks For Bikes
Journeyman 700 comes with Promax mechanical disc brakes operated by Shimano Claris brake levers. Even without knowing all of this information, we'd want to buy this bike after only seeing its picture. It seems as if Salsa's designers are doing an excellent job with their recent projects. Their bikes are on fire!
To sum up, if you're considering buying a gravel bike to gain more versatility and broaden your riding possibilities, we definitely recommend the Salsa Journeyman 700. It's probably the best aluminum gravel bike for beginners. You can't go wrong with it!
#3. Cannondale Quick CX 2

Best List of Components
MSRP $850
Cannondale Quick CX 2 is probably the only bike that you need to own to be able to ride almost anywhere, except if you're a pro rider. It's light, has plenty of gears, and wide treaded tires that perform great both on asphalt and on fire roads.
The first thing that caught my eye when I saw Cannondale Quick CX 2 was the traditional Cannondale appearance. The super lightweight SmartForm C2 aluminum frame sports evenly rounded tubes and a charcoal gray color that never goes out of fashion.
When it comes to specs, we should mention the 50 mm front suspension. It does not sound like much, but it's more than enough for any moderate ride, which is what the Quick CX 2 is built for.
Quick CX 2 has remarkable components for the price since Shimano and Cannondale dominate the list of specs.
The front and the rear derailleurs are Shimano Acera, so you will get a decent bang for your buck. They shift silently and seamlessly through all 18 gears, up and down the 11-34T Shimano cassette.
Still, these are cheap, entry-level components, so don't expect miracles.
The best thing about Cannondale Quick CX 2 is the Shimano hydraulic disc brakes, which are always desired but rarely seen on cheap hybrid bikes. The tires are Kenda Piedmont, 700x40c, with short knobs that improve traction.
Apart from that, the Cannondale Quick CX 2 comes with Cannondale pedals, a Cannondale ergonomic saddle, and frame and rack mounts. It's ready for an adventure whenever you are!
Full review of Cannondale Quick Series
NEW! You might be interested in our Best Hybrid Bikes review (of 15 best hybrids!) ->
#4.
Priority Continuum Onyx
Best Low-Maintenance Commuter
MSRP $1,099
One of the main things I believe hybrid bikes should be is — easy to use. Priority Continuum Onyx is the dream bike of any all-season commuter out there or a sport-tourer who wants to ride more and tamper with their bikes less.
Continuum Onyx sports a carbon drive belt instead of a chain that requires no cleaning and no lubrication. You can just clean it with water from time to time and replace it when it's worn, after thousands of miles of riding. No chain lube also means no greasy pants!
Another feature that adds to its simplicity is the Enviolo CVT shifter. It controls a stepless Enviolo gearbox, so all you need to do is twist the shifter grip to choose the correct resistance for hills or speedy flats.
This versatile hybrid commuter is ready for whatever challenge you send its way, as it is equipped with front and rear fenders and front and rear lights powered by a front hub dynamo.
The dynamo also gives you USB charging capabilities, so you can charge your devices and gadgets with the power of your legs. How cool is that!
Timely braking is ensured with hydraulic disc brakes, as it is very important to have good control of your speed in an urban setting.
The WTB Slick 700x32c tires are capable of paved and unpaved roads, plus they're puncture-resistant as well.
Buy Priority Continuum Onyx if you want an affordable hybrid bike that brings together safety, simplicity, style, and good looks.
#5.
Trek Dual Sport 3

/

Dual Sport 3 Women's

Best All-Road Bike – For Men & Women!

For $860

The Trek Dual Sport 3 (or Dual Sport 3 Women's) is an affordable hybrid bike that is just perfect for the average city commuter. There is no need to sit in a traffic jam all morning when you can spend that time in your bed and then have an easy ride to work.

Trek Dual Sport 3 is made of a lightweight aluminum frame that keeps the weight of the bike to a decently low 29 lbs for this price. So, even if you live in a hilly area, you should be able to go uphill without much effort.

The SR Suntour Nex fork offers you 63 mm of travel, which is perfect for bumpy city streets and hardpacked dirt and gravel roads.

Trek Dual Sport 3 is a model with 18 gears on a 2×9 drivetrain, so it is a true city rider and a commuter. The range of speeds is really wide, so you can easily make quick and short runs or all-day marathons on weekends. Shifting is done with Shimano Acera derailleurs and a Shimano Acera shifters, which is an expected quality class on an entry-level hybrid bike.
Trek Dual Sport 3 can handle a variety of terrain with easy and serve as excellent commuter or fitness bikes.
Another high point of the Dual Sport 3 is its Shimano hydraulic disk brakes that provide a lot more stopping power than the regular V-brakes that many hybrid bikes offer for this price. You will be lucky to have them when the rainy months set in and braking becomes a challenge though.
Apart from performance, Trek has thought about comfort as well and their solution is the Alpha Gold frame which is intended to keep you in a comfortable upright position on long rides.
The women's Trek Dual Sport 3 has a geometry of the frame that is more suitable for ladies. All other components are the same.
The only drawback with the Dual Sport 3 that we can think of is the appearance. Even though these are beautiful bikes that anyone would be happy to ride, the women's model is available in only one color. While this is not something that determines a purchase, it's still nice to have more choice.
Nonetheless, Trek Dual Sport 3 is a hybrid bike that will give you a lot of value for your money and that will serve you as a workhorse for years to come.
Check out Trek Dual Sport 3 and Dual Sport 3 Women's
#6.
Batch E-Commuter
Best Electric Hybrid Bike For Beginners
MSRP $2,200
The components of this Batch E-Commuter are an excellent value for the money.
I believe that every hybrid bike should have disc brakes due to the superior braking power. It also has 8 gears on a 1×8 drivetrain that is fairly light. The 250W motor allows you to ride up to 20mph. Battery charging time is 6.5 hours and it has a maximum range of 80 miles. That's above the average!
The fork is made from rigid hi-tensile steel, which means it is quite strong! Unfortunately, it is not tapered, but you can't get everything on a budget bike.
Assembly is quite easy thanks to a great user manual.
Batch Commuter runs on 27.5″ wheels. It means that you get better rolling properties when going over obstacles. It has double-walled rims to offer better strength on rough terrains. If you want a kickstand, you will have to buy it separately.
Thanks to the 8 gears fitted on this sleek hybrid, you'll beat different terrains from tarmac to narrow trails.
The good news is that Batch Commuter comes with a rear rack and front and rear fenders, so it is ready for some panniers and long commutes in all types of weather.
With hydraulical disc brakes, you'll be able to control your speed when descending even in the rain.
If you have just $2,200 to spare and you need a dependable commuter to use as a workhorse every single day, Batch E-Commuter is the one!
---
NEW! Not Sure How to Assemble a Bike? Click Here To Order Proper Bike Assembly From Amazon! NEW!
---
#7.
Ghost Square Cross 1.8
Best in Terms of Comfort
MSRP $699
Ghost is a bike company with a long tradition, so there is no doubt they know what they're doing when it comes to building bikes. That's evident if you take a look at Ghost Square Cross 1.8, which offers you a lot of nifty surprises for less than $700
This dual-sport hybrid bike is built around a durable and light aluminum frame, with a comfortable and versatile geometry.
This bike is available as a step-over and a step-through, so it's suitable for men and women.
The frame is complemented by an SR Suntour fork with 50 mm of travel, which will make your rides on bumpy roads significantly more comfortable.
Ghost is not one of those companies that try to offer cheap bikes by taking shortcuts when it comes to components. Instead, Square Cross 1.8 is mostly equipped with Shimano parts that work well and last long.
Ghost Square Cross 1.8 combines great components, wide tires, and upright geometry to offer you more in terms of comfort and performance.
A hybrid bike is intended for riding in all conditions, so it's a great thing that Square Cross comes with a pair of hydraulic disc brakes. They're much stronger than V-brakes, so do not be afraid to ride when the conditions are less than perfect outside.
Finally, Ghost Square Cross 1.8 has 700x35c tires, which is ideal for a good grip on paved roads. You can take this bike off-road as well, but I'd avoid very loose surfaces.
All in all, Square Cross 1.8 is an excellent choice if you want a cheap but capable commuter. You can ride it recreationally as well and even take it off the beaten track thanks to the versatile tires and the disc brakes.
Women's Hybrid Bikes
#8.
Tommaso La Forma
Best Everyday All-Rounder
Tommaso makes pretty good bikes as we all know and they almost always win first place in my reviews. This model has a pretty good list of specs for the money that includes Shimano components and quality rim brakes.
The drivetrain offers you 27 gears, which is an excellent number for this price.
Tommaso La Forma is one of the best representatives of what Tommaso bikes are all about. Smooth lines, attractive paint jobs, and remarkable value for the money.
Tommaso La Forma is an extremely simple and practical bike that works well as a commuter, a fitness bike, a car-replacer, and even a hill climber.
This bike does not have a suspension fork, which might be a deal-breaker for some. However, its carbon fork will do a remarkable job at minimizing vibrations as long as you stick to paved roads.
Shimano parts make it reliable and that's why it is a fantastic choice for men or women who are looking for a dependable hybrid.
To wrap it up, this is one of the best hybrid bikes on our list for sure!
#9.

Schwinn Discover
Best Step-Through Model
This is without a doubt an easy bike to recommend, it is certainly a robust and reliable hybrid bike. Comes with a comfort bike city frame, made of 6061 Alloy and its decent Schwinn suspension fork maximizes bike response.
Furthermore, its 21-speed SRAM grip shifters, with a rear Shimano derailleur, is definitely a good strong bike part that you should want to get. SRAM costs typically more, so you can't really go wrong with a bike that has these parts. And of course, one of the main things – the saddle, is comfortable and padded. Keep in mind that not all cheap hybrid bikes have a good saddle, but this one definitely does.
You can read one happy customer's review here
Schwinn Discover is a no-brainer for women looking for a no-fuss bike to ride in cities and on bike paths.
Schwinn is a proven manufacturer that has an over 120-year tradition of making great bikes and has becomes the United State's most iconic manufacturer.
Equally proven is the appeal of the design. We don't often see that manufacturers put SRAM parts on cheap hybrid bikes, so this is an excellent component to find on this model. For its price, it is simple and without a question one of the best entry-level hybrid bikes for women on the market.
More Details, Pictures and Details on Amazon
NEW! You might be interested in Best Hybrid Bikes review (of 15 best hybrids!) ->
---
CONCLUSIONS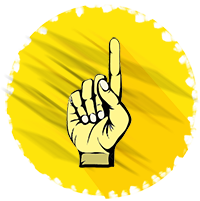 Our short list of possibilities is geared to a range of riders and objectives. Which one describes you?
These are the best-selling bikes in this review, and we've heard only great feedback on it from our readers. If you want an affordable bike that is able to keep up with your training and even off-road trips and adventures, Cannondale Quick CX 2 is best for you.
If you want a simple yet durable bike, then your choice should be the Cannondale CTY 1.1
In case you hate bicycle maintenance but you love riding every day, you'll love the carbon belt on Priority Continuum Onyx.
Batch E-Commuter is the best choice for budget-conscious riders who are still mindful about the quality of the ride.
The Trek Dual Sport 3 and Dual Sport 3 Women's are quite popular on gravel grinder niche and has the best price balance.
In case you want a do-it-all hybrid bike to ride to work or even exercise on, check out the Ghost Square Cross 1.8.
For women, Tommaso La Forma is a great choice – in fact, it can be ridden by both men and women. If you are more city-oriented, then the Discover would work best.
Looking for something a level above, like capable gravel? The Salsa Journeyman 700 fits that description nicely. While the model is a step up and still a fantastic value, we haven't had time yet to publish another hybrid review, where it would certainly occupy a top position.
But hey, I want more?! You can see TOP 100 bestsellers on Amazon here! 
---
See also:
---
Below you get the instructions, what to keep in mind when choosing hybrid bikes. So read the rest also and then choose wisely!
Is The Hybrid Bike For Me?
If you like cycling, and you plan to cycle in 2020, then basically yes!  It lets you ride anywhere you want. There are several different variations put out by different manufacturers.  For starters, I would typically recommend that you buy one with common 700c tires.  This tire size provides the optimal height for easy pedaling anywhere and customers have said that they find it the size most suited for riding on pavement and fine gravel paths.
It's one of those bikes that you can sit on and right away get to feel at home. And it doesn't matter how long it has been since the last time you rode any kind of bike.
Here's also a good video if you're unsure whether you should buy a road or a hybrid bike?
When you are pedaling down the road with ease or in a forest with the wind in your hair, I think you will agree. An average bicycle ride burns about 600 calories per hour! Even a cheap hybrid bike makes for a good step into the bike riding world.
You can enjoy the sport by yourself, with friends, or even compete — whichever you prefer!
What's The Best Entry Level Hybrid Bike?
There are several and we have great starters on offer. You can also find a hybrid bike for under $300. So, yes, there are cheap hybrid bikes as well.
If you scroll through our list you can quickly find a decent bike that you are almost guaranteed to like. You can also find a great carbon bike in this review.
Like we know, there are a lot of bike enthusiasts in the bicycle-world who will right away and uncritically pay whatever the price is. They are paying for the brand, for the components, for the look. And known manufacturers take advantage of this. But the price for a good bike does not have to be as high as they've set it. Here you can find bikes that have been manufactured and put on the market without that kind of a mentality.
You might be interested in Best Hybrid Bikes review (of 15 best hybrids!) ->
What Is a Hybrid Bike?
Frame: Hybrids, that we would recommend, have frames of lightweight 6061 Alloy or steel, due to the strength and durability the materials offers and their low price.
Handlebars: The handlebar on an entry-level hybrid bike is typically just like on a mountain bike – wider (typically) 680 mm which allows the rider to sit upright and enjoy a more natural an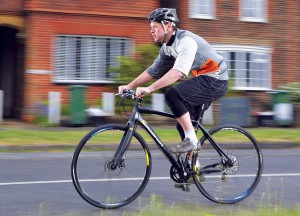 d comfortable position. The sitting positions on mountain and road bike are generally intended for sport riding, but a hybrid is also meant to be used on an everyday ride. It reduces the strain on the rider's neck and back.
Gears: Hybrids have a wide range of gearing that let the rider both to climb hills and pick up speed on flats and downhill. The hybrid's gearing set-up is more similar to that of road bikes. Even the cheaper hybrid bikes you can find here have decent components.
Buying Advice: The hybrid bike is a good choice for much of in-town riding. But neither will they leave you feeling embarrassed when you hit the forest. There are many cheap and not entirely reliable hybrid bikes on the market. The key to making a good choice is to find one that has decent components. It's these moving parts and components that will determine how well your bike will function and for how long.
What Size Bike Frame Do I Need?
You must try your bike first – false!
Like with pets, cars and other things, salesmen try to create a personal connection with what you're buying so that you'd find it hard to say no. Sitting on a bike gives the same effect and doesn't actually have much to do with choosing the right size. To determine, what size bike frame do I need you should instead look at the size chart below
What is the right hybrid bike size?
Well, it depends on your height. In 2020, good-quality and well-built hybrid bikes come with many different size frames. Typically the frame height is measured from the point where the pedal crankshaft enters the bike up to the seat post (see the picture) Different size frames ensure that no matter how short or tall you may be your bike will:
Allow for upper body comfort
Keep your hands from getting stiff
Let you ride fast
Your Height / Bike Size
4'11" – 5'3″ = 13 – 15 inches
5'3″ – 5'7″  = 15 – 17 inches
5'7″ – 5'11" = 17 – 19 inches
6'0″ – 6'2″ = 19 – 21 inches
6'2″ – 6'4″  = 21 – 23 inches
6'4″ and taller  = 23+ inches
You've found the right saddle height if you are seated on the bike with the pedal at the lowest point and your knee has a 30-degree angle on it. It should not be locked. It's also a good idea to try different height settings until you've found the one most suited for you, but lowering your saddle too much keeps you from getting any real, all too necessary, power.
You Might Be Interested Also:
Please, Spread the Word to the World!