Sixthreezero is a US-based bike company that is determined to create comfortable bikes for every type of cyclist. Their product line of quality bikes includes electric bikes, cruiser bikes, tricycles, hybrids, commuters, and electric bikes.
The history of Sixthreezero bikes began in Hermosa Beach, CA. After growing to love and understand the cruiser bike culture in Hermosa Beach, the founders decided to form the Sixthreezero bicycle company in 2005 to sell quality beach cruiser bikes.
Since then, thousands of Sixthreezero bikes have been shipped all around the USA because of their comfort, durability, and reliability.
Today, Sixthreezero bikes are at the top of their game at producing cool cruiser bikes for you to enjoy cycling. Not only do these bikes look amazing, but they will also improve your lifestyle.
If you enjoy cycling or commuting on a bike, there is a bike for you at Sixthreezero.
Here are some of the features of Sixthreezero bikes you can look forward to enjoying.
Different Frames
The bike frame is one of the most important structures on a bike. The most common frame material for a long time was steel. However, with advancements in bike technology, there are more lightweight materials for cyclists to use now.
Steel bike frames are still common because they are durable, stable, and shatter-resistant. You will mostly find them in cruisers and comfort bikes.
Bike manufacturers have opted for other materials because steel is also heavy when you are looking for speed. Steel is also vulnerable to rust which can ruin the design of your Sixthreezero bike.
Another popular bike material is Aluminum. This is the best material when you are looking for stability, but just like steel, it is vulnerable to rust.
For cyclists looking for a fast bike, titanium bike frames are a great option because they are strong while being lightweight. It may not be for all riders because of the high cost of titanium bike frames.
Lastly, at Sixthreezero, you can find carbon fiber bike frames. Frames made of carbon fiber are extremely lightweight but can easily damage during an impact than frame materials like steel. This bike frame material is suitable for road bikes.
---
Cruisers
---
Cruiser bikes are built for comfort and stability when riding on paved roads. They are perfect for short distances, and their simple design makes them more affordable than other bikes from Sixthreezero.
The low seat position, upright handlebars, and wide tires make cruiser bikes more popular for beginners and short commutes. Sixthreezero has different cruiser models to choose from depending on the speed and features you want.
Related by type:
AroundTheBlock
---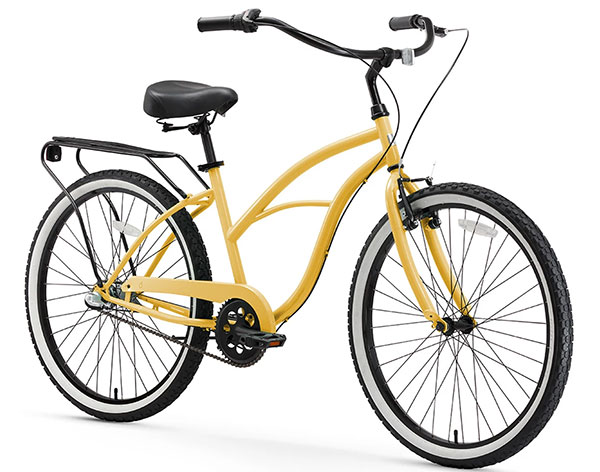 AroundtheBlock, cruiser bikes are ideal for riding in your neighborhood and playground. They require little maintenance and are available at up to 21-speeds. AroundtheBlock cruiser bikes feature ultra-smooth 2″ cruiser tires and are not suitable for high speeds or aggressive off-road rides.
Read our in-depth review of AroundtheBlock
EVRYjourney
---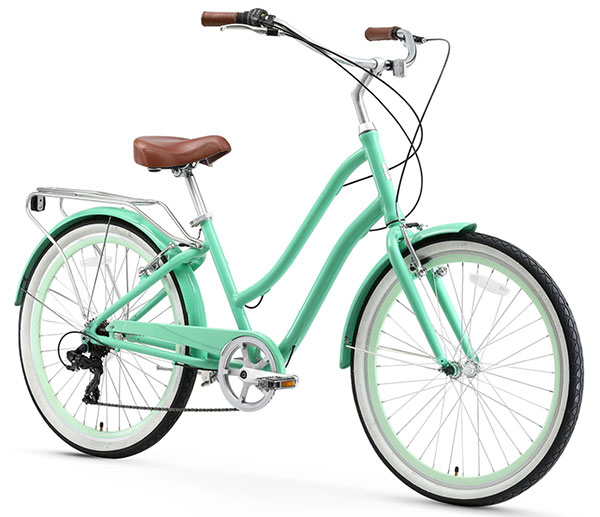 You can also choose the EVRYjourney classic cruiser bike, which is sleek and modern. These cruiser bikes are great for climbing hills with 3-speed, 7-speed, and 21-speed models. You can take them on demanding trails, long-distance and uphill riding.
With a lightweight aluminum frame, you can easily maneuver most trails. They are suitable for riders from 5 feet to 6 feet 4 inches tall.
Sixthreezero cruiser bikes are not only comfortable but also customizable to suit your designs and biking gear. With different speed options, you can go riding on trails or in the city when you want.
Read our in-depth review of EVRYjourney
---
Comfort Bikes
---
Comfort bikes are also comfortable and stable, like cruiser bikes. They feature smooth wide tires and upright handlebars with low seats.
They are popular with older cyclists riding on paved roads and some unpaved nature trails. This is because they are suitable for people with back problems and those who want to lose weight.
BodyEase Tricycle
---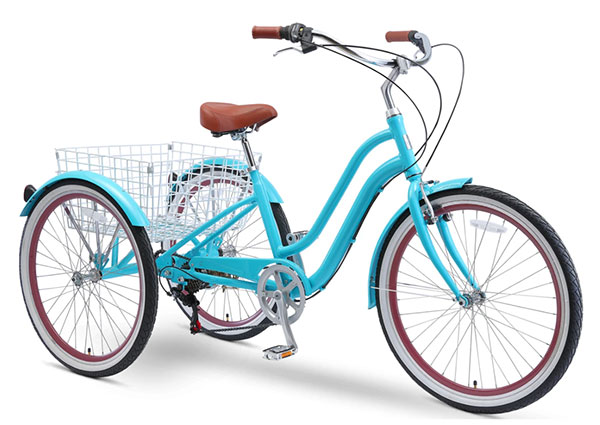 The BodyEase Tricycle from Sixthreezero has a step-through frame for faster mounting and dismounting.
It features an ergonomic riding position to keep your joints at ease when riding. The vertical pedaling on this tricycle offers balance and stability while still being comfortable.
The BodyEase Tricycle is simple to ride over streets and absorbs shocks, so you don't feel them. It also comes with a spacious rear basket for your commuting needs.
Relaxed Body
---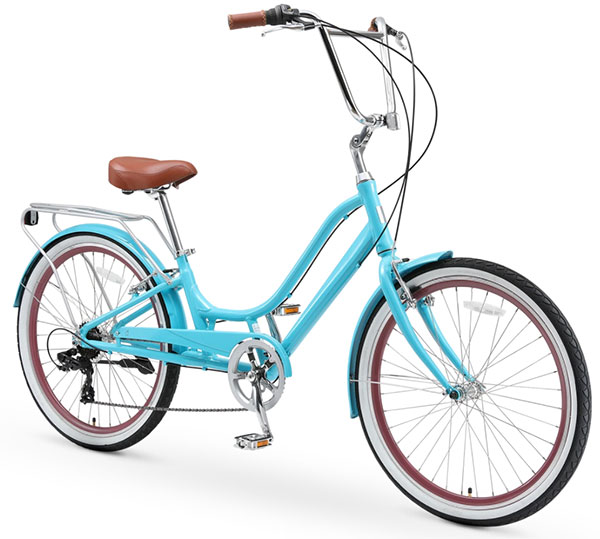 The Relaxed Body comfort bike is designed for an ergonomic and upright riding position, easier for your muscles and joints.
The forward pedaling frame design keeps you closer to the ground and offers enough leg extension when riding.
Your hands and elbows will be relaxed and free of tension. Stopping will be easy with the front and rear hand brakes.
The adjustable stem and seat make it suitable for riders between 5′-6'4″ for increased comfort during all rides.
A/O Amelia
---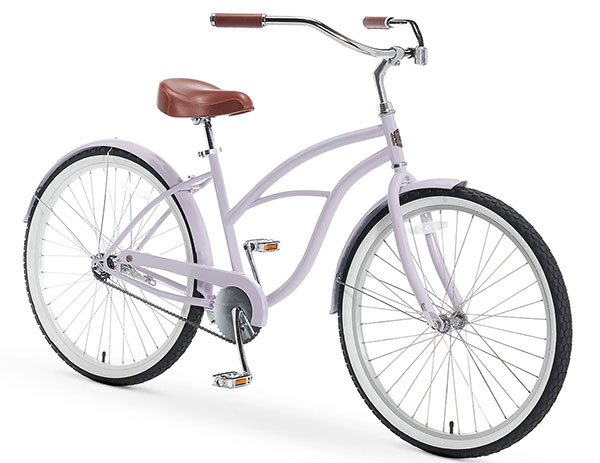 The A/O Amelia comfort bike comes in one size and color-lavender. The frame is low profile and made of Aluminum for easy mounting.
With a handlebar geometry allowing an upright riding position, you will be comfortable on the Amelia Comfort bike.
You also get synthetic leather grips to keep your hands cool no matter the ride. With this bike, you can move smoothly through flat terrain and slippery streets. It is suitable for riders between 5'2″ and 5'10" tall.
---
Hybrids
---
Hybrid bikes are a combination of low-speed cruiser bikes and high-speed road bikes. It would help if you were very fit when riding Hubbard bikes, although they are also designed for leisure riding and commuting. They feature a slightly forward-leaning riding position and are either 3-speed or 7-speed bikes.
Hybrid bikes are for commuting in the city and riding on paved roads as well.
ReachYourDestination
---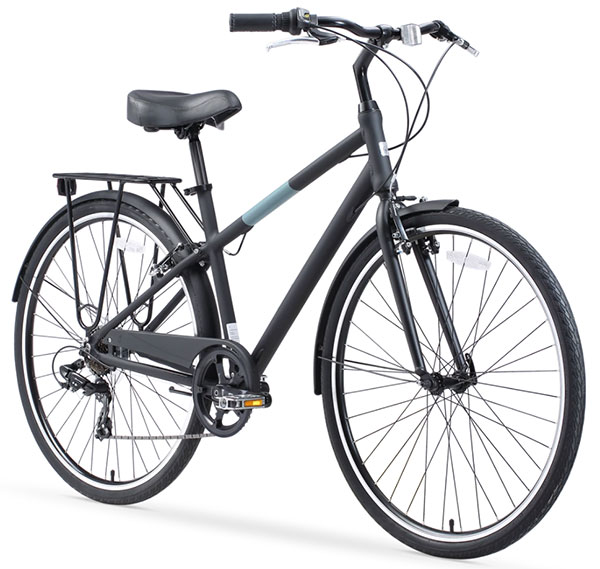 ReachYourDestination hybrid bike is fast, fun, and smooth for riding through busy streets or trying out new paths. The lightweight aluminum frame and 7-speed gears are the ideal combination of speed and practicality to get you where you need to go. You will also enjoy the simple customization opportunities and design for a fast ride.
Paven' Trail
---
The Paven' Trail hybrid bike is designed for stability and speed with a Shimano 21-speed gear system and adjustable front suspension. You will find this hybrid bike comfortable and easily adaptable for different riding trails. It also features an easy-to-mount step-through frame for all your journeys.
ExploreYourRange
---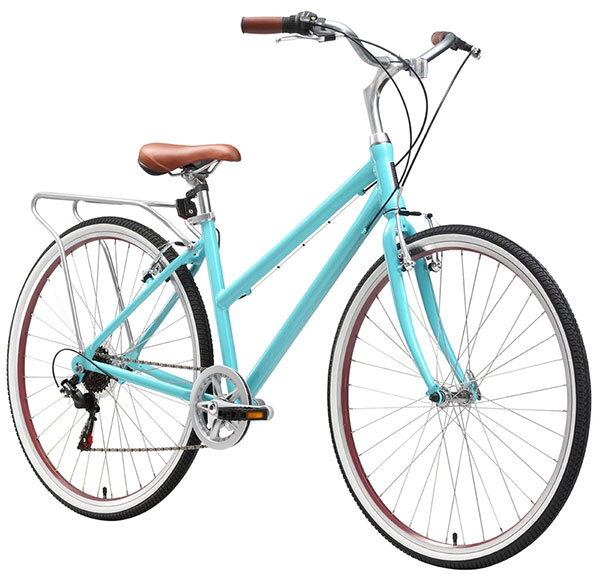 ExploreyourRange hybrid bike is versatile for commutes or riding around the city. The sturdy aluminum frame and 7-speed gear give this bike the power and speed to handle demanding trails. The frame is also lightweight, with a comfortable seat and shock absorbent tires for the perfect ride.
---
Comfort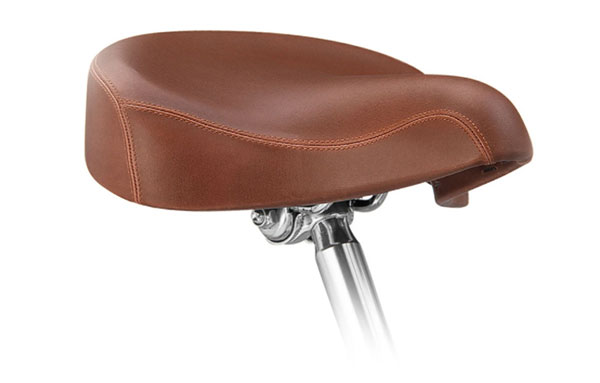 When it comes to comfortability, there are not that many manufacturers who can compare to the Sixthreezero brand.
Getting the perfect seat that fits you is essential to enjoying every ride on your Sixthreezero bike. These bike seats feel good and are not too small to cause back pain during your bike ride.
If you consider the seat width and length according to your measurement, you will find the most comfortable one for you.
A seat with ample cushioning is comfortable even for long-distance cycling. The cover of your seat also matters. It protects the interior and gives your bike a more interesting look.
Be sure to also check the cut-outs on the Sixthreezero bikes because these reduce the pressure on your bum when you are cycling. They will also keep you cool.
The bike handles on Sixthreezero bikes are also easy to use to maneuver when cycling. The handgrips are reliable and made of leather to make riding more comfortable.
The leather feels good under your hands and won't sweat or burn your hands. They add to better riding posture to protect yourself from back and shoulder pain. These handlebar grips also go well with your cycling gloves.
Accessories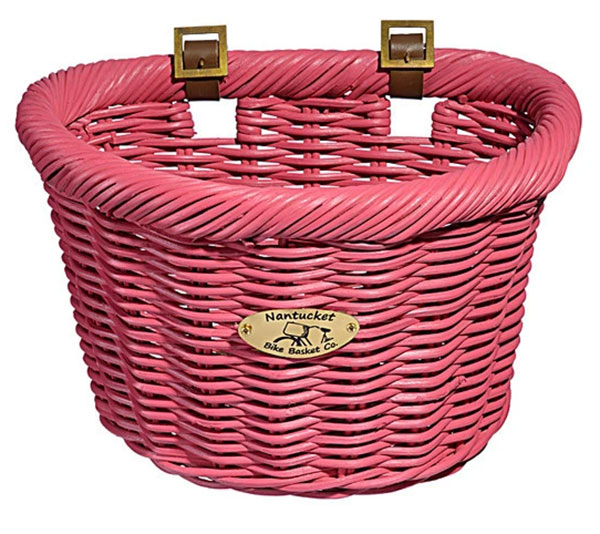 There are many accessories for you to add to your Sixthreezero bike to get more out of every ride. If you choose a cruiser bike, you can pick from a wide range of wicker and wire baskets.
With different sizes available, you can get the ideal size of front or rear baskets for you.
To better protect your bike during the rainy season, you can buy a bike cover. The covers are heavy-duty water-resistant, and easy to use with drawstrings. These covers are flexible to fit different bike and wheel sizes.
Sixthreezero also offers a Sigma Pure 1 wireless computer. This bike computer features a simple display to let you know the speed, distance, and how long you switch between each trip when cycling. It is also compact with an attractive design to match your bike's style.
So as not to miss any important messages during your rides, you can buy a phone holder from Sixthreezero.
These phone holders are suitable for different phones like iPhone 6, iPhone 7, Samsung Galaxy, and Samsung Note phones. This phone holder does not require tools to mount and can rotate for landscape and vertical viewing.
With other accessories like bottle cages for water bottles to quench your thirst, your rides will be more pleasant. The wireless speakers available will also keep you entertained for close to six hours from one charge.
Sizes
The best Sixthreezero bike size for you depends on your height and weight. You can adjust the saddle and handlebars for a more comfortable riding position to suit your body size.
All the bikes are designed to accommodate a wide range of heights between 5'0″ to 6′ according to your arm length and leg length. The perfect bike size for you should be easy for you to mount and stand over.
FAQ
Final Verdict
Sixthreezero bikes are reliable and comfortable while still being affordable for most cyclists.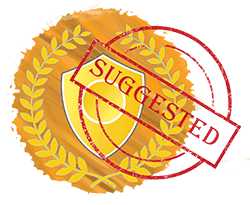 With different speeds available and tons of accessories to add to your bike, there is a lot you can do with Sixthreezero bikes.
Whether you need a cruiser bike for relaxing rides, a road bike, or a hybrid bike for those challenging trails, you will get them all with Sixthreezero.
You won't have to sacrifice the performance either.
Check out our picks for the best comfort bikes.