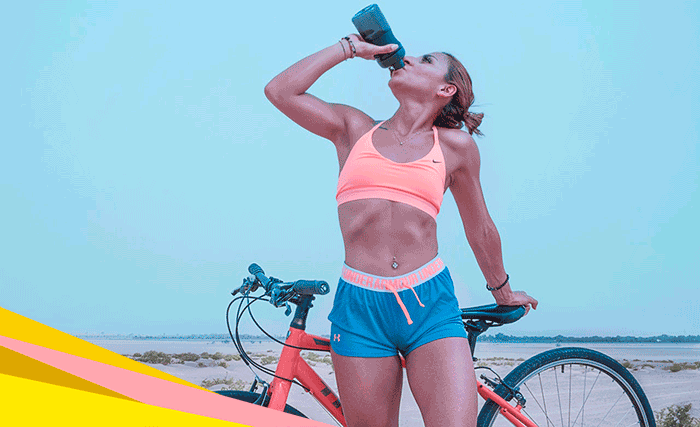 Are you looking for the best women's bikes in 2023? Check out our favorite models in different categories, including hybrid, road, mountain, and cruiser bicycles. 
Before we show you our top choices, we should make one thing clear: as a woman, you can ride any bike that you like and that you feel good on while riding.
Bicycles with women-specific geometry might benefit some women, but all women are not limited to these models exclusively.
At Bicycle Guider, we don't believe in terms such as 'men's bicycles' and 'women's bicycles.' We believe that all bicycles are unisex and that they can fit both genders equally well, depending on individual physical characteristics and preferences.
For that reason, our list consists of women-specific models and unisex models that offer the best bang for the buck in each category.
You can check out our list of the 15 best women's bikes below, divided into four categories:
Hybrid / Road / Mountain / Cruiser.
---
Best Hybrid Bikes for Women
---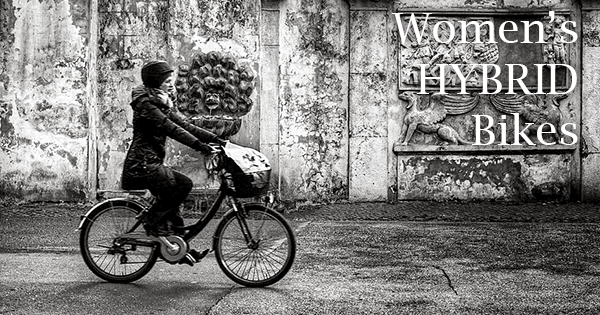 Hybrid bikes are versatile bicycles that can be used for commuting, training, or just casual riding. They are fast, but have a comfortable geometry and are very stable and easy to control.
They combine the best from two worlds – road bikes and mountain bikes.
These bicycles in most cases have 700c wheels, aluminum frames, some expensive models are full-carbon or have a carbon fork, and they can have front suspension or be completely rigid.
There are lots of reliable female models for sale, so below we'll show you the best hybrid bikes for women in our opinion.
---
1. Trek Dual Sport+ 2 Stagger

Winner! Lightweight versatile e-bike

Trek's Dual Sport+ 2 Stagger is an entry-level hub-drive electric hybrid for women.
This versatile e-bike is perfect for commuting, running errands, or weekend fitness rides.
A bespoke 250W, 40Nm hub motor gives you the extra kick you need to crush steep hills, commute to work sweat-free, or haul heavy groceries back from the store.
The Dual Sport+ 2 Stagger has a step-through frame, which makes it easier to mountain dismount. Likewise, you get a kickstand for conveniently resting the bike when you dismount.
The lightweight 250Wh battery has a modest range of 35 miles, but this is plenty for typical urban riding. If you run out of juice, you can easily pedal this lightweight bike. The Dual Sport+ 2 runs on 50mm tires and has a full Shimano groupset comprising MT200 hydraulic discs and a 9-speed Altus drivetrain.
Another reason this Trek model is among the best hybrid bikes for women is its customizability. You get rack and fender mounts so you can turn the Dual Sport into the perfect commuting companion.
Buy If: You want a lightweight, versatile, and affordable electric bike from one of cycling's leading brands.
---
2. Co-op Cycles CTY 2.1
Second-best! Quality Components and Hydraulic Discs
Full Overview of the Co-op Cycles CTY Series
Co-op Cycles CTY 2.1 is one of the best women's hybrid bikes for sale on this list. It is perfect for city commuters because it comes with plenty of eyelets for fenders, racks, water bottle cages, and the like.
It's ready to be ridden even when the rain is pouring outside, and you can easily fit it with panniers to carry groceries or personal things. It comes in one color, a very sleek and smooth gleaming white.
Co-op Cycles CTY 2.1 is an affordable unisex hybrid bike that offers some surprisingly good features such as hydraulic disc brakes and multi-surface tires!
CTY 2.1 is a flat-bar hybrid bike, which means that it excels when you take it both on gravel and paved roads. The frame is built from aluminum and the forks are suspension. So the bike is durable and comfortable which is important if you use it to commute every day.
If you use it for gravel adventures, you'll find the frame to be stable and the geometry to support your pedaling.
For less than $1,000, you'll get Shimano Altus front and rear derailleurs, with 16 speeds in total. The versatile 46/30T crankset and an 11-34T cassette will provide you with all the range you need for steep climbs.
Another thing that puts CTY 2.1 among the best hybrid bikes for women is the hydraulic disc brakes. They provide the best stopping power and are much easier to maintain compared to traditional rim brakes.
Buy If: If you need a bike that you can ride in all conditions and finish errands around the city, while not worrying too much about maintenance, you'll be happy with Co-op Cycles CTY 2.1
---
3. Schwinn Vantage
Third place! Best for All-Terrain Riding
First of all, Schwinn Vantage is one of the most beautiful unisex road bikes that we've seen so far at this price point.
The simple and crisp black or grey paint job with blue details is a real head-turner wherever you go. However, component-wise, it is a great choice for men and women as well.
It's perfect for rougher terrain due to wider 35c tires with light treads, which will ride on gravel with no problems. The Vantage is an entry-level bike, so it's perfect for those who want to start cycling for the first time.
What sets this model apart from other unisex bikes are Shimano road bike derailleurs. In this case, that is the Shimano Sora groupset, which is usually put on mid-range bikes that are built to go fast and go for long.
The drop handlebars offer several different hand positions, so your palms and shoulders will not get tired after long training.
Schwinn Vantage is the ideal solution if you easily get bored from riding on perfectly smooth roads and want to take a detour on an off-road route.
One thing that could be better on this model is the wheels. They're made from aluminum, but some riders report that they are heavier than ideal. On the other hand, the TRP Spyre C mechanical disc brakes are top-notch.
Other than that, the bike is light because of the aluminum frame and fork, and it has a comfortable saddle, so it will feel great to ride.
Buy if: you're on the lookout for the best men's and women's bikes to upgrade from your low-end hybrid and ride on gravel and rougher terrain, don't look past Schwinn Vantage!
Related: See the best 15 (unisex) hybrids >
---
Women's Road Bikes
---
Women's road bikes are light and fast; they have narrow tires, lightweight frames, and road bike components. The best women's road bikes will have carbon frames, deep-section wheels, and high-end components, so take a look at our choice of the best three below.
Related: Men's vs Women's Bikes
---
4. Orbea Orca M40

Winner! Best Women's Race Road Bike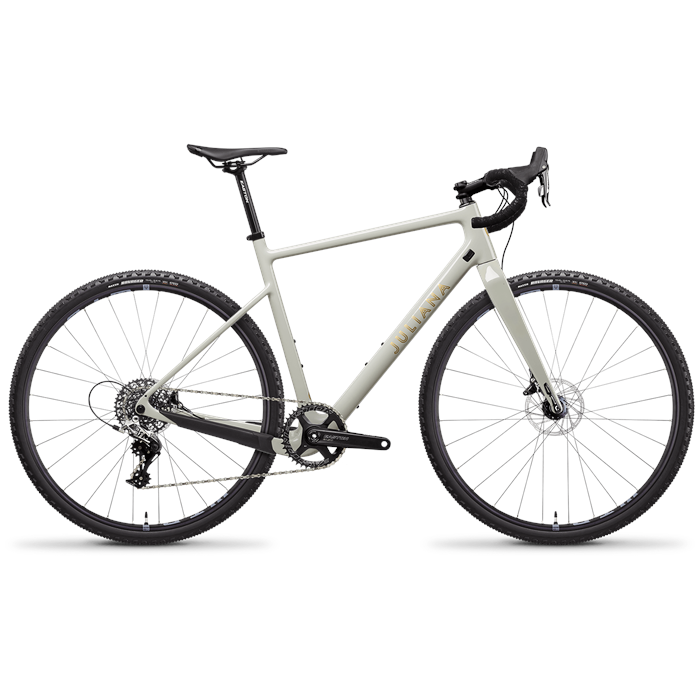 The Orbea Orca M40 is a bicycle with speed written all over it. The fact that it is such a good deal easily puts it among the best road bikes for women.
It has a stiff and lightweight carbon frame paired with a carbon fork, which makes it fast and comfortable to ride.
A 2×10 Shimano Tiagra drivetrain powers the Orca M40, which will give you solid shifting performance.
The Orbea Orca M40 is equipped with 700C wheels and 28 mm Vittoria Zafiro V tires, which are perfect for going fast on pavement.
If you're a budding road cyclist and you want to up your game, the Orca is an all-around excellent performer that requires minimal maintenance.
This bike also features racing geometry that will make you faster, so the Orca is great for climbing, crits, and group rides. Its hydraulic disc brakes offer more than enough stopping power, so you can feel confident when attacking corners in a race.
Buy if: The Orbea Orca M40 is a great racing bike, as well as one of the best women's road bikes for beginners and those who want to start competing more seriously.
---
5. Cannondale Synapse AL 2

Second-best! Best Aluminum Endurance Road Bike
Cannondale's Synapse AL 2 costs around $1,800, so it offers some specs that make it a durable, capable, and fast choice for women. This is a unisex bike, so it fits men and women equally well.
It's packed with quality mid-range Shimano Tiagra components fitted on a comfortable aluminum SmartForm C2 frame.
In addition, Shimano Tiagra hydraulic disc brakes ensure you can stop safely in all conditions.
The carbon fiber fork and frame-integrated SAVE micro-suspension help to dampen road vibrations and create a responsive front end for fast accelerations.
The Cannondale Synapse AL 2 is the ideal combination of a lightweight road bike and an endurance machine. That is what makes it perfect for fitness riders.
The Cannondale Synapse offers remarkable value in components for the average female road rider and has what's necessary to take you on a long-distance adventure.
Moreover, 20 gears are more than enough for riders who plan to take this bike on tough rides.
Buy if: If you want to explore the open road and improve your fitness, then Cannondale's Synapse is the best women's road bike for you.
---
6. Salsa Journeyer Advent
Third place! Best Value Gravel Bike
The Salsa Journeyer Advent is one of the best-value bikes on this list, but it is also the most sophisticated one. This model costs around $1,100, and it is well worth that price. The aluminum frame, painted in irresistible stealth black color is simply too good to pass.
Salsa has made an excellent bike that you will be able to ride on the road on a club run and also hit light trails with mountain bikers.
This fantastic bicycle has lots of great aspects to talk about, the most important one being the MicroShift components. You can see them on all the crucial parts of the gearing, so you know your money is well-used.
In total, you get 9 speeds on a 1×9 MicroShift drivetrain, which will last for thousands of miles with proper maintenance. Of course, the Shifters are MicroShift as well, though the brakes are Tektro mechanical discs.
Salsa Journeyer is a versatile women's road bike that meets the requirements of both recreational and fitness riders, as well as those with an appetite for racing on road and light gravel.
Finally, the aluminum wheelset is equipped with Teravail Washburn 650bx47c tires which are excellent for gravel and road.
Buy if: If you are a rider who likes training hard and riding fast, the Salsa Journeyer is the best women's road bike for you!
Related: See the best (unisex) road bikes >
---
Women's Mountain Bikes
---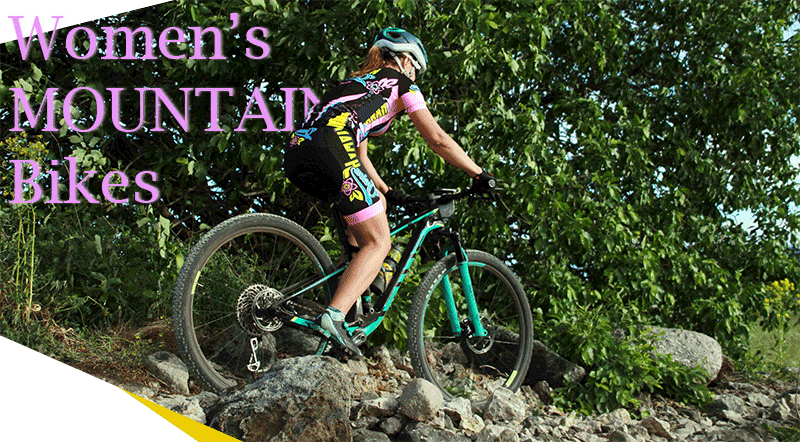 Ladies' mountain bikes come in different shapes and sizes. When talking about wheels, they are available in 26", 27.5", and 29" sizes. However, the best women's mountain bikes, in our opinion, are those with 27.5" wheels. They ensure a stable and comfortable ride and ensure a good standover clearance.
Apart from that, you can choose between hardtail women's bicycles and full-suspension models. Hardtail bikes have just the front suspension, whereas full-suspension bikes have rear suspension as well.
You should also be mindful of brakes and gears when looking at women's mountain bikes. Mechanical disc brakes use a cable system much like V brakes. Hydraulic brakes use oil to transfer force from the lever to the calipers. Both can be good, but hydraulic brakes usually have much better-stopping power.
When it comes to gears, this is something you do not have to worry about. All women's mountain bikes today have enough gears.
Women can ride men's mountain bikes as well, you only need to change the saddle and perhaps put a shorter stem, and you're ready to go!
Let's take a look at the best woman's mountain bikes for sale!
---
7. Juliana Wilder C R TR
Winner! Best FS Trail Bike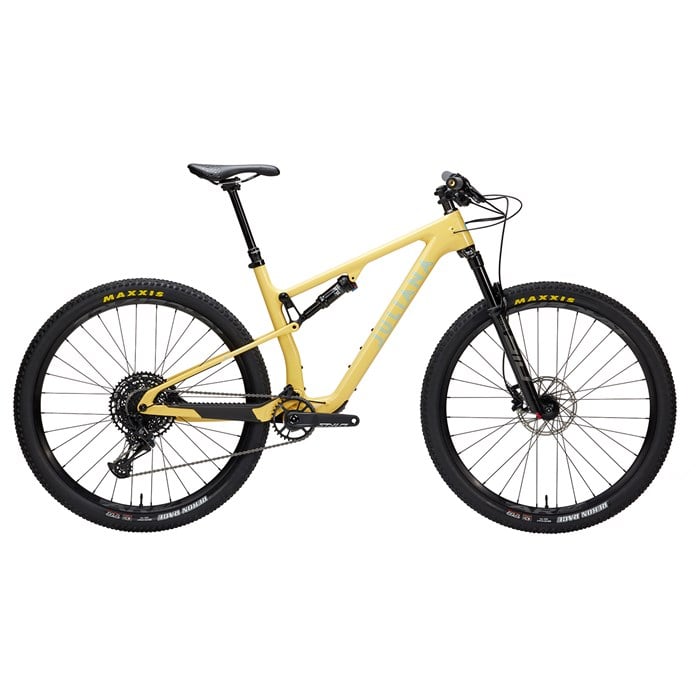 The Juliana Wilder C R TR is the best mid-range full-suspension mountain bike for those who want a good workout on tough trails. It provides a decent performance both on climbs and descents so you can have a variety of effective workouts.
See more: Full Review of Juliana Bikes
The combination of a lightweight carbon fiber frame and an advanced suspension setup makes this bike capable and gives it much-needed versatility. However, that's not all Wilder has to offer, let's see its other high points.
If you're riding a mountain bike to have fun and improve your skills, the Wilder has what it takes to help you achieve that. Especially with the incredible RockShox suspension.
Juliana Wilder has the right components to help you send the most challenging line you can find on local singletracks and rough trails.
It comes with SRAM NX Eagle components, which is a mid-range groupset that offers amazing bang for the buck. This bike offers a total of 12 gears, which will give you enough variety to comfortably ride on different types of terrains.
You'll be fast when cornering as well with the help of SRAM Level T hydraulic disc brakes. These brakes have 180 mm rotors which means you'll get all the stopping power you need.
The most important part of Wilder is definitely the suspension. The RockShox SID RL fork has 160 mm of travel, whereas the Fox Float rear shock features adjustable rebound.
The bike looks good as well and has women-specific geometry, so it's perfect for aspiring female trail riders.
Buy if: Get Juliana Wilder C R TR if you want a powerful and fast bicycle capable of a lot!
---
8. Co-op Cycles DRT 1.1
Second-best! Top Value Hardtail MTB
Co-op Cycles DRT 1.1 is one of the best women's mountain bikes for sale. It's good-looking, it's affordable, and it offers quality components.
We made an exception to this model since it is a unisex mountain bike and not a women-specific bike. However, with the right saddle, it will fit anyone just perfectly, and it is too good of a deal to skip.
Co-op Cycles DRT 1.1 is simple and good-looking, meeting and exceeding the requirements of most entry-level riders out there.
This is a bike that looks seriously good! However, it is not all looks and no brains. For brains, it has Shimano components, which are always a sign of quality.
Specifically, it comes with Shimano Tourney shifters and derailleurs, as well as a Shimano 12-32T cassette.
There are 21 gears in total, so you'll be zooming at high speeds both downhill and uphill with ease. DRT 1.1 uses Tektro hydraulic disc brakes, which are necessary when you go off-road. The aluminum frame greatly reduces the weight, so you can pedal over bumps with ease. However, the SR Suntour suspension fork with 100mm of travel will help you here as well.
Co-op Cycles has decided to fit this bike with 2.1″ wide tires, which are perfect for riders who do not want to sacrifice either speed or comfort when rolling over dirt roads.
Buy if:  You want to get a capable hardtail mountain bike with Shimano Tourney components for around $600 — Co-op Cycles DRT 1.1 will make you happier than ever!
---
9. Cannondale Trail 5 Women's
Third place! Progressive Wheel Sizing

It has long been believed that the best women's bikes are those with 27.5" wheels, but Cannondale Trail 5 is proof that that is not completely true! It is attractively priced, it looks good, it's versatile, and it gives you a lot for your money.
Trail 5 is an entry-level hardtail bicycle, so it can take basic off-road riding. The 2.25″ tires offer the most stability you can get and the most grip, so you don't need to be intimidated by deep mud anymore.
This Cannondale bike is priced at $960, which makes it a low mid-tier bicycle. It's intended for enthusiasts who have fallen in love with cycling and want to take it to the next level.
Cannondale 5 makes no compromises on the trails with its capable wheels, WTB tires and SR Suntour XCM Coil suspension.
Related: Best Mountain Bikes
Mid-tier microSHIFT Advent X components make up the drivetrain. The rear cassette gives you 10 wide-range gears, along with a 30t crankset and an 11-48t cassette.
The suspension is taken care of with a 100mm SR Suntour XCM coil fork. This amount of travel is enough for moderate trails and dirt roads, but you should avoid rough trails with jumps.
You'll stop before you realize it when you press the levers of Shimano hydraulic brakes with 160mm rotors.
Buy if: If you want an excellent bike for regular training and rides on moderate trails but don't want to pay too much, get Cannondale Trail 5!
Consider also: Cannondale Trail SL Series
---
10. Salsa Rangefinder Deore

Best Hardtail For Women
Salsa's Rangefinder is one of the best attempts at building a versatile cross-country bicycle. Salsa is a reputable manufacturer that makes excellent off-road bikes, and here it shows.
The Rangefinder is made for all-day comfort and to be capable of pretty much riding on anything within reason. It's the go-to choice for many women would want a bike for everything.
This bike has no ambition to rob you of your money but aims to get you out and about on trails, learning the ropes of trail riding.
The Rangefinder Deore is available in a beautiful black colorway. This bike has a durable traditional aluminum frame, with lots of standover clearance, as well as a Suntour XCM32 suspension fork with 120 mm of travel that feels nimble and responsive. This is most evident in tight turns and over big bumps.
Moving back, we can see a Shimano Deore 10-speed drivetrain, which gives you wide-range gears to shift through. With Shimano parts, you simply know you won't need to spend a lot of time and money on maintenance. Just put some bike lube on the chain, and you're ready to rumble.
Apart from that, the Rangefinder also comes with a pair of hydraulic disc brakes. Since this is a bike for casual cycling enthusiasts, these brakes are plenty powerful.
Buy if: Buy the Rangefinder Deore if you want a do-it-all women's mountain bike that doesn't cost a lot and offers the best possible ride.
---
11. Rocky Mountain Growler 20

Best Beginner Hardtail for Women
The Rocky Mountain Growler 20 is a good-looking hardtail trail bike that can conquer any terrain in the right hands.
This bike is nimble, fast, light, and female-friendly, meaning that your choice definitely won't be a mistake. Here's exactly why!
The Growler 20 is an excellent entry-level trail bike for any experienced female rider out there as it can do everything — climb, descend, and hit fast flats.
This 29er hardtail mountain bike comes with an aluminum frame for stiffness and lightness. It also has a super low top tube that increases standover height, so it's great even for shorter ladies.
When you're not standing over it but riding it, you can use the MicroSHIFT Advent X 10-speed drivetrain to shift through a wide range of gears with an 11-46T cassette. This is plenty of gears to tackle any hill so that you can have a good workout anywhere.
The Suntour XCM34 DS 130mm travel fork gives you 130mm of travel on the front. That's excellent for descents and moderate singletrack routes.
This bike rolls on Kenda Amrak 29 x 2.6″ tires, which are perfect for loose terrain. You'll feel incredible stability even if you ride over rocks and dangerously bumpy terrain.
You also get Clarke M2 hydraulic brakes with 180mm rotors to fine-tune your speed, so it's clear how good of a deal this bike is.
Buy if: The Rocky Mountain's Growler 20 is for you if you want one of the best unisex hardtail bikes in this price range, which you can train on in all conditions and improve your trail-smashing skills.
---
12. Norco Shore A2
Best Women's Freeride Bike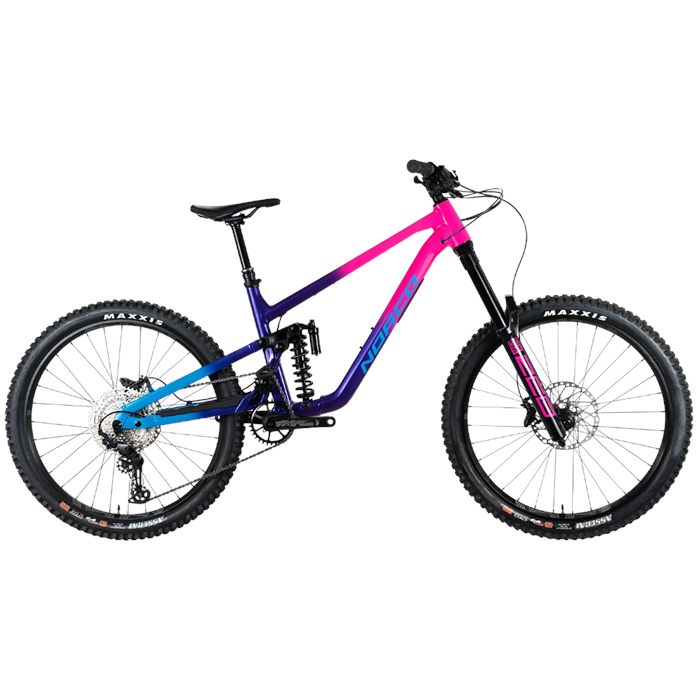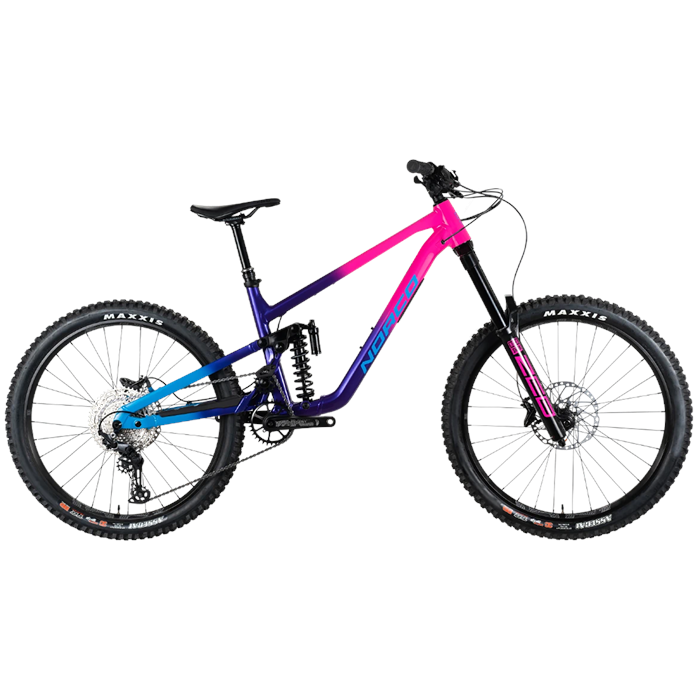 With Norco Shore A2, we've finally arrived at the big players. This is the best choice of a unisex freeride bike that you can find right now. If you need a serious tool for your training and rough DH rides, this durable aluminum monster is exactly that.
We understand performance is what matters most on unforgiving trails, but looks matter as well, and Norco Shore A2 has it all! It comes in a whacky purple pink/blue colorway that is hard to resist.
Shore A2 has all the best components you could ask for in this price range. The rear derailleur is a Shimano Deore 12-spd, paired up with a 10-51T cassette.
Norco Shore A2 is one of the best freeride trail bikes thanks to its playful geometry, impressive specs, and 180mm of travel.
The front suspension is taken care of by a RockShox Zeb R fork with 180mm of travel. It will give you amazing control and stability on trails so that you can push your boundaries on every ride. Similarly, the RockShox Super Deluxe Coil Ultimate DH rear shock packs another 180mm of travel, so you can descend the roughest trails you can find.
A great high-end trail bike would not be called that without powerful hydraulic brakes. On this one, the brakes and levers are Shimano MT520 4-piston with 200mm rotors. Finally, you'll be rolling on e*thirteen LG1 DH 27.5″ rims and Maxxis Assegai 2.5″ tires.
Buy if: Norco Shore A2 is the perfect bike for anyone who wants to train hard, set new records, and have incredible amounts of fun on trails!
---
13. Juliana Joplin CC X01

Best Trail Ripping Experience for Serious Riders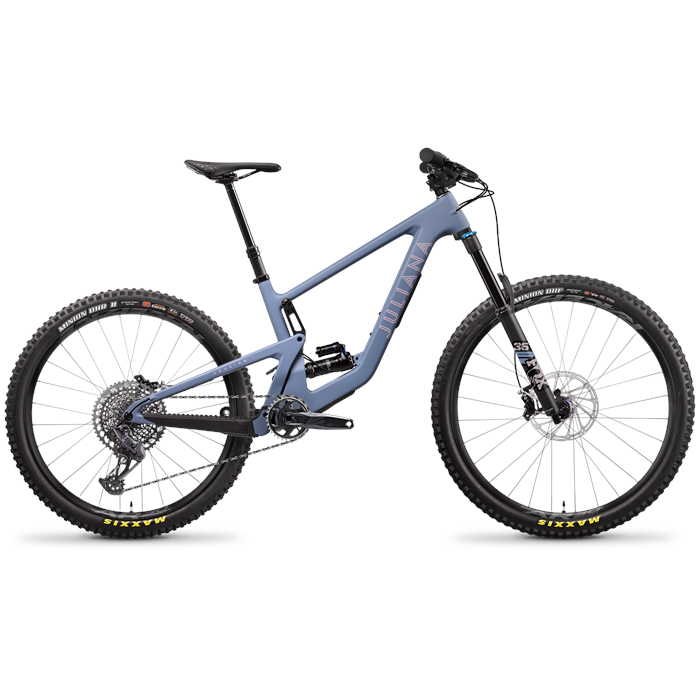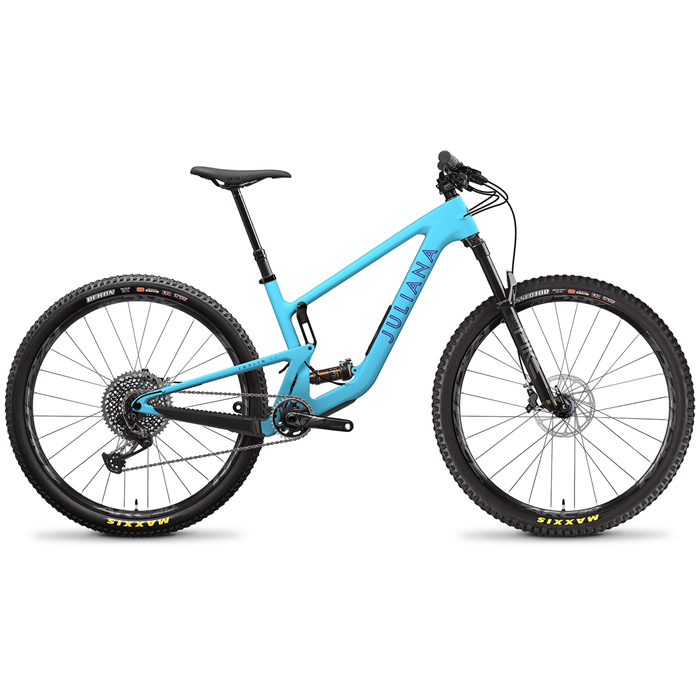 Juliana's Joplin CC X01 is a true gem when it comes to performance. It's a fantastic women's trail mountain bike that does not give in to obstacles, no matter how tough they appear.
This MTB, painted in an attractive and simple blue steel color, is built from carbon, so it's lightweight despite the full suspension—32.3 lb.
The Joplin CC X01 floats over any bumps by using a premium RockShox Pike Ultimate fork with 130mm of travel. On the back, it features a Fox Float Factory DPS rear shock that's equally as good.
You'll get a great deal if you buy this model when it comes to components as well. This Joplin build comes with a combination of SRAM X01 Eagle parts and has 12 gears with a 10-50t cassette.
Made for female MTB enthusiasts who are chasing top results, the Joplin CC X01 offers a remarkable all-around performance with excellent suspension and hydraulic discs.
The SRAM G2 RSC hydraulic disc brakes are the real cherry on the cake! They provide unbeatable reliability and modulation.
Another great feature this bike brings to the table is that it rolls on Maxxis Dissector and Rekon MaxxTerra 2.4″ tires, so you'll get all the grip you need in all conditions.
Buy if: Juliana's Joplin has all that you need if you want one of the best women's trail bikes in this price range to ride in the mountain or train more seriously.
Related: All (unisex) mountain bike reviews
---
Best Women's Comfort Bikes
---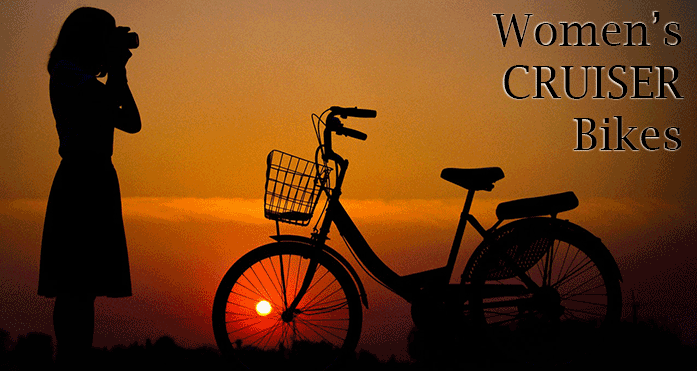 Cruiser bikes (also known as comfort bikes) are quickly gaining in popularity, as they are perfect for city-dwellers and those who need bikes to commute and complete errands. Cruiser bikes usually focus on comfort because they keep the rider in an upright position and give a better view of the traffic.
There are many women's cruiser bikes with a basket, which makes it much easier to carry groceries or even your pets. If your bike does not have one, you can easily buy one at Amazon.com with a cover that keeps small pets secure, which is becoming increasingly popular. It's easy to install; you just need to tighten a couple of screws.
If you want to go for the tried and tested solution, this basket is the most popular on Amazon. It has a simple design, but it gets the job done perfectly.
15. Sixthreezero Around The Block
Winner! Best Women's Commuter Bike
Cruiser bikes are probably the first thing that comes to the mind of an ordinary person when you mention the word 'bicycle'.
Sixthreezero
has a recognizable cruiser step-through frame, 26" wheels, foot-forward pedaling design, and retro handlebars.
The Sixthreezero is available with different gearing – you can buy a 1-speed, 3-speed, 7-speed, and a 21-speed. It has a stylish curvy frame, and it's available in different colors, such as beige, green, dark blue, light blue, and more.
Sixthreezero Around the Block will keep your body upright, which is perfect for leisurely city rides, where you need to visit a friend or do some grocery shopping. Some models come with fenders the same color as the frame, and a rear rack to put your bags on is included on all models.
Sixthreezero Around the Block does what a bicycle is supposed to do — it gets you from point A to point B and guarantees plenty of fun and absolutely no fuss in-between.
The rims are often matching in color as well, which adds to its elegant appearance. You'll be riding on wide waffle tread, whitewall tires, which will cushion any imperfections on the road.
The 1-speed model is perfect for flat city rides, but if you decide to buy one of the models with more gears, you'll get quality Shimano components.
The saddle has a double-spring mechanism on it, so you probably won't realize that you've left your armchair when you're riding it.
The geometry is versatile, so it will fit riders between 5ft and 6ft 2in.
Buy if: If you want a stylish and versatile bike to complete your errands and do grocery shopping or have fun with friends in the park, buy Sixthreezero now!
---
16. Huffy Nel Lusso
Second-best! The Most Stylish Women's Comfort Bike
Huffy Nel Lusso is possibly the most elegant cruiser bike out there. It's available in a beautiful sky blue color with leather details that give it a retro look.
Huffy Nel Lusso is built around Huffy's Perfect Fit frame, which would fit people of most sizes. However, one review of a rider 5ft4in tall said that it fit her perfectly. Another reviewer says that it might not fit a woman taller than 5'7″, so you gauge the size from there.
Huffy Nel Lusso is the cheapest city cruiser you can find. It still offers excellent overall performance as a car-replacer, commuter, and grocery shopper.
The Huffy Nel Lusso is incredibly easy to ride and maintain. This is a single-speed model, so you do not need to worry about shifting – it's perfect for flat terrains. Moreover, it has no brake levers, which means that you stop with the rear coaster brake.
This makes maintenance even easier and less expensive. However, some riders do not like this solution, so this might be a downside for some.
Some accessories and cool features include a rear rack, a front basket, a chainguard, front and rear fenders, a kickstand, and a handlebar-mounted bottle bag.
Buy if: If you want a comfy and versatile 26" cruiser bike that also looks good, you should not think more than once about buying the Huffy Fairmont.
Still not sure? Check out our review on Nel Lusso Cruisers.
---
17. Schwinn Discover
Third! An Elegant Ladies' Bike
As its name suggests, the
Schwinn Discover
will let you discover your city while having a comfortable and fast ride. This cruiser is unique because of its 700c wheels which are not often seen on cruiser bikes. They ride faster and make the bike higher, so you have a better overview of the traffic.
Moreover, the Schwinn Discover has a Schwinn suspension fork which will make the bike feel like you're riding on a cloud. The bike is even painted in white, the color of clouds, so it all checks out!
For just $300, Schwinn Discover offers everything a recreational cyclist can ask for — 21 speeds, front suspension, 700c wheels, and super-comfortable geometry.
This is probably because you get a lot of quality and extra features for just around $270. The 21-speed drivetrain with Shimano derailleurs and SRAM shifters means that you can ride this bike even if you live in a hilly area – there aren't any excuses anymore.
On the back, you also get a rear rack, where you can put all your things. No need to carry them on your back anymore and get sweaty in summer.
The Promax aluminum linear-pull brakes do a great job at stopping this nice bike even when it's raining, so if you learn how to adjust them yourself, you won't need to visit your LBS a lot.
Riders as short as 4ft11in and as tall as 6ft claim that this bike fits them perfectly.
Buy if: If you want to go around the city or commute to work in a healthy way, the Schwinn Discover is the way to go!
For even more bikes, see our list of the best bike brands.
---
Best Women's Bikes Buying Guide
---
Women's Bikes vs. Men's Bikes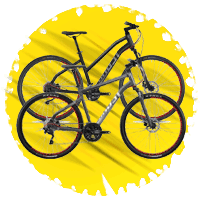 At first sight, a lot of people would not spot any differences between women's and men's bicycles. In reality, women's bicycles are not that different from men's.
The main differences can be seen in stem length and top tube length, as well as in the saddle. On bikes designed to fit a woman's body, the stem length and top tube length is shorter. That is to compensate for the fact that women usually have shorter arms than men.
Women's and men's saddles usually differ in width and length. Women typically have a wider pelvis than men, so women's saddles are short and wide, while men's saddles are long and narrow.
Other than that, the structure of the two frames can be different as well. Some ladies' bikes have a top tube that is slanted down towards the pedals (Step-Thru Frames), but this does not affect the performance of a bike too much.
---
How Much Should I Spend on a Bike?
This is a question that we get often, but it is a very difficult one to answer.
The amount you should spend on a bicycle depends on the components you want to get and the reasons why you're buying a bike in the first place. Generally, the more money you spend, the more reliability and quality you'll get. Make sure that all of the important components are made either by SRAM or by Shimano.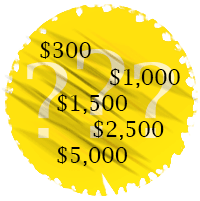 > Women's Cruiser Bikes
The best women's cruiser bikes can be bought for around $350. There is no need to pay much more than that since these bikes are usually used for casual rides in the park and commutes. Sure, if you want to get better components, feel free to raise your limit to $500.
When it comes to hybrid, mountain, and road bikes, the answer is a bit more complex.
> Women's Beginner Bikes Prices
If you are a beginner or you want to buy a bicycle for occasional rides or casual weekend rides, you shouldn't spend more than $500. Best beginner women's bikes can be found for this price.
> Women's Training Bikes Prices
If you're planning to use your future bike to get fit or stay fit and frequently use it for training, aim to spend a minimum of $750. You'll get decent components at that price, and everything above is a plus.
> Women's Expert Bikes Prices
However, if you're looking to train more seriously or even compete, the bare minimum you should spend is $2,000. Everything above that will give you much better components and reduce the weight of your bike.
Still not sure? Check out our guide on how much you should spend on a bike!
---
What Should I Know About Maintenance?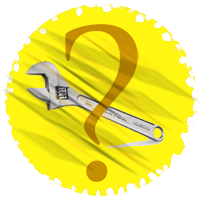 Bike maintenance for women's bikes does not differ much from that of men's bikes. The most important thing is to make sure everything is lubricated and tight.
Buy chain lube and apply it once a week, or every 40 miles you ride.
Before you apply a new coat of lube, wipe your chain with a clean cloth, with or without using a degreaser. Buy a chain measuring tool and put a new chain every 500 – 1,500mi, or when it gets too worn out. This will maintain good performance and prevent your cassette and crankset from wearing out prematurely, which is much more expensive to change.
Keep your bike clean by washing it with water and non-abrasive soap, and make sure that your tires are pumped to proper air pressure.
Have in mind that a more expensive bike is more expensive to maintain when you need to change some parts such as the chain, cassette, crankset, brake pads, and so on.
---
How to Assemble My New Bike?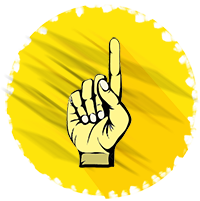 When it comes to assembling, there are three main ways that you can go about this part.
Learn How to Do It Yourself. There are many tutorials available online, both written tutorials and videos on YouTube, where you can quickly learn how to do it yourself. All you need are a couple of tools that you can buy for cheap, and you're ready.
Take it to a Local Bike Shop. Your local bike shop can assemble your bike for cheap, so this is the easiest way to do it if you do not want to be bothered much.
Order At Amazon.com. Most bikes that you order from Amazon will already be 85% assembled. All you need to do is tighten several screws, and you can start riding.
---
How to Get the Right Size?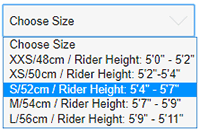 Bike sizes may differ from one manufacturer to another because they might use different measuring standards. Therefore, it is a good idea to check the size charts on each manufacturer's website.
In most cases, your height, as well as your inseam length will be a good starting point against which you can start looking for the right size.
Make sure to check this bike size guide to learn how to measure your bike size and get a good idea of how to choose the perfect one for you.
---
Where to Get the Best Deals?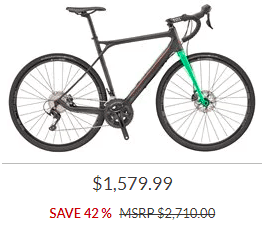 A lot of manufacturers have ladies bikes for sale, so it is not difficult at all to find them. However, some retailers have better offers, so you should choose wisely. These often have women's bikes on sale, better customer service and bike service, and so on.
The most reliable merchants that Bicycle Guider recommends are:
---
Final Thoughts About the Best Women's Bikes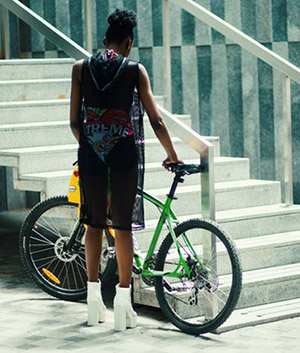 Riding bicycles is amazing. If it is your first time buying one, we're sure you're quickly going to fall in love with it. How wouldn't you, when it's fun and cheap, and it can be very useful as well.
Bikes are great for your physical appearance and physical health, as well as your mental health. You can commute, relax in the park, explore the city or your area, or work out and get fit. It's up to you!
We've presented you with 15 women's bicycles from different categories, so this list has something for anyone! However, don't worry too much about finding a women-specific bike, a unisex bike will be perfect for most ladies as well. If not, a couple of simple adjustments will make it work.
If you have any questions or comments about any of the bikes, feel free to leave them below, and we'll answer them as soon as possible.
We'd also love to hear from you if you bought a bike, and learn about your experiences. Hearing how Bicycle Guider helped you find a bike you like would make us happy and proud. Write to us directly, or just leave a comment below!