Cannondale Trail SL mountain bikes are built for speed on light and moderate trails, but they're ready for anything else, including gravel and dirt roads.
Cannondale's Trail series has been a riders' favorite for a long time. The lineup gets updated every year with new models that boast modern geometries, improved framesets, and trickle-down components.
The Trail SL lineup consists of brand-new models intended for beginners and experienced recreational riders.
These are versatile mountain bikes with 29″ wheels, 100mm of front suspension, 1x or 2x drivetrains, and fast multi-surface tires.
If you want a bike to shred trails, climb and descend, explore gravel and fire roads, or even commute, Trail SL is worth checking out.
Read our detailed review to find out more about the individual models and their features.
A Quick Look at the Trail SL Series
Trail SL is a selection of entry-level to mid-range trail mountain bikes. They're ideal if you're looking for your first bicycle or if you want to upgrade your old, beat-up mountain bike with a more modern one.
The Trail series gained popularity because of affordable price tags that offer fantastic value for money. Though there are no top-shelf components in the specs list, the parts are sourced from reliable manufacturers such as Shimano, SRAM, RockShox, SR Suntour, Truvatuv, Schwalbe, and so on.
At the moment, the Trail SL Series consists of four unisex and two women-specific models:
Trail SL 1
Trail SL 2
Trail SL 3 & Women's
Trail SL 4 & Women's
What all of these bikes have in common is the all-new Premium SmartForm C2 alloy frame with SAVE dropped seatstays, a tapered headtube, internal cable routing, dropper post compatibility, thru-axles, and Boost hubs.
Read More: Dropper Posts Explained
All Trail SL models also boast 100mm of front suspension with RockShox or SR Suntour forks depending on the price tag. The more expensive builds come with SRAM SX Eagle or Shimano Deore 1×12 drivetrains, whereas the more affordable iterations have Deore 2×10 drivetrains.
All builds also share Schwalbe Rocket Rick, 29 x 2.25″ tires that are versatile and suitable for XC-style riding. Therefore, you can easily use your Trail SL bike for trail and gravel rides.
Cannondale also equipped each model with a Cannondale sensor, Intellimount stem for your smartphone, and a kickstand mount. So you can use it for fitness rides or city commutes as well.
Find out more about the individual models below!
Trail SL 1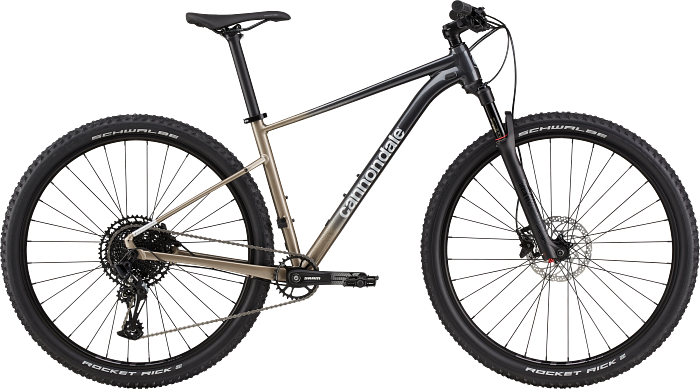 SRAM NX/SX Eagle 1×12 groupset
RockShox Reba RL 100mm fork
Shimano MT400 hydraulic disc brakes
Trail SL 1 is the priciest and thus the best-equipped model in the series. It boasts the best components and the most capable suspension, which makes it suitable for experienced recreational riders and up-and-coming enthusiasts.
It has a SRAM NX Eagle rear derailleur combined with an SX Eagle cassette and crankset. That means you get 12 gears with a wide-range 11-50T cassette that you can climb a wall with. Powerful and precise Shimano MT400 hydraulic disc brakes are part of the package as well.
The RockShox Reba RL air fork is an excellent mid-range option as well. It's a highly tunable XC fork with 100mm of travel, lockout control, and a Motion Control damper.
Trail SL 1 rolls on WTB STX i23 TCS tubeless-ready wheels, complete with Schwalbe Rocket Rick 29″ x 2.25″ tires. These are ideal for XC rides, but you can use them for other surfaces as well, including pavement.
Get this build if you want a well-equipped trail bike that's worth keeping and upgrading in the future.
Trail SL 2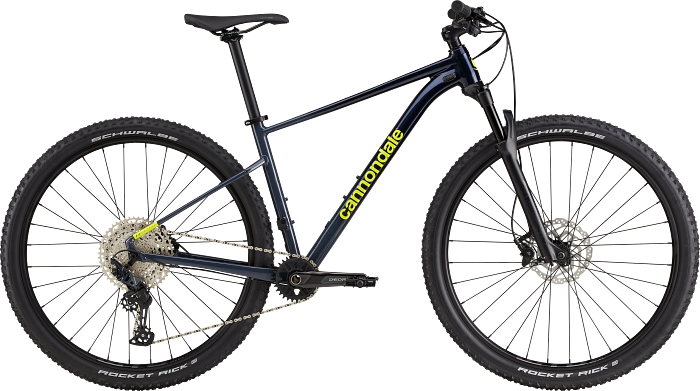 Shimano Deore/SLX 12-speed drivetrain
RockShox Judy Gold RL 100mm fork
Shimano MT400 hydraulic disc brakes
Trail SL 2 is a slightly lower-priced build, but not much less capable. It targets a similar group of riders, including beginners, weekend warriors, and more experienced trail enthusiasts.
This model comes with a few differences compared to Trail SL 1 and a lot of similarities.
Firstly, it's equipped with a Shimano SLX 12-speed rear derailleur and Shimano Deore shifters. The 10-51T cassette is also Shimano Deore, so climbers get something to be happy about.
Trail SL 2 also sports an air fork, which is RockShox Judy Gold RL in this case. It has 100mm of travel, as well as remote lockout and Motion Control damping.
The similarities with the most expensive build include the MT400 hydraulic disc brakes, as well as WTB tubeless-ready wheels and Schwalbe Rocket Rick tires.
Get Trail SL 2 if you want to spend a bit less money but get a similarly capable setup
Trail SL 3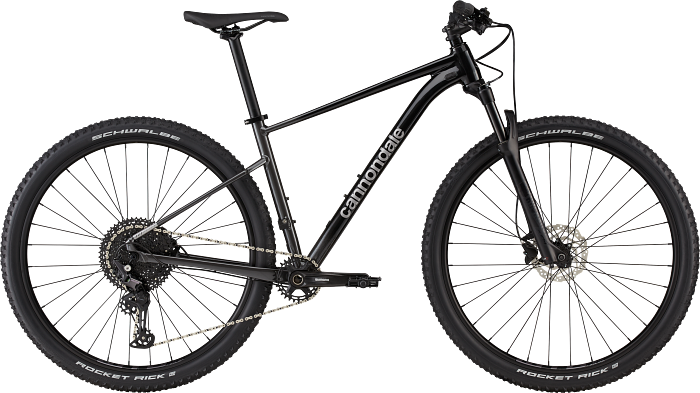 Shimano Deore 12-speed
RockShox Judy Silver TK fork
Shimano MT200 hydraulic disc brakes
Cannondale Trail SL 3 is a bike that you can take anywhere and use every day without being afraid of scratching it or getting it dirty. It's affordable but its specifications hide some pleasant surprises for the money.
The frame is completely the same—SmartForm C2 Alloy—but it's paired with a RockShox Judy Silver TK 100mm fork. This is a coil fork with a remote lockout, so it's slightly heavier compared to the air forks on the more expensive models.
The Shimano Deore 12-speed drivetrain is a very nice touch considering the lower price tag, though the Shimano MT200 hydraulic disc brakes are not as powerful or precise as the MT400s. But they will stop you on a dime whenever you need it.
The brakes and the suspension are pretty much the only differences compared to Trail SL 2 since the wheels and tires are the same.
If you don't mind a bit more weight in the front and you plan to stick to gravel roads and tame trails, Cannondale Trail SL 3 is a no-brainer.
Women's Trail SL 3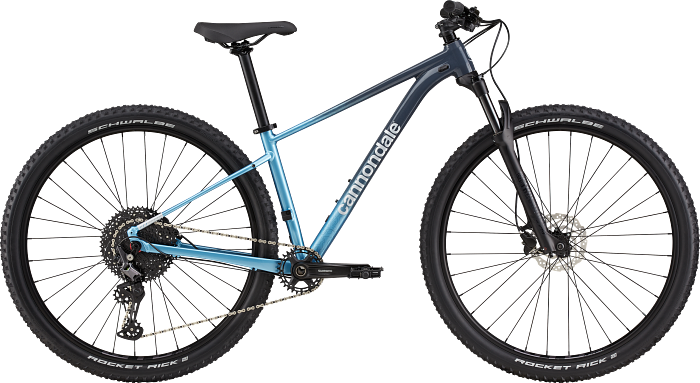 This build is also available in a women's version, with some women-specific parts. The biggest difference is the sizing of the frame since women can choose between XS, SM, MD, and LG frame sizes. Men can choose between SM, MD, LG, and XL frames.
Another women-specific part is the saddle, which is suitable for the female anatomy. However, don't hesitate to get the unisex version of this bike if you like the design more or you find that it fits you well. If needed, you can quickly change the saddle and tweak any other parts to your liking.
Trail SL 4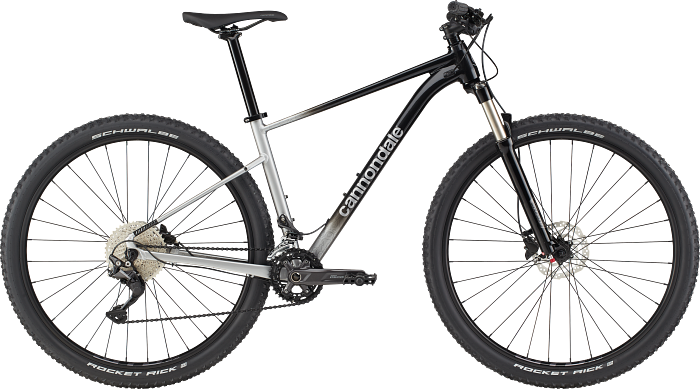 Shimano Deore 2×10 drivetrain
Shimano MT200 hydraulic disc brakes
SR Suntour XCR-RL 100mm fork
Trail SL 4 is the cheapest of all builds, so it's perfect for riders who are buying their first mountain bike or plan to mostly ride on the weekends.
Contrary to the other builds, Trail SL 4 has a 2×10 drivetrain with Shimano Deore front and rear derailleurs. This setup is slightly heavier but gives you more gears, which is especially good if you plan to ride on paved or flat gravel roads.
The SR Suntour XCR-RL fork is also a bit heavier than other models in the lineup, but it gives you 100mm of travel and doesn't lack remote lockout. Therefore, it has decent adjustability.
All other parts are pretty much the same as Trail SL 3. The package includes MT200 hydraulic disc brakes, WTB STX i23 TCS tubeless-ready rims, and Schwalbe Rocket Rick 2.25″ tires.
We like this model despite some lower-specked parts because it's versatile, it looks great and offers even better value for the money.
Women's Trail SL 4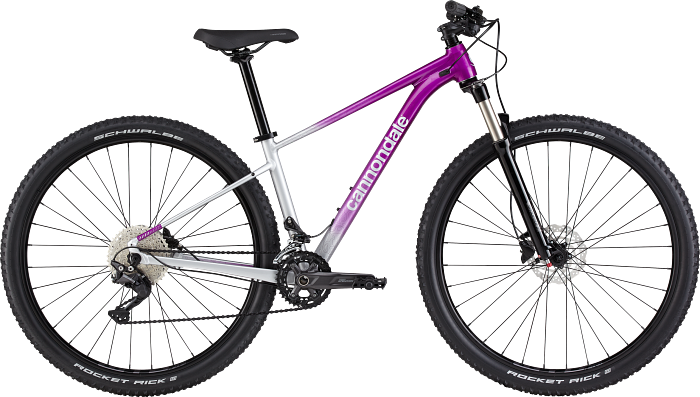 If you want a women-specific model, you can get it with the Trail SL 4 build. The only reason why we'd recommend this model for women rather than the unisex version is the color. The purple paint job looks really attractive.
Other than the color, the saddle, and the XS frame size, all other components are the same. So if your local Cannondale retailer has unisex models only, don't hesitate to purchase one—it should fit you like a glove.
For other Cannondale Trail models, see our reviews: 1 – 2 – 3 – 4 – 5 – 6 – 7 – 8.
Final Considerations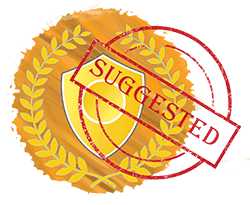 Cannondale's Trail SL series stays true to its tradition by offering great components and good looks at an affordable price.
If you don't want to break the bank but ride a well-made bike with mid-tier SRAM and Shimano groupsets, you should consider getting one of these models.
Highly experienced riders and racers might not like the relaxed geometry, but recreational riders and amateur enthusiasts will love it.
The versatility is also a big plus since Trail SL bikes ride fast on different surfaces, including trails, gravel, dirt, and even pavement.
Let us know in the comments below if you own a Cannondale Trail or if you plan to buy one. Feel free to ask us any questions as well!
There are no comments yet, add one below.