Cannondale Habit is a lineup of rider-favorite mid-travel trail shredders that are confident descenders and decent climbers. Keep reading as we dive deeper into the details about the series.
The Habit is a well-known series of trail bikes in Cannondale's offer that has a long and fruitful history of innovations and upgrades.
The Habit lineup is playful, good-all-around, and relatively affordable considering the value-packed components.
The latest iteration of the series includes carbon and aluminum models with 29″ wheels and 140/130mm of front and rear suspension.
Unsurprisingly, the geometry follows the long (reach), low (bottom bracket), slack (head tube angle), and short (chainstays) recipe that has been proven to work on similar bikes time and again.
We'll give you an overview of the entire series below and get into the nitty-gritty details of features and specs that make Cannondale Habit the evergreen trail bike that it is.
Overview of the Series
The Cannondale Habit series consists of models built around aluminum or carbon frames with mid-range or high-end components. The selection includes both unisex and women-specific models.
What all builds have in common is 130mm of rear suspension and 140mm forks, combined with 29″ wheels and Flip Chip adjustable geometry.
The Habit is beloved by different types of riders because it includes a long list of Cannondale's proprietary technologies.
They enhance these bikes' climbing and descending abilities, pedaling prowess, and keep the fun factor gauge maxed out.
Series Highlights
Carbon fiber and aluminum frames
Proportional Response suspension design
Ai Offset drivetrain
Flip Chip adjustable geometry
Down tube protection
LockR pivots
Compatible with 29″ and 27.5″ wheels
Internal cable routing
Women-specific models are available as well
Some of the most defining features of Cannondale Habit bikes are the proportional response suspension design, Flip Chip geometry, and Ai Offset drivetrain.
The Proportional Response suspension refers to the custom-designed, size-specific suspension that optimizes suspension performance of each frame size, for riders of different heights.
The Flip Chip lets you change the geometry and the handling of the bike by slackening/steepening the head tube and seat tube angles by 0.5° and lowering/raising the bottom bracket by 6mm. This also allows you to switch between 27.5″ and 29″ wheels.
The Ai Offset Drivetrain shifts the wheel 3mm towards the drive side which increases tire clearance and allows for shorter chainstays. This also makes the rear wheel stiffer and stronger, which is an added plus.
The models come equipped with a mixture of SRAM and Shimano 1×12 or 1×11 groupsets and carry price tags that start around $2,500 and cap at $5,500.
Cannondale Habit Aluminum Models
---
Habit 3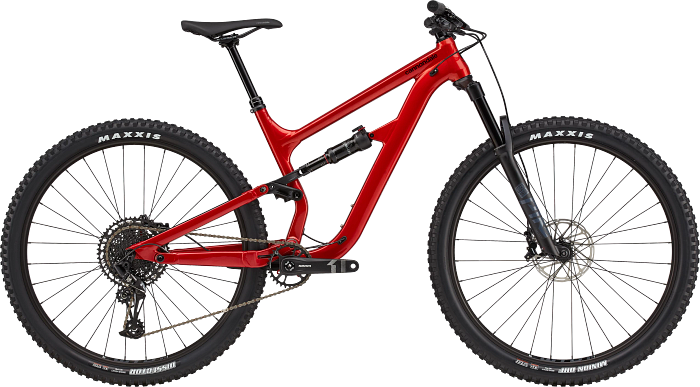 SRAM NX/SX Eagle components
RockShox Pike Select / Deluxe Select+
SRAM G2 R hydraulic discs
Cannondale Habit 3 is the highest-spec'd aluminum model built around a premium SmartForm C1 frame. This frameset boasts a tapered headtube, post mount brakes, a BSA 83 BB, and internal cable routing.
With its combination of SRAM NX Eagle and SX Eagle components, Habit 3 is aimed at intermediate riders who ride recreationally. The NX Eagle rear derailleur provides crisp gear changes, whereas the SX Eagle 11-50T cassette is durable but heavy.
When it comes to the suspension, this build boasts a RockShox Pike Select 140mm fork and a RockShox Deluxe Select+ 130mm rear shock. You'll feel the advantages of this setup whenever you release the brake levers on a rowdy descent.
Finally, the combination of WTB ST i25 TR wheels and Maxxis Minion 2.5″ / Dissector 2.4″ TR tires is ideal for all-around trail shredding, though the rims are heavier than ideal.
Shortlist this model if you want a solid trail bike for day-to-day riding but don't want to break the bank.
Habit 4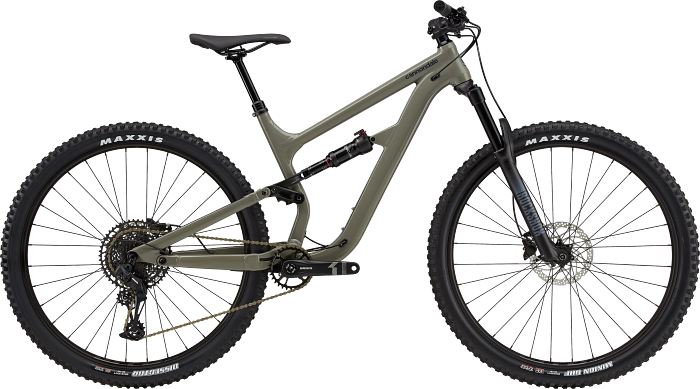 SRAM SX Eagle components
RockShox 35 Gold RL / Deluxe Select+
Shimano MT200 hydraulic disc brakes
The Habit 4 build offers similar performance to its more expensive cousin, but at a lower price due to some budget-friendly components.
The frameset is completely the same, SmartForm C1 Alloy, but the groupset consists of SRAM SX Eagle components only. This adds a bit of weight and takes away some shifting precision, but the overall performance is comparable.
The Shimano MT200 hydraulic disc brakes leave something to be desired both in terms of braking performance and braking precision. However, at this price point, they fit the overall image of the bike quite well.
RockShox 35 Gold RL fork boasts the proven DebonAir™ air spring and Motion Control™ damping at a fraction of a weight penalty. On the other hand, the RockShox Deluxe Select+ rear shock is tried and true.
All in all, this list of specs makes Cannondale Habit 4 ideal for first-timers on the trails, but it's also great for more experienced riders who don't mind a bit of added weight.
Women's
The women's Cannondale Habit 4 model has the same list of specifications as the unisex model.
Related: Best Mountain Bikes For Women
The only differences are the color, the addition of an XS frame size, and a women-specific Cannondale Stage 3 Women's Ergo saddle.
Habit 5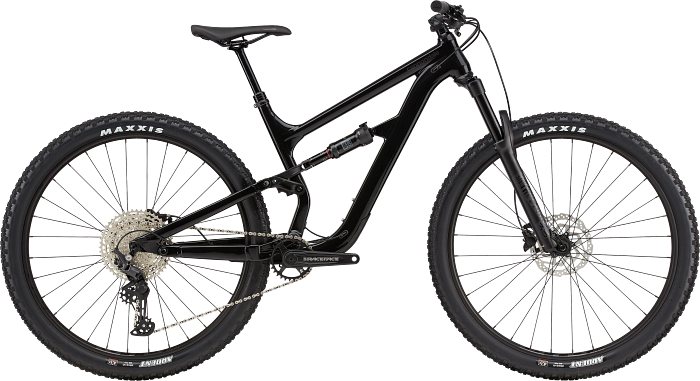 Shimano Deore 1×11 groupset
RockShox 35 Silver R / Deluxe Select
Tektro M275 hydraulic disc brakes
When it comes to the aluminum Cannondale Habit models, Habit 5 is the most affordable and the most basic one. It has a 1×11-speed drivetrain and lower-tier suspension, so experienced trail shredders might find its performance limiting. First-timers, however, will love it.
Namely, Habit 5 comes with a Shimano Deore 1×11 groupset that includes an 11-51T cassette and a RaceFace Ride Cinch, 30T crankset. Despite having one less gear, the gear range remains wide enough for extremely steep climbs.
The suspension is another area where cost savings are apparent. The RockShox 35 Silver R fork is a budget option with less adjustability compared to more expensive models on this list. The same can be said for the Deluxe Select shock.
The Maxxis Ardent 2.4″ tires have an aggressive tread that will bite most surfaces and the Tektro M275 hydraulic brakes are pretty standard and unimpressive.
If you're learning the ropes of trail riding, feel free to get Cannondale Habit 5. Its modern geometry and premium aluminum frame will fill you with confidence and erase any setbacks in components.
Women's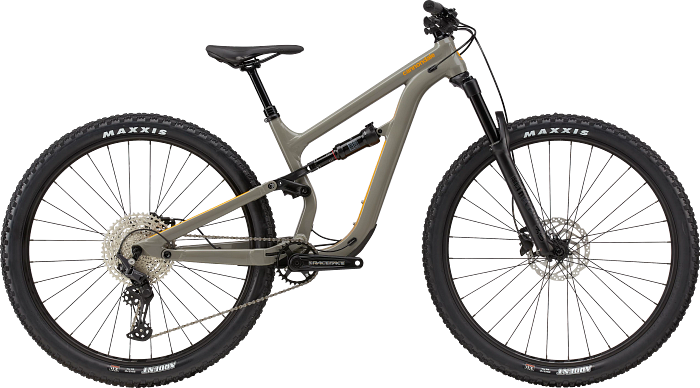 The women's model has a stealth grey paint job instead of a pure black seen on the unisex model. Also, it offers an XS frame size and a women-specific Cannondale Stage 3 Women's Ergo saddle. Other than that, all of the components are completely the same as on the unisex build.
Cannondale Habit Carbon Models
---
Habit Carbon 1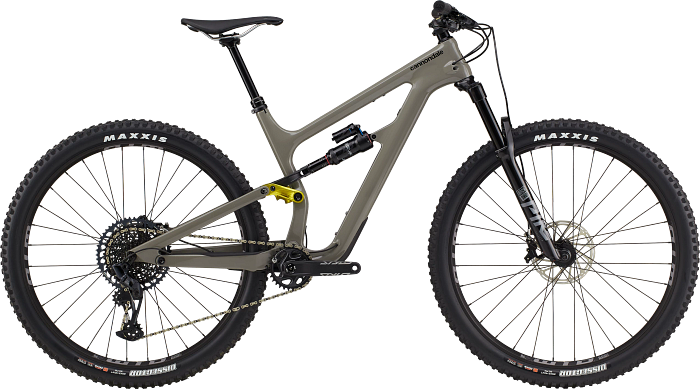 SRAM GX Eagle groupset
RockShox Pike Select+ / Deluxe Select+ suspension
SRAM G2 RSC hydraulic disc brakes
Cannondale Habit Carbon 1 is the most expensive build with top-tier components. The $5,500 price tag is out of range for many riders, but if you can afford to pay this much there's little you won't like about this model.
The most important element of this trail shredder is the premium BallisTec carbon frame and swingarm that adds stiffness and saves quite a bit of weight. It's paired with a PF30 bottom bracket and features post mount brakes and an ISCG05 chain guide.
The spec list includes an SRAM GX Eagle 1×12 groupset and SRAM G2 RSC hydraulic disc brakes, both of which are fantastic mid-range options.
The same can be said for the RockShox Pike Select+ fork and Deluxe Select+ rear shock. With lots of adjustment options, you'll be able to tweak how the bike climbs, pedals, and descends despite your weight.
The tires are the same as on the aluminum Habit 3, though the WTB KOM Trail i29 rims are slightly lighter and stiffer.
If you want the best performance that the Cannondale Habit series offers, get Habit Carbon 1.
Habit Carbon 2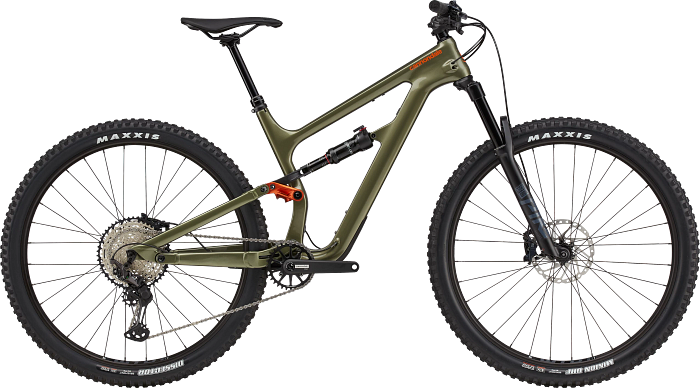 Shimano XT/SLX 1×12 drivetrain
RockShox Pike Select / Deluxe Select+ suspension
Shimano SLX 4-piston hydraulic brakes
Though carbon trail bikes are usually priced at a premium, they don't need to be prohibitively expensive. That's exactly the case with Cannondale Habit Carbon 2. Considering the credibility and the list of components you get, the $4,200 price tag does not seem out of line.
Habit Carbon 2 has a premium BallisTec full-carbon frameset with a Proportional Responsive suspension and Ai Offset drivetrain.
The central section of the bike sports a combination of a Shimano XT rear derailleur and a Shimano SLX 10-51 12-speed cassette. The PF30 bottom bracket guarantees performance but is known for occasional creaks and squeaks.
Braking is taken care of with the 4-piston Shimano SLX hydraulic discs with 180mm rotors that stop on a dime in wet and dry conditions. In combination with the Pike Select fork and Deluxe Select+ rear shock, you'll feel confident to aim for more challenging lines when descending.
Finally, the Maxxis Minion 2.5″ and Dissector 2.4″ guarantee grip and especially excel on rooty, and rocky trails in wet and dry conditions.
All of this makes Cannondale Habit Carbon 2 a foolproof choice for avid trail enthusiasts and complete newcomers.
Women's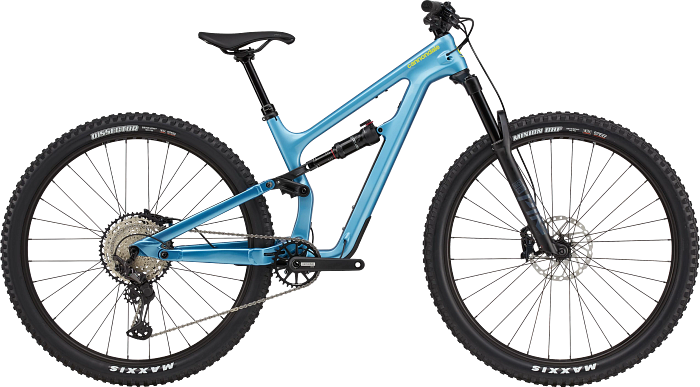 The women's Cannondale Habit Carbon 2 has a beautiful Alpine blue paint job and sports a Fabric Scoop Women's Sport saddle. It comes in XS, SM, and MD frame sizes with the same list of components as on the unisex model.
Habit Carbon 3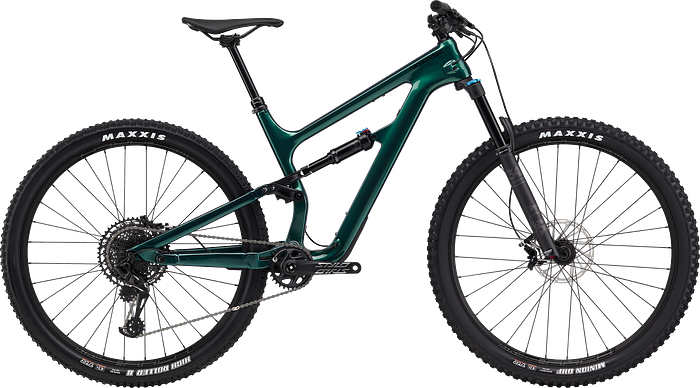 SRAM GX/SX Eagle drivetrain
Carbon/Aluminum frameset
Fox Float Performance 34 / Float Performance DPS EVOL
Cannondale Habit Carbon 3 offers riders with more limited budgets a chance to experience the benefits of riding a carbon mid-travel bike. It has a progressive design, it's playfully agile and seriously capable on a variety of trail configurations.
Unlike the more expensive carbon Habits, Habit Carbon 3 has a BallisTec carbon front triangle and a SmartForm C1 aluminum swingarm. Other than the slight increase in weight, this combination offers comparable stiffness and performance compared to the full-carbon frameset.
Specification highlights include a mid-range SRAM GX Eagle rear derailleur and an SRAM NX Eagle 11-50T cassette. They're paired with SRAM Guide R hydraulic disc brakes, which is another solid mid-range solution.
This model also breaks the RockShox pattern when it comes to suspension. It sports a Fox Float Performance 34 fork and a Float Performance DPS EVOL rear shock adjustable in three positions.
The wheel configuration is different as well. Stan's NoTubes ARCH S1 rims are wrapped in Maxxis Minion 2.5″ and High Roller II 2.3″ tires.
Considering all the details, Habit Carbon 3 is a value-packed build with a slight weight penalty that will meet and exceed the expectations of all but the most experienced riders.
Didn't find what you were looking for? Take a look at our list of the best mountain bike brands for more.
FAQ
Final Thoughts
To sum everything up, the Cannondale Habit series is incredibly fun and capable, leaving little to be desired out on the trails.
The frames are stiff and light, and the progressive geometry is modern but not prohibitively aggressive.
That said, nobody's perfect. Habit is much better at descending than at climbing, due to having a rather slack seat tube angle and very wide bars. If you do a lot of climbing, there are better choices out there. If you love descending, you'll fall in love with how confident the ride feels.
Overall, you'll be hard-pressed to find more value elsewhere in this price range. Unless you're very nit-picky about your bikes, there's little not to like about the Cannondale Habit series.
There are no comments yet, add one below.