Bianchi is one of the most historic and renowned bicycle companies in the world. It has been manufacturing industry-defining cycling products and standing at the forefront of innovation since 1885.
Part of Best Bike Brands
Bianchi is an iconic Italian brand that takes an almost artistic approach to building bicycles.
The Celeste-colored Bianchi bikes have a cult-like following around the world, loved for their unique appearance and near-unmatched performance.
It has a huge lineup of products that include road, mountain, gravel, city, kids', and electric bicycles available in different price ranges.
To become a member of the Bianchi fan club, you need to spend anywhere between $700 and $15,000, so there's a bike for everyone's budget.
Here's everything you need to know about Bianchi to make the best choice for you.
Jump straight to preferred type: Road | Gravel | Mountain | Fitness | Electric
Overview of the Company
Bianchi's roots date back to 1885 when the founder Edoardo Bianchi opened his first workshop at just 20 years old. At first, he was selling penny farthings and surgery instruments but then broadened his scope of interest to bike racing as well, as early as 1899.
Edoardo Bianchi had a vision of improving the man-powered machine and soon began producing his own bicycles.
They were such a huge success that even the king and queen of Italy were intrigued by them. So much so that Bianchi became the official supplier of the Royal Family and earned the right to use the royal coat of arms as the Bianchi logo.
Apart from having a successful racing pedigree, Bianchi is recognizable for another feature — the Celeste color.
The Origin of Bianchi Celeste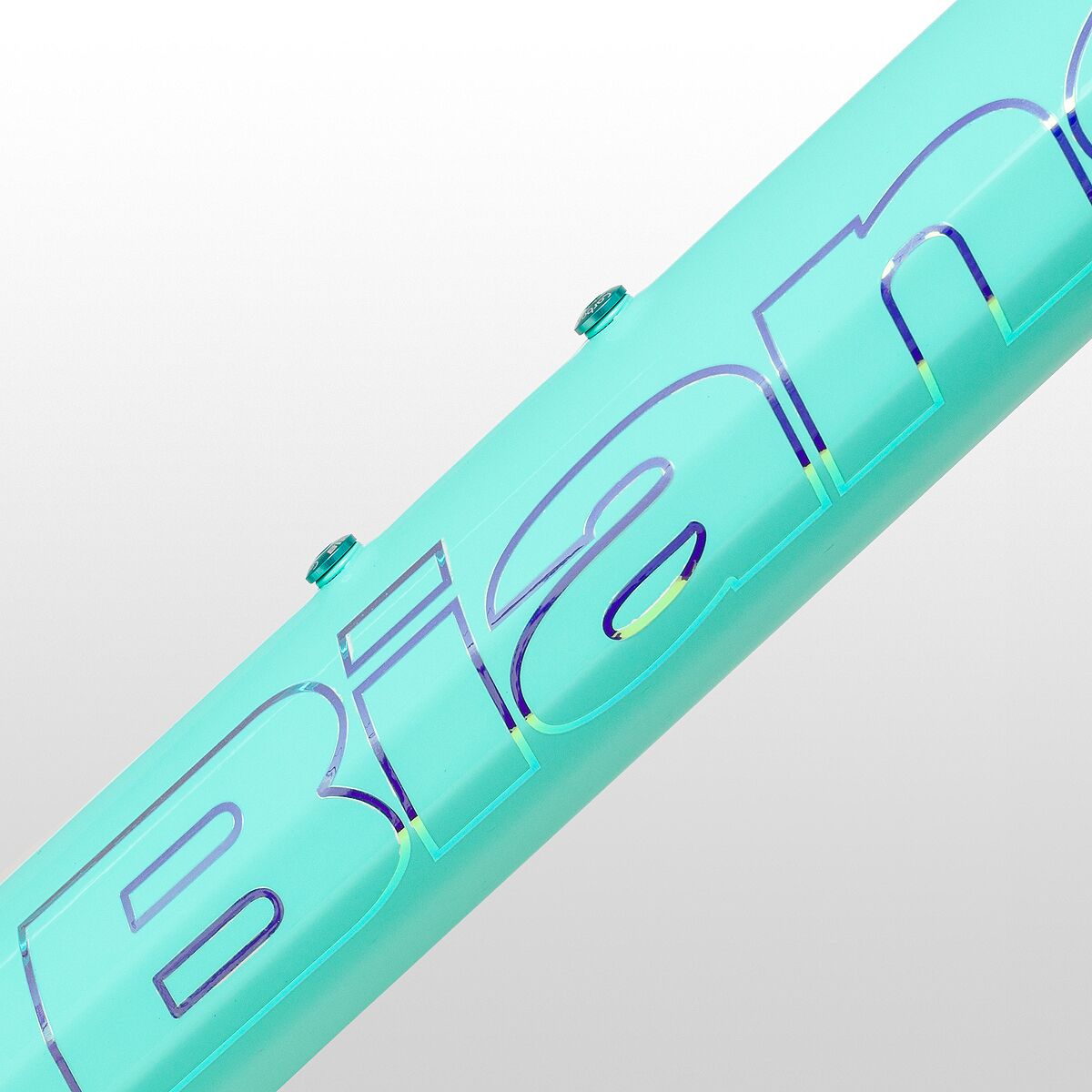 The origin of the turquoise Bianchi Celeste color is shrouded in myths and mysteries. According to one theory, the color is inspired by the clear Milano sky above the Bianchi factory.
Another even more romantic theory says that Edoardo Bianchi was so mesmerized by the gentle blue color of Regina Margherita's eyes that he painted a bike to match them as a gift to her royal highness.
However, a more pragmatic story talks of surplus military paint in shades of light blue and pale grey following WW1, which Edoardo Bianchi bought cheaply and mixed together to come up with the iconic Celeste colorway.
Whichever theory you choose to believe, the Bianchi Celeste remains the most recognizable color in the peloton, telling stories about the company's rich history and tradition.
Features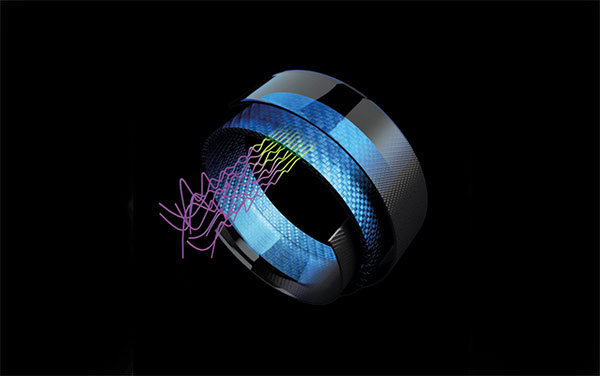 Bianchi has been shaping the modern bicycle with its innovative, proprietary technologies from day one. Its bicycles have been ridden and adorned by ultra-successful bike racers such as Fausto Coppi, Marco Pantani, Simon Yates, Michael Matthews, and many others.
Here are some of the most recognizable features and technological solutions that give Bianchi bikes an edge over the competition.
Bianchi CV
The Bianchi Countervail (CV) refers to a process of manufacturing premium carbon frames that uses a layer of viscoelastic resin sandwiched between layers of high-grade carbon fibers.
According to the company, this system eliminates up to 80% of vibrations which gives riders more control, preserves energy, and reduces muscle fatigue.
Bianchi Lab
All frames are designed and tested in Bianchi's high-tech lab located in Treviglio, Italy. Even though the frames are made in Taiwan, this is where they are created by some of the best engineers in the business.
Before going forward with a particular frame design, Bianchi first creates a digital 3D rendition and a physical resin prototype. The elite road and MTB bikes are then hand-painted in Italy by expert artisans.
Sizing
Bianchi has always been known for offering its bicycles in a large number of frame sizes suitable for a huge number of riders.
Its road bikes are often available in up to nine sizes, ranging from 44cm to 63cm. Therefore, very short and very tall riders can usually find a Bianchi bike that fits, including everyone in-between.
Bianchi Road Bikes
---
The popular Italian brand is perhaps best known for its race-worthy and stunningly beautiful road bikes, most of which boast the famous Celeste color.
The Bianchi road bike range consists of affordable to premium models suitable for all types of riders, including complete beginners and elite pros.
This category is divided into five subtypes:
Racing
Endurance
Cyclocross
TT/Triathlon
Pista/Fixed Gear
The majority of Bianchi road bikes are made from lightweight carbon, except for some affordable models that come with aluminum frames.
The most expensive models boast aero shapes, integrated cockpits, top-tier components, and ridiculously low weights.
Find yours below.
Specialissima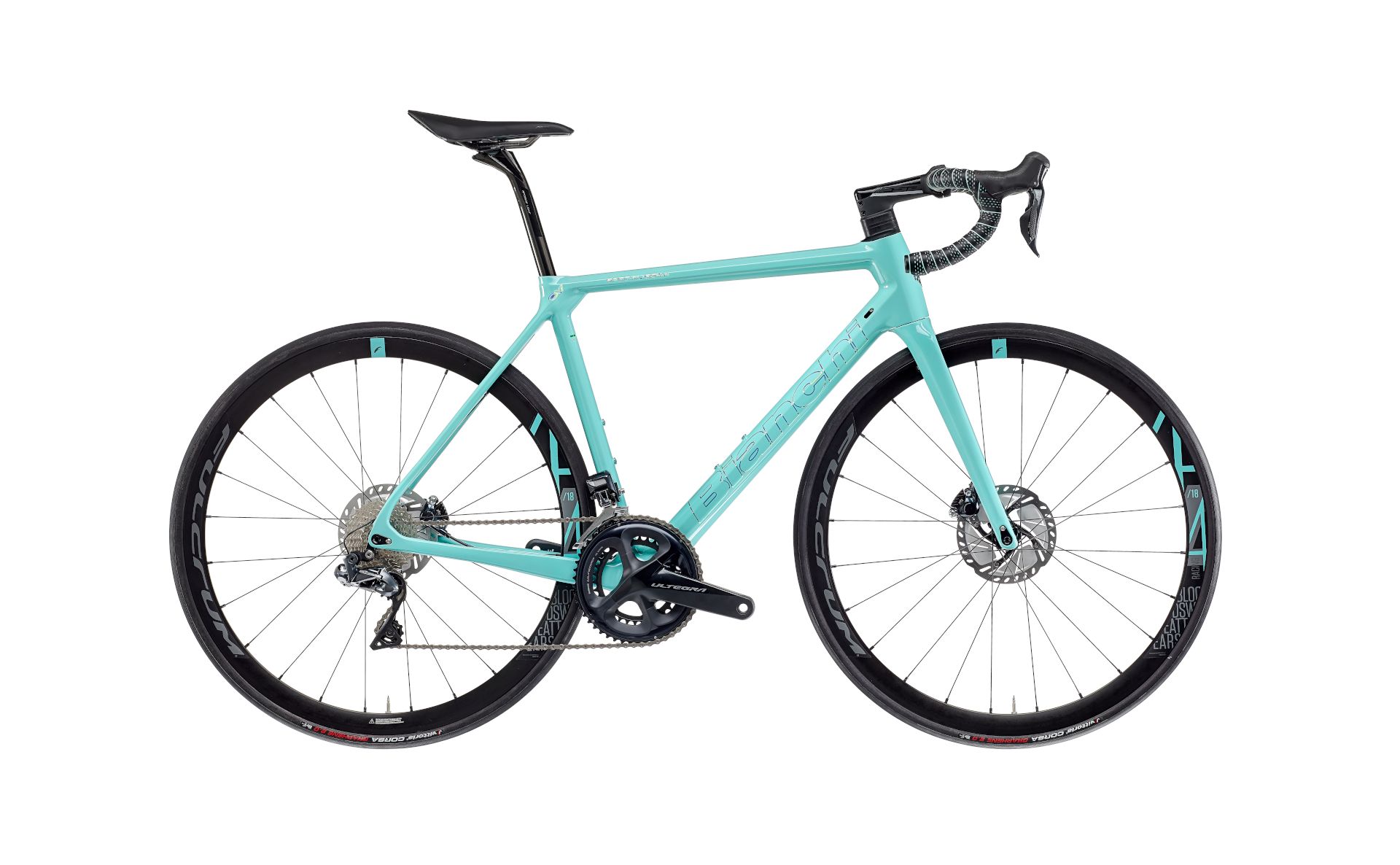 Premium carbon CV frame
Extremely lightweight
Ultegra Di2 groupset with disc brakes
Specialissima is an ultra-lightweight Bianchi road bike built around the carbon CV frame. It's compatible with mechanical and electronic shifting, features an integrated cockpit, and comes with powerful hydraulic disc brakes.
Even though the geometry is aggressive and designed for pro racers, the bike is very comfortable nonetheless. Depending on the frame size (47cm–61cm), Specialissima tips the scales at around 6.5kg.
At the moment of writing this review, Bianchi offers this model with Ultegra Di2 components and Ultegra hydraulic disc brakes. It rolls on Fulcrum Racing 400 wheels and sports thru-axles and internal cable routing.
According to Bianchi, the Specialissima frame weighs around 780g, whereas the fork weighs 340g. No wonder that it's known as one of the best climbing bikes in the world.
In conclusion, buy if: You want a super-lightweight road race bike that's worthy of top-level competitions such as Tour de France.
Infinito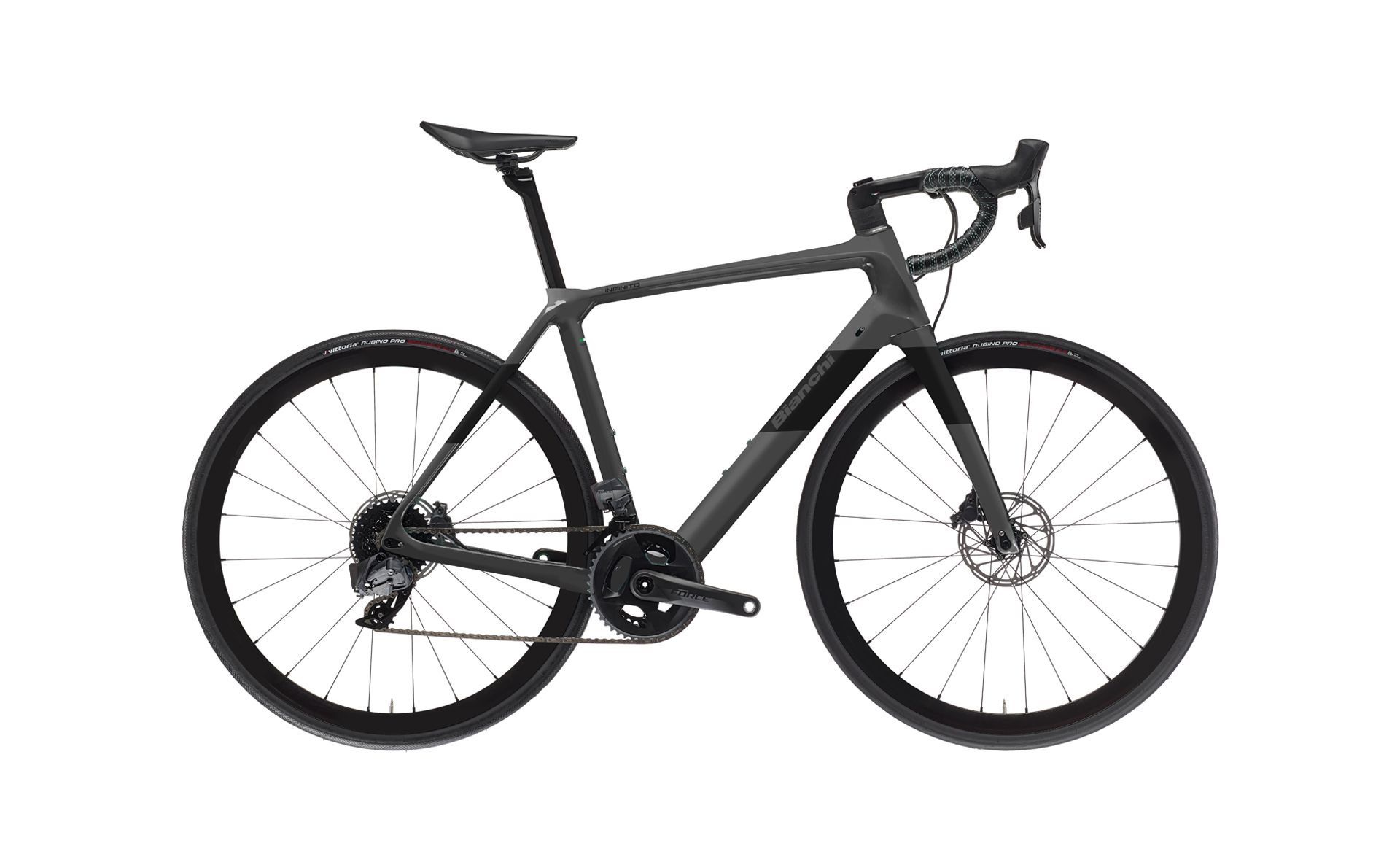 Countervail carbon material
Endurance geometry
Ultegra Di2 2×11 groupset
Bianchi Infinito is an endurance road bike described as the "Granfondo Crusher." This is another model that boasts vibration-dampening CV frame design technology. It improves comfort and reduces fatigue on long rides, which is especially important on endurance bicycles.
The current model is equipped with a Shimano Ultegra Di2 2×11 groupset and hydraulic disc brakes. This wide gear range will allow you to find the right gear regardless of the terrain and save power in the long run.
Though Bianchi Infinito is an endurance bike, it can still be used for racing, since its geometry is not too far away from models such as Oltre XR4.
Depending on the groupset and the frame size, the Infinito weighs around 7.5kg, which belongs to the ultra-lightweight realm.
In conclusion, buy if: You ride long distances and want a bike that will allow you to pedal longer than before without sacrificing the average speed.
Zolder Pro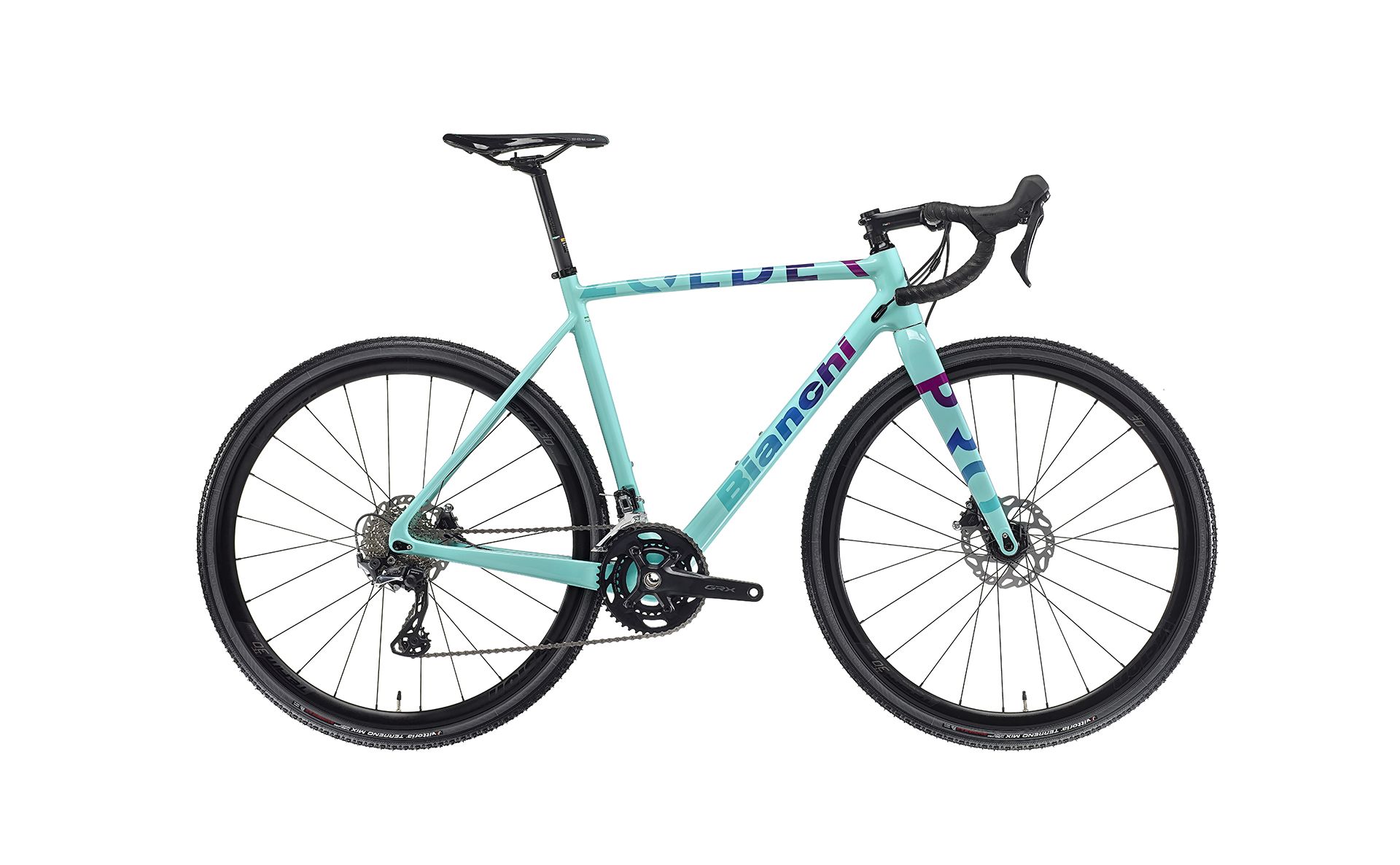 Compatible with 1x and 2x drivetrains
Traditional CX geometry
Two water bottle mounts
In addition to pure road bikes, Bianchi also makes race-ready cyclocross bikes, such as Zolder Pro. This is a carbon CX bike compatible with 1x and 2x drivetrains.
It comes with hydraulic disc brakes, stiff thru-axles, and integrated shifting and braking cables. Even though Zolder Pro does not feature the Countervail technology, it's still impressively stiff and lightweight.
The current model comes with a Shimano GRX 600 2×11 groupset, flat mount disc brakes, and a traditional cyclocross geometry. Of course, it boasts Bianchi's Celeste color as well.
Zolder Pro has two water bottle mounts, but no rear rack and fender mounts. These have been removed with the addition of gravel bikes to Bianchi's lineup.
In conclusion, buy if: You want a fast and lightweight race bike that can win podiums off the beaten track.
Didn't find what you were looking for? Take a look at our list of the best road bike brands.
---
Bianchi Gravel Bikes
---
Gravel bikes are the perfect merging between road and mountain bikes, allowing you to maintain speed and explore away from traffic and common routes.
Related: Gravel vs Road Bikes
The Bianchi gravel bike collection includes race and endurance bikes. They're suitable both for the emerging gravel competition world and for bikepacking enthusiasts.
At the moment, the lineup consists of four distinct models:
Arcadex
Impulso Pro
Impulso
Via Nirone 7
These gravel bikes mostly feature Shimano GRX 1x or 2x drivetrains, hydraulic disc brakes, and 700c wheels with clearance for up to 42mm wide tires.
If you want to hear the crunch of gravel under your tires instead of car horns, this is the category you should check out.
Arcadex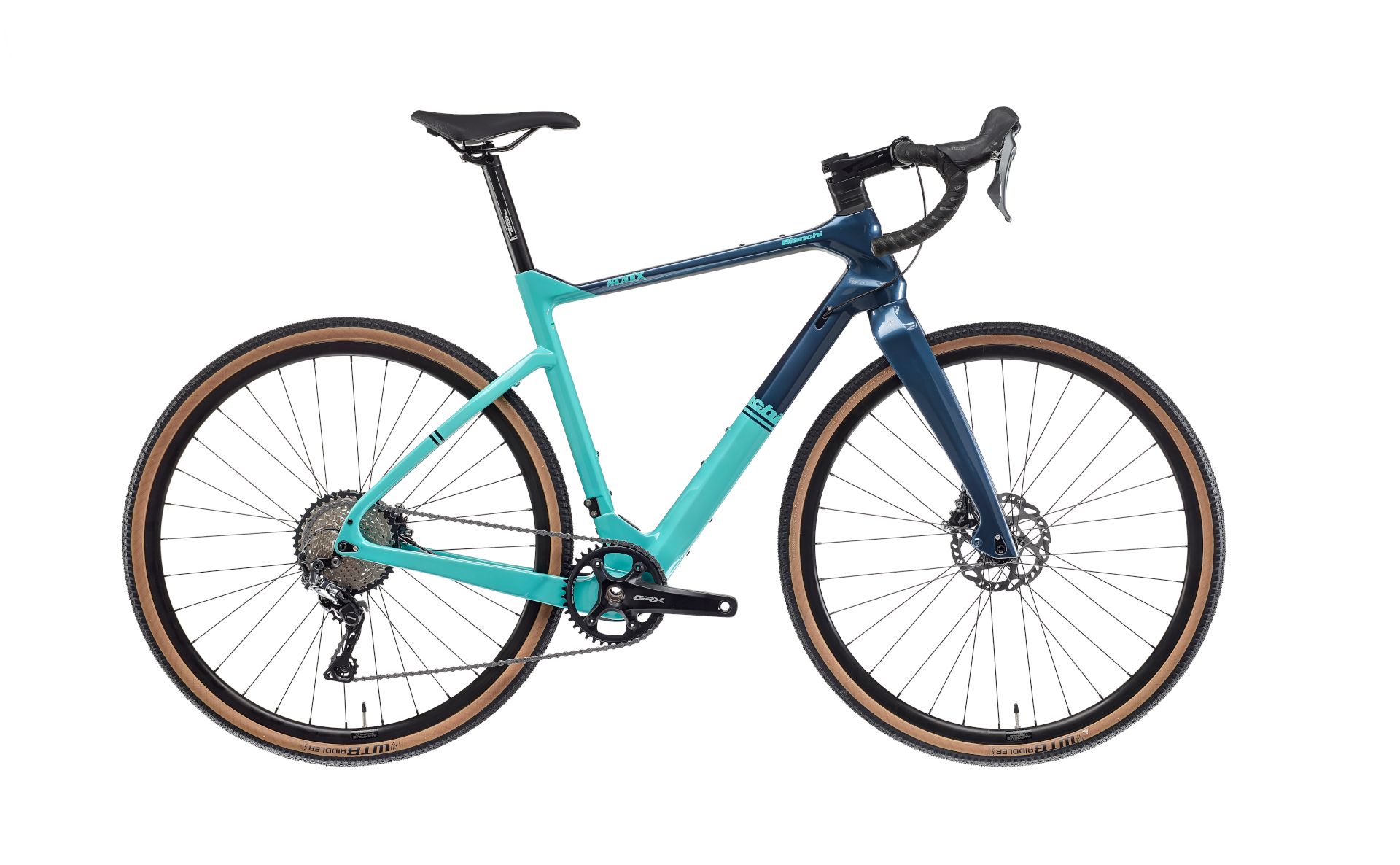 Carbon frame
Shimano GRX groupsets
Clearance for wide tires
Bianchi Arcadex is a race-worthy gravel bike that can become the best friend of competitors and weekend warriors alike.
Its premium carbon frame can run mechanical or electronic drivetrains and features a fully integrated cockpit and integrated cables.
Moreover, the frame and the fork offer clearance for up to 700c x 42mm or 650b x 47mm wide tires and you can attach mudguards for rainy seasons as well.
This Bianchi gravel bike comes with Shimano GRX mechanical or electronic groupsets, with wide-range 1×11 drivetrains. Hydraulic disc brakes are a no-brainer here as well.
Arcadex also has aerodynamic tubes that will up your average speed. Even though there are no rear and front rack mounts, the front triangle leaves plenty of room to attach a large frame bag.
Longer read: 8 Reasons Why Gravel Is the Hottest Trend in the Cycling World
In conclusion, buy if: You want a versatile and lightweight gravel bike that you can use for racing, bikepacking, and relaxed weekend adventures.
Impulso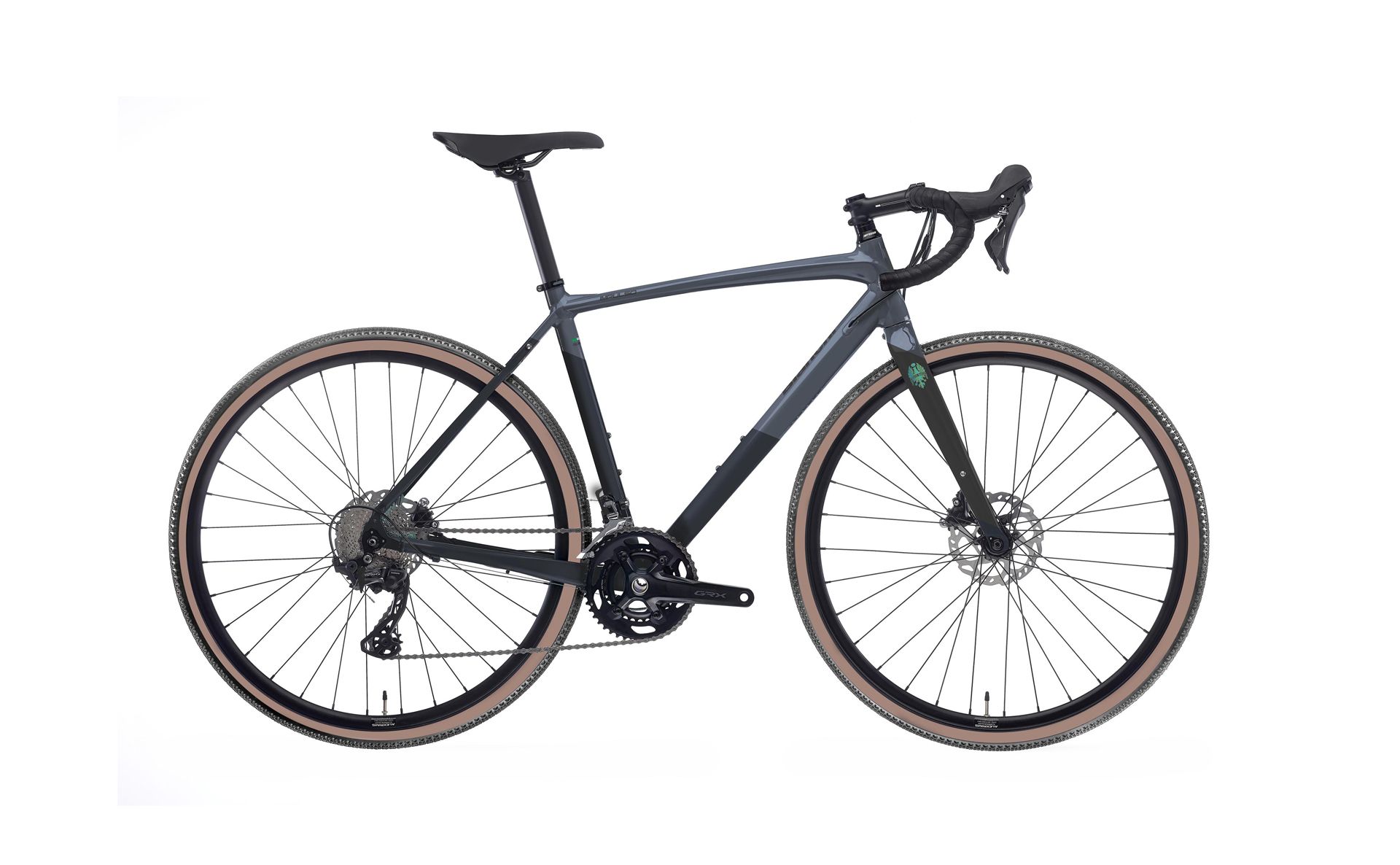 Aluminum frame/carbon fork
Clearance for up to 40mm tires
Relaxed geometry
The Impulso is a relatively affordable aluminum gravel bike with a full-carbon fork and clearance for up to 40mm wide tires. Bianchi labels it as an "Allroad" bike, but it's more than happy to be on gravel.
Impulso is ideal for bikepacking and off-road adventures. It has rear rack mounts, two water bottle mounts, and additional mounts on the fork. Therefore, you can easily carry camping and cooking gear for multi-day trips.
The current model comes with Shimano GRX 600 2×11 components and hydraulic disc brakes that stop on a dime. In true Bianchi's fashion, Impulso is available in eight frame sizes, from 47cm to 63cm, so you'll easily find the right fit.
What bikepackers will also like is the relaxed geometry that puts you in a more upright riding position. It's certainly ideal for covering long distances and spending hours in the saddle.
In conclusion, buy if: You want an affordable aluminum gravel bike to use for bikepacking, granfondos, commuting, and all-road recreational riding.
---
Bianchi Mountain Bikes
---
Mountain bikes are definitely not the first thing that comes to mind when you think about Bianchi. Though some riders are not aware of it, this Italian brand makes outstanding cross-country mountain bikes.
The selection consists of full-suspension and hardtail models that are suitable for elite racers and complete beginners.
At the moment, the Bianchi mountain bike lineup includes:
Methanol CV FS
Magma
Duel
Methanol CV FS is a high-end cross-country bike that has won world championships before. It boasts a full-suspension setup and the Countervail carbon frame material. On the other hand, Magma and Duel and ideal for first-time shredders who are still learning the ropes of trail riding.
Methanol CV FS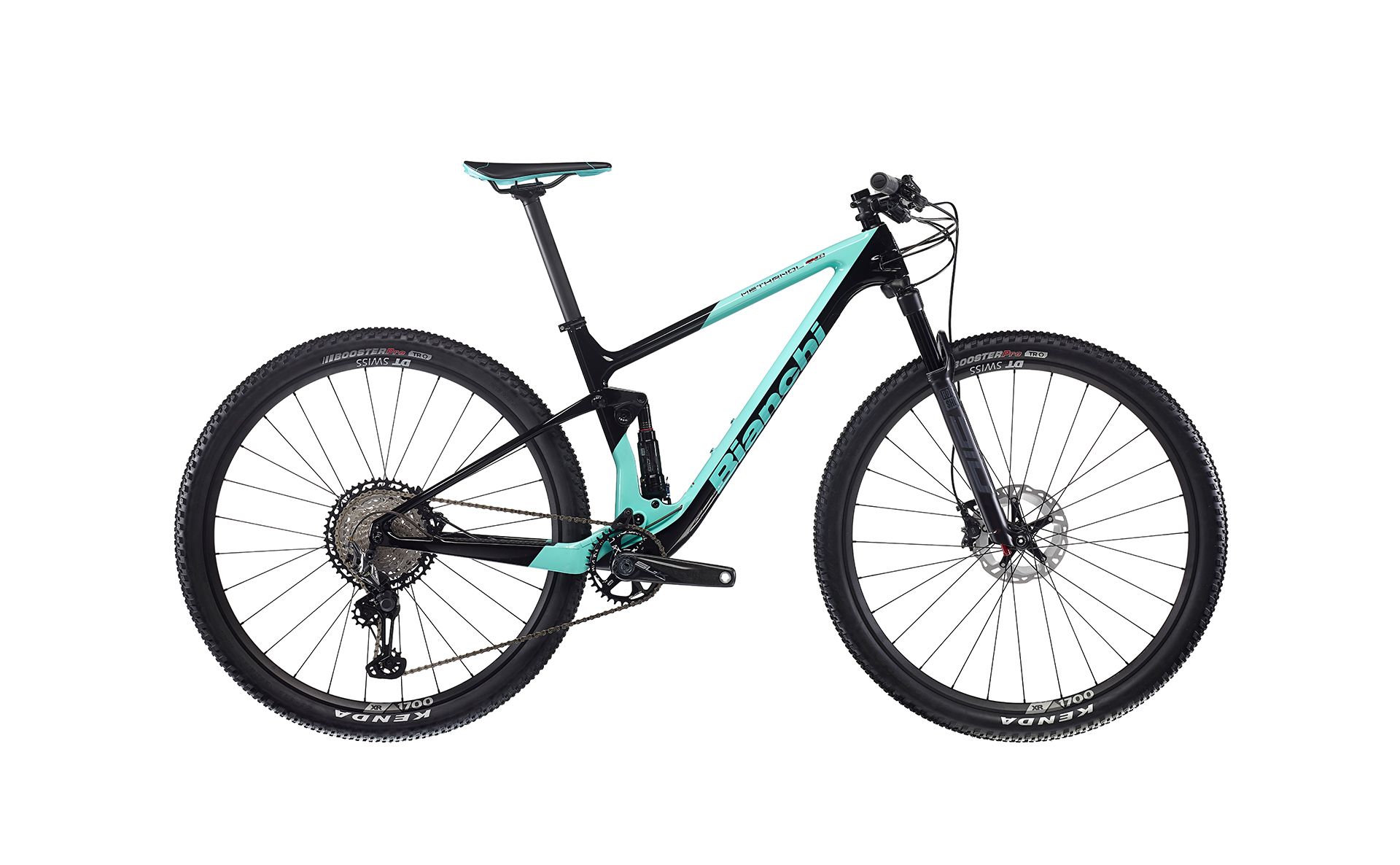 Countervail technology
RockShox Sid suspension
High-end components
Methanol CV FS is a premium cross-country carbon bike ridden by top-level MTB racers who consistently win World Cups and stages on it.
Why name a bike Methanol? Maybe you can let us know. What we do know is that the "CV" stands for Bianchi's Countervail carbon material that dampens 80% of vibrations. Together with the front and rear RockShox Sid suspension, this makes Methanol excellent on rough descents.
Right now, Bianchi Methanol CV comes in two builds with XTR/XT or XT/SLX components. Both feature 1×12 drivetrains and powerful hydraulic disc brakes. These are coupled with 29 x 2.20″ for maximum traction.
This bike also boasts a low total weight and anti-squat properties which makes it capable when it comes to climbing and pedaling bouts as well.
In conclusion, buy if: You want to be the next CX champion or you want to feel like one while exploring local forests and trails.
Magma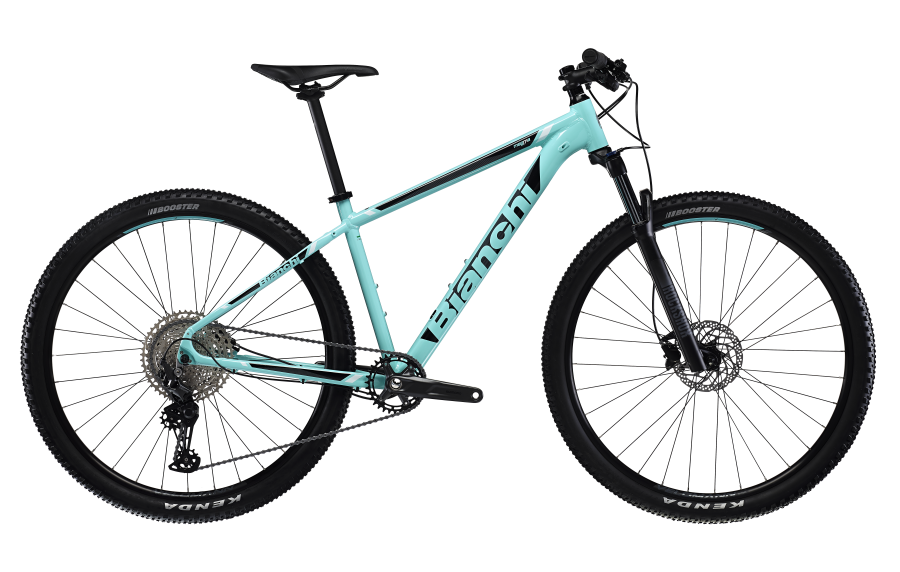 Aluminum frame
Front suspension
1x and 2x drivetrains
Owning a Bianchi apparently does not have to cost an arm and a leg. The Magma is an affordable aluminum hardtail bike intended for beginners and recreational riders who don't care about winning races.
This bike feels at home on all types of surfaces, including dirt, trails, gravel, and even tarmac. It prioritizes comfort and stability over speed, which is ideal for first-time shredders who are still building confidence.
At the moment, Bianchi offers this bike in two builds, with Deore 1×12 and Alivio 2×9 drivetrains. Both have hydraulic disc brakes, though the former has an air fork, whereas the latter comes with a heavy coil fork.
An important thing to point out is that affordable Bianchi bikes don't offer extraordinary value for the money, because you're paying for the brand's label on the frame as well. To get the best bang for the bike, consider some other less popular brands.
Buy if: You're a MTB beginner or recreational rider who values comfort and control over speed and racing performance.
Take a look at our list of top MTB brands to find more options.
---
Bianchi City Fitness Bikes
---
In addition to performance bikes, Bianchi also makes leisure and fitness bikes. They're perfect for recreational riding, commuting, and getting or staying in shape.
The City Fitness category on Bianchi's official website consists of three sub-categories:
C-Sport — Fitness bikes
Spillo — Retro city bikes
Turismo — Commuters
Surprisingly, this is the largest category of bikes offered by the Italian brand, numbering almost 20 individual models. As you can see from the sub-categories above, you can choose between, fitness bikes, retro city bikes, and practical commuters.
The C-Sport models have a more aggressive geometry, narrower 700c tires, and Acera, Altus, or Alivio groupsets. They are pretty affordable which makes them a common choice for budget-constrained riders. All models have disc brakes and there are both step-over and step-through frames to choose from.
The Spillo bikes are retro-looking city bicycles that prioritize style and practicality. If you want a two-wheeled time machine, these are the models to consider. Spillo bikes have 3x drivetrains, fenders, racks, comfy saddles, and upright geometry. If you want to ride on bike paths and commute on city streets, you'll love what these bikes offer.
Finally, the Turismo lineup consists of unisex and female-specific models with upright geometry intended for long rides, daily commutes, and grocery hauls. They are very affordable and mostly feature rim brakes, but there are a few disc brakes models as well.
---
Bianchi E-Bikes
---
E-bikes are becoming more and more popular so it's good to know that even Bianchi has not stayed immune to the e-trend.
Its selection of electric bicycles is quite rich and diverse and consists of several categories:
E-Road
E-MTB
E-Urban
E-Gravel
E-Tourer
Bianchi mostly relies on Bosch mid-drive or Ebikemotion rear hub motors for its e-bikes. E-road and E-gravel models typically have rear hub motors and seamlessly integrated batteries, so it's almost impossible to tell them apart from regular bicycles.
Related: Best Electric Bikes
Electric MTB and City models mostly have Bosch mid-drive units and integrated Bosch battery packs. However, some more affordable models have batteries mounted on rear racks.
Bianchi e-bikes will assist you up to 25 kph and, depending on the model, the battery will give you up to 195km of range, which is very impressive.
With average price tags dancing around $4,000 to $6,000, there's no doubt that these are expensive e-bikes. But keep in mind that they are designed to enhance your ride and ensure a natural ride feel, which most riders will greatly appreciate.
Related: Best Electric Road Bikes
FAQ
Final Thoughts
As you can see from our overview, Bianchi's lineup of bikes is absolutely huge. This popular Italian brand makes all types of bikes, ideal for different kinds of riders.
Therefore, no matter if you are an absolute beginner or a professional, you'll find a model that suits your needs. Most performance-oriented Bianchi bikes are not cheap, but there are also budget-friendly models that recreational riders can choose from.
In addition to extraordinary engineering, Bianchi also stands for tradition, racing history, and an artistic approach that stands out from the pack wherever you ride.