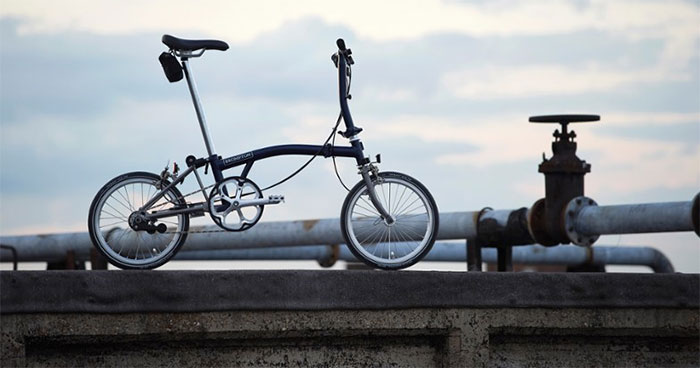 Brompton has little to no competition when it comes to folding bikes purposefully built for urban commuters. They are London-made, lightweight, cleverly designed, and as practical as foldable bikes can be.
Part Of Best Bike Brands
Brompton bikes are the ultimate solution to the first-mile and last-mile problems that city-based commuters face. These are tiny and quirky-looking machines that have a huge following all around the world.
Over the years, the name 'Brompton' has become almost synonymous with the concept of folding bikes.
Bromptons fold smaller than any other folding bike
That's because Bromptons fold smaller than any other folding bike, they're lightweight and easy to carry and store, and designed with incredible attention to detail and focus on practicality.
Riding a Brompton bike takes some getting used to, but most people quickly fall in love with its 16″ wheels, small footprint, and fun riding experience.
Overview of the Company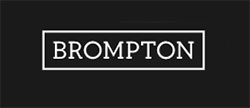 Brompton's rich and successful story began in
1975
in London. Andrew Richy, the founder of the company, began designing a folding bike in his apartment overlooking the Brompton Oratory.
The first prototype saw the light of day in 1977, but this was a very crude version of today's Brompton. The official production began in 1981 and by 1987, Brompton was already awarded the coveted Best Product Award at the Cyclex event held at Olympia, London.
A Brompton is as London as a double decker bus, the London Underground, Big Ben, and The LondonEye – all innovative, excellent and enduring.
Brompton bikes are still made in London today, at the rate of 45,000 units per year. The frames are hand brazed by skilled craftsmen at the London factory, built from lightweight steel or titanium tubes. Complete bikes consist of around 1,200 individual parts, 80% of which are proprietary to Brompton.
Despite years of innovation and more than 45 years of tweaks and upgrades, all Brompton bikes stay true to the original design created by Andrew Ritchie in 1975.
Brompton's Bike Range Explained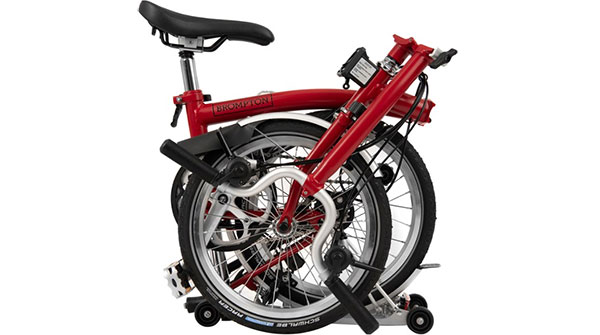 Brompton's lineup consists of standard folding bikes, superlight folding bikes, and electric folding bikes.
The nomenclature follows a very logical 3-symbol pattern that hides details about the build. For example, a Brompton H6L has an H-type handlebar, 6 gears, and the 'L' tells you that the bike comes with mudguards.
The standard models are made will all-steel frames, whereas Superlight models have titanium front and rear forks. There are also Special Edition Brompton bikes that have limited builds and custom paint jobs.
According to the company, taking into consideration the frame materials, colors, components, and accessories, a Brompton bike can have 16,982,784 unique configurations.
Here are some of the most important options to keep in mind when choosing your ideal Brompton.
Handlebars
Brompton bikes come with three types of handlebars, each of which suits different riders and riding styles.
H-Type: Ideal for riders who prefer a more upright riding position.
S-Type: A sporty ride position that puts you lower on the bike to reduce air drag.
M-Type: A middle-ground between H-type and S-type handlebars. A good all-around position that suits most riders.
Gears
All Brompton bikes come with one of four available gear combinations that riders can choose from based on the terrain in their area:
Single-speed
2-speed
3-speed
6-speed
This way, all riders can choose a drivetrain option that suits them the best. The 6-speed models are the most versatile, but they are almost 2lbs heavier than the single-speed builds, so choose this option only if there are hills in your area.
Accessories
The final piece of the puzzle is the accessory combinations. There are three packs you can choose from here:
E-Version: This is the lightest and cheapest option that has no mudguards, rack, or pump.
L-Version: This version has mudguards, but no rear rack. It's suitable for year-round riders who travel light.
R-Version: The best-equipped option that features both mudguards and a rear rack for maximum practicality.
Models
---
B75
M-type handlebars
No racks or mudguards
3-speed drivetrain
This is one of the cheapest and simplest Brompton folding bikes that is ideal for riders who seek streamlined urban perfection.
The B75 model costs just $1,095 and has no lights, mudguards, or a rear rack. Its barebones design is intended to be affordable, lightweight, and simple to use on a day-to-day basis.
It boasts an all-around good M-type handlebar, three versatile speeds, and a good-old Brompton's steel frame. Moreover, it rolls on tiny 16″ wheels ideal for tight city streets and weighs around 25 lbs., which makes it easy to carry upstairs or lift up into the trunk of your car.
Brompton B75 also boasts a 3-speed internal gear hub that gives you a decent range of gears for flat terrain and moderate hills.
Related: Best Commuter Bikes
It will take you less than 20 seconds to fold it down into a 22.2" x 23" x 10.6" package, so you can fit it under the desk or in a corner of your home.
H6L
6-gear drivetrain
Brooks saddle
H-handlebar and mudguards
The H6L is by far one of Brompton's most popular and best-selling models to date. It's available in numerous versions and colorways, including Superlight, electric, and numerous Special Editions with unique colors and features.
However, the standard model, as you can guess from the name, comes with H-style handlebars, 6 gears, and mudguards.
The H-style handlebar puts you in a relaxed, upright position that's ideal for everyday commuting; the 6-gear drivetrain lets you climb hills sweat-free; the mudguards allow you to commute come rain or shine.
The standard model even has a Brooks Cambium C17 all-weather saddle that's great for long journeys in all weather conditions.
Brompton H6L's drivetrain consists of 2 external cogs and 3 internal gears, so it's simple to maintain and keep clean.
This Brompton folding bike also comes with a frame-mounted pump, so it's one of the best-equipped models in Brompton's lineup that you can get for $1,590.
M6L
6 gears
Mudguards and frame pump
Multiple versions available
The M6L model is very similar to the H6L model. However, one big difference is the M-type handlebar that puts you in a slightly more aggressive riding position. Just like the model above, the M6L comes in a large number of iterations, including Electric options, Superlight builds, and Special Edition builds.
The lowest-priced model costs $1,590 and gets you 6 gears, mudguards, a frame-mounted pump, and built-in reflectors. Therefore, this is another excellent commuter that feels comfortable in different surroundings and conditions.
The standard Brompton M6L weighs around 26.19 lbs and folds down into a 25.3" (H) x 23" (W) x 10.6" (D) bundle. Even though it's one of the heavier Brompton models, it's still quite manageable and compact.
We recommend this Brompton folding bike if you want a versatile and practical urban commuter with M-type handlebars and a high-quality Brooks saddle.
S2E
Sporty S-type handlebar
No accessories
2 gears
Brompton S2E is one of the most affordable and most basic models the brand makes. This is a sporty folding bike with just two gears and minimal accessories. That makes it ideal for riders who live in flat(ish) areas and want to get from point A to point B as fast as possible.
The S-type handlebar is flat and puts you in a low riding position that translates to a racier ride feel. The two gears add just 188g to the weight of the bike, but you get enough versatility for flat sections and modest hills.
The letter 'E' in the name of this Brompton folding bike means that it has no accessories whatsoever. The upside to that is that Brompton S2E weighs just 24.3 lbs., which makes it one of the lightest in the stable.
Finally, Brooks B17 Special saddle that this bike comes with is handmade from durable leather resistant to weather and wear and tear. The overall package offers excellent value for the money.
S6L
Sporty S-type handlebar
6 gears
Mudguards and frame pump
This is without a doubt one of the fastest Brompton folding bikes you can get. If you often find yourself in a rush to get to work in the morning, you should consider getting the S6L.
As you may guess from the name, this model features S-type handlebars, 6 gears, and mudguards. It's similar to the H6L and M6L models that we talked about above, but it offers a more sporty ride feel. Moreover, the low S-type handlebar makes it ideal for short riders as well.
The only downside this build has is the weight, as it is one of the heaviest non-electric models, tipping the scales at 26.76 lbs. Still, once you fold it into a 25.3" x 23" x 10.6" package, you should be able to carry it with little effort.
Like all premium Brompton models, S6L also boasts a Brooks Cambium C17 saddle that's suitable for all-weather riding.
You should consider this model if you like riding fast, staying in flow with the traffic, and you don't shy away from hills.
Brompton Electric Bikes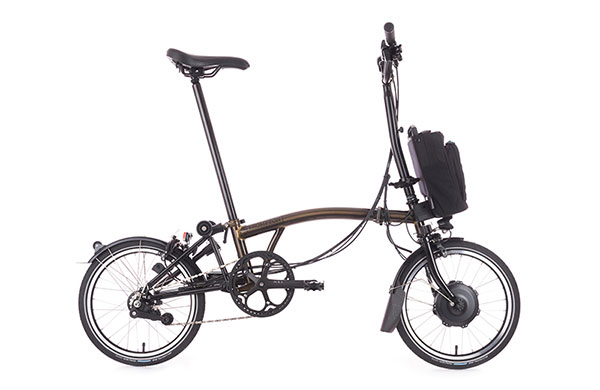 Brompton's electric bike lineup is pretty diverse, consisting of e-bikes with different gear options, handlebars, and accessories.
See our guide on how to choose an electric bike, to find the best option.
However, what all Brompton electric models have in common is a narrow front hub motor designed in conjunction with the F1 maker Williams. Together with a removable 300Wh battery, it will assist you up to 15 mph.
The battery sits on the front mount designed to hold a front pannier and detaches with one click. This way, you can still easily fold your electric Brompton, carry it in one hand, or store it in a corner.
Keep in mind that the electric models are heavier than the standard models and tip the scales at:
2-speed: 30 lbs (36 lbs total with battery)
6-speed: 32 lbs (38 lbs total with battery)
According to the company, the 300Wh capacity translates to 20-45 miles (30-70km) of range, depending on how you ride. Brompton e-bikes also have a USB port to charge portable devices that will further drain the battery.
One of the newest features that Brompton added to its e-bikes is Bluetooth connectivity that lets you control the assistance via smartphone with a dedicated app and keep track of important stats such as speed, distance, and battery charge.
Related: Best Electric Commuters
FAQ
Final Thoughts About Brompton Folding Bikes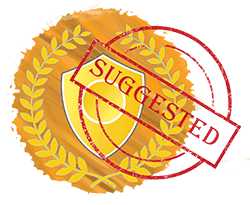 Brompton is one of the most unique brands in the folding bike niche. It controls a huge part of the manufacturing process of its bicycles which gives it unprecedented control of quality standards and features.
Therefore, it doesn't come as a surprise that Brompton bikes are the go-to choice for millions of urban commuters around the world, including the EU, the USA, and Asia.
Brompton bikes are characterized by having a low weight, small folding dimensions, high-quality proprietary parts, and unmeasured attention to detail.
Some models come at a premium, but the feature-packed spec lists are worth it.
We recommend Brompton to any urban rider who is looking for a stylish and practical solution to their first- and last-mile transit problems.