The Cannondale Trail 1 is a great option for adventurers looking to hit the trails with a sturdy, dependable rider. These bikes were created with usability in mind, which is why they come standard with high-quality components & a couple of different wheel options depending on size. This means that you're all but guaranteed to find a proper fit, a regular issue that Cannondale wanted to avoid right out the gate.
The Cannondale Trail 1 is the perfect choice for mid-level riders looking for a dependable rig that's also not too hard on the wallet. It's also a great choice for intermediate riders who've decided that they're ready for their first "proper" trail ripper. Whether you're hitting compacted gravel or just plain old dirt trails, the Trail 1 is a great choice. So, let's find out why.
Key Specs
Starting with the frame, the Cannondale Trail 1 is composed of Cannondale's proprietary SmartForm C2 Alloy. This is an upgraded version of their C1 compound, one that uses a different aluminum alloy to add additional tensile strength while reducing weight. They've also tweaked the Trail 1's headtube angle, putting it somewhere between 68 & 68.5 degrees, depending on the size.
This makes for an incredibly nimble ride, one that offers a better degree of control when hitting those tight switchbacks. Below this is a RockShox Reba RL fork, which offers 120mm of travel, perfect for those rocky hill climbs. The Reba RL is also extremely adjustable, with the ability to add bottomless tokens to fine-tune its air springs to your specifications.
Shifting
Looking a bit closer, the Cannondale Trail 1 has been built up with primarily SRAM components. SRAM has been one of the top manufacturers of shifting components for decades, so it's no wonder that Cannondale decided to pair the Trail 1 with the company's offerings.
The 12-speed SRAM SX Eagle shifters, while somewhat stripped down, still offer an "X-Actuation" cable pull, meaning that they're functional with any & all derailleurs in the Eagle family. Along with this, they're capable of up to 5 upshifts simultaneously. While they may not be the top of the line SRAM components, they're affordable without sacrificing quality or dependability.
Brakes
A pleasing part of the Cannondale Trail 1's setup is its solid braking system, featuring Shimano MT500 2-piston calipers & brake levers. The levers are overpowered with steep grade MTB riding in mind, & are both I-spec & II-spec compatible. These flat mount disc brakes also fit with just about all modern calipers for flat-mount disc systems, meaning that adjustments & upgrades down the road should prove to be easy.
Drivetrain
Moving on to the drivetrain, Cannondale settled on a 1×12 gear setup, using an SRAM NX Eagle 30T crank & an 11-50T cassette.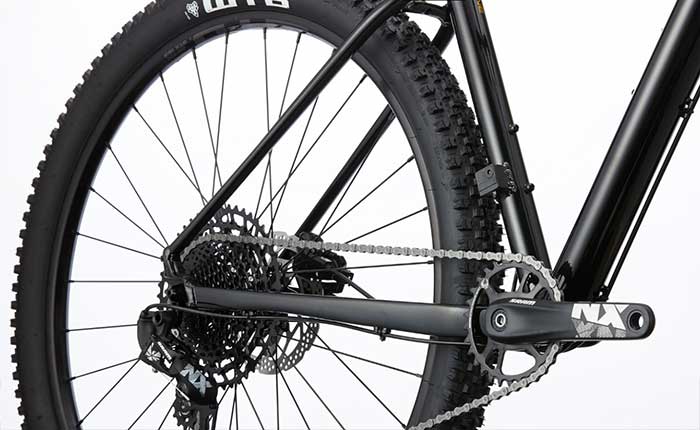 While some may snub their noses at a single chainring on a trail bike, there are benefits to be had. Cranks like these can provide better efficiency due to minimized friction, along with maintaining smoother chain lines & limited cross-chaining.
While some folks may be convinced that a wider set of gears is almost a must, the drivetrain offered on the Trail 1 can handle most situations riders are looking to throw at it.
Wheelset & Tires
The Cannondale Trail 1 comes with WTB STX i23 TCS rims laced to Shimano MT400 hubs.
The Shimano hubs are built with stiffer wheel rigidity, smoother rotation, and drag reduction in mind. An attractive feature of the WTB STX i23 rims is that they're built for both tubed or tubeless tires, making these wheels pretty versatile, overall.
Another strong point for the Cannondale Trail 1 is that they didn't cheap out on the tires, which tends to be a common practice, especially when local shops assemble the bikes themselves. Instead, the Trail series bikes all ship standard with WTB Breakout Comp tires, a high-end racing tire that's also the perfect piece of rubber for bouncing around recreational trails with your buddies.
The breakout series was built for maximum grip, without sacrificing rolling speed. They offer a dual-play Enduro casing, along with using the company's proprietary "Gravity DNA" rubber, which allows WTB to tune these tires for a specific rebound shape. This is a huge benefit for especially rocky runs that can beat up MTB tires.
Other Trail Series Overviews
As an extra, Cannondale offers SL and SE versions of the Trail bikes.
Shortcomings?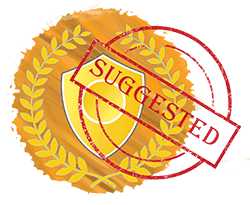 While the Cannondale Trail 1 is most definitely a formidable ride, there are some weak points. The geometry on the Cannondale Trail 1 is a bit more race-minded than other bikes of its ilk. It may deter newer riders who aren't looking for such an aggressive setup.
That being said, if you're not too familiar with how these geometries affect your riding style, find a local shop and do a bit of research first.
Another sticking point for some people is the Trail 1's fork, or more specifically, the fork's air valve, which is found right underneath the crown of the fork. If you've done wet dirt trail rides in the past, you know that this location on most MTB bikes is a spot where mud can pile up pretty quickly.
In addition to this, the valve is also inaccessible without removing the wheel, which adds additional time to "on-the-fly" adjustments.
Lastly, while the Cannondale Trail 1 is an exceptionally solid assemblage for the price, veteran MTB riders might find some of the components a bit cheaper than what they're used to.
That being said, the Trail 1 was partially built with upgrades in mind, meaning that veteran riders can soup up the frame without a lot of extra effort.