Do you need a quality bike but you don't want to break the bank? Then you're in the right place. Check out our list of the 16 best cheap bikes you can get online.
What Makes One Cheap Bike A Good Cheap Bike?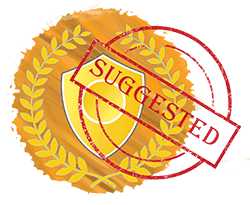 There's a difference between cheap bikes and good cheap bikes. Paying little for your two-wheeler does not automatically mean that you will be sacrificing quality.
A cheap bike should not be cheaply made but cheaply priced!
A cheap bike can still last for years and be ridden for thousands of miles before you decide to replace it. If your requirements and expectations are not extremely high, there's definitely a perfect cheap bike out there for you!
In case you want to jump to your preferred type:
Mountain – Co-op Cycles DRT 1.0, Rocky Mountain Soul 10, Marin Eldridge Grade 2, Cannondale Habit 5, Norco Storm 4
Road – Co-op Cycles ADV 1.1, Tommaso Imola, Schwinn Voltare
Hybrids – Hiland Road Hybrid Bike, Co-op Cycles CTY 2.1
Cruisers and comfort bikes – Ride1UP 500 Series, Electra Townie 7D, Tern Verge D9, Sixthreezero Around the Block, Schwinn Discover
Kid's Bikes – Strider Balance Bike
What do we consider a good cheap bike?
A cheap bike (in our opinion) should cost you around $1,000. For some people, that's not cheap; but, considering the bigger picture, it's a decent price for a good cheap bike.
A cheap bike has good components for the money.
How did we make this list?
First of all, you won't find cheap Amazon bikes here. Why?
Because there is so much more to look at out there than the cheap bikes on Amazon. We dug out the best cheap bikes all over the Internet.
We checked online and found out what others listed as "best cheap bikes". We analyzed their lists, gathered more information, checked online bike shops, and created our own list.
---
---
Without further ado, let's see what the best cheap bikes are (TOP 16).
Mountain Bikes
Co-op Cycles DRT 1.0 is the most affordable model from Co-op's DRT lineup, which is a selection of budget-friendly mountain bikes with 27.5″ or 29″ wheels. However, this model is built for shorter riders, so it comes with 26″ wheels.
This aluminum rig is equipped with an entry-level SR Suntour coil fork that's relatively heavy but does a great job of minimizing vibrations and smoothing out the rough terrain beneath you. It has 100 mm of travel which is not enough for serious trail riding, but it's excellent for recreational riders.
DRT 1.0 has a 3×7 drivetrain with a total of 21 gears, which is a good beginner solution with a decent gear range for steep climbs. The front and rear derailleurs are low-tier Shimano Tourney. The shifters are Shimano RapidFire, so the groupset is a mix-and-match that works great together nonetheless.
Though Co-op Cycles DRT 1.0 is the least costly model in the lineup, it comes with some nice surprises and guarantees REI's high-quality build to shorter riders.
Nowadays, disc brakes are non-negotiable on mountain bikes in any price range, so DRT 1.0 is equipped with a pair of Tektro hydraulic discs with 160mm rotors. That's a tried and tested choice that's commonly seen on bikes in this category.
Another thing that's recognizable for DRT models is MTB-ready tires. This model rolls on Kenda Kadre, 26 x 2.1, which is a good choice for light trails, dirt roads, and pavement.
Our full review of the DRT Series
So if you want a dependable and pocket-friendly mountain bike to use on the weekends or anytime you feel like heading out into nature, Co-op Cycles DRT 1.0 will be your best friend.
Best Cheap Hardtail Mountain Bike

– Rocky Mountain Soul 10
It is funny that this bike is so cheap since it comes with some decent components for the money. Sure, this is an entry-level bike aimed at beginners, but that makes it an excellent first mountain bike that will help you fall in love with off-road riding.
If you want to ride a mountain bike and reap all of the benefits it offers, you do not have to sacrifice all of your savings. Rocky Mountain Soul 10 is a 9-speed hardtail mountain bike perfect for your daily commutes or leisure rides on unpaved roads.
Finding a high-performing bike in this price range is a rarity. The suspension is basic, so it's not capable of tackling demanding trails and descents, but it will take your comfort to the next level.
Soul 10 rolls on 27.5″ wheels and 2.4″ wide tires which are quite wide and grippy no matter the terrain. Therefore, you can ride this bike anywhere. The suspension improves comfort on rough terrain and MicroShift components work well for daily use.
Let's also not forget about the front and rear hydraulic disc brakes that you'll appreciate having if you need to stop quickly or brake precisely.
If you wish to ride a capable MTB and spend as little money as possible, Rocky Mountain Soul 10 is a good bike to start with.
Best Cheap Mountain Bike

– Marin Eldridge Grade 2
MSRP $799
Read more: Full Marin Bikes Review
Is there a tempting mountain trail or a forest road that you've been planning to ride for a long time but don't have the bike to do that? You can change that with just $799 out of your pocket if you get Marin Eldridge Grade 2.
As you will see from the example of this bike and what we tell you about it below, cheap mountain bikes can definitely be good. They have basic components, but if you choose wisely (with our help), you can get a great deal. 
The first thing you notice on this bike is the Series 2 6061 aluminum frame painted in a beautiful red color with black accents. Next, there's the 100 mm RockShox Judy fork. This is one of the best budget forks you can get, offering a big performance boost compared to no-name forks.
Let's not forget the Shimano Altus/Acera 2×9 drivetrain and Tektro hydraulic disc brakes. Remember, disc brakes are a must on a true mountain bicycle, and it's even better if they are hydraulic.
Marin Eldridge's double-wall alloy rims roll on 29 x 2.25″ tires. They look massive and feel really capable.
So, if you finally want to take the path less traveled and do it cheaply, we recommend checking out Marin Eldridge Grade 2.
Best Full-Suspension Women's Bike

– Cannondale Habit 5
MSRP $2,300
Read More: Full Habit 5 review
As we have already seen time and again, Cannondale makes some fantastic road bikes. But as you will see below, they make awesome mountain bikes designed for both men and women as well. Most intermediate riders will say that Cannondale Habit 5 is the perfect example of that.
We gladly agree with them and the reasons for that are simple. The first one is the good-looking paintwork with a simple grey color. The bike looks streamlined and more expensive than it is.
The second thing that caught our eyes was the massive-looking tires. Habit 5 carves a route in the trail with 27.5 or 29 x 2.4″ wide Maxxis Ardent tires, depending on the frame size.
This diameter and width of wheels and tires will give you stability and comfort even when you decide to test yours and your bike's riding limits. 
Let's not forget about the Shimano Deore components that will put 11 gears at your disposal, with a wide-range 11-51T cassette.
The biggest surprise on this bike is the Tektro hydraulic disc brakes which are powerful brakes that let you ride aggressively when you're on the trails because you know you can easily stop.
You also get a RockShox 35 Silver R 140 mm fork and a RockShox Deluxe Select, DebonAir rear shock with adjustable rebound.
Read more: Best cheap mountain bikes
For all of these reasons, we can confidently say that Cannondale Habit 5 is a great bike for women who want to get fit or have some off-road fun.
Best

Cheap 29er Bike

– Norco Storm 4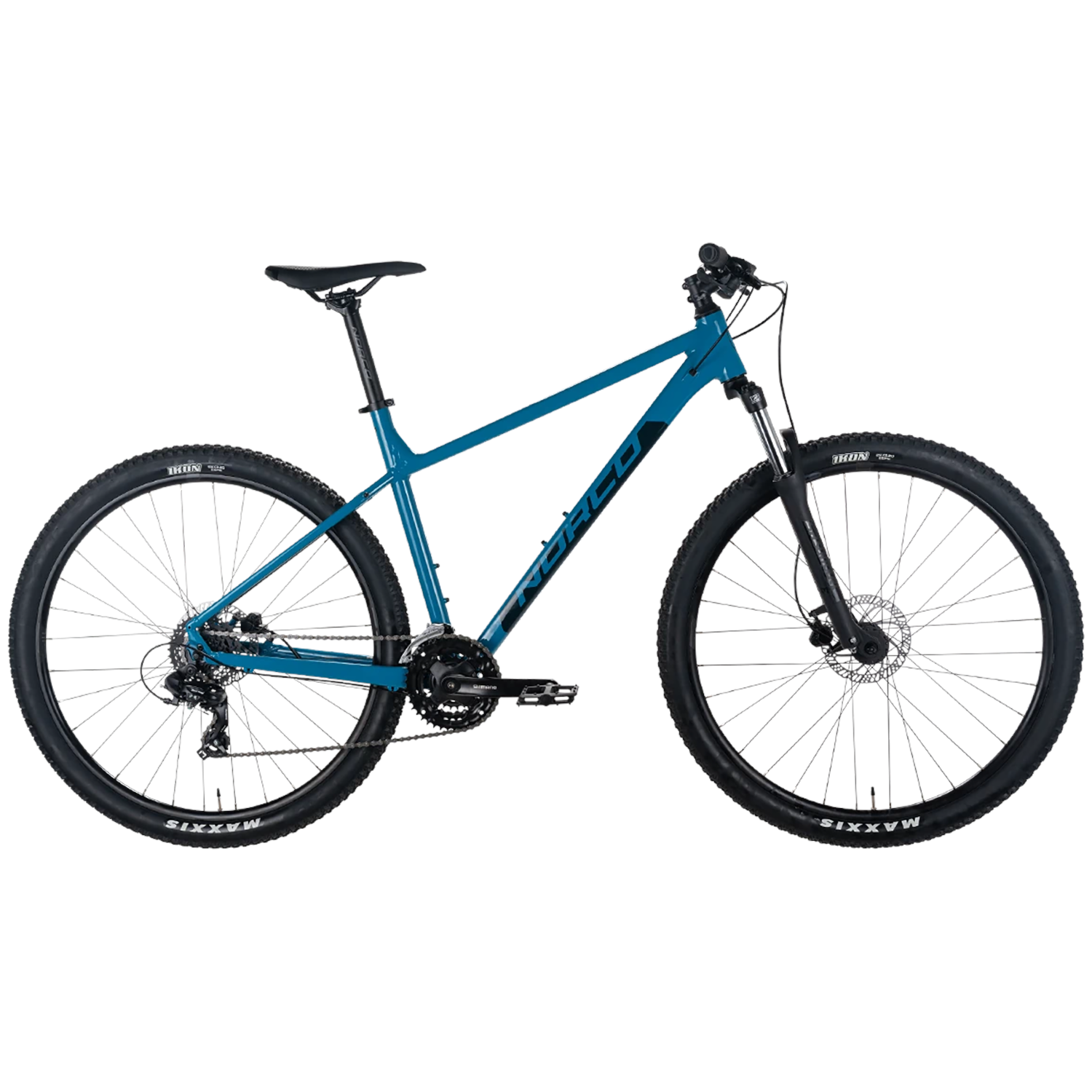 MSRP $719
Norco Storm 4 is a capable and straightforward 27.5″ or 29″ bike that you can have fun on, explore the rugged terrain, and do it all without paying through the nose.
Storm 4 does not stop for any obstacles. Why should it? With its 2.25″ wide tires and 27.5″ or 29″ wheels, there's nothing that can get in its way. Certainly not rocks, bumps, or mud. That's a piece of cake!
Other than the massive tires, Storm 4 also has a 6061 Alloy XC Frame and a SR Suntour XCE28 fork with 100 mm of travel.
This mean beast has 21 gears in total, which you can change using Shimano Tourney derailleurs. This is an entry-level setup, but it's more than suitable for beginners and recreational riders.
You'll be able to stop easily by activating the Tektro hydraulic disc brakes with 160 mm rotors. They provide more than enough stopping power, in our opinion.
If you need a bike that can tackle rocks, mud, snow, forests, and whatever else comes to your mind, Norco Storm 4 is the right tool for the job.
Road Bikes
Best Cheap Road Touring Bike

 – Co-op Cycles ADV 1.1
MSRP $1,599
There's a lot of hype around all-terrain bikes lately. More and more cyclists are talking about it and more of them are being ridden outside every day. Bike touring is a way to explore the world and get out there in a quest to create new memories. You should do it on a fun and reliable bike, so our recommendation is Co-op Cycles ADV 1.1!
If you want a versatile touring bike that's capable of much more than a hybrid, then Co-op Cycles ADV 1.1 is going to make you very happy. 
Read more: Best Gravel Bikes
ADV 1.1 is a steel bicycle that borrows some traits from road bikes and others from gravel bikes.
It comes with drop handlebars that allow you to change your grip frequently for more comfort, as well as 38mm tires that can roll over anything in their way.
This touring bike is powered by the Shimano Deore LX groupset, which is common on mid-range bikes. It's a solid affordable groupset that can get you around the world. In total, there are 30 gears you can choose from, with a 48/36/26T crank and an 11-34T cassette, which offers a good range of gears.
Like all serious touring bikes, ADV 1.1 touts hydraulic disc brakes, which makes it suitable for tackling off-road terrain and steep descents.
Full overview of the ADV lineup
The frame has a plenitude of mounts, so you can easily fit fenders, lights, several water bottles, frame bags, etc. The bike already comes with front and rear fenders, so you can head out on a multi-day adventure carrying everything you could possibly need, and more.
Best Cheap Road Bike (For Men)

– Tommaso Imola
MSRP $975
Read more: Tommaso Imola review
Tommaso Imola is the definition of attractive Italian design. And you don't have to pay through the nose for it, you can get it on a cheap bike!
This affordable road bike is built around a quality Tommaso 6061 SLA Aluminum compact road frame and it's available in three awesome colors: black, white, and orange.
First of all, the frame is light and durable, so it will last for years of good riding fun, without any issues. The accent is on the curved top tube which gives Imola plenty of character.
This is a pretty fast bike equipped with Shimano Claris shifters and derailleurs for quick and easy gear switching. There are 24 gears at your disposal, so you can easily maintain your riding cadence even up very steep hills.
Tommaso Imola is the answer to the question of whether cheap bikes can be good or not. If you do your own research and choose wisely, cheap road bikes can definitely be good.
This bike does not have disc brakes. Instead, it provides stopping power using a pair of Shimano Claris brake calipers that still do a great job of bringing you and the bike to a halt. If you don't live in a very hilly area, this is good, because it provides some weight saving as well.
Imola is the perfect road bike for beginners who want a reliable and stylish two-wheeler without going broke!
See more: Cheap entry-level road bikes section
Schwinn Volare 1400

Here we have a bike that not too many people talk about online. But we are determined to change that. The Schwinn Volare 1400 bike deserves that and deserves to be on our list of the best cheap bikes you can get.
This is by far one of the cheapest bikes on our list. It costs just under $400, but you get more than you expect to from that amount of money.
First of all, Schwinn Volare 1400 has a relatively light aluminum frame, painted black and light green. The contrast of the colors is very attractive, so most don't assume this is a "Walmart" bike when they see it on the roads.
This Vilano road bike is fitted with Shimano Tourney shifters and derailleurs and offers 14 gears to the lucky owners. This is the most basic Shimano groupset, but it still offers good value for money.
Volare 1400 is a great choice for bicycle commuters who want a reliable machine to take them from point A to point B or accompany them on relaxed weekend rides. 
Other notable things to mention are the 700c double-walled rims which are on the heavier side, but thus stronger and more durable. The bike rolls on 700c mm tires which offer good traction but not such great puncture protection.
If you want to spend as little money as possible but still get a reliable bike that will serve you well if you use it for what it was built for, you won't make a mistake with Schwinn Volare 1400!
Hybrid Bikes
Best Cheap Hybrid Bike

– Hiland Road Hybrid Bike

If you want to get just one bike to cover all of your cycling needs, we recommend opting for a hybrid model. If on top of that, you want to spend little money but get lots of value, we recommend choosing the Hiland Road Hybrid Bike.
The best word we can find to describe this Hiland model is "capable". It precisely describes the combination of lightweight aluminum frame available in a modern silver color, Shimano components, and mechanical disc brakes. Plus, the tires are 40 mm wide, which is comfy and versatile.
Thanks to that, Hiland is the perfect choice both for paved and unpaved roads. You should not ride it on extreme mountain trails, but it can handle anything else.
When it comes to the components, Hiland fitted this bike with Shimano Altus and Tourney derailleurs, putting 24 gears at your disposal.
If you want Hiland to be your everyday workhorse, you can fit it with fenders, racks, lights, and two water bottle cages. It has ready mounts for all of that!
Best of all, this bike is great for urban riding considering it comes with mechanical disc brakes. If you need to brake suddenly to avoid a crash or an obstacle, you'll be able to do it easily.
Hiland Road Hybrid bike can meet and exceed all of your expectations if you need a durable and capable fitness or commuter bike.
Best Cheap Hybrid Bike for Men and Women

– Co-op Cycles CTY 2.1
MSRP $799
Read More: Co-op Cycles CTY 2.1
What is your favorite route to take? Paved or unpaved? No matter which one you choose, Co-op Cycles CTY 2.1 hybrid bike will be able to take you along it. This is the best cheap hybrid bike for men and women that Co-op Cycles has to offer, so we didn't think twice when adding it to our list.
This model costs little but delivers a lot. It's based around a lightweight aluminum frame with custom-formed tubing. The fork offers 63mm of plush suspension that will make your urban and off-road rides a lot more comfortable.
You can choose between a step-over and a step-through model depending on your preferences. The components and prices are completely the same.
If you have a hard time getting on and off your bike, the step-through frame design of Co-op Cycles CTY 2.1 will change that for you. If you don't, a step-over model will do the job well.
The components are pretty standard for this price range. You'll get front and rear Shimano Tourney/Acera derailleurs and Shimano Altus shifters. In total, there are 24 gears you can work with, which is more than enough for entry-level riders, as well as for recreational and practical needs.
Last but not least, for maximum stability, comfort, and control, CTY 2.1 comes with Shimano hydraulic disc brakes and 700 x 40mm tires. Thus, you do not have to be conservative when choosing which roads to take!
Full overview of the CTY Series
If you're a lady or a man looking for a versatile bike that will help your grocery haul, fitness goals, or improve your health, Co-op Cycles CTY 2.1 is a good and cheap solution.
Cruising and Comfort
Best Affordable Electric Bike

– Ride1UP 500 Series
If you're ready to take your commutes to another level but you're not ready to do the same with your spending, we have some good news for you. We present to you the Ride1UP 500 Series, one of the best affordable electric bikes Ride1UP has made so far.
The electric setup is the main selling point of this bike. 500 Series is powered by a zippy 750W rear hub motor combined with a 625Wh battery. It will help you reach 28 MPH with pedal assistance and 20 MPH with the throttle. According to the company, this bike has a 25–45-mile range, which is average for an e-bike of this kind. The motor is powerful and quiet, so it won't annoy you but it will help you reach your destination quickly and with ease.
You're also getting an SR Suntour XCT fork with 100 mm of travel. That means this bike is comfortable and capable of navigating unpaved roads as well. Moreover, you get a 1×8 Shimano Acera drivetrain, which will come in handy when riding up steep hills as 500 Series adjusts pedal assistance with a cadence sensor.
Ride1UP 500 Series comes with quality Shimano entry-level components and powerful motor and battery so you will definitely not need to push it up steep hills. 
You don't have to push it down hills either, thanks to the Tektro Aries mechanical disc brakes with massive rotors. Around bends and on slippery terrain, the wide and knobby Kenda Kwick Seven 27.5″x2.2″ wheels and tires will take care of the grip. All you need to do is choose the route.
The conclusion is that Ride1UP 500 Series is worth your money if you want to ride more demanding trails and singletracks and you want to get great value for your money.
Best Cheap Cruiser Bike

– Electra Townie 7D
MSRP $580
Did you know that commuting by bicycle is the cheapest way you can get from one place to another? You probably did. However, most people think the initial investment is high, but that's not true. Electra Townie 7D costs around $580, which makes it an investment that can pay off in no time.
Yet, that's not the only reason why this city bike is a good investment. After we've taken a closer look at its components, you'll see that it offers tons of value.
The frame and the fork are made from durable aluminum and steel, which are the most popular materials for city bikes. These are cheap and very comfortable materials that you can't go wrong with.
Electra Townie 7D is a good-looking bike as well, with elegant and sleek lines. This step-thru model is great for male and female riders and comes in a simple palm green color. Electra is most famous for its Flat Foot Technology which allows you to easily put your feet on the ground while sitting on the saddle.
City rides usually do not require many gears, so Townie 7D has a seven-speed drivetrain. It's equipped with a Shimano Tourney entry-level rear derailleur, which is a common sight in this price range.
The 26″ x 2.0″ balloon tires are extremely comfortable, you'll feel confident when riding, and the dependable alloy V-brakes will only add to that feeling.
We recommend you purchase Electra Townie 7D if you want an attractive everyday bike that costs little but is capable of plenty.
Best Cheap Folding Bike

– Tern Verge D9
MSRP $1,149
Read More: Best Folding Bikes
Let's show you the best cheap folding bike straight away as well! We didn't have much doubt when we chose the Tern Verge D9 to take this position.
It was the obvious choice for three main reasons: the quality of the build, the choice of components, and the frame that folds down small for easy storage and transport. 
The first thing we have to mention, which you will notice straight away as well, is the aluminum frame. This bike folds in a few quick steps into a compact bundle that you can carry around. It weighs around 28 lbs. so almost anyone can carry it up a flight of stairs.
This affordable Tern foldable bike also boasts a decent set of components. It uses a Shimano Acera shifter and derailleur offering 9 gears in total. This is an entry-level groupset, but it will make any beginner rider happy.
See more: Best Bikes For Women
Tern Verge D9 also has hydraulic disc brakes, which is the best set of brakes you can ask for. Also, it rolls on tiny 20″ wheels and 37 mm tires that are capable of navigating paved and unpaved roads.
In our opinion, this bike is everything a beginner commuter needs. A good-looking and practical machine that will put a smile on your face for thousands of miles!
Best Cheap Cruiser

– sixthreezero Around the Block
Read More: Sixthreezero Around the Block review
Do you like waves, the light breeze, and the smell of the sea? Is your ideal day spent on a sandy beach just relaxing under the sun? Then the best cheap bike for you is the sixthreezero Around the Block cruiser.
This is a simple bike that will make your life simpler and your days better and more interesting. It's available in five color combinations that include the color of the frame and the color of the saddle and grips. It's hard to choose the best one.
Sixthreezero Around the Block is a single-speed beach cruiser, so maintenance is a breeze. All you need to do to keep it running is clean and lube the chain from time to time and that's it.
It has a classic, curvy design, with wide tubing that flows from one end of the bike to another, like the waves in the sea. The geometry and the curved handlebars will put you into an upright riding position, which is ideal for comfortable city rides.
To simplify things even more and make the bike more authentic, you'll be stopping using coaster brakes, just like in the good old days.
However, if you want some more advanced levels, you can add more gears (3/7/21), rim or disc brakes, and even opt for an electric model.
Sixthreezero Around the Block will take you around your block and along the beach to enjoy the sun, commute to work, or get a nice exercise
Best Cheap Cruiser

– Schwinn Discover
Cycling can be expensive, complicated, and result-oriented, but it can also be simple, cheap, and inspired by fun. If you're aiming for the latter, then Schwinn Discover is the perfect bike for you.
This good-looking cruiser is the ideal means of transportation for women & men who want a bike that is easy to maintain and can get them from one place to another without fuss.
It's extremely comfortable to ride due to the upright geometry and wider tires on 700c wheels. The handlebar is slightly curved toward the rider, so you will reach it easily without having to bend.
The riding experience is even better if we consider that this bike has front suspension as well, even though it costs around $300. That means a lot when the roads get tough.
The Schwinn Discover comes fitted with fenders and a rear rack, and you can add a water bottle cage on it as well. Therefore, you can take this bike on longer rides and bring some refreshments with yourself. You can even ride it on rainy days if you don't mind getting wet.
In case the roads in your vicinity are not perfectly flat, you'll be happy to learn that Schwinn Discover has 21 speeds and Shimano derailleurs and shifters for easy and reliable gear changing.
Whether you want to commute from home to work, spend more time outside, or carry groceries, you can't go wrong with Schwinn Discover.
Kid's Bikes
Best
Cheap Kids Balance Bike

– Strider
If your child is old enough to walk, they're old enough to ride a bike. The best way to teach a kid how to ride a bicycle is to let them teach themselves. They can do this in no time with a balance bike, such as the Strider. According to Bikexchange.com, this is one of the best toddler bikes they recommend.
If you're not familiar with balance bikes, these are tiny lightweight bicycles without pedals or training wheels. They have two wheels, a frame, handlebars, and a saddle. That's all your kid needs!
Balance bikes are a fantastic choice to help your kid learn how to balance on two wheels and prepare them to ride a bigger bike later on, when they grow older. 
We've chosen the Strider balance bike because it offers the best bang for the buck. This model is ideal for children between 1.5 and 5 years old. It will allow them to have plenty of fun and ride completely independently.
It's suitable for kids that have an inseam between 12.2″ and 15.7″ long. You can adjust the seat height with an easy-to-use quick-release mechanism.
The Strider balance bike is lighter than ever. Therefore, even if your toddler falls while trying to ride it, there's little chance that they will get hurt. It weighs just 6.7 lbs, so they can easily carry it over obstacles themselves.
Get More:  Top Balance Bikes For Kids
From our experience (and experts agree) kids can learn how to balance on two wheels in just a couple of days on a balance bike. That's a good reason to purchase the Strider.
---
Consider a Pre-Owned Bike From The Pro's Closet
Unfortunately, due to the COVID-19 crisis, a lot of new bikes are sold out!
This is especially true for entry-level bikes that cost less than $1,000.
While this is excellent news for cycling as a sport in general, it is bad news for those who are trying to find a decent new bike and start riding.
One alternative that should be considered in a situation like this is buying a pre-owned (used) bike. Cheap pre-owned bikes can prove to be a good buy if you know what you're looking for and how to inspect a used bike. If done right, you can get a bike that will ride for years and thousands of miles.
That's why The Pro's Closet is a good platform to find excellent used bikes for little money. They have certified mechanics who thoroughly inspect every bike before putting it up for sale. Every bike is tuned-up and road-worthy, and parts are changed if they are too worn out and not salvageable.
The condition of each bike and its individual parts (such as wheels, tires, drivetrain, etc.) is clearly stated, so you know exactly what you're getting. There are also high-resolution images showing every aspect of the bike.
When possible, it's always better for beginners to buy new and avoid making costly mistakes. At the moment, that's not always possible due to the crisis, and we don't know when it is going to end.
We believe that a good used bike is much better than no bike at all, which is why we recommend giving The Pro's Closet and pre-owned bikes a try.
Also, read about the current situation in cycling
---
What to Keep in Mind When Buying a Cheap Bike?
A

for

A manufacturer

– Not all manufacturers make cheap bikes. However, some of them do. Also, there are some manufacturers who should NOT produce any kinds of bikes. So, do your research, read reviews and make a wise decision.

B

for

Build

– There are lots of people looking for carbon frames. Don't do that when you've decided to go cheap!

C

for

Components

– You can expect low-level components, but keep away from crap-level components. There are such in-house or Chinese components that aren't durable at all. Shimano (And SRAM), on the other hand, offer low-level components, which are reliable if used correctly. Of course, they are not capable of miracles since they are meant for low-level bikes.
The main idea behind getting a good bike for a cheap price
You might be wondering whether cheap bikes are worth the money or not. Our answer is yes, they are worth it.
And I'll reveal a secret to you that will teach you how to find cheap bikes.
Do you consider a $1,400-bike cheap? But what if you get it for $800?
Yes, these things happen.
Especially when you keep an eye on the best bike deals. There are always countless deals where you can pick the best cheap bike!
Where To Buy Cheap Bikes Online?
There are various places where you can find cheap bikes online (in case you didn't find anything on our list). We marked the top 3 choices below: