A hybrid bike is nowadays regarded as the workhorse of bicycles. It's an extremely versatile bicycle type that can be ridden in various conditions. Let's see what are the best hybrid bikes on the market.
---
Please Note! Due to Covid-19, most hybrid bikes are sold out! We do our best to keep this review up-to-date with bikes in stock, but it's not an easy task. If you don't find what you're looking for here, check the links below for places where you can conduct your own research and find more bikes.
---
What Makes One Hybrid Bike Good?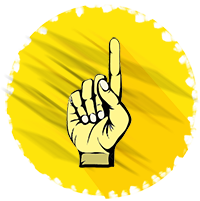 But, what defines a hybrid bike (also called comfort or dual sport bike) and what determines whether it is good or bad? They come in different sizes and shapes, but every hybrid bike should have several recognizing features and meet certain standards.
The frame of best hybrid bikes is made of aluminum and its geometry is more comfortable than both road bikes and MTB. It allows the rider to sit in a more upright position and thus have more visibility and put less strain on the back.
A good comfort bike will have tires that are slightly wider than a road bike. They can be anywhere between 28-32c, or wider, up to 42c. This gives the rider more comfort and makes the bike more utilitarian.
A hybrid bike will usually be more customizable than the road bike. It should come with mounts for mudguards and panniers on the front and on the back, as well as with two mounts for water bottles.
However, often times you will not have to worry about mounting any of this additional equipment. Many comfort bikes already come with all of these additions as standard equipment.
Another feature that is more and more present on good hybrid bikes is dynamo lighting that powers your front and backlights as you ride. You should also expect to get a kickstand for a full parking convenience.
Basically, when you're buying a comfort bike, it should be ready for every test that you can put it through the moment you take it out of the shop.
---
---
Let's see what are the best hybrid bikes:
---
Read More: Priority Bikes review
Priority Classic Plus – Gotham is designed in such a way that it provides a smooth and reliable ride on all surfaces and terrains. It comes with a 3-speed Shimano internal gear hub that will let you climb moderate hills and ride faster on flats.
The frame is available in step-over and step-through versions, which makes this good-looking bike suitable for men and women.
For the money, Priority Classic Plus – Gotham is one of the best hybrid bikes on the market, offering a Gates belt drive for just $549.
Like all other Priority bicycles, Classic Plus – Gotham is powered by a carbon belt instead of a traditional chain which makes maintenance a breeze.
Once you wish to stop, a pair of easy-to-adjust and use V-brakes will help you do that easily.
The weight of this Priority model is really low and that is, in part, because of the ultralight aluminum frame that is stiff and strong, but very lightweight. It weighs just 26 lbs.
The Classic Plus bike is called Gotham because of its all-black design that looks really good and fits an urban setting perfectly.
The wheels are standard 700c and pretty wide, so you will be able to enjoy a fast ride with good power transfer and plenty of grip on challenging city streets.
Priority Classic Plus – Gotham is the ultimate commuter as it comes equipped with a kickstand and water bottle cage. In the box, you'll also get all assembly tools and even a floor pump.
Get directly from PriorityBicycles.com
Read More: Salsa Journeyman Claris 700c review
Salsa is one of those rare bike companies that are still trying to keep cycling fun. One of their latest and best attempts at doing that is called Salsa Journeyman Claris 700C. This bike is quirky and adventurous, featuring a lightweight aluminum frame, drop bars, and lots of options for customizations. The first one of these is being able to choose between 700c and 650b wheels, depending on what you prefer to ride on the trails and the roads.
This bike's intended use is riding on gravel, going on adventures, and doing bicycle touring and bike packing. One of the parts where this is mirrored is in the tires, which can be up to 50mm wide on 700c wheels and up to 2.2″ wide tires on 650b wheels.
Also, this Journeyman has lots of mounting points both on the frame and on the fork, so you can add rear racks and bottle holders, or you can strip it to the bone — the decision is yours!
Salsa Journeyman has the potential to dominate the mid-range market as a well-balanced and affordable gravel commuter bike.
As its name tells you, the Salsa Journeyman Claris is equipped with a Shimano Claris groupset, which is a quality class that has proven to be reliable on the trails. It gives you 16 speeds in total, on a 2×8 drivetrain. The 46/30T crankset comes from FSA, whereas the 11-34T cassette comes from Sunrace.
It's a nice combo of decent quality parts for a decent price of around $950. Of course, this bike also comes with cable-actuated disc brakes, and the wheels are made by trusty Formula.
Get from REI
Read More: Surly Pack Rat overview
Surly has released a large number of bikes recently, most of which are pretty good, as it's expected from such a famous manufacturer. One of the bikes that caught our attention the most is Surly Pack Rat, which is a front-loading gravel/touring bicycle. It's designed to carry a heavy front load, be it for light touring or daily commutes. It has some interesting and unique features which definitely set it apart from other bikes in this class.
This bike has a sturdy and comfy Cromoly steel frame, which is the most popular option among bicycle tourers. It's simple to maintain and repair, and it performs fantastically on bumpy terrain. The fork is also made of Cromoly, with curved blades that give the Pack Rat a pleasant retro look, which we really like.
Surly Pack Rat has fantastic features and components that makes it a good choice forr for heavy-load commutes and light-load multi-day road trips.
The Surly Pack Rat is available both with 26″ and with 650b wheels, depending on which size of the frame you order. The tires on the 26″ wheels are 1.5″ wide, whereas the 650b wheels come with 42mm tires. This is a great width for carrying a load and riding on gravel.
The groupset you'll get with this dual sport bike is Shimano Tiagra, which offers 20 speeds. This seems like a great deal for a price tag of around $1,475. One of the stranger points on this bike is the Cantilever rim brakes, which are not often seen today. They might not be everyone's preference, but on the trail, they offer plenty of stopping power, they're cheap to replace and easy to work with.
Purchase from Aventuron
Strong performer with Drop Bars
Read more: Ghost Square Cross 1.8 hybrid bike review
If your idea of cycling is to be able to roll around the city, soak up the breeze or do some fitness riding, then Ghost Square Cross 1.8 is for you.
It is a hybrid bike that is best intended for urban or mild off-road commutes thanks to its wide and grippy 35 mm tires. It has a comfortable geometry that will keep you upright, so you will be able to ride for longer without pain or numbness.
Its light aluminum frame comes in an attractive gray color. The frame has fender mounts, but fenders are not a part of the standard equipment on this model.
Ghost Square Cross 1.8 is a versatile and good-looking bike, perfect for daily commutes on a variety of terrains and surfaces.
There are 27 speeds that you can select on your rides, which is more than enough for any hill profile you encounter on your long ride.
Ghost Square Cross 1.8 comes with a pair of Tektro hydraulic brakes which are a sweet surprise at this price. They are an entry-level model, but they are far better than any V-brake or mechanic discs.
The front suspension fork provides you with 50 mm of travel, which is just enough to make your city or gravel rides a bit more comfortable.
To wrap it up, it's one of the best hybrid bikes for around $700 with decent Shimano components and a wide range of gears.
Find your size and buy safely on REI.com
Best in Class – Excellent for All-Terrain Fitness Rides
Read More: Cannondale Quick Series Review
The Cannondale Quick CX 2 is a hybrid bike that has a lot of off-road capability, as the CX in its name suggests.
Quick CX 2 can do it all as it is intended for riding on mixed terrain, so you can safely take it out on cycle lanes, roads, gravel paths, and even some single-track rides.
This model comes with a lightweight aluminum frame that keeps the weight down and with a front suspension fork. This adds some weight to the bike, but it makes it much more comfortable to ride off-road.
The tires you get with a Quick CX 2 are 700c and quite wide – 38c. This means they will go fast, but also be able to deal with any gravel and rough roads that you put it on.
The bike looks really modern, clean, and somewhat aggressive with the knobby tires. However, it features fender mounts, as well as rack mounts, so you can very easily turn it into your daily commuter workhorse.
The Quick CX 2 has an 2 x 9  drivetrain. It gives you a wide range of gears to beat any terrain.
A great thing about this bike is that it also comes with hydraulic disc brakes which have proven to respond a lot better and brake more efficiently, especially in wet weather.
The only downside might be the tires that will be slippier on terrain, but other than that, it is a stupendous bike.
To wrap it up, it's one of the best hybrids under $1,000!
Find your size safely on REI.com
Buy Directly from PriorityBicycles.com
Rad Power Bikes RadRover 5 electric bike is adamant about killing all of your excuses for not cycling more. If you have a back or a knee injury, if you're not in the springtime of your youth, or you just don't like sweating and hard work, the RadRover 5 is the solution to your problems.
Related: RadWagon by Rad Power Bikes
This Rad Power electric model comes with a quiet and strong Bafang motor system with peak power of 750W. It is a pedal-assisted motor, so you can still pedal on your own. However, the motor will jump in whenever you need help, to give you some extra juice. The battery has a capacity of 672Wh, so you have enough fun in it for some moderately long rides.
The motor can be operated with a throttle as well, so you can also ride this bike like a scooter.
Rad Power Bikes RadRover 5 is proof that even budget-conscientious riders can enjoy the full benefits of an electric hybrid setup for commuting and fitness riding.
Other than that, the RadRover 5 has a lightweight aluminum frame, with a low top tube, so it's easy to climb on it and start riding. The fork gives you 80 mm of travel, and combined with the 4″ wide tires, you'll be able to go on any kind of terrain.
Other than that, we like the Shimano Acera derailleur and the 7 speeds it offers. This groupset is entry-level, but it works excellently for daily commutes and regular recreational rides. It won't let you down.
Backorder on RadPowerBikes.com
If you didn't find what you were looking for, here's a quick tip for you. Have a look – hybrid bikes on REI, JensonUSA, PlanetCyclery and CompetitiveCyclist 
---