Wheel Size: 700c Gears: 18 Type: Gravel Grinder, rigid
Being a gravel grinder, Diamondback Haanjo 3 is a versatile bike built for all terrain. That's why we set high expectations for it and took it to a forest, trying trails, mud, and sand. We did the real testing and here are the results.
Diamondback Haanjo and Haanjenn series have always been interesting to me. Perhaps it's the beautiful frame, or the concept, or a decent set of components? Anyway, I had to test it out to find the answer. Read on if you're interested in learning what I've found out.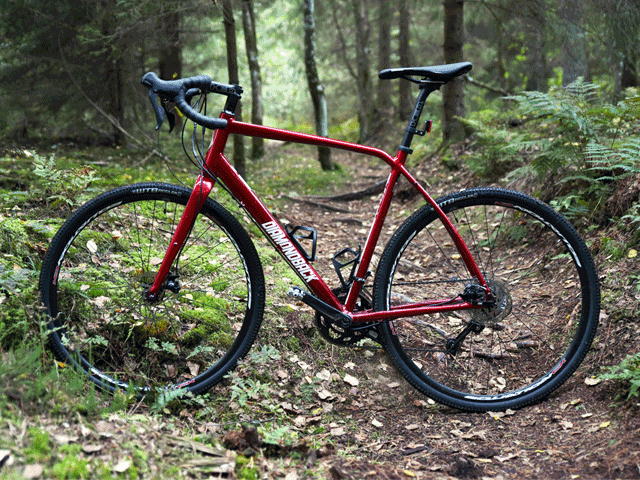 The Build
Haanjo and Haanjenn series are meant for roads, asphalt, tarmac, and anything between them. Yes, they can beat muddy sections as well, as they are built to do it, but this is not where they will actually feel most natural.
The first thing you notice is the curve on the top-tube. Damn, it's sexy, and it seamlessly continues along the seat stay, so the whole bike has a sense of unity and integrity. I'm sure it has practical value as well, as it improves comfort and stability.
Diamondback Haanjo 3 is a durable and capable gravel bike that excels on different types of terrains.
At first glance, it looks sophisticated and delicate, especially because of the amount of detail put into the design and the paint job. However, when you consider the wide tires and the relaxed road frame geometry, you realize it's a bike capable of a lot more.
Diamondback Haanjo 3 weight is 25.1 lbs (Largest-59cm frame with pedals)
It has a slightly longer head tube and a shorter top tube, so you will be riding in a more upright position, which will give you more control and a better overview of what's ahead. That's especially important if you're riding on a less-than-perfect terrain.
---
What's a Gravel Grinder?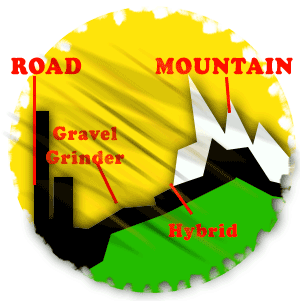 Gravel grinder is a hot niche.
Basically, these are hybrid bikes that are meant for riding both on-road and off-road.
But, to be honest, gravel grinders (in my opinion), feel better when riding on-road, even though they could tackle harsher roads as well. Specifically, they show most of their virtues on roads that are in bad condition, with uneven asphalt, some light potholes, etc.
---
Assembly
Diamondback bikes are quite easy to assemble. I knew it in theory, but I've now confirmed it in real life as well.
I've seen various bikes packed, and this one was packed with care, no doubt about it.
What's left for you to do before taking it out on its first ride is attach the wheels, handlebar, saddle, and pedals. Depending on your skills, it takes from 15 minutes to several hours. However, there's actually no step you can't do yourself if you're patient and give it a try.
All tools necessary for assembly are included and nicely packed. The pedal wrench was included, however, pedals themselves came with a hex for attachment.
What needed some skills and time was to adjust the gears and breaks. If you're not familiar with it, you should check some videos on Youtube or take it to your local bike shop, where they can quickly solve the problem for you.
Build & Models
The Haanjo series is meant for men and the Haanjenn series for women. There are various models for men and women on their product line, both aluminum and carbon (5C and 7C for example).
The Haanjo 3 "body" is made of aluminum and has four different sizes – from 5'4" and 6'4". Not many bike manufacturers offer bikes for people as tall as 6'4", which I think is a big plus. I'd say this bike would fit riders of up to 6'5".
Note: It is also suitable for taller riders.
How Does It Ride?
We put it through a rough test. But before that…
If I want to cruise, I have one 30 miles "test-track" for it. I like the variance of it: 1/4 city, 1/4 low to no-traffic smooth asphalt, then ¼ bad uneven asphalt, and finally ¼ gravel, and then vice-versa.
Diamondback Haanjo 3 feels at home in different settings — city, gravel, and bumpy asphalt.
In the city, it handles quite well. Shimano Sora gearset allows smooth shifts with good response time. On other stages of the test, the speed is higher, and it handles nicely. However, it needed some tweaks on higher gears which couldn't be done on the cables.
On uneven asphalt, it is actually quite stable, which is interesting because it doesn't have a carbon fork. I was expecting worse but ended up really happy with the results.
On the final stage, there was some very tough terrain. It shook like I was on an American roller coaster, but the grip was just great.
To wrap up the results after my "test-track" ride, I'd say that on 3 stages out of 4, I'd definitely choose the gravel grinder over a hybrid bike. The Haanjo performed really well and actually surprised me positively. I'd definitely recommend it for these conditions.
But, in the forest?
I didn't take it to the forest during the first days. I wanted to make sure that everything was fine and attached correctly. Once I realized everything was well, it was time for a real test of endurance.
Let's make it clear, from a marketing perspective, the Haanjo series is not meant for forest rides in the first place. At least it seems like that to me.
However, I believe it should be, because what surprised me, was the handling. It was more like a proper CX bike, rather than an off-road optimized road bike.
I believe that the gravel grinder was a much better name for these bikes than CX since it sounds much sportier.
I expected good performance on gravel and okay on the off-road section, but oh-boy. It was pretty clear that it handles way better on rough terrain than I expected. Mud, rooty turns, drops, ascents, even sandy descents – Haanjo 3 ate all of them! In the video below, check out how it handled different sections of the forest. On gravel, it was safe, in the forest, if was fun too!
The bottom point is that you should definitely not hesitate to get the Haanjo 3 out onto a forest road and enjoy some off time in nature. Your wrists could have a hard time if the road is in extremely bad shape, but if it's a smooth or a slightly bumpy road – the Haanjo 3 will roll over it like it was born on it.
Bored of same old MTB trails? Try these with Haanjo! I promise you that they look like new.
Brakes
I'm used to good hydraulic disc brakes on mountain bikes. Because of that, to me, every road and hybrid bike seems to have weak breaks.
However, if I compare these mechanical disc brakes to traditional V-brakes, then they work a lot better. It took me some time to get them to work the way I wanted, but it wasn't a big problem. Disc brakes give much better control and a lot more stopping power. However, V-brakes are much easier to adjust.
Despite that, I'd buy disc brakes over V-brakes any time, as the price you need to pay by spending a bit more time adjusting them is more than worth it in situations where power is paramount.
Components
The Haanjo 3 (same for Haanjenn 3) is meant for mid-level riders. It's pretty much the components that dictate it. The Shimano Sora components are on the low end but still perform pretty well.
This model has a 2×9 Shimano Sora drivetrain with 46/30T cogs in the front, and an 11-32T cassette in the rear. Thus, I had no problem finding the right gear in any situation during my test-ride, and I'm sure you won't either.
Diamondback Haanjo 3's combines a wide-range Shimano Sora drivetrain with grippy 37 mm tires to ensure proper off-road performance.
What's also important to mention here, which partly defines the Haanjo 3 as a gravel grinder, are the 37mm WTB Riddler Comp tires. I felt confident riding on them as they didn't skid, and absorbed a lot of the vibrations that the aluminum fork was not able to dissipate.
The head tube angle varies from 69 degrees on the S model to 72 degrees on the XL model. Therefore, riders of any height will have the same feeling of quick and nimble handling. Diamondback leaves nothing to chance.
Interesting fact: You can actually mount a third bottle cage below the down tube.
Other Haanjo & Haanjenn Models
The Haanjo series consists of various models.
Currently, they are changing the product line, but we can say that the entry-level Haanjo/Haanjenn 1 is a pretty decent bike for beginner riders who do not have extreme expectations. It's almost half the price what Haanjo/Haanjenn 3 costs, but it comes with slightly worse components, fewer gears, and a flat handlebar. Nonetheless, it's perfect for city commutes and relaxed weekend rides.
On the other hand, the Haanjo/Haanjenn 7c is one strong pick because of its carbon frame that is much lighter than its aluminum counterpart seen on the cheaper models in this series. It costs several times more than the Haanjo 3 model, but it comes with Shimano Ultegra components, hydraulic disc brakes, and a popular 1×11 drivetrain. It's definitely a good buy if you can spare the money and if it is what you need.
What Do We Think About the Haanjo 3?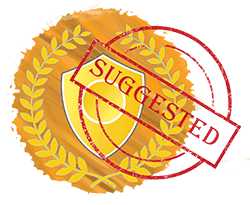 To sum up, my experience with the Diamondback Haanjo 3 is very positive. The overall build is good, and all of the components fit quite well together.
The assembly was easy, so even inexperienced riders can give it a try and fuse their first bike together. You can read plenty of tutorials on Diamondback.com on how to do it. The only thing that took me more than I expected was adjusting the gears, but I still managed to do it properly.
This was my first time riding a gravel grinder, but it was better than I expected – a great combination of road performance and off-road stability.
Come on, look at it, curved top tube, third bottle cage option. This bike isn't meant for softcore – rolling on gravel roads. It's meant for soft hardcore – trails, mud, sand. It likes it!
The Haanjo 3 does not really have any big disadvantages. The only thing some riders might find as a downside, especially the short ones, would be the handlebar which is pretty wide. However, it's important to maintain the handling and stability, so it's a compromise worth making.
Riding was very smooth on even terrain. However, on gravel roads, it was at times quite bumpy. Therefore, one improvement that the Haanjo 3 would benefit from in my opinion would be a carbon fork. It would go a long way towards improving the overall stability and performance off the beaten track.
All in all, I've had so much fun testing it, and I'll definitely continue riding it on my city commutes and out of town rides. I'll keep you posted about further updates and maintenance.
Diamondback Haanjo 3
$1,175