Added: Readers' Trips with pictures
I want to share something unusual with you.
A guy called Dusan helps me manage this blog and we often talk about bikes. He shared a story about one of his bike trips that became ingrained in my mind. After doing some further research, I believe it is definitely worth spreading the word about this route.
What I'm talking about is a proper mountain biking trail running across an entire country — Estonia!
Since I believe information about an awesome trail like this one deserves to reach more people, I'm publishing Dusan's recap of his adventure. This is detailed first-hand information, so take your time to read it carefully. Who knows, perhaps it will inspire one of your future mountain biking holidays.
This cycling tour guide through Estonia is around 3,000 words long, so make some coffee, kick back, and enjoy. 🙂
A Mountain Biking Trail Through Estonia (510 / 235 miles)
I've been in the cycling industry for many years and recently came to realize how special the cycling trail running through Estonia was. I'm sure that it is worth spreading the word about it so that more cyclists (and hikers) all over the world can find this place and enjoy it.
Related: Best Self-Guided Bike Tours
I rode it in 5 days back in 2015, when the longer route was 400 miles long. It was intense but it was one of the best times of my life.
But, first things first. Estonia is one of the most densely forested countries in the world, with forests covering 52.7% of the country's surface. It takes only 20 minutes on a bike to get from the center of the capital city Tallinn to the nearest forest.
We don't have big mountains but we have bogs, hills, lakes, cliffs, sandy and rocky beaches, and all of that on just 17,500 square miles of surface area.
Cyclist and hikers can experience everything that the country offers on two long trails going through Estonia:
I've done my research and I've found that it's the longest proper trail for mountain bikes in Europe and one of the longest mountain biking trails in the world.
It would be better if it was even longer; but, unfortunately, Estonia is not a large country and we can't make it any bigger 🙂
I want to give you an overview of this trail and other useful info. I'll try to answer each and every question that you might have and I'll go the extra mile to give you additional ideas about off-the-trail activities that you can do. So, let's begin!
---
Why Do You want to Take This Trail?
First of all, because it is fun! If you like hiking or mountain biking, Estonia should be your next travel destination. There are not many countries in the world which you can explore by combining your two biggest passions – traveling and cycling or hiking.
All this is ABSOLUTELY FREE OF CHARGE! You might want to buy a hiker's passport for 10 euros ($12) but it isn't mandatory. More information about the Hiker's Passport.
This trail gives you many possibilities of things to do and there are different types of accommodations and shops on the trail or close to it.
But, I don't know anything about Estonia!?
It doesn't matter. I'll write everything that you need to know below. From getting and staying here to tiny details that only the natives know about. However, I must warn you, you might end up falling in love with Estonia!
Estonia, Estonia, Where Are You?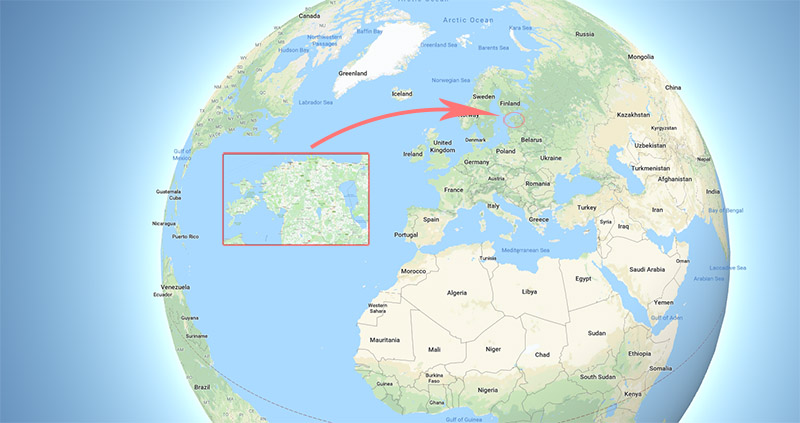 Estonia has many great things to offer – a beautiful and a long coastline, forests, versatility, e-country, and as you know, mountain biking (or hiking) trails through the whole country.
They say that Estonian women are the most beautiful women in the world. I can only agree, but you should find out for yourself as well!
We are located next to Russia, but that's not something you should worry about. Have a look and see for yourself what 27 years of independence have meant for our country (which we are proud of 🙂 ). However, Estonians are modest and are taught not to praise themselves, so you should take some time and get more information on Wikipedia as well.
See you in Estonia! You won't regret coming here for a second!
About the Trails
The trail called State Forest Management Center's Hiking Trail (RMK in Estonia) was created in 2013. Basically, it connected some of the previous shorter trails all around Estonia. Currently, there are nearly 100 different hiking trails all around Estonia. These provide a wide variety of different paths in forests, bogs (on hiking trails), and many more.
---
---
ROUTE #1 – Oandu-Aegviidu-Ikla – 235 miles
It is divided into 7 stages and I'll give you a detailed description of each stage. You can either start from the north or from the south-west. Unfortunately, I only rode one half of this trail but I plan to finish the rest of it in 2018.
The stages from the north are:
The trail starts at the Oandu Visitor Centre in the beautiful Lahemaa National Park, with lots of small villages and bogs. The Lahemaa National Park is the oldest one in Estonia and it was established in 1971. It covers 72,500 hectares in total.
The trail starts with primeval forests and after 6 miles you get to the Võsu campsite and several shops.
---
But… How to get to Oandu?
Oandu is 82km (51 miles) away from Tallinn.
The easiest way is to take a train to Rakvere and ride 31 miles from there. A train has special holders for bicycles. You can check the train timetable at Elron.ee
Alternatively, you can use the bus. You can look up the ticket prices and the bus schedule at Tpilet.ee.
Select "Tallinn Coach Station -> Oandu (Vihula vald, Lääne-Virumaa)". Please be careful not to select another Oandu (60 miles from there!) and bear in mind that the bus is leaving once a day from Monday morning to Friday evening.
Also, make sure you check the connecting trips option.
TIP: If you are traveling with 2-3 persons, the bus is a suitable option. It should always have room for bikes. If there are more of you, transfer by minivan is more suitable. It should cost somewhere between 50-100€ ($60-120$) to get to the starting point of the trail with all your luggage and bikes.
Accommodation TIP: Since buses leave in the evening, you might want to book accommodation in Võsu. You can find the best accommodation on Booking.com. By doing that, you can also enjoy the sandy beach and visit a shop in Võsu.
---
This is the last shop for the next 65km (40 miles), until Aegviidu!
The next micro-stage will offer nice views through pine-forests, villages and different types of trails. Valgejõe river on the 26th kilometer has high river banks, a canyon and the ruins of an old power plant. There is also a campsite with a fireplace and beautiful views.
After that, a pretty similar nature and trails will continue to Kalmeoja where you can also find a fireplace and shelters. This campsite is also suitable for an ascetic overnight stay under the shelters.
That's it for the first stage!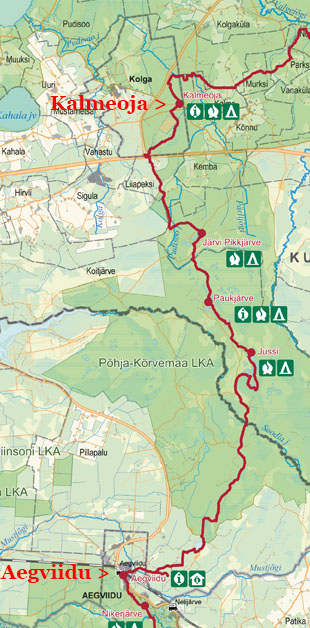 This stage brings you to the wildest forests in Estonia where you can't find any shops for 25 miles! It is called Kõrvemaa Recreation Area. This area is also called the center-polygon because it has been used by the military for more than 70 years.
Nowadays, some outer areas are used for hiking and you can use the hiking trail all year round. By the way, Estonian defense forces are highly trained but friendly; however, I'm sure you won't run into them, even though they might do some training which definitely won't affect you and your trip.
You will also see lakes and walk on boardwalks over a bog. The cycling path stays on dirt roads.
TIP: Cycling and hiking roads go in different directions in some places. It is not allowed to cycle on boardwalks for two reasons: 1) for your safety; 2) it's difficult to pass other people.
However, if there are no people on the trail, I'd suggest you take the more challenging hiking road including the boardwalks.
But keep in mind not to leave the wooden boardwalks and to make enough room for everyone to pass you! Courtesy and nature preservation come first!
In this marshy area, you will see several different lake groups – Järvi Pikkjärv, Paukjärv, Jussi Lakes, and campsites. Don't miss the chance to refresh yourself by going for a swim in these lakes.
You will also see what the military polygon has made of some areas – barren ground with fosses next to the lakes. It's a sad sight, but beautiful at the same time.
Aegviidu trail center isn't far away so there is no need to rush, enjoy your hikes and rides. You can find accommodation in Aegviidu on Booking.com. This is a former summer and health resort which is only a 30-minute trail ride away from Tallinn which is a really nice place!
Moreover, Aegviidu is the place where the two hiking trails cross each other!
The trail starts with a view of lakes and hills. There are several campsites along the trail where you can take a break and enjoy the fresh air.
After the Noku campsite, you'll see Kakerdaja bog, which is really beautiful.
You'll run into a boardwalk here, so if you're on a bicycle, you should decide which path you want to take. After that, there is a gravel road all the way to the Hiieveski camping site.
Grocery Store: If you want to visit a shop, go to Ardu (a 2 miles detour).You'll find a grocery shop there.
Between the Hiieveski and the Hirvelaane campsites, you will see villages, gravel roads, and nature-nature-nature.
Accommodation tip: If you want to stay in a manor house, you can do it in Kõu Manor.
Hirvelaane has great opportunities to take a break before the next stage, so don't miss your chance to get a nice rest.
Now you move on to the Rapla county! Congratulations, you've already made it to your second county in Estonia!
In this stage, you will see old villages and farmsteads, bogs and much more. The first micro-stage includes soft terrains and, in some places, there is an alternative bicycle route.
There are also some tarmac trails that are good for motivation but the experience is much better when you stick to the forest roads.
After Loosalu, you'll come to the most interesting stage in my opinion, packed with nice bogs and trails and surrounded mainly by forests.
In Lelle, there is a grocery store and a railway station. You can get to Tallinn in an hour from there.
If you plan to stay near Lelle, you can do that as well. There are several places you can choose from which you can look up here.
The next camping place will be in Tillniidu. After that, you will see Koogiste and you can take a train there to visit Pärnu if you want and after 7 miles, you can take a detour and visit Eidapere. There you will find a grocery store, a manor house, a glass factory and much more.
Mukri bog is a pretty beautiful place and when you reach it you can take a break at a camping site. There is a really beautiful shelter there as well.
After that, it's about 10 miles to finish this stage in Kellissaare. If you want, you can refresh yourself in a small lake which was once a sand quarry.
Related: Best Touring Bikes (In Our Opinion)
This stage takes place in Pärnu county and you're almost there!
After 4 miles, you will see a farmstead museum in Kurgja, where you can take a look around and have something to eat. C.R Jakobson was an important person in Estonian history and here you will find out why.
After that, you will already be several miles deep into the Järva county – the county of forests.
The trail goes up and down, which will make your heart beat a lot faster! Moreover, the 8 miles of the Sakala road hiking trail will be a very interesting experience.
Saeveski (sawmill) shelter isn't far away. You can spend the night there or just have a picnic. Also, if you want, you can take a 5-mile hike on the trail beside Saarjõe shores.
If the camp spot is crowded, you might want to take a look at the Kabelimäe (Chapel mountain) or the Luite picnic places, which are minutes away. These are also suitable places if you plan to camp.
After crossing the Navesti river, you are heading to Soomaa.
Hüpassaare isn't far away and there, in the middle of the forests, you can easily find yourself a place for a picnic and why not even camp in a house museum.
You should take a rest because monotonous straight trails lie ahead and you need motivation for them!
In this stage, you'll be heading towards the Soomaa (Bogland) National Park. It's the place where we have the 5th season.
After you've entered Soomaa, you can take a rest at Oksa (Branch) shelter where you can also spend the night in an old shed.
After that, you will be heading to the Tõramaa Visitor Center. If you cross the Raudna river a few miles away from the Oksa campfire site, take a break and enjoy the view of the river.
It was navigable in the Middle Ages and it was possible to get to Viljandi on it, which was called Hansa City back then.
After these long and straight gravel roads, you will reach the Soomaa Nature Center. There you can get information about accommodation, which you can also check here.
You'll also find a short Beaver trail here, which you should take the time to discover.
---
Soomaa and the 5th season
This aspect should be covered in more detail because it's quite a strange phenomenon. The ground is concave here and many rivers join together. That's why the water rises over the banks in spring. This means the best way to move around is by canoe. There are even unpopulated old houses near the river where the water floods reach the second floor. Not to mention a bridge which starts and also ends on water.
Also, you can canoe in the forests and through the fields, which actually turn into riverbeds bordered by trees. That's why the access can be tricky.
This place attracts many foreign visitors during spring so you might have heard about the 5th season in Estonia.
We're not done with straight roads yet. If you need to visit a grocery store, you can do it in Tori, it'll take you a 10-mile detour. After that, you'll reach Läti and then Pertlimetsa campfire sites. Here, you can drink water on the Navesti River.
The trail continues using roads which were built to maintain and cut the forests. These forests are pretty different from the Kõrvemaa forests near Aegviidu.
Kopra tare (Beaver hut) is a small forest hut where you can spend the night. It is located in the middle of a drainage ditch. If you are hiking or biking during the weekend, then you'll definitely run into other people there as well. It is used under the rules of the freedom to roam.
If this hut is too crowded, you can make a detour and try your luck at the Katku campsite two miles away. Gather enough energy because you need it for your last stage!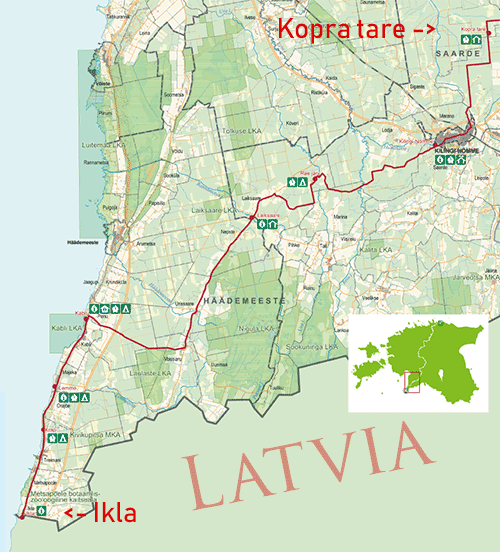 Congrats! It's the last stage and there's plenty of places for you to rest and opportunities to divide this stage into several parts. The stage starts from the Kopra hut and the nearest grocery store is in Kilingi-Nõmme, about 8 miles away. Before the Rae lake camping area, you can see lots of wildlife on your journey.
At the Rae lake camping area, you can get water as well. If you do this trip in autumn, you can easily find mushrooms, blueberries, and cowberries.
Heading to Laiksaare, you'll see rare riparian forests along a beautiful river. In Laiksaare, you can use the toilet, get water and use outdoor fireplaces. If you are crossing this trail on a bicycle, you need to calculate the extra time needed to get over fallen trees and other obstacles on your way.
Now, you are heading towards the sea. Brace yourself for the next 13 miles because then it'll be easier mentally to travel next to the sea.
Straight roads are leading you to the Kabli visiting center. If you want, you can stay close to there, in the Priivitsa camping site. In summer, the visiting center is open from 10 AM to 6 PM every day and outside the season from Monday to Friday, between 11 AM and 4 PM. Here, you can buy souvenirs from the RMK.
Next, you'll be using an old road along the Baltic sea. Four miles ahead is the Lemme camping site with lots of shelters to take a rest in. The same goes for the Krapi camping site 3 miles away. A local shop is less than a mile away.
And now, you are almost done. Head straight to the border with Latvia, these are your last 5 miles on this hiking trail!
---
Readers' Trips
One Polish family (with two boys) wrote to me asking for additional information. They did a part of this trail in 12 days, plus enjoyed Estonian Islands Hiiumaa and Saaremaa. Here are some photos they took and a short feedback from their journey:
On Saaremaa we were on Panga cliffs, in Angla, we also went to Vilsaandi Park but it was rather not the best choice – we went through the mug and after 2 km we decided to come back 😉 Then we went to Kaali and spent some time in Kuressare.

We liked Hiiumaa much more than Saaremaa, it's much less commercial. Anyway, we are happy to see both.

The islands were very nice indeed. But if you ask what we liked the most, it's our 11 days on bike! The bogs were very calming, no people at all, only us and our tent and bikes. No cars. We liked the big variety of the trail: from wide roads to very narrow single tracks and paths. We liked clean and empty camps. Riding with the map, expecting what will be after the next turn – it was very attractive! On the islands most of the trails are on asphalt roads, we prefer off road trails definitely 🙂

I'm really happy with our trip. All of us are, the boys said that they liked biking the most 🙂
Picture copyrights belong to Agnieszka Święch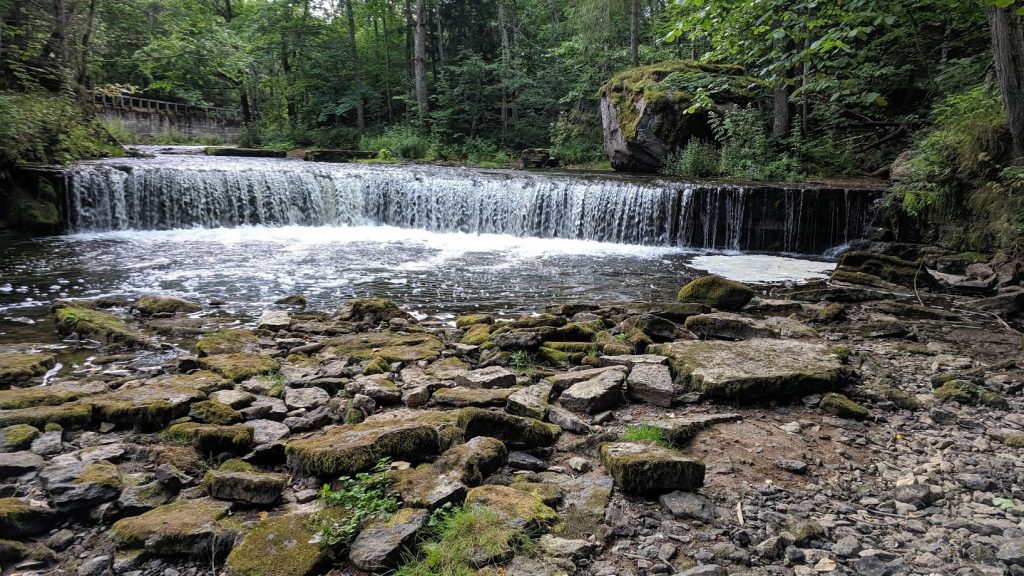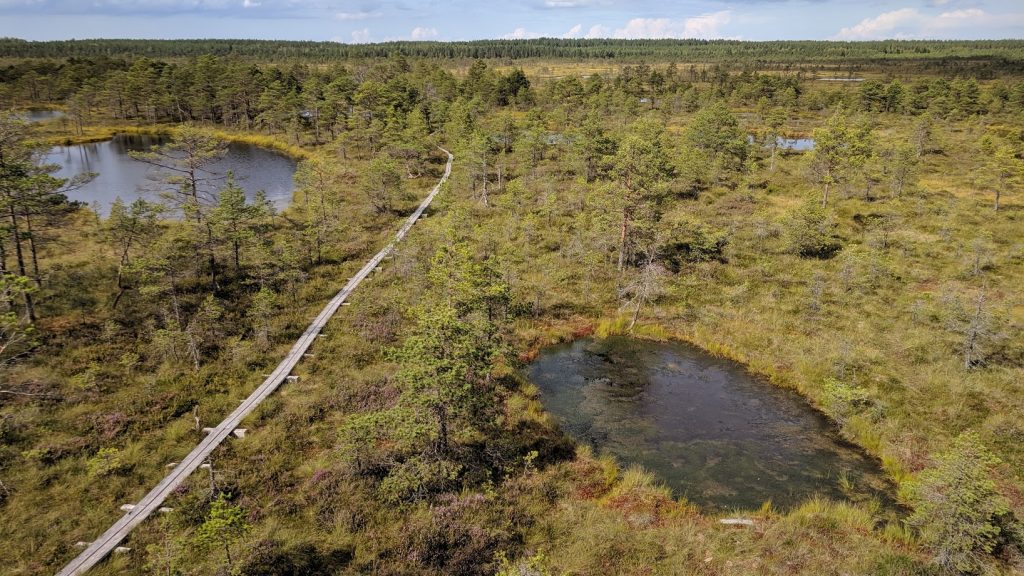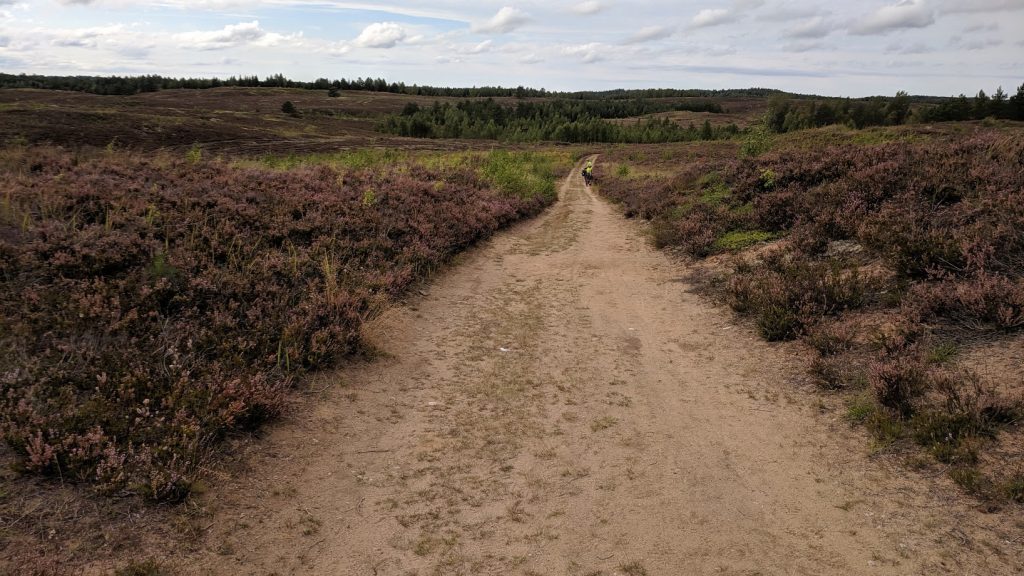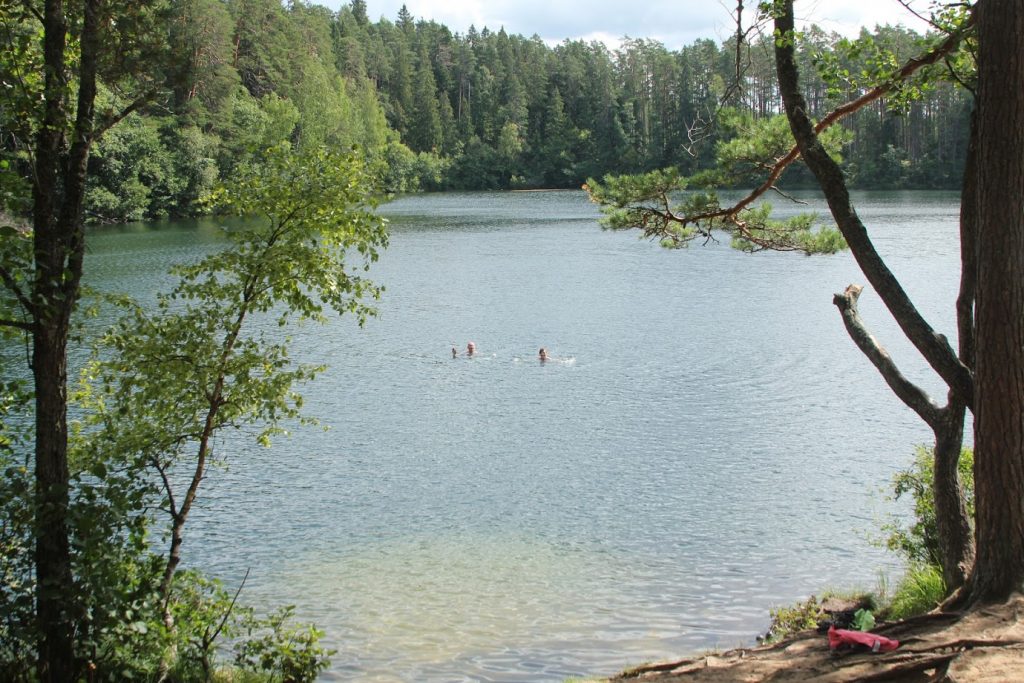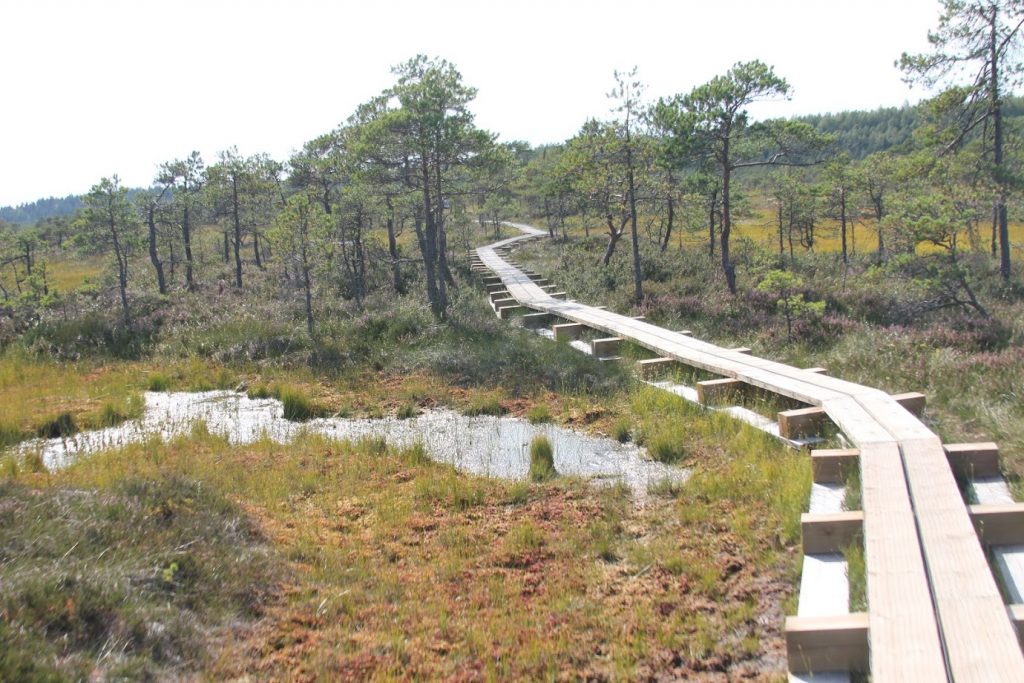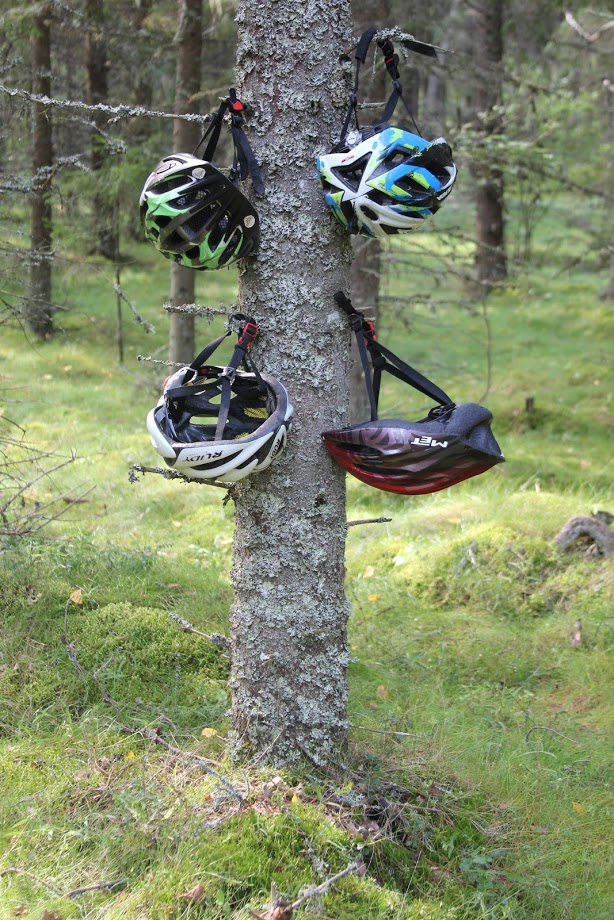 ---
Some Similar Trails We've Found
Through the USA – a 4,000 mile trail
Katy Trail – is a 237 mile (386 km) trail stretching across most of the state of Missouri.
Selkirk Loop – North America's only multi-national scenic loop
Interested in more? See our list of the best self-guided bike tours.
Bottom Line
I hope this review lit a small lightbulb in your head 🙂 There are tens of thousands hiking and cycling trails in the world but only a few cross a whole country. Consider hiking or cycling this trail and get to know one small e-country.
Getting here isn't hard. It takes only a few hours to get to Estonia from Central Europe. And yes, they speak English.
Don't miss the chance to make long-lasting memories that you can share with your grandchildren! 🙂
If you have questions or thoughts, write them below 🙂