If you're planning to start traveling by bike for days, months, or even years on end and carry all of your most valuable possessions with you, then you need the right tool for the job — check out the best touring bikes below.
However, the selection of adventure and touring bikes on the market is quite bewildering at the moment. If you don't know exactly what you're looking for, you can easily become overwhelmed or make the wrong choice.
For that reason, we've created a list of our 10 favorite long-distance bikes below, that you can use to complete your short or long tours and adventures, traverse on paved and unpaved roads and travel lightly or with all of your possessions.
Check them out below!
---
1. Salsa Journeyer Apex 1
Winner! Best Gravel Adventure Bike
MSRP $1,799
Salsa Journeyer Apex 1 is our top pick for a variety of reasons. This is a high-quality, yet affordable adventure bike with an aluminum gravel frame, carbon fork, and reliable components.
Its price and the list of specs make it suitable both for occasional multi-day weekend adventurers and for daily commuters.
Frame material: Aluminum
Groupset: SRAM Apex
Tire dimension: 700 x 38c
Brake type: Mechanical disc brakes
Number of gears: 11
The number of long-distance bikes you can choose from on the market is huge. However, not many of them come with builds that are ready for traveling out of the box.
Salsa Journeyer Apex 1 comes with lightweight aluminum frame that features rear rack eyelets that will make it easy to carry a set of panniers or fit a rear basket.
The frame is made from aluminum which is strong under heavy loads and comfortable on long rides, whereas the fork is made from carbon! You can easily carry all of your bike camping equipment on it if you fit a rear rack.
If you plan to tackle mountain passes, you'll be happy to have 11 gears at your disposal operated by SRAM Apex rear derailleur. Once you're finished taking photos at the top and begin that sweet descent, you can control your speed with mechanical disc brakes.
To top it all off, the Salsa Journeyer comes with versatile Teravail Washburn 700 x 38 mm tires with puncture protection. You can ride them on paved and unpaved roads with equal confidence.
2. Diamondback Haanjo 3
Best for Credit Card Touring
MSRP $1,175
The Diamondback Haanjo 3 is one of the most popular aluminum road bikes you can see on and off the road. It's an aluminum race machine with a aluminum fork made for riding fast.
This is far from a traditional touring bike, we get that. But we included it for all the credit card tourers who sleep in hotels and want to cover as many miles as possible during the day.
Frame material: Aluminum
Groupset: Shimano Sora
Tire dimension: 700C x 37mm
Brake type: Mechanical disc brakes
Number of gears: 18
One of the things that make this bike such a popular pick among bike world travelers is the Premium Alloy frame with the alloy fork. Its endurance geometry puts your body in an efficient position and turns long-distance rides into a breeze.
It comes with mounts for two water bottle cages, but there are no rack mounts. We recommend equipping it with a 10-15L saddle bag to carry only the bare necessities.
Dianmondback Haanjo 3 is a premuim aluminum bike that is ready to go on an adventure from the moment you take it out of the box and assemble it.
This bike also comes with Diamondback's own rims coupled with WTB Riddler Comps 37mm tires that are incredible for comfort and speed. You don't need to worry about a bit of rough terrain with these tires.
The drivetrain consists of a 46/30T crankset and 11-34T rear cogs, which makes for a nice and versatile gear combination for flat roads and heavy climbs. The mechanical disc brakes will provide you with plenty of stopping power and are a good upgrade on rim brakes.
So if you're planning on doing some adventures, this bike would be a good choice. Keep in mind that we recommend it for lightweight touring only.
3. Tommaso Imola
Best for Light Road Touring
MSRP $975
If you read our reviews often, you already know we are big fans of Tommaso bikes. The reason is that they usually have a much better money-to-value ratio than many other popular manufacturers. Tommaso Imola is another example of that.
Frame material: Aluminum/Steel
Groupset: Shimano Claris
Tire dimension: 700 x 25c
Brake Type: Brake calipers
Number of gears: 24
Tommaso has chosen to make this bike with an aluminum frame and a steel fork with an aluminum steer tube. This setup results in a good balance between lightweight performance and strength and durability for heavy loads.
This is a road bike, but as you'll see in a bit, it's a good choice for light road touring. It comes with 700x25c tires that provide plenty of grip on paved surfaces and guarantee a high average speed.
Tommaso Imola is a versatile adventure road bike that loves being taken on long adventures down scenic roads, packed with additional weight.
The groupset is Shimano Claris, offering 24 gears on a 3×8 drivetrain. The cassette has a range of 11-28 teeth, so Imola is better-suited for fast and relatively flat rides.
Shimano Claris brake calipers are coupled with Shimano Claris brake levers to give riders a feeling of security and more than enough stopping power in all weather conditions.
Imola is compatible with a rear rack and can also be outfitted with fenders, lights, and two water bottle cages. That makes it one of the best touring bikes for multi-day adventures when you need to carry bike camping gear.
4. Marin Gestalt X10
Best All-Terrain Model
MSRP $1,589
Marin Gestalt X10 is a pretty well-known name in the adventure cycling circles. This bike offers a fantastic bang for the buck, especially as a lightweight touring bike, for men and women who want to explore off the beaten track.
Frame material: Aluminum/Carbon
Groupset: MicroSHIFT Advent 1×10
Tire dimension: 700 x 40c
Brake type: Tektro mechanical disc brakes
Number of gears: 10
Marin Gestalt X10 is an introductory aluminum adventure bicycle that doubles as a capable commuter and traveler thanks to dependable components and excellent geometry.
Related: Best Self-Guided Bike Tours
This bike is built around a lightweight aluminum frame and features a light and stiff carbon fork. The frame comes with eyelets that let you fit front and rear racks and up to two water bottles for long rides.
If you're looking for a combination of a lightweight frame, carbon fork, great looks, decent components, and a reasonable price, there are few options that top Marin Gestalt X10.
The bulk of the components are MicroSHIFT Advent X10, which is an excellent deal at this price point. It puts 10 gears at your disposal with an 11-51T cassette. That's plenty of range for fast flats and long climbs.
Gestalt X10 rolls on Schwalbe G-One Performance, 700c x 40mm tires, which are common on adventure all-road bikes nowadays. Tektro mechanical disc brakes offer lots of stopping power and are easy to service on the road.
If you need a versatile touring bike and you have a budget of under $2,000, Marin Gestalt X10 is the best adventure bike for you.
Consider Also: Marin Four Corners
5. Marin Four Corners
Best Gravel Adventure Bike
MSRP $1,279
Marin Four Corners has everything that one of the best touring bikes should have — a durable CrMo frame, good components, plenty of eyelets, wide tires, and lots of gears.
Frame material: CrMo
Groupset: Shimano Sora
Tire dimension: 700 x 42mm
Brake type: Mechanical disc brakes
Number of gears: 18
The Marin Four Corners is one of our favorite touring bikes out there due to the amount of thought that obviously went into its making.
It's made with a strong CrMo frame coupled with a comfortable CrMo fork. These feature a classic upright endurance geometry that will keep you fresh for hours.
The Four Corners comes equipped with numerous mounting points for two water bottles, a rear rack, and fenders. You can equip it for long trips in any kind of weather.
Marin Four Corners is a mid-range adventure bike with a pretty affordable price tag considering all you get in the package. It's ready for month-long and even year-long tours in the most extreme parts of the world.
This traveler is fitted with Shimano Sora components, which is a good mid-range option. You'll get 18 gears in total, which is the most you can find on bikes nowadays.
The mechanical disc brakes come with 160 mm rotors that brake well even when you're fully loaded. The frame and the fork have thru-axles, which means riding feels stable and handling is predictable.
Last but not least, the Four Corners rides on WTB Resolute Comp 700c x 42mm tires. That translates into a comfortable ride and a platform that can carry a lot of extra weight.
Add this model to your shortlist of the best touring bikes if you're planning an adventure on gravel roads or mixed surfaces.
6. Cannondale Topstone 2 Neo SL
Best for Lightweight Touring and Bikepacking
MSRP $3,625
If you are one of those people who like traveling far, ruffing it out with some assistance, and bringing only the bare necessities, Cannondale Topstone 2 Neo SL is the right pick for you.
See more: Cannondale Topstone Series
This bike has a lightweight aluminum frame and fork, so it doesn't weigh much. It's made for traveling on gravel and dirt roads thanks to knobby tires and comfortable geometry.
Frame material: Aluminum
Groupset: Shimano GRX400
Tire dimension: 700c x 42mm
Brake type: Hydraulic disc brakes
Number of gears: 11
The bike is not only quick but you also get assistance from the 250w Mahle motor 250wh battery to match. It only adds a couple of pounds to the bike but can give you an extra 47 miles to your tour each charge.
Aluminum was and is still considered to be the go-to frame material for lightweight and stiff bikes. It weighs little, offers a comfortable ride, and efficiently transfers power from your legs to the pedals.
The Topstone 2 frame has eyelets for two water bottles, so you can go on day-long rides with all the liquid you need. You can't fit racks and panniers on this bike, but you can equip it with a saddlebag and frame bags for bikepacking trips.
Related: Bikepacking Bags (Guide + Top Picks)
Cannondale Topstone 2 is one of the best touring bikes for bikepacking, bike camping, and light adventure traveling.
When it comes to the components, this bike touts a Shimano GRX groupset which will give you thousands of trouble-free miles.
One of the highlights is the Shimano hydraulic disc brakes, which will give you all the stopping power you need even when fully loaded with gear.
If you end up buying this bike, you should also be content with the WTB Resolute Comp tires which are 42 mm wide. However, this bike is also compatible with 650B wheels and tires, so you can choose between these two options when buying.
Get the Cannondale Topstone 2 if you want one of the best gravel adventure long-distance bikes with dependable components and endurance geometry.
7. State Bicycle Co. Black Label All Road
Best for Off-Road Travelers
MSRP $1,399
If you like traveling off-road, we completely understand. The views are better, there's less traffic around you, and the tempo is more laid-back. If you still don't have the right bike to support you on such trips, you should give the State Bicycle Co. Black Label All-Road a try.
This bike craves rough gravel and dirt roads and absolutely loathes long stretches of pavement. It can climb, descend, and bring everything you'll ever need on a long excursion into the wild.
Frame material: 6061 aluminum
Groupset: State 1×11
Tire dimension: 700 x 38c / 650b x 47c
Brake type: Mechanical disc brakes
Number of gears: 11
The Black Label All-Road is made with the best possible materials. It sports a strong and lightweight frame and fork made from high-quality 6061 Steel. This material is super durable and renowned for stiffness and comfort, so you can expect to get plenty of all the good stuff. The fork is made from carbon, so it's stiff and light as well.
State Bicycle Co's Black Label All-Road is a capable and versatile bike that's perfect for bikepackers who plan to stick to the Road Less Traveled.
This bike is fitted with State Bicycle Co's own groupset components and has a 1×11 drivetrain. That's an excellent setup for day-long rides on challenging terrain, singletracks, fire roads, ascents, and descents.
Vittoria Terreno tires are difficult to top in the off-road game, so you'll have plenty of grip, even if you don't balance the weight perfectly well on both ends of the bike.
Another positive aspect of the Black Label All-Road is the mechanical disc brakes that translate into lots of ample braking power for confidence on downhills.
This is one of the best touring bikes for you if you want to travel light and fast, covering hundreds of miles in a week.
8. All-City Gorilla Monsoon
Best Drop-Bar Adventure Mountain Bike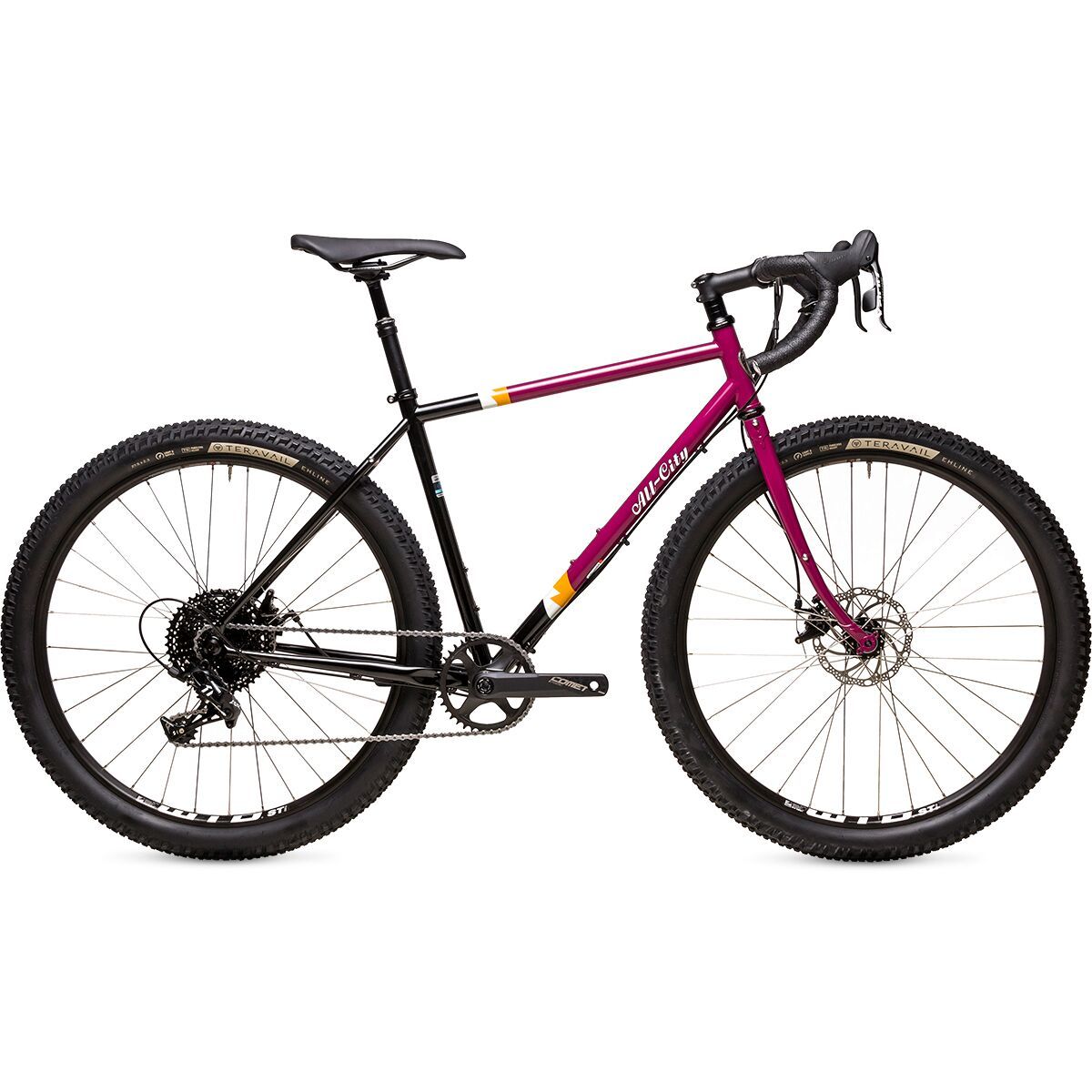 MSRP $2,599
All-City's Gorilla Monsoon is the best adventure bike out there. If you're adventurous, love riding on rough unpaved roads, and you're an enthusiast when it comes to bikepacking, this bike will check all of your boxes.
Frame material: Steel
Groupset: SRAM Apex 1
Tire dimension: 27.5 x 2.4″
Brake type: Mechanical disc brakes
Number of gears: 11
Gorilla Monsoon is All-City's (successful) attempt at making a practical and versatile bikepacking and adventure bike. They built it around a durable and stiff steel frame with good-looking straight tubing and plenty of eyelets on the frame and the fork.
This adventure bicycle has a large weight limit, so you can pack it quite heavy. The fork is rigid and also made of steel, so it improves comfort and easily handles any rough terrain.
This bike does not come with any accessories, but you can easily equip it with front and rear racks, fenders, lights, and several water bottle cages. Therefore, if you have the legs to do it, you can complete multi-day trips with it.
All-City Gorilla Monsoon made it on our list because it has a reasonable price, a decent list of components, and pretty versatile intended use.
The SRAM Apex 1 drivetrain has 11 gears in total, which is an adaptable and lightweight setup. The Tektro mechanical disc brakes are basic but perform well enough when it comes to stopping the bike and your cargo on a dime.
If you plan to ride on the toughest dirt roads you can find, you can easily do it thanks to WTB Riddler 27.5 x 2.4 in. tires. If you want to do gravel riding or spend more time off-road, this is the perfect setup.
All in all, with the price in mind, All-City Gorilla Monsoon Apex 1 is the best adventure bike in this category.
9. Rondo Ruut ST2
Best for Long Days in the Saddle
MSRP $2,599
The Rondo Ruut is a popular endurance bike made to navigate paved and unpaved roads equally well. Its frame and fork are made from light Tange steel, which is a light, flexible, and durable material.
Frame material: Steel
Groupset: SRAM Apex
Tire dimension: 700 x 40c
Brake type: Hydraulic disc brakes
Number of gears: 11
The Ruut's frame can accommodate two water bottles any frame bags that you think you need. Thanks to a traditional diamond touring frame design, you can fit a large frame bag inside the front triangle. You also get a geometry adjustable fork as well.
This bike is outfitted with an SRAM Apex groupset which is commonly seen in this price range. It comes with a wide 11-42T cassette and a compact crank which gives you a very practical gear range. No hill is a match for this drivetrain.
Rondo Ruut is an all-road crusher that is perfectly suited for multi-day excursions into areas with absolutely no phone service.
The WTB Nano, 700c x 40 mm tires have low-profile knobs that will not slow you down on paved roads but will provide you with loads of grip when you hit a gravel or dirt detour.
When the time comes to take a break and head on a long descent, the SRAM hydraulic disc brakes will help you stay in control at all times.
If you want a bike that you can rely on in any part of the world and on year-long adventures, Rondo Ruut is one of the best touring bikes for you.
10. Tommaso Forcella
Best Cheap Road Bike We Recommend
MSRP $1,025
If your idea of bike travel is completing day-long or weekend cycling adventures, then you don't really need to spend too much money on an adventure bicycle.
In our opinion, Tommaso Forcella is the best bike for touring that you can get for around $1,000. Its list of entry-level specs will not leave anyone out of breath, but it will get the job done easily.
Frame material: Aluminum/Carbon
Groupset: Shimano Claris
Tire dimension: 700 x 25c
Brake type: Rim brakes
Number of gears: 24
Tommaso Forcella combines an aluminum frame with a strong carbon fork to offer a comfortable and stable ride on all types of terrain. The frame has mounting points, so the bike is ready for a rear rack and panniers.
In total, this Marin has 24 gears on a Shimano Claris-powered drivetrain. That's the lowest you can get down Shimano's road hierarchy, so if you plan to upgrade this bike, Sora or Tiagra would really increase its value.
Tommaso Forcella is an entry-level road adventure bicycle with beginner-friendly components. It is intended for new riders who are just getting into the cycle touring world and don't plan to cover too many miles every day.
One of the high points of Forcella is its caliper brakes which will confidently stop the bike even under heavy load.
If you still don't know if traveling by bicycle is for you or you just want an affordable and comfortable bike for commuting, we believe Tommaso Forcella is a safe pick.
---
What Else To Know? Low Gear Ratios!
All best touring bikes need some serious granny gears. No matter how strong and fit you are, your legs will be put on a test when you have to cycle a +10% gradient with a fully-loaded bike, hauling 40+ lbs.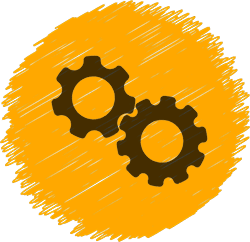 Bike tourers often carry a lot of gear, food, and water, so low gears are a must. Ideally, a proper touring bicycle should have 27 or 30 gears. This gives you a wide gear ratio without big jumps in-between gears.
However, you should also consider how low your lowest gears go. An 11-34T cassette (at least) should be a must, combined with 2 or 3 subcompact rings in the front. The most common touring crankset is a 48/36/24T.
If this is not easy enough for you, you can also consider getting an electric touring bike, which is a category that's becoming more popular nowadays.
Gear Inches
The best way to compare gear ratios across different bikes and different wheel sizes is by using gear inches.
Gear inches refer to the diameter of the wheel, multiplied by the size of the front chainring, and divided by the size of the rear cog.
Typically, the best touring bikes have between 18 and 20, whereas a good high result is 110 to 115. You can use this gear inches calculator to find the results easily and figure out whether a certain bike has the correct gears for you.
Touring Bike Geometry
At first glance, touring bikes look very similar to road bikes. However, there are some very crucial differences. Simply speaking, most road bikes are made to go fast, whereas the best touring bikes are made for long and sustained efforts.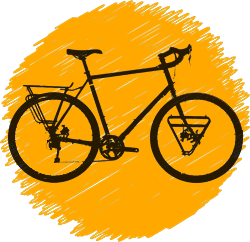 Touring geometry is more upright, putting the rider in a comfortable and relaxed position that allows them to spend hours in the saddle, day after day.
To achieve this upright geometry, the top tube is usually shorter and the headtube is longer than on road bikes. Therefore, the reach is shorter whereas the stack is longer.
The wheelbase and the chainstays are longer as well. This makes the bike more stable and creates more room for carrying front and rear panniers.
Long-distance bikes also have lower bottom brackets, which improves balance and stability, which is important when carrying a lot of weight that is not always balanced well on the bike.
Read more: Touring Bikes vs Road Bikes
Setting a Budget
Setting a budget when looking for the best touring bikes is a big challenge. On the one hand, you want to spend as little as possible and save as much money as you can to stay longer on the road.
On the other hand, you want to get the best possible bike that you'll be able to use for years and feel comfortable traveling on and going far away from home.
That said, you don't really need to spend thousands of dollars on a shiny new bike with high-end components. However, you shouldn't get the cheapest bike either.
A mid-range option should satisfy most bike travelers. Mid-range builds have the best money to value ratio, are very reliable and durable, and add just a little bit of weight.
Of course, if you have the money and you want the best of the best, that's even better. You'll probably get tens of thousands of miles out of it, while spending minimum amounts on maintenance and upkeep. With a really high budget, you can also get an electric touring bike, which is especially useful for senior travelers.
Considering used long-distance bikes is also a good option if you know what you're doing. You don't want to get a beat-up dead horse that will only cause you trouble on the road.
Correct Tire Size
Tires are incredibly important on any bike, but even more so on the best touring bikes. Most bike travelers are not looking to go very fast, so they can get away with wider tires. In return, wide tires make riding more comfortable and let you carry more weight.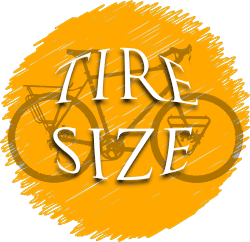 Typically, touring tires should be at least 32 mm wide. However, 35mm, 38mm, or 40mm are the most common choices. If you're sticking to paved roads, go for slick tires, or choose treaded tires if you're planning to go off-road.
It's a good idea to go for proper touring tires, such as Schwalbe Marathon, as they come with puncture protection and are made from durable rubber compound that lasts for 15,000+ kilometers.
Nowadays, touring wheels come in different diameters: 26″, 650b, and 700c. The 26″ and 700c are the most popular choices, but 650b are gaining momentum as well. If you're traveling to remote parts of the world, it's best to go with 26″ tires as it's easy to find a replacement even in undeveloped countries.
To learn more about tire sizes, see our detailed guide.
Essential Gear
Best touring bikes should come with some essential accessories and gear that you don't always see on other types of bikes. These pieces of gear should make your rides safer, more comfortable, and more enjoyable.
Here are a few that are an absolute must:
Fenders: Quality full-length front and rear fenders will not add a lot of weight to your bike but will protect you from getting wet and dirty if it starts raining. Avoid going on a multi-day trip without these.
Kickstand: A kickstand seems like a trivial accessory, but it will make your life so much easier. Instead of looking for a place to lean your bike every time you take a break, invest in a quality aluminum kickstand that will last for years.
Lights: Front and rear lights on the best touring bikes are not to be negotiated. Bike touring is unpredictable, so you can easily find yourself riding past daylight, even if you didn't plan to do so. Today, many touring bicycles have dynamo-powered lights, which means you don't have to worry about batteries.
Racks: Racks are a necessity on long-distance bikes. Some models have only rear, some only front, and many have both front and rear racks. They let you carry panniers, camping gear, food, and water, so make sure you get ones that are decent quality and won't crack under load.
For a longer list and some extra tips, see our guide on how to prepare for a bike trip.
Are you traveling with kids or cargo? Check out the best bike trailers