Priority Continuum Onyx is the perfect low-maintenance bicycle to navigate an urban jungle year-round. It's a feature-rich commuter with an attractive price tag.
Few commuter bikes have earned a shoutout from such big names as Wired, Gizmodo, Digital Trends, The Manual, Popular Mechanics, and even Playboy. Priority Continuum Onyx is one of them. Whoever gives it a try, can't help but rave about how fun, quiet, comfortable, and practical it is.
Based on generally accepted prerequisites, Continuum Onyx is the ideal city bike. It's low-maintenance, has a dynamo hub, hydraulic disc brakes, comes ready for nighttime rides with lights, and includes full-length fenders.
Is Continuum Onyx really such a joy to ride and is it the best choice an average urban commuter could spend their budget on? Let's take a closer look and see why everyone is so impressed.
Key Specifications
It's really difficult to compare Priority Continuum Onyx to other choices on the market and talk about the bang for the buck because it doesn't really have that many competitors.
This is a groundbreaking machine that parts with traditional views of cycling drivetrains and instead introduces a stepless gear hub with a Gates carbon belt.
Frame: Ultralight 6061 T6 Aluminum
Fork: Ultralight 6061 T6 Aluminum
Rear Hub: enviolo Trekking (n380)
Front Hub: Priority Low Drag Dynamo 3W 6V
Shifter: enviolo Trekking (c8)
Drivetrain: Stepless Continuously Variable Transmission (CVT)
Brakes: Tektro Hydraulic disc brakes
Rims: Double wall alloy, 36H
Tires: WTB Slick 700c x 32mm, puncture resistant
Saddle: Velo dual density
Seat Post: Carbon
Pedals: Priority Alloy Platform, sealed
Priority Continuum Onyx Full Review
Priority Continuum Onyx is a well-rounded two-wheeler that shines when taken on an adventure along busy city streets and spacious boulevards. It's a bicycle built to take you from point A to point B, reliably, every time, and any time.
But don't let that fool you. This is also a versatile and well-built machine that you can use after your commute as well. Need a trusty companion to push yourself on the weekend and do a quality workout? Continuum Onyx will do a good job.
Let's take a detailed look at the features to understand why.
Familiar Alu Frame and Geometry
Continuum Onyx comes with a pretty standard 6061 aluminum frame and fork that can be seen on most bicycles in this price category.
Aluminum is known for its strength to weight ratio. It's light and stiff, which is just what you need when trying to make a bicycle more efficient. Being affordable is just an additional plus.
The frame and the fork are painted in Priority's recognizable matte black color with reflective decals that improve visibility from all angles.
Thanks to its simplified design, Continuum Onyx is elegant and sleek, without being invisible to the traffic around it.
Another positive aspect of this frameset is that it offers a plethora of eyelets to mount fenders, racks, and bottle cages. There's room for two water bottles, so you can stay hydrated on long rides.
A negative that needs to be mentioned is that Continuum Onyx is not a lightweight bike. With 31 lbs. under its belt, it's a heavyweight champion, but a champion nonetheless.
Enviolo CVT Drivetrain & Gates Carbon Belt
The most noteworthy feature of Priority Continuum Onyx is the enviolo Trekking CVT drivetrain. Namely, this is a completely sealed stepless drivetrain placed inside the rear hub. It offers a 380% gear-range, which equals a traditional 7-speed drivetrain.
CVT stands for Continuously Variable Transmission, which means that Onyx does not have gear steps like a traditional drivetrain with derailleurs. Instead, using a grip shifter located on the handlebar, you simply adjust the resistance until you find the perfect pedaling difficulty.
The most impressive thing about the enviolo drivetrain is how quiet it is, even when shifting. All you can hear is the sound that the tires make against the tarmac while navigating smooth city streets.
What's most impressive about this drivetrain, apart from it being sealed and maintenance-free, is that you can change "gears" while completely stopped. You don't need to pedal in order to shift down, which is great when you come at a dead stop in high gear.
See More: Best Belt Drive Electric Bikes
The enviolo drivetrain is paired with a Gates Carbon belt for a 100% maintenance-free experience. You can forget about regularly cleaning and lubricating the chain, or smearing grease all over your pants. There are no such things with this setup.
Quality Brand-Name Components
We appreciate that Priority did not cut corners with the other components on Continuum Onyx either. Starting with the braking system, you get a pair of Tektro dual-piston hydraulic disc brakes that work really well. They're smooth, quiet, and more than sufficiently powerful. Plus, they require minimal maintenance, just like the drivetrain.
In terms of rubber, Continuum Onyx rolls on a pair of WTB Slick 700C x 32mm tires, with a puncture-resistant layer and reflective sidewalls. While these are not extremely narrow tires, the lack of an aggressive tread makes them suitable for asphalt and only an occasional detour down a hard-packed dirt road.
All-Weather Accessories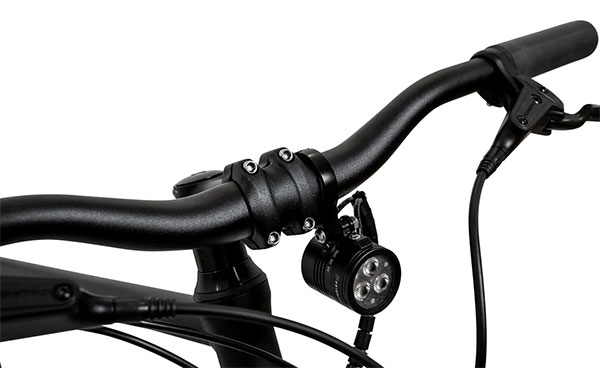 Urban commuters who love riding year-round and don't shy away from night rides will appreciate the accessories as well.
This city bike comes with a pair of fenders, a front dynamo hub, and a pair of dynamo-powered lights. The 400-lumen headlight is decently strong, so it can illuminate the road in front of you. The system also features USB charging capabilities, so you can charge a power bank and keep your smartphone's battery full.
Priority Continuum Onyx Sizes
This bicycle is available in three frame sizes and with a traditional step-over frame only. According to the simple Continuum Onyx size chart that Priority provides, the bike fits riders of different heights.
Small 17″: 27″ – 29″ Inseam
Medium 19″: 30″ – 32″ Inseam
Large 21″: 32″ – 35″ Inseam
Priority does not share frame size recommendations based on a rider's height, but the inseam measurements should be sufficient to get a good fit.
The geometry is endurance-oriented and puts the rider in a comfortable, upright riding position. As a result, you'll feel relaxed while riding and have a good overview of the road ahead.
Frequently Asked Questions
Find the answers to some of the most commonly asked questions about Priority Continuum Onyx below.
Other models:
Final Verdict: Is the Priority Continuum Onyx Worth It?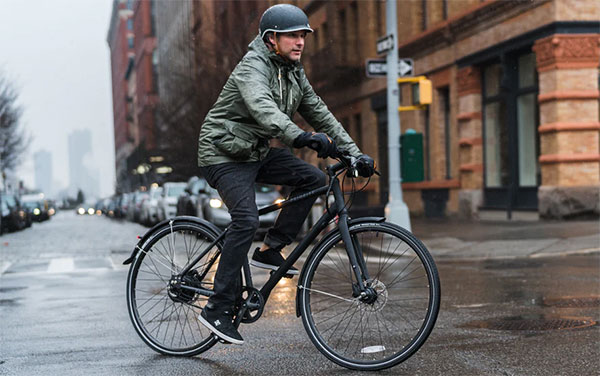 To the right type of rider, Priority Continuum Onyx will be worth as much as gold. This is a versatile bike that focuses on city riding and commuting but is not afraid of long weekend adventures.
Priority seems to have done its homework and thought about everything city riders could ask for—sealed stepless shifting, a carbon belt, lights, fenders, good tires, hydraulic brakes, and all of it put together in a good-looking package.
If you need an urban commuter that delivers a lot of value but asks for little attention in return, this is one of the best options on the market. A low-maintenance, yet reliable, stylish, and comfortable two-wheeler that will leave no one indifferent.
Priority Continuum Onyx
$1,299