Priority 600 is a maintenance-free and ultra-reliable do-it-all commuter bicycle with no chain and derailleurs, boasting instead a 12-speed Pinion gearbox.
Priority 600 is one of the simplest, yet most technologically advanced commuter bicycles you can get today. This is an automotive-inspired bicycle equipped with a Pinion gearbox designed by two former Porsche engineers who brought about a major revolution into the world of cycling.
Priority 600 is extremely dependable and easy to use, built for everyday abuse but only occasional servicing. This is a good-looking urban workhorse with top-notch features and accessories (such as a dynamo hub, lights, and hydraulic discs) that does not cost an arm and a leg.
If you need a no-fuss road commuter and gravel grinder all-in-one, you'll want to read the rest of our Priority 600 review.
Priority 600 Key Specifications
Priority 600 features high-quality components sourced from some of the biggest brands in the industry. On top of that, the bike gets all the necessary accessories to be ridden year-round, day or night.
In addition to commuting, you can also use this bike for fitness, running daily errands, or for easy spins with family and friends along smooth bike paths.
Frame: Ultralight 6061 T6 Aluminum
Fork: Ultralight 6061 T6 Aluminum
Gearbox: Pinion C1.12 Magnesium body
Shifter: Pinion DS2
Gears: 12 (equivalent to traditional 30)
Brakes: Tektro Hydraulic disc brakes
Rims: WTB ST TCS 2.0 650B
Tires: WTB Horizon 650B Plus 47 mm or Good Year Country both Tubeless-ready
Front Hub: Priority Low Drag Dynamo 3W 6V
Saddle: WTB Pure
Pedals: Priority Alloy Platform
Full Review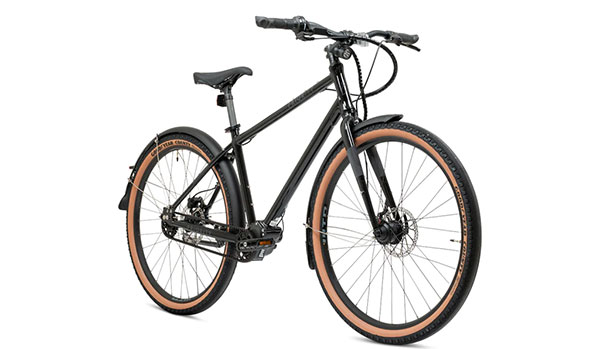 Priority 600 is the ideal bicycle for negligent bike owners who loathe adjusting derailleurs, cleaning the drivetrain, and lubricating the chain. All you need to do every morning before your commute is hop on and ride.
Component-wise, Priority has thought about everything, so everything on the bike has been accounted for. It's ready to rumble.
The proud owners of this inconspicuous-looking city beast will get a lightweight aluminum frame, hydraulic disc brakes, multi-surface tires, and a dynamo hub to begin with.
Lightweight and Sleek Alu Frame
At the base of Priority 600 lies a simple and elegant aluminum frameset painted in a uniform jet-black color. This is a step-over frame with a discreetly sloping top tube that provides a decent standover clearance.
Priority 600 weighs just over the 30 lb. mark, so it is reasonably lightweight considering its automotive-inspired transmission gearbox.
The frame is crisscrossed with eyelets that let you attach two water bottle cages, in addition to fenders that come stock with the bike.
Related: Priority Continuum Onyx
Pinion Gearbox: 600% Gear Range
The 12-speed auto-inspired Pinion gearbox is the heart of Priority 600. This is the most advanced shifting technology in the cycling world that completely eliminates derailleurs, cables, or a chain.
The bicycle was named "600" because the gearbox provides you with a 600% gear-range. Even though you have a choice of 12 gears, the gear-range is equivalent to that of a traditional 30-gear drivetrain.
The entire transmission mechanism is fully-sealed and fitted around the bottom bracket. It works seamlessly, even while you're pedaling, and requires no maintenance or adjusting.
The gearbox is connected to the rear cogs with a Gates Carbon Drive belt that does not require any degreasing or lubrication.
See More: Best Belt Drive Electric Bikes
Multi-Surface WTB 650BTires
Priority 600 is ready for any challenge you put it through thanks to its versatile WTB Horizon 650B tires. These are 47mm wide multi-surface tires that can comfortably take you on an on-road and off-road adventure.
In addition to being gravel-ready, these tires are also tan-walled, which looks great against Priority 600's all-black base color.
They're paired up with WTB ST TCS 2.0 tubeless-ready wheels, which means you'll never be late to work due to punctures.
If you need a bicycle that can handle different types of roads, from pavement to dirt to gravel, Pinion 600 looks like it's up to the task.
Hydraulic Disc Brakes
Priority 600 comes with Tektro hydraulic disc brakes that offer good stopping power. These are dual-piston hydro brakes coupled with 160 mm rotors, front and rear.
These are not the best hydraulic disc brakes you can get, but they are suitable for the price range in which Priority 600 sits. After all, this is not a mountain bike, but a versatile asphalt and gravel machine. With that in mind, these brakes are more than sufficiently strong for the type of riding you'll do.
Related: Priority Classic Plus
Commute-Ready Accessories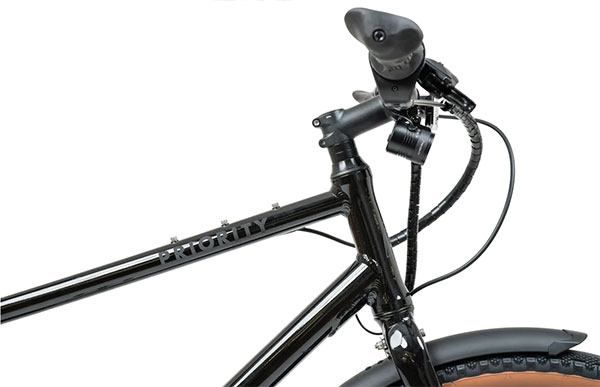 Priority 600 ships with a ready-to-ride configuration that includes a number of practical accessories. You'll get a pair of durable composite fenders, a kickstand, dynamo, and front and rear lights.
The Priority front hub dynamo produces electricity as you ride, which is then used to power front and rear lights. So, you'll be visible from all sides, at all times, without having to worry about replacing or recharging any batteries.
The dynamo hub also has USB charging capabilities, which means you can keep all of your devices (such as a smartphone or cycling computer) charged at all times.
The 500-lumen headlight is sufficiently bright to help you see. Plus it makes you visible, so you can ride Priority 600 day or night.
Priority 600 Geometry and Sizes
Priority does not share a detailed geometry chart for the "600", but it's easy to see that this bike prioritizes comfort over speed.
The 74° head tube angle and the 69° seat tube angle give Priority 600 an endurance geometry. You'll sit in a relaxed, upright position that gives you a good overview of the road ahead, that you can maintain for hours.
You can order Priority 600 in one of three available frame sizes, depending on your height and inseam length:
Small 17″: 27″ – 29″ Inseam Length
Medium 19″: 30″ – 32″ Inseam Length
Large 21″: 32″ – 35″ Inseam Length
Frequently Asked Questions
Here are our answers to the most common questions our readers ask us about the Priority 600 bike.
Final Verdict: Should You Buy Priority 600?
Priority 600 has brought about a revolution of sorts. It has eliminated one of the most common reasons why many people don't commute by bike—complicated maintenance. If you're a lazy person or you already have enough tasks to juggle every day, you will love Priority 600's maintenance-free nature.
The Pinion gearbox is definitely a standout feature that will convince many to purchase this bike. It's a fun rig that lets you commute year-round and focus on nothing else but having fun. You can ride it to work on weekdays or go on long rides on the weekend.
All in all, Priority 600 easily justifies its $2,500 price tag and wins a unanimous recommendation from the Bicycle Guider team.