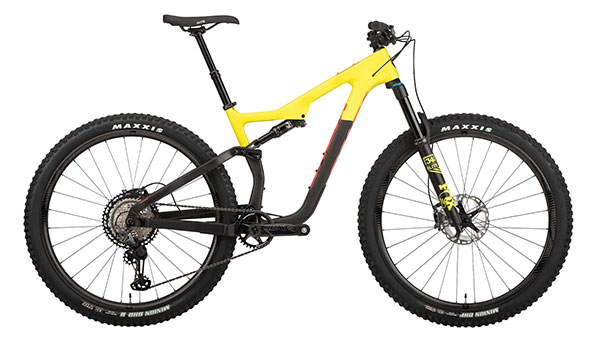 Salsa Horsethief is a lineup of carbon and aluminum full-suspension mountain bikes. With 140mm front and 120mm rear Fox and RockShox suspension, it is the perfect choice for a wide variety of riders and applications.
Salsa is well-known in the mountain biking world for developing mid-range and high-end trail bikes with unique features that stand out from the competition.
The Horsethief series is ideal for all-around trail riders who wish to do a little bit of everything. These are capable 29ers with adjustable geometry, that can also run on 27.5″ wheels and tires. Therefore, they can excel on a variety of terrains and courses, including climbing, descending, freeriding, and harsh singletracks.
The selection consists of six mid-to-high priced models, as well as a Horsethief carbon frame that you can get if you want to spec your own build.
Salsa Horsethief Key Features
Salsa has made sure to impress even the most hardcore trail riders and bikepackers with the features it incorporated on the Horsethief lineup. Split Pivot, Super BOOST, Flip Chip, and carbon are just the tip of the iceberg.
Lightweight carbon and aluminum frames with Horsethief Geometry and modern trail bike fit.
Salsa's proprietary Split Pivot rear suspension system.
Super BOOST 157mm rear end.
A full-suspension setup with 140 mm of travel.
Adjustable bottom bracket height and head tube angle with Flip Chip.
Dropper posts on all models.
Numerous mounting points make it bikepacking-ready.
High-quality Shimano and SRAM groupsets with 1x drivetrains.
29″ wheels and super-wide 2.5″ Maxxis Minion tires.
Salsa Horsethief Builds
Horsethief Carbon XTR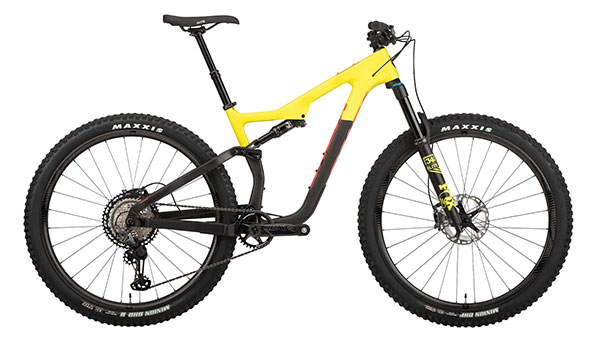 MSRP: $7,099
Fork: Fox Float 34 Performance Elite FIT4 140mm
Rear Shock: Fox Float DPS Performance Elite
Groupset: Shimano XT / XTR
Wheels: Reynolds C-Series 309 Carbon
Brakes: Shimano XTR
This is the Salsa Horsethief flagship model, with the best possible components and the most carbon in sight. It gets a full Shimano XTR groupset, which is the highest you can go in the hierarchy, combined with carbon Reynolds wheels.
Apart from the carbon frame, this model also boasts a carbon handlebar for premium steering performance and weight savings. The TranzX dropper post gives it up to 200mm of travel, depending on the frame size.
This Horsethief build is ideal for professional riders or those who aspire to go pro. The smooth Fox Float suspension will surely help you with that.
Related: Overview of Salsa Cycles
Horsethief Carbon XT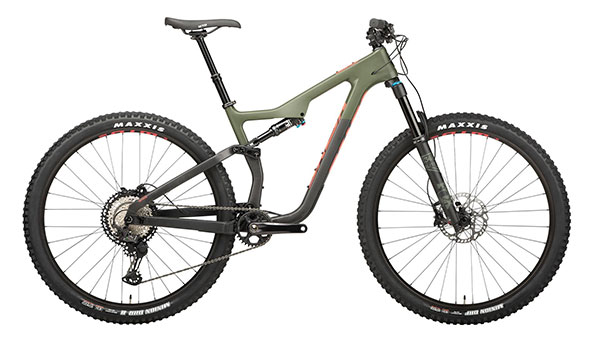 MSRP: $5,699
Fork: Fox Float 34 Performance Elite FIT4 140mm
Rear Shock: Fox Float DPS Performance Elite
Groupset: Shimano XT
Wheels: WTB KOM Trail i29 TCS 2.0
Brakes: Shimano XT
Horsethief Carbon XT is a slightly lower specced model with less carbon and slightly higher weight. However, it's built around the same carbon frame as the premium model and sports the same Fox Float front and rear suspension with 140mm of travel.
The Shimano XT groupset is race-ready and so are the 29″ WTB aluminum wheels. Like all other Horsethief models, this build rolls on Maxxis Minion 2.5″ wide tires and has Flip Chip technology, Super BOOST stays, and the Split Pivot rear suspension system.
Get it if you don't want to go all out on your wallet but you want to go all out on the trails.
Horsethief Carbon SLX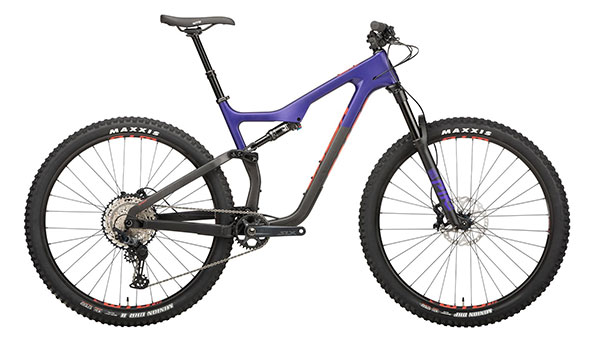 MSRP: $4,799
Fork: RockShox Pike Select 140mm
Rear Shock: Fox Float DPS Performance
Groupset: Shimano SLX
Wheels: WTB ST Light i29 TCS 2.0
Brakes: Shimano SLX
This is the lowest-specced carbon model with Shimano's mid-tier SLX groupset and a mixture of RockShox Pike and Fox Float front and rear suspension.
The Horsethief Carbon SLX is an all-rounder's dream bicycle that boosts pedaling, braking, and climbing efficiency thanks to the Flip Chip technology. The 140mm of front and 120mm of rear travel will give you all the confidence you need to set a PR on your favorite descent.
This is a model for enthusiasts, but that does not mean it is not capable of doing some racing and pushing the limits on most trails in your area.
Related: Salsa Rangefinder
Horsethief SLX Aluminum
MSRP: $3,399
Fork: RockShox 35 Gold RL 140mm
Rear Shock: RockShox Deluxe Select+
Groupset: Shimano SLX
Wheels: WTB ST i29 TCS 2.0
Brakes: Shimano MT520
Horsethief SLX is the highest-specced aluminum model with a pretty good bang for the buck. It's built with top-shelf, double and triple-butted, heat-treated 6066-T6 aluminum tubing that ensures a good strength-to-weight ratio.
Apart from the aluminum frame, it does not come with any big drawbacks compared to the models above. It rolls on the same WTB wheels and Maxxis Minion tires and features mid-level RockShox suspension with plenty of adjustability and travel.
This model's biggest advantage is that it saves you $1,400 compared to the cheapest carbon model. Still, it does not leave the average trail rider wanting in any area.
Horsethief SX Eagle (Two models) Aluminum

MSRP: $2,799
Fork: RockShox Recon RL 140mm
Rear Shock: RockShox Deluxe Select+ / RockShox Deluxe RT
Groupset: SRAM SX Eagle
Wheels: WTB ST i29 TCS 2.0
Brakes: Shimano MT401
Last but not least is the cheapest model in the Salsa Horsethief lineup that features two similar but unique builds. This model sports an entry-level 12-speed SRAM SX Eagle groupset combined with RockShox Recon RL front suspension and RockShox Deluxe rear suspension.
If you're worried about budget but you still want to get a bike that shines on all types of trails, this is the model to look at. You get all of the advanced technologies seen on the most expensive built, but with lower-specced components. Like all other Horsethief models, this one is capable of weekend bikepacking trips as well.
Salsa Horsethief Sizes
All Salsa Horsethief models are available in four sizes that fit moderately short to very tall riders. On the official page, Salsa provides the following frame size recommendations:
Small: 5'5″ – 5'8″
Medium: 5'8″ – 5'11"
Large: 5'11" – 6'2″
X-Large: 6'2″ – UP
As you can see, Salsa Horsethief is not suitable for very short and extremely tall riders. But anyone in-between the two extremes can easily find the right fit with one of the four available sizes.
In addition to the size chart, Salsa also provides a detailed geometry chart, so see the official page for more information.
Is Salsa Horsethief Worth the Money?
The definition of mountain biking has become an umbrella term that covers numerous different categories. Ideally, you'd want a bike for each type of MTB riding, which is not really realistic unless you're a sponsored athlete.
That's where the Salsa Horsethief comes in as it fills a big hole in the market. This is a versatile trail bike built for all-around trail riding. It can do a little bit of everything and breaks the decades-long "n+1" formula of the ideal number of bikes a rider should have.
So Salsa Horsethief is definitely worth the money, especially considering that it's available in the $2,799–$7,500 price range. Professionals and amateurs alike can get great value out of it and put its advanced solutions to good use.
Salsa Horsethief
From $2,650
There are no comments yet, add one below.