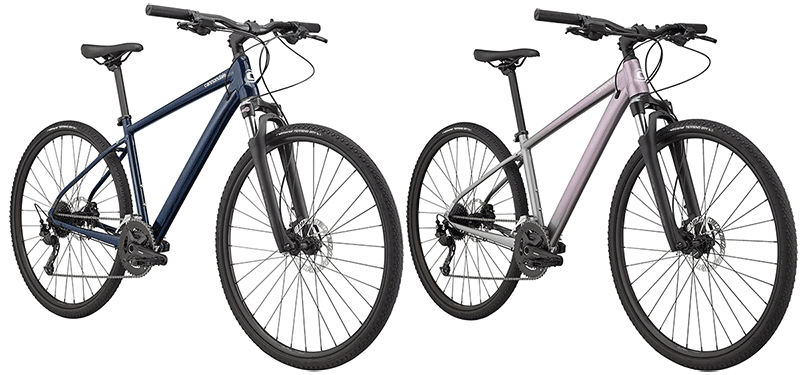 Ride faster, go further, and smile more with the brand-new Cannondale Quick CX 2. A versatile fitness bicycle that makes short work of hard workouts, daily commutes, and leisurely excursions.
Cannondale Quick CX 2 is an affordable and good-looking hybrid bicycle built for mixed terrain. It is a direct successor of Cannondale's original Quick series, but it adds a few additional components that make it suitable for on- and off-road adventures.
Quick CX 2 sits right in the middle of the lineup's price range, so it's neither cheap nor expensive. This capable hybrid justifies the $1,175 price tag by incorporating lightweight aluminum materials, front suspension, hydraulic disc brakes, and decent components.
If you need one bicycle for road, dirt, gravel, and bike paths, you might like what Cannondale Quick CX 2 has to offer.
Cannondale Quick CX 2 Key Specifications
Quick CX 2 is a mid-range two-wheeler so it's built around an aluminum frameset that's equipped with a mixture of entry-level and mid-tier components. It offers good value for the money reflected in its high-quality components.
Frame: SmartForm C3 alloy
Fork: SR Suntour NEX-E25 with remote lockout, 63mm
Front derailleur: Shimano Acera, 2-spd
Rear derailleur: Shimano Alivio, 9-spd
Gears: 18 gears
Brakes: Tektro Hydraulic disc brakes
Rims: Cannondale Disc, double wall
Tires: Vittoria Terreno Dry, 700c x 40 mm
Hubs: Shimano QR
Handlebar shape: Riser bar
Saddle: Cannondale Fitness Ergo Double Density
Pedals: Cannondale Platform
Weight: 31 lbs. 3.2 oz.
Full Cannondale Quick CX 2 Review
It's no surprise that Cannondale knows how to make a good aluminum bicycle. After all, the company has been doing it since 1983. Cannondale Quick CX 2 builds upon that legacy.
This bicycle comes in two colors (Orange/Grey and Blue) and offers both a men's and women's model. The women's model has the same components, but a different color (Lavender) and a women-specific geometry.
Read our Cannondale Quick CX 2 review to find out more about all the features.
SmartForm Aluminum Frameset with SAVE Micro-Suspension
Quick CX 2 is made with Cannondale's well-known SmartForm C3 frameset that's seen on most models in this price category and even some more expensive ones.
SmartForm frames offer an excellent balance between weight and strength, which is one of the pre-requisites for a good hybrid bicycle.
Quick CX 2 is robust enough to tackle gravel and dirt roads and light enough to zip around city streets with ease.
The frame comes with an upright geometry that puts the rider in a relaxed position. In addition, the SAVE micro-suspension improves comfort by diminishing vibrations.
Finally, the frameset comes with multiple eyelets that allow you to attach racks, fenders, and bottle cages, which greatly improves everyday usability.
All-Terrain 700C Tires
Though Quick CX 2 is not intended for MTB-style off-road riding, it's more than capable of dealing with moderate gravel and dirt roads. The 700C x 40mm Vittoria Terreno Dry tires make that possible.
These are mixed-terrain tires mounted on Cannondale's double-wall aluminum disc rims with a tread profile that delivers a good balance between grip and speed.
Sadly, these tires do not have puncture-protection, but their robustness should be enough to help you avoid frequent flats. However, they do have reflective sidewalls, which will make you more visible from all angles and contribute to your overall safety.
Subpar Shimano Components
Cannondale Quick CX 2 gets a mountain-style drivetrain that offers a wide range of gears. In total, you will have 18 gears at your disposal, with a subcompact 46/30T crankset and an 11-34T cassette. That means you'll have great granny gears for very steep climbs.
However, the choice of groupsets fails to impress most riders who are used to a bit more in this price range. Namely, Quick CX 2 sports a mix of Shimano Acera and Alivio front and rear derailleurs, with Shimano trigger shifters.
While these are decent groupsets that will surely satisfy 90% of riders, we feel that Cannondale could have at least gone the full-Alivio direction. Acera performs well and lasts a long time if used for regular everyday rides, but Alivio would shed some weight off and slightly improve the smoothness and precision of shifting.
Suntour Front Suspension
One way in which Quick CX models differ from the Quick lineup is by having front suspension. Cannondale Quick CX 2 comes with an SR Suntour NEX-E25 suspension fork with 63 mm of travel which will significantly improve the comfort.
This amount of travel will not enable you to ride singletracks, but it will make gravel and dirt road detours a lot more enjoyable.
In addition to that, this fork also features remote lockout, so you can engage or disengage it with a trigger mounted on the handlebar. This way, you can pedal more efficiently on smooth roads where the suspension is not necessary.
Consider Also: Cannondale Quick CX 1
Hydraulic Disc Brakes
This Quick CX model gets you a pair of Tektro hydraulic disc brakes that use 160/160mm rotors. Hydraulic disc brakes basically complete the mixed-terrain picture this bicycle paints.
Hydraulic discs provide the best possible braking precision and performance, which is important both on city streets and when doing off-road rides. You'll be able to stop on a dime in case of a sketchy situation on urban rides or fine-tune your speed on a gravel descent.
Cannondale Quick CX 2 Sizes
This bicycle is available in five sizes that fit riders between 5'2″ and 6'9″ in height, which is very good. Take a look at Cannondale's size chart below to find the perfect size for yourself.
Who Should Buy Cannondale Quick CX 2?
Cannondale Quick CX 2 will show all that is capable of on multisurface rides. Therefore, you should consider buying it if you intend to ride a mix of paved and unpaved roads.
The 40mm Vittoria Terreno Dry tires offer plenty of grip on all surfaces but don't increase the friction too much on smooth asphalt. Therefore, you can ride it comfortably and confidently on bike paths or on a remote weekend adventure.
This bike is also a great choice for riders who have a reasonable budget and don't want to get the cheapest option but are not willing to spend thousands either.
Quick CX 2 can take the role of your everyday commuter if you equip it with fenders and a rear rack, making it a good do-it-all solution.
If you recognize yourself in any of these categories, you're probably a good candidate to become a happy Quick CX 2 owner.
Other Quick CX Models to Consider
Final Takeaways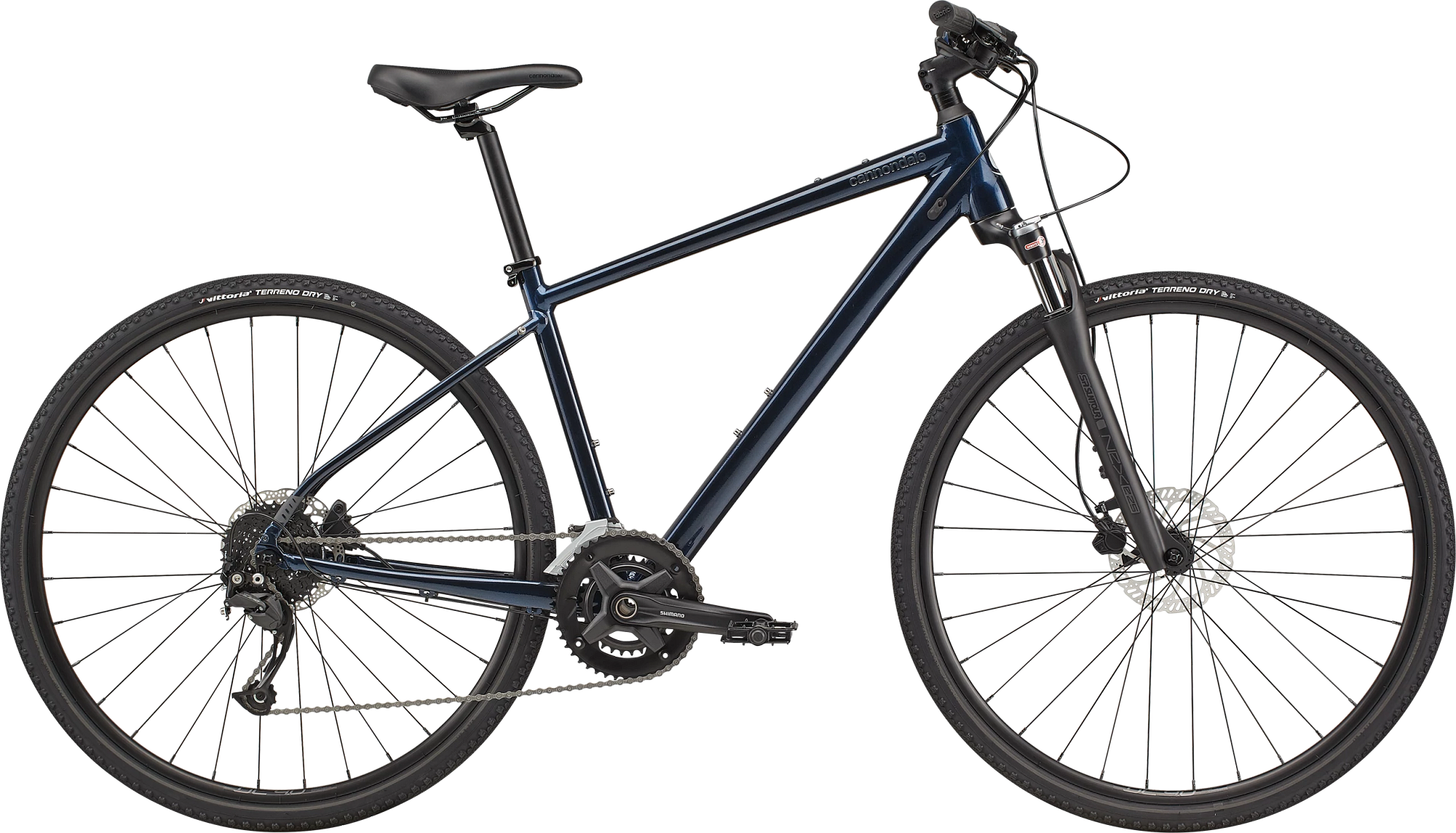 All things considered, it seems that Cannondale has done a pretty good job with the Quick CX 2 bike. This is a versatile mid-range model that delivers a lot of value for a more than reasonable price. That makes it a smart choice for beginners and experienced riders alike.
Cannondale Quick CX 2 is not perfect, but it does not have any massive drawbacks either.
Most of the parts and components are exactly what you would expect to see in this price range. As we've mentioned earlier, a full Alivio setup would be nice, but Acera is far from being a dealbreaker.
To sum, this affordable fitness hybrid is an excellent blend of on- and off-road performance that will allow you to plan your weekend adventures while doing speedy weekday commutes.