REI is a go-to place for cyclists looking for bicycles, cycling gear, apparel, replacement parts, and anything else necessary to support their hobby. If you're an outdoors enthusiast, you're likely to find something you like on REI.
We've made a mistake, and it's time to correct it.
We've suggested you buy certain bikes from REI multiple times, but we've never written an in-depth analysis of their business.
Until now.
NEW! Overview of Co-op Cycles –  ADV, DRT, CTY & REV series
Below, we will go into detail about the various aspects of REI, their history, business model, shops, products, and a lot more. Hopefully, after reading this article, it will be clearer why REI is one of the best cycling-related websites and online shops out there!
---
REI's Big Bike Sale Starts Now
Check out REI's Big Bike Sale to save up to 30% on bikes, ebikes, cycling gear, clothing, and more!
The big summer sale starts on Friday, 7/28 and lasts thru 8/7 2023, so hurry up and find something that you need and like because the stocks are limited.
---
What Is REI? What Is Their Contribution?
REI
(Recreational Equipment, Inc.) is an American-based outdoor recreation and retail business. They sell sporting goods, bicycles, cycling-related products, camping gear, travel equipment, sports clothing, and a lot more. REI also provides customers with outdoor courses and vacations, focused on promoting outdoor vacations and the active style of living.
If you wish to buy goods from REI, you can do so in 154 shops spread out across 36 states. REI also sells products online, on their website, and via mail-order catalogs. So, finding a way to get something from them should not be hard at all.
REI has a pretty long history as well. It was established back in 1938, in Seattle, Washington by Lloyd and Mary Anderson. Their first product was an Akadem Pickel Axe imported from Austria, and for some time after that, they continued selling climbing and mountaineering gear.
REI started out as a mountaineering gear seller, but today sells all types of outdoor equipment, including a vide variety of cycling-related gear.
This continued all the way until the 1980s, by which time REI was already a hugely successful business. That's when they broadened their focus to include family camping gear as well and branched out into cycling, kayaking, running, and other outdoor sports. Today, the bulk of their sales come from consumer-oriented goods, such as family camping equipment, clothing, and bikes.
Cycling-Related Selection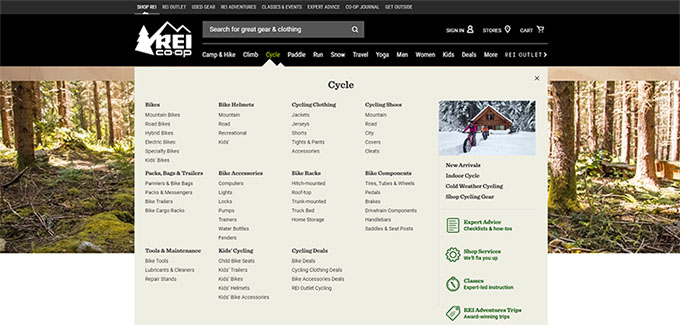 REI has a well-structured section dedicated to cycling-related items for sale. They cover pretty much everything you could ever need when it comes to cycling, so you can go from zero to cycling pro just by shopping on their website. The categories on their site include:
Bikes
Helmets
Clothing
Shoes
Packs, Bags & Travel
Accessories
Racks
Components
Tools & Maintenance
Kids'
Deals
Each of these categories has its own subcategories, so it's not at all difficult to find what you're looking for in the menu. By just clicking on the Cycle section, you will get access to a ton of articles on cycling inspiration and advice, which we will talk more about later on.
HOT!
What Bikes Does REI Offer?
---
Now let's see REI bikes.
No matter if you're looking for road, mountain, city, or travel bikes, there are REI bicycles on the website that fit your need. All of the bikes are intuitively separated into handy categories, so you will easily find what you're looking for.
Each REI bike features a short review of the main components and features, as well as a detailed representation of the specifications. If you need advice on which bike size to choose, you can also find it there.
Let's see what types of REI bicycles you can get!
Mountain Bikes on REI
---

At the moment of writing this overview, there are about 100 bikes available in the REI Mountain Bikes section on the official REI website. The bikes are separated into four subcategories, including:
Hardtail
Full-Suspension
Fat
Rigid Mountain Bikes
Therefore, if you know exactly what type of bike you need, you can easily filter out the bikes you're not interested in and quickly find what you need.
REI has a huge number of different kinds of bikes suitable for various types of riders, riding styles, terrains, and cycling disciplines.
However, if you do not yet know what kind of a bike you want, but you know what type of cycling you wish to do, REI has thought about you as well.
Related: Best Mountain Bikes
You can sort the offer by Mountain Bike Style, which includes:
Cross-Country
Trail
All-Mountain
The available brands include some pretty big names. The majority of bikes are provided by Cannondale, but there are also some attractive models from Diamondback, GHOST, Salsa, and REI's brand the Co-op Cycles DRT (Or REI Co-Op Bikes).
Road Bikes on REI
---

Compared to mountain bikes, there are fewer REI road bikes available on the website, but the selection is still quite fruitful. At this moment, there are 52 different models available which you can choose from. Again, just like the Mountain Bikes section, it is split into four unique categories. These include:
Endurance
Touring
Racing
Cyclocross
The biggest portion of bikes are from Cannondale, but you can get some awesome models from Salsa, Diamondback, and Co-op Cycles. If you're looking for women-specific models, you can easily choose that filter from the menu on the left. However, from our experience, men's REI road bikes fit quite well for women as well, though you might want to change the saddle.
One thing that could be an issue is sizes, as they are marked using letters S, M, L, or XL. However, you can use the bike size chart on the website to find what they mean.
HOT!
Hybrid Bikes on REI
---

Of the three types of bikes presented, the REI Hybrid Bikes section has the lowest number of models available. Currently, there are 32 bikes on offer, comprehensively categorized by brands, which include:
Cannondale
Co-op Cycles
Electra
Ghost
Pure Cycles
Similar to the REI Mountain Bikes section, you can sort the bikes according to your intended use. You can choose bikes for urban cycling, recreational cycling, and fitness.
The selection of REI hybrid bikes includes both suspended and rigid models, models with gears and single-speed ones, and so on. The pricing is very competitive and very diverse, so you can get a bike for yourself no matter if you want to save money or break the bank and buy a high-end model.
---
What Is the Co-op Cycles?

REI is a business organized as a consumers' co-operative. This means that the company is owned by its members, who each has a single voting share. REI was set up as a co-operative by its founders, Lloyd and Mary Anderson, as a way to help club members get high-quality gear at reasonable prices.
Today, REI owns its own bicycle brand called the Co-op Cycles (or REI bikes or Rei Co-op Bikes). Apart from being able to get affordably priced bikes, customers get a lot more from this setup. Through this initiative, REI has put their customers at the center of everything they do. REI has 16 million members around the world, and they use their input whenever they are making a new product through a process they named "Cooperative Design."
The products they design are not just designed for the members, but with the help of the members.
This way, the Co-op Cycles ensure that the customers are going to be happy and get the solutions to their cycling-related problems. Today, they make and sell hundreds of products, including bicycles, clothing, cycling gear, accessories, and so much more.
Read our in-depth guides about the Co-op series:
Cycling-Related Gear
Apart from the rich selection of REI bicycles you can find on the website, there is also plenty of cycling-related gear you can sift through. REI offers some of the best-quality gear available online, produced both in-house and by some of the most famous cycling-related brands, such as: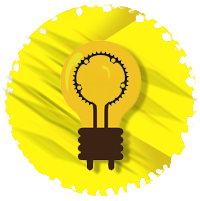 Giro
Lazer
Ortlieb
Topeak
Thule
Planet Bike
Rocky Mounts
Crankbrothers
Shimano
SRAM
Few websites have a complete section of their website, with subcategories, dedicated to bike racks. Therefore, REI has one of the best bike racks sections available online. Check out our review if you need one in order to see what they offer and which one fits your needs best.
REI is the go-to place for cycling enthusiasts and pros looking for bikes, gear, or accessories — they have it all.
Apart from that, other cycling-related gear categories on the REI website include bike helmets, clothing and shoes, packs, bags, and trailers, accessories (such as computers, lights, locks, pumps, trainers, etc.), tools, and so on.
All of the categories are separated into useful and well-organized subcategories so you can get to the item you need it a matter of seconds. A lot of products are often discounted and shown in the Cycling Deals section, so look out for those if you wish to save some extra bucks.
REI Expert Advice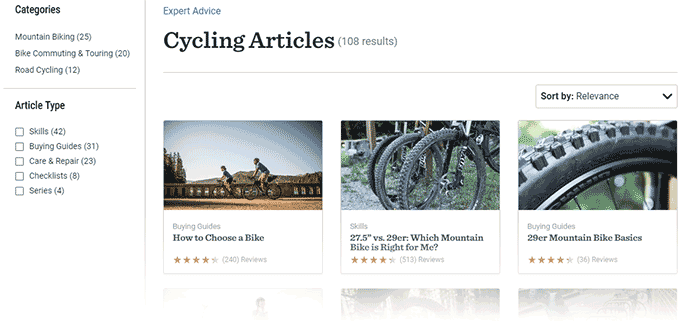 One thing we love about REI is their dedication to helping readers get better at whatever they are doing. For example, they have a great expert advice section available where they talk about popular topics related to various outdoor activities.
If you visit the Cycling Expert Advice section, you will enter a treasure house of useful articles teaching you DIY bike maintenance tips and tricks, as well as everything you need to know about bicycles before you can call yourself an avid cyclist.
Some popular topics include how to choose a bicycle, bike fitting basics, choosing bike tires, and so on. There are also great pieces that you can get inspiration from whenever you need it, so make sure to check it out. A lot of these pieces are related to cycling, but there are also many written for those who enjoy different outdoor activities.
NOTE: It's no secret that we hope to get our Cycling Advice section as good as REI's Expert Advice section! 🙂
---
Questions People Commonly Ask Regarding REI
---
REI PROs
There are many REI pros that we can list here, but we had to choose only the most important ones in our opinion. Take a look at why REI is one of the greatest!
Free shipping starting at $50.
Amazing Cycling Advice section available.
Respects customers' desires.
A rich selection of cycling-related items.
Best Bike Racks section online.
A go-to place for outdoor activity-related goods.
One-year return policy.
Offers used gear at attractive prices.
HOT!
REI Cons
Of course, there are always going to be some disadvantages and points of improvement. Check out the ones we've noticed and let us know if you think there are any others we've missed.
Customers report issues with buying used gear on the website.
The selection of bicycle brands could always be better (especially top-line brands like Santa Cruz, Yeti and Orbea)
Other Bike Shops
Bargains!
Do We Recommend REI?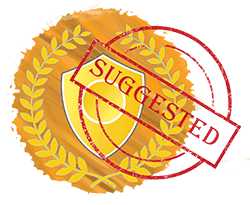 Finally, we get to the most important question in this overview. Do we recommend REI to our readers?
Our answer is an absolute YES!
No matter if you're just looking for information about cycling or outdoor activities or if you want to buy something, you cannot go wrong by using REI services.
The best thing that we like about REI is that they are very passionate about what they do and the core values they represent. This might sound cheesy, but consider this – REI gave their employees a paid day off on Black Friday because they believe in spending time outside and opting out of empty consumerism.
Therefore, if you are planning to buy a new bike, a piece of clothing, cycling, climbing, or mountaineering gear, camping gear, or anything else that you need to enjoy your time in nature, check out what REI has to offer. If you need any assistance, do not hesitate to contact us!
Let us know, what do you think about REI and their bikes