Cycling socks may seem trivial, but try mountain biking with regular socks, and you will know why you need cycling socks. We've picked out some of the best cycling socks.
Specifical cycling socks are more comfortable, breathable, and don't move around no matter the distance you are riding. Riding with some of the best cycling socks also keeps your feet protected from debris and dirt from your path.
With tons of options available in different sizes and materials, you need to know what to look for when buying cycling socks.
Cycling Socks
Cycling Socks are specifically designed for cyclists. With breathable and lightweight cycling socks, biking will be more fun and comfortable for you. They also come in different lengths and materials so that you can choose the ones that go with your cycling gear.
Cycling socks are also thinner than regular socks to better fit into snug cycling shoes. With various types of cycling socks, each rider can get what they need for their next ride. Mountain bikers can enjoy durable socks to protect them against gravel and dirt on their trail.
Other cyclists might prefer higher socks for aerodynamic advantage, but that all depends on their preference.
Related: Best Bike Helmets & How To Choose
Different Materials
Most cycling socks use different and multiple materials to create the perfect combination of comfortable and breathable socks. Some common materials for making socks include polyester, Nylon, and Spandex.
With materials like Polyester, you can enjoy soft socks with moisture-wicking properties. This material promotes evaporation by allowing the moisture to leave the socks instead of being absorbed and making you uncomfortable. In addition, some socks add mesh ventilation to add to the breathability of the material.
Merino wool is another possible choice for cycling socks because of its good moisture control and anti-bacterial nature. They also have a high warmth-to-weight ratio for most riders.
Nylon is another popular material for making cycling socks. They are stretchy, soft, and durable too. Due to the strength of this material, you can find it mixed with other materials.
You can also go with spandex, more commonly known as 'Lycra.' These material socks stretch and easily retain their shape after multiple washes. In addition, they are moisture-wicking and breathable to keep your feet cool while pedaling.
Looking for more information on cycling apparel? We have a list of everything you need to know!
Best Universal Cycling Socks
---
Specialized Soft Air Mid Sock
Mid-foot arch support
Textured zones
Quick-dry socks
These Specialized's socks have the benefits you are looking for in cycling socks. They are made to be breathable and light when wearing cycling shoes. The Soft AirVaporize yarns on these socks will help to keep your feet dry and sweat-free.
This yarn also helps reduce odors. With a mid-foot arch, these socks offer additional support and security to your feet. The Specialized Soft Air Mid Socks give your feet a secure shape and fit with a mesh lining that keeps the air flowing freely.
The targeted texture zones on these socks help reduce spillage as well. With various sizes, from small to extra large, you can be sure to get the best size for you.
RANDY SUN Unisex Socks
Breathable material
Waterproof membrane
Lightweight socks
Yes, we know – this pair of socks hasn't really been labeled as cycling socks. But we assure you, they are perfect for cycling when the weather is bad.
With these breathable sports socks, you can enjoy a day of bike riding without any discomfort. The waterproof membrane ensures your feet are dry and cool while cycling in wet conditions.
Randy Sun socks are for men and women, with different sizes and colors available to match your gear. The material is made of waterproof nylon, polyester, and elastane that makes it lightweight. Easily hand wash to keep them clean and hang to dry for your next ride.
Thirty48 Cycling Socks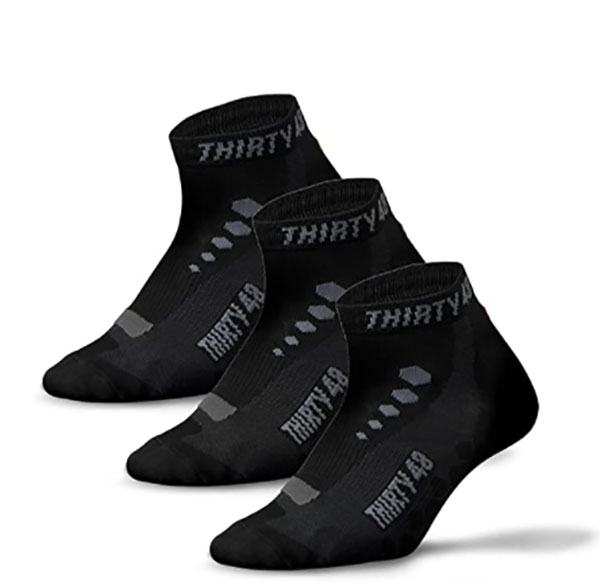 Breathable socks
Moisture-wicking material
Elastic arch support
The Thirty 48 low-cut cycling socks for men and women are ideal for most cyclists. They come in multiple sizes and are made of polypropylene, nylon, and lycra. These socks feature elastic arch support that minimizes friction when cycling.
The extra padding on the material protects against abrasion and prevents blisters which are common among cyclists. These socks offer increased airflow with the moisture-wicking technology that leaves your feet dry and cool while cycling.
HUSO Running Socks
Friction and shock protection
Breathable material
Mesh ventilated
Again, these socks are not "cycling socks" according to their name, but they are perfect for everyday use, yoga, any sports activity, gym, cycling, traveling, etc.
Wear Huso sports socks and stay comfortable when cycling on various terrain. These unisex socks are breathable and have a lightweight design to wear with cycling shoes comfortably. The fabric soaks up all the sweat from your feet to keep them cool.
The HUSO socks help reduce friction on your heel and cushion your toes to prevent blisters with a seamless toe design. In addition, there are multiple colors to choose from and sizes from US 9-13 for both men and women.
DILIBA Unisex Socks
Dynamic arch design
Moisture-wicking material
Multifunctional socks
These DILIBA socks are great for cycling with an elastic thread cuff that prevents slipping. They are high-performing socks that feature a blend of materials like cotton, nylon, and spandex.
This blend adds to the material's durability and comfort. This pair is breathable and absorbs sweat to keep your feet dry. With the dynamic arch design, these socks reduce foot fatigue and provide support against blisters.
SuMade Knee High Socks
Waterproof socks
High breathability
Comfortable material
These waterproof and breathable socks are perfect for cycling in wet conditions. They are made of high-quality nylon, which is more durable for cycling socks. The SuMade knee-high socks also offer a comfortable fit with a padded heel and amazing shock absorption for different cyclists.
The seamless toe design also reduces abrasion and prevents yarn chaffing, taking the fun out of biking. With these versatile socks, your feet can stay cool while you pedal.
DANISH ENDURANCE Long Cycling Socks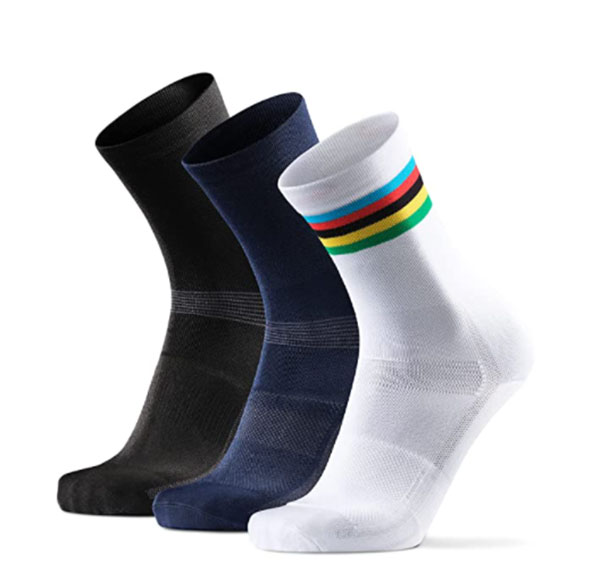 Breathable material
Ideal for cycling
Padded anti-blister zones
These cycling socks are great for cyclists by offering them an anatomic fit when used with cycling shoes. They are made of light and breathable material with moisture-wicking properties to keep your feet dry.
The padded anti-blister zones on this pair make it more comfortable when biking long distances. DANISH ENDURANCE cycling socks are available from sizes small to large for both men and women.
Pearl iZUMi Attack Cycling Socks
Lightweight socks
Durable
Comfortable
Best for cycling
These cycling socks from Pearl Izumi are suitable for both men and women. They are made of stretch nylon, spandex, and microfiber nylon.
With SELECT transfer yarn, these socks effectively wick moisture to keep your feet dry and comfortable. Your feet will also remain cool with the mesh ventilation that allows better airflow.
Showers Pass Bike Socks
Waterproof
Breathable construction
Moisture-wicking base
These triple-layer construction cycling socks work much better when cycling than your regular socks. The base is moisture-wicking and anti-bacterial to keep your feet cool and dry.
With light cushioning and seamless construction, you can prevent chafing and stay comfortable when riding. The compression fit of these socks keeps your feet warm.
Sealskinz Mid-length Socks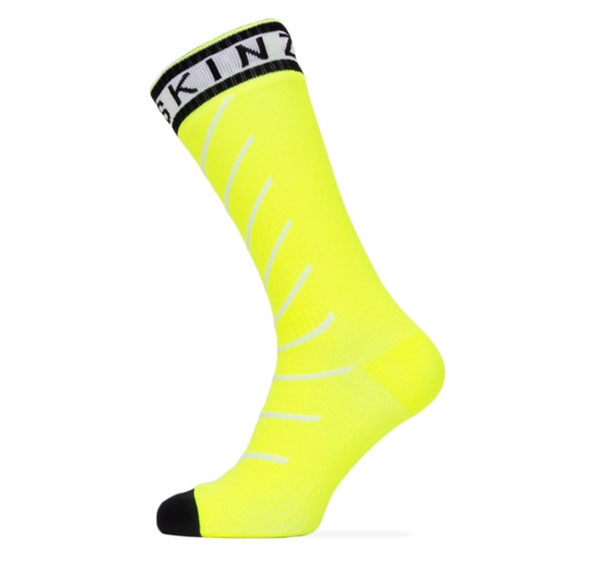 Waterproof
Bamboo lining
4-way stretch material
With the Sealskinz waterproof cycling socks, you get to be comfortable when biking on various terrain. In addition, they are best for offering maximum breathability and durability to focus more on your cycling.
With comfortable bamboo lining, the temperature is well-regulated when you ride with these socks. You also get quality comfort from the 4-way stretch material.
Pearl iZUMi Merino Thermal Bike Socks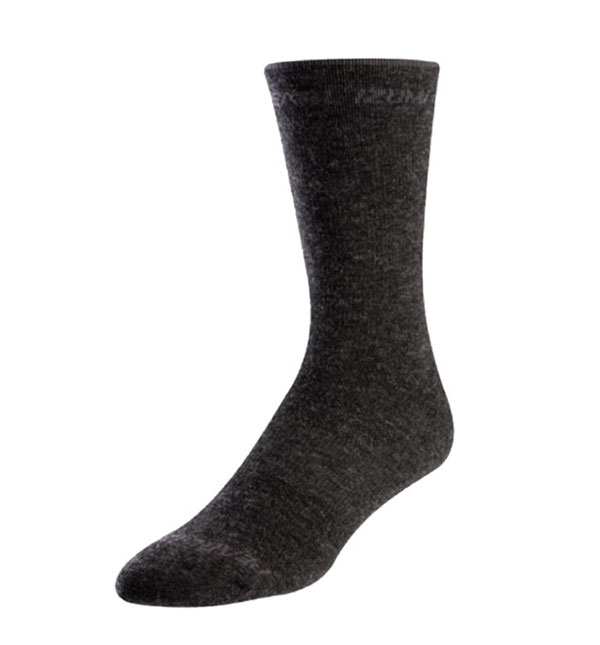 Thick socks
Anatomic arch
Cuff height of 21cm
These thermal bike socks are made with recycled polyester blends to increase their durability. The flat seams on the toes are designed for a comfortable fit when worn with cycling shoes.
See More: Best Winter Cycling Gear
With double-weight knit, you can be sure of warmth when riding during cold conditions. The anatomic arch also adds to a good fit with the right shoes.
Specialized Soft Air Tall Sock
Moisture-wicking material
Lightweight cuff
Breathable and durable
PowerBand mid-foot arch
The Specialized Soft Air Tall Sock is also made to be breathable, light, and comfortable for cyclists. These socks are more durable than your regular pair to better handle friction and keep debris away when cycling.
These Specialized Soft Air Tall Socks are made with Soft Air Vaporize yarns with silver ions to provide odor control and wick moisture material to keep your feet dry.
The cuff on these socks has a light compression to offer you additional comfort and security. With a PowerBand mid-foot arch support, your can easily pedal without any problems. These socks also feature a ventilated mesh to keep your feet cool and improve airflow.
Cycling socks selection on Amazon | REI | JensonUSA | evo
Special Socks
---
Showers Pass Crosspoint Mountain Socks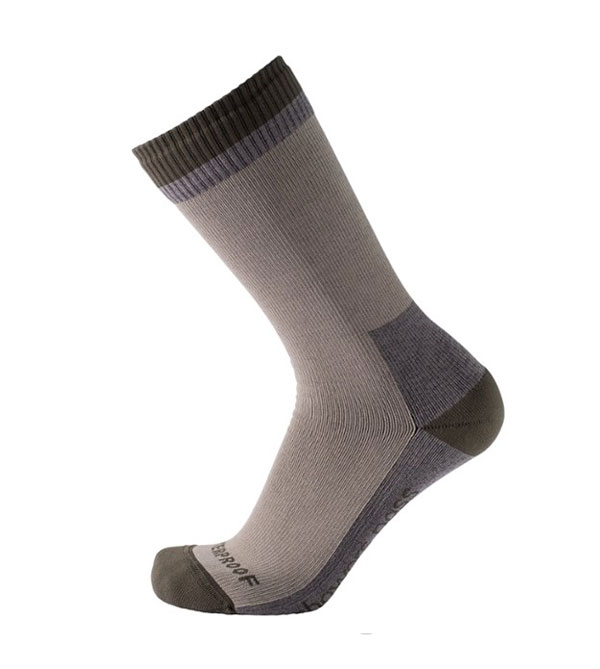 Windproof
Waterproof
Wear-resistant
Breathable
These mountain biking socks are designed to be breathable and comfortable for mountain bikers. With seamless waterproof construction, you can comfortably ride on trails in puddles and wet conditions.
The compression fit of these socks does not hinder the breathability during motion. It also has a moisture-wicking merino wool blend lining to keep your feet sweat-free. With anti-odor technology in the lining, these socks reduce the growth of odor microbes in the fabric.
Specialized Road Tall Socks
Soft and comfortable
Lightweight
Moisture-wicking material
Cycling socks like these are ideal for road biking due to the comfort and style they offer. The pair features a blend of soft yarns and VaporRize that is moisture-wicking, soft, and lightweight for a better fit. With targeted texture zones, you can reduce slipping, which is common when cycling.
You get adequate security and comfort with these socks due to the compression cuffs. The PowerBand mid-foot arch also supports your foot in all the right places to prevent any discomfort. With a vented mesh, there is better ventilation to keep your feet feeling cool and dry.
DANISH ENDURANCE Low-cut Cycling Socks
For MTB & Road Biking
Low-cut design
Breathable
Ergonomic fit
These Danish Endurance socks have a low-cut design which is the optimal length for cycling socks. They have cushioned areas to prevent any blisters and help you ride longer without being uncomfortable.
These socks are made of prolen, a light and breathable fabric to ensure fresh and dry feet. The moisture-wicking material of these socks makes them ideal for mountain biking, road racing, or biking in the city.
Specialized Techno MTB Tall Sock
No-fuss socks
Durable material
Underfoot cushion
PowerBand mid-foot arch
These specialized MTB tall socks have a significant impact on your performance when mountain biking. They wick moisture better and are more durable than your regular socks for mountain biking. This is due to the lightweight blend of VaporRize yarn that manages to wick moisture to keep your feet cool when riding during warm or hot weather.
With the PowerBand mid-foot arch, your foot is supported and secured. These socks also have an underfoot cushion to act as an additional buffer to trail vibration when cycling. Different sizes are available, from small to extra large for both men and women.
Cycling socks selection on Amazon | REI | JensonUSA | evo
Best Socks For Women
---
Icebreaker Multisport Light Micro Socks
Durable
Moisture-wicking performance
Achilles support
These multisport cycling socks are made of fine-gauge wool that naturally resists odors. Additionally, these socks help regulate temperature when riding in hot and cool conditions.
With an Achilles support and re-inforced heels, these socks will stay in place when you cycle. In addition, the seamless toe closures at the front prevent blisters that can be uncomfortable when biking. It also has double-layer merino cushioning for additional comfort.
The socks are available in two colors and even look comfy!
Dickies Women Crew Cycling Socks
Moisture-wicking material
Crew sock
Machine-washable
These crew socks from Dickies are available in different designs in black and grey shades. They are made of polyester, spandex, and rubber to be more comfortable for you.
With moisture-wicking fibers, these socks are breathable and allow proper air circulation to keep your feet cool. Features like the full cushion comfort and re-inforced heel add to the durability and strength of these cycling socks.
Their design might not look that appealing at first sight, but they are a definite must-have for colder weather.
Saucony Athletic Socks
No closure
Machine-wash
Breathable socks
These athletic socks are excellent for cyclists who are looking for some additional protection when biking. They also have AirmeshVenting technology to make them more breathable.
The targeted zone cushioning on the high-impact areas adds to the comfort of these socks when you pedal. They also have a comfortable toe seam for reduced irritation when cycling. You can choose the best pair for you from the various designs and colors.
Cycling socks selection on Amazon | REI | JensonUSA | evo
Fun Designs
---
SockGuy Pineapple 6″ Cycling Socks
Comfortable socks
Micro-denier acrylic
Fun design
Want to wow others with your fancy socks? Look no further! Pineapples might not be everyone's first pick, but these cheery socks are bound to change your mind. These socks are soft and can be worn practically everywhere. The socks help eliminate blisters and hot spots. The heels and toes are double-stitched for extra support.
It's debatable if socks are the best gifts (but the pineapple ones definitely are!). If you're looking for a gift for someone who's a cycling enthusiast, check out our 55 gift ideas for cyclists.
Sockguy Cycling Socks
Easy-fit cuff
Stretchable
Moisture-wicking material
These double knit mesh socks are great for cycling during hot and cold conditions. With moisture-wicking material, they will keep your feet cool and comfortable when riding.
They are made of spandex and nylon for additional comfort and strength. With a stretch-to-fit sizing system, you can get the best size for you. The only possible downside of them is the white color – they probably won't be that white after a few rides.
Not Today
Soft and comfortable
Mesh upper
Double-stitched heel and toe
Fun design
If you search for a fun pair of cycling socks that will match your personality, you can try the SockGuy Not Today Socks. These are the ideal socks when you want to look cool while biking anywhere.
These classic socks feature off-beat and original designs that many cyclists will find appealing. They are soft and comfortable with a mesh upper for better airflow.
The softness also helps eliminate blisters and hot spots while still looking fashionable. Double-stitched heel and toe add strength and durability when cycling.
FAQ
Conclusion
With cycling socks, you can improve your comfort level when paired with the right cycling shoes. They are different from your regular socks because they are designed to be comfortable, breathable, and reduce odors when biking.
With padded sections on these socks, you don't have to worry about blisters and nerve pain due to excessive pedaling. There are various lengths, designs, and colors available, to find the ideal cycling socks for your type of biking.
We hope we've made the decision easier for you!
Cycling socks selection on Amazon | REI | JensonUSA | evo