The State Bicycle Co. 4130 All-Road is one of the most versatile bikes we've ever seen. It comes with a host of customizable features, a solid frame, and comfortable ride geometry. And you can get it all for under $900.
The 4130 All-Road is a versatile all-terrain bike designed for dirt, gravel, easy mountain biking trails, tarmac, all-day adventures, and more.
The handful of frame mounts will let you customize your ride in more ways than one, plus there is so much more.
In our State Bicycle Co – 4130 All-Road review, we set out to discover why this bike stands out. What can you get in an all-terrain bike for under $900, and is it worth it? Here's our answer.
4130 Line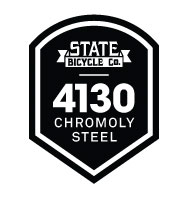 The State Bicycle Co 4130 line refers to the 4130-grade Chromoly steel. The company uses it to build a variety of on-road and off-road frames including gravel bikes, road bikes, fixed gears, and single-speeds.
See More: Best Single Speed Bikes
This line of bikes from State Bicycle Co also includes sealed hubs, lightweight components, double-butted tubing, and a litany of customizable design options in both color and function.
Each bike in the 4130 line is unique, and all of them cost less than $1,000. Especially with the All-Road, that is quite an impressive feat to keep the price so low.
The All-Road is available in both drop bar and flat bar styles. The road bikes are all available in 8-speeds.
State Bicycle Co. is known for their artsy and hipster styles. No bike would be more fitting than a fixed-gear/single-speed. These bikes are available in many different color schemes and include bullhorn handlebars that are both unique and stylish.
You can get everything from a city-style fixie to a retro road bike impersonator with these fixed gear styles. They are all part of the 4130 Line.
Frame
The frame of the 4130 All-Road is designed to be comfortable and stable off-road, while also providing options for customization in components and handling. Its steel frame is quite heavy, but also very durable, and is more compliant on dirt than cheap off-road frames.
Shallow drop-in handlebars help improve rider comfort and favor confident handling over race-ready geometry. The frame is also designed to be a thru-axle with 100/142 spacing, which is a great feature for a bike in this price range.
With tire clearance up to 53c, you can mount some hefty tires on the 4130 All-Road with plenty of room to spare.
Altogether, the 4130 All-Road weighs 28 lbs which is a number you'd expect more from a mountain bike rather than a gravel bike. But at this price range, the heavy frameset isn't all that surprising.
This bike has a longer chainstay and longer stem, but it won't leave you too stretched out. Overall, the bike is designed for stability and handling rather than speed. You'll feel that in the longer-feeling frame design.
Components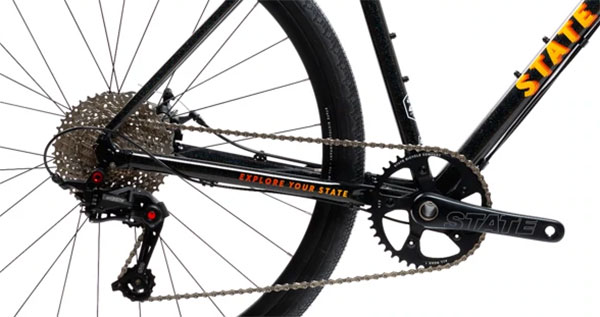 The cockpit on the 4130 All-Road is quite aesthetic, with custom New All-Road Bars at the helm.
Providing plenty of stopping power are Promax DSK-300R Flat Mount disc brakes, which are mechanical disc brakes that can be hard to find at this price point.
Powering the 4130 All-Road is a 1×11 All-Road drivetrain made by State Bicycle Co. with a narrow-wide 1x All-Road Crank with a 42t front chainring. At the rear wheel is an 11-42t cassette that will give you a wide gearing range for climbing, descending, and everything in between.
The 42t front chainring combined with the 42t cog in the rear cassette makes for a clean 1:1 gearing ratio, but for a bike this heavy, it may not be suitable for the steepest of climbs. A 42t front ring is quite big for hilly off-road riding, so keep that in mind when you're considering this bike.
Tires
The 4130 All-Road comes with two different tire options in terms of sizing: 700c or 650b. Both tires are tubeless-ready, and you can add a tubeless tire kit to your purchase from State Bicycle Co. themselves.
Read more: Bike Wheel Sizes Explained
700c wheels are the larger of the two and feature Vittoria Terreno Zero Tires that are 38mm wide. The 650b wheels are slightly smaller in diameter and feature Vittoria Barzo Tires that are 2.1" wide. For increased handling and stability, riders often choose the smaller 650b wheels, whereas riders who are confident in their handling and prefer faster rolling speeds will go for the more common 700c wheels.
With the 4130 All-Road, the 700c and 650b wheels come with different tires. The 700c tires come with "slick" tires meant for casual trail riding, smooth gravel, and dirt, while the 650b wheels come with a knobby tread. The smaller wheels with knobbier tires are perfect for more technical riding, especially on dirt, mud, and in wet weather.
Consider Also: State Bicycle Co Black Label All-Road
Customizability
The shining feature of the 4130 All-Road is the ability to buy both sets of wheels and thus two different kinds of wheels and tires. These quickly interchangeable wheels will allow you to ride on any terrain. All you have to do is switch out your wheelset.
State Bicycle Co. offers their very own tubeless-ready kit that will help you set up your tires without the tubes.
You can even buy a second set of wheels for $399.99, complete with tires and tubes, matching hubs, cassette, and brake rotors. For riders who train on rough terrain and may need a backup set for training or racing, this is a solid deal with the ease of compatibility since you already have this bike.
You can take advantage of this deal by purchasing both the 700c and 650b wheelsets, so that you can choose from one or the other based on your ride terrain, handling preferences, and the weather.
The 4130 All-Road has five sets of mounts around the frame, including on the fork and the rear triangle. This allows you to mount fenders, bags, packs, water bottles, lights, and more for your all-day or even overnight adventures.
Related: How to Prepare For a Bike Trip
State Bicycle Co. recommends upgrading the 4130 All-Road with an SBC Carbon Fiber "Monster Fork" for self-supported tours and all-day adventures. This carbon fork is easily interchangeable with the stock All-Road setup. It has additional fender mounts and crown mounts for rocks and lights. You will notice a massive difference in the comfort, ability, and handling at the front end of your 4130 All-Road.
Sizes
The 4130 All-Road has quite a unique sizing range, so take a close look at the chart below to see which size might be best for you. The frame is available in four different sizes:
XS – for riders from 5'1" to 5'6"
S – for riders 5'5" to 5'10"
M– for riders 5'9" to 6'2"
L– for riders 6'1" to 6'5"
Other Models
Copper Brown – This is a 4130 All-Road frame that is the exact same as the review above except for the paint job. Finished with a shiny copper brown, this bike will stand out in the forest or on the bike path.
Joshua Tree Edition – While the 4130 All-Road frame remains the same, this bike is finished with a dark green paint job and National Park badging. Additionally, a portion of proceeds from each "State Bicycle Co X National Park Foundation" sale will support the National Park Foundation's efforts to preserve and protect the most important natural spaces.
Flat Bar – Complete with State Bicycle Co. Black Label Riser Bars, the Flat Bar 4130 All-Road frame adds a new dimension to handling on this bike. The frame and components all remain the same, with the only difference being the flat handlebars for a wider grip and more upright riding position.
Final Verdict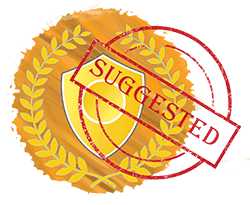 The State Bicycle Co. 4130 All-Road is an all-terrain bike with great value at the sub-$1,000 price point. With mechanical disc brakes, tons of mounts, and customizable wheelsets, you can truly choose your own adventure on the 4130 All-Road.
However, the bike is a bit heavy, and the 1:1 gearing ratio of 42:42 doesn't help. You'll be able to go plenty fast on the 4130 All-Road, but you could really struggle to get the 28 lbs frame up steep grades.
Overall, the 4130 represents great value for a $900 bike. With so many ways to make it your own that it would be hard to pass it up.
The option of buying the second set of wheels is also worth considering. They will allow you to tackle terrain that you never had before. The choice is yours.
There are no comments yet, add one below.