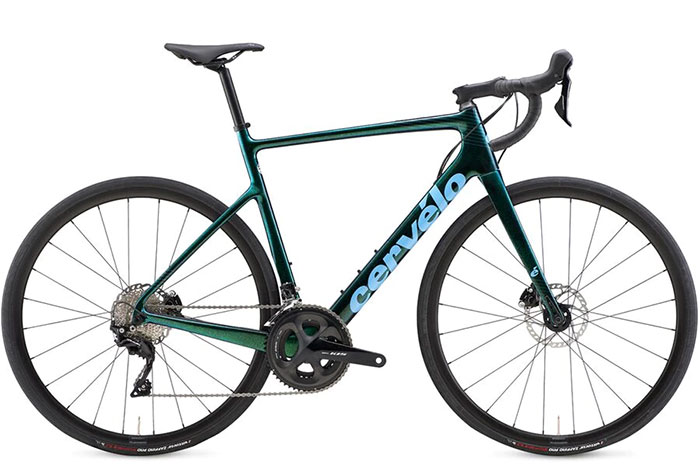 The Cervélo Caledonia is an all-road endurance bike capable of handling more than just tarmac. With ample tire clearance, integrated cable routing, and a lightweight carbon frame, the Caledonia is a blend between comfort and performance.
The Caledonia may look like a high-quality, high-end carbon road bike, but it isn't necessarily designed for racing.
With carbon frame and reliable components, Cervelo Caledonia is upgrade that leaves many mouths watering.
There's much to learn about this road-specific bike, so let's get started.
Main Specs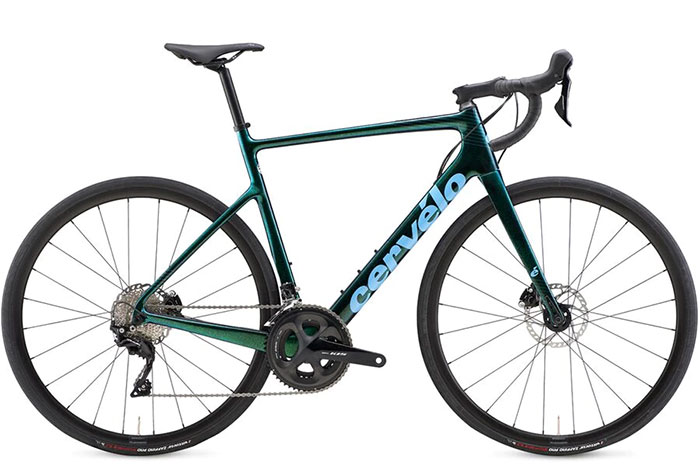 When Cervélo first drew up the Caledonia design, they had one race in mind: Paris-Roubaix. On the rough cobblestones of Northern France, road bikes take an annual beating in all sorts of conditions from wet and cold to hot and dusty. A pure road bike is too stiff, too short, and too weak to handle this sort of terrain.
In steps the Cervélo Caledonia, an all-road endurance bike made with a carbon fiber frame. It even includes mounts for mudguards and room for tires 34mm wide. These extra features and specific frame geometry make the Caledonia a mix of endurance and performance.
Designed with a carbon fiber and disc brake-specific frame, the Cervélo Caledonia also includes slightly relaxed geometry that is more comfortable and stable than 'aero'.
The Caledonia is significantly lighter and more performance-oriented than casual bikes, commuters, and gravel bikes. Those frames can be much heavier and less agile than the Caledonia which can be taken up steep climbs and ripped around corners.
For a more detailed review of the Cervélo Caledonia, let's look a bit closer at its frame and components.
Frame
The Cervélo Caledonia's carbon fiber frame weighs just 2lb 4.4oz (1031 grams), with a 15.2oz (432-gram) fork. Compared to other bikes designed for all-road terrain, the Caledonia is one of the lighter and faster options. Overall, the frame is engineered to be simultaneously durable, lightweight, and aerodynamic, according to Cervélo.
Cervélo also claims that the stiffness of the Caledonia frame is closer to that of the Cervélo Aspero gravel bike than a more traditional road bike.
Read More: Gravel vs Road Bikes – the Main Differences
The Cervélo Caledonia is built using lower modulus carbon which improves durability compared to higher modulus carbon which can be lighter and faster. Translation: the Cervélo Caledonia is designed to handle comfortably and confidently over both on-road and off-road surfaces.
Going with the theme of comfort over speed, the head tube angle of the Caledonia is slacker than Cervélo road bikes – specifically the R-Series – as well as using a longer wheelbase, chain stays, and a lower bottom bracket. Overall, these modifications help increase the overall stability of Caledonia.
In addition to comfort and stability, Cervélo focused on improving the speed of the Caledonia with aerodynamic tube shapes. Without elastomers or flex zones, the bike's aerodynamic tubing increases both speed and comfort, according to Cervélo. The bike fits 34mm tires, or 31mm tires with mudguards. Its an ideal for a mix of on-road and off-road adventures.
Components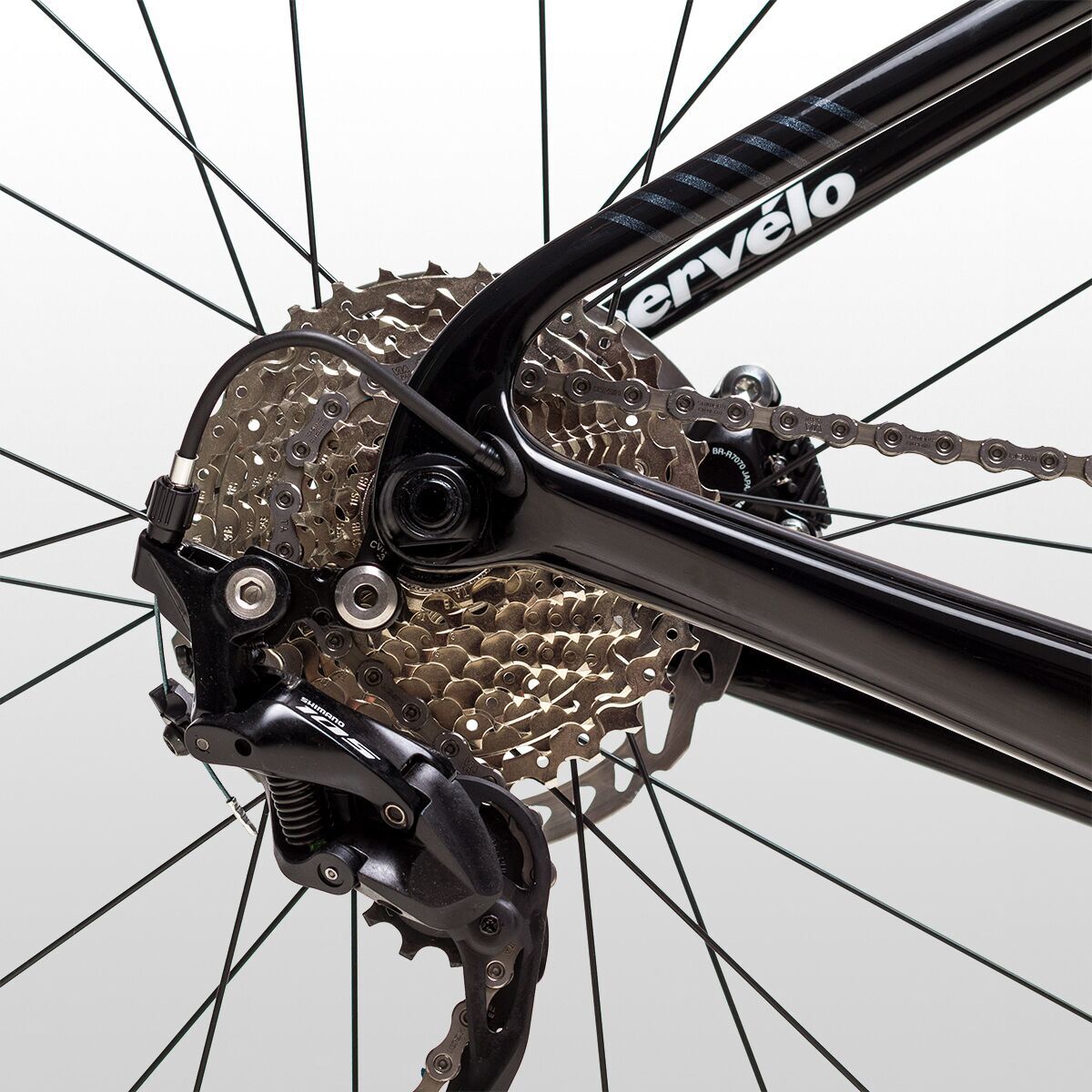 The Cervélo Caledonia includes standard 12mm thru-axles, and careful cable integration that is some of the best in the business. Exclusive to the higher-end Caledonia 5 model, the front-end cables route through channels underneath the Cervélo AB09 handlebar. And just like that, the potential chaos is turned into a sleek and organized bundle of cabling.
Adding another layer of comfort to the Caledonia is its disc brakes. Designed for confident handling, the Caledonia's disc brakes are more powerful, better modulated, and better in wet weather conditions than all other kinds of brakes including calipers, cantilevers, and V-Brakes.
Read More: Brakes Explained
The Caledonia also comes with a removable front derailleur mount that makes it easy to turn the Caledonia into a 1x drivetrain setup. In addition to streamlining drivetrain options, the Caledonia adds to the convenience by including removable mudguard mounts. There's room for mounting points behind the bottom bracket and the rear of the fork crown.
Finally, the Caledonia comes with a huge gearing range, regardless of model. Both the 105 and Ultegra models have an 11-speed cassette that features 11-34t. The Rival model features a SRAM Rival 12s 10-36t cassette. The "t" refers to the number of teeth in the rear cog, with more teeth being easier to pedal.
At the bottom bracket, there are again two different options for the front chainrings. The 105 and Ultegra models feature a 52/36t crankset, while the Rival features a 48/35 crankset. With such a wide range of gearing, you'll never run out of options on steep climbs.
Caledonia Models
The Cervélo Caledonia comes in three different models, the 105, Ultegra, and Rival, separated mainly by their groupset and price. All Cervélo Caledonia models are available in sizes 48mm to 61mm.
The most affordable version of the Caledonia is Cervélo Caledonia 105 at $3,200.00. In the middle of the range is the Cervélo Caledonia Ultegra which costs $4,100.00. And finally, there is the top-end Cervélo Caledonia Rival eTap AXS which costs $4,400.00.
Didn't find what you were looking for? See our list of the best road bikes.
FAQ
Final Thoughts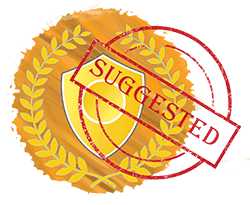 With its carbon fiber frame and endurance-riding features, the Cervélo Caledonia is a fantastic all-road bike for a variety of cyclists.
Its relaxed geometry is much more inviting than the slammed stem and short-reach seen on high-end racing bikes. The wide tire clearance leaves plenty of room for adventure. That is perhaps the biggest difference between the Caledonia and other road bikes: its all-road versatility.
The mounts for mudguards and removable front derailleur are underrated features of the Cervélo Caledonia. Both give you much more freedom to customize your ride and explore new roads.
With frame sizes ranging from 48mm to 61mm, the Caledonia is meant for riders of all sizes. The forgiving frame geometry improves comfort and stability for riders of all abilities.
While the price may be bothersome, the Cervélo Caledonia is certainly worth it for any rider looking to upgrade their setup.
With so much tire clearance combined with a lightweight frame, you could do everything from racing to casual adventures on the beautifully-designed Cervélo Caledonia.
There are no comments yet, add one below.