A high-performance road bike perfect for long weekend training rides, group sportives, or amateur competitions.
Domane AL 3 serves as an ideal upgrade for those planning to take their cycling more seriously.
It could also work as a good starter bike although its price range is on the slightly higher end.
If you want to start extending your time in the saddle and do some longer rides while maintaining comfort, the Domane AL 3 will be a good fit.
It's a quality piece of equipment for the price.
Trek Domane AL 3 Quick Overview
Seasoned riders will immediately recognize the stability and build quality of the Trek Domane AL 3.
It's a clear step up from your standard road bike, with higher-grade components and professional assembly.
It delivers a noticeably more competitive feeling than most bikes in its price range while keeping the geometry relaxed enough for a comfortable ride.
Overall, the Domane AL 3 feels like the perfect long-distance training bike for serious cyclists.
Key Specs:
Frame: 100 Series Alpha Aluminum, DuoTrap S compatible
Fork: Domane Carbon, fender mounts, alloy steerer
Front Derailleur: Shimano Sora R3000
Rear Derailleur: Shimano Sora R3000, 9-Speed
Number of Gears: 18
Rear hub: Formula RX-142 alloy, 6-bolt, Shimano 11-speed freehub, 142x12mm thru axle
Rims: Bontrager Affinity Disc or Bontrager Paradigm SL, both tubeless ready 24-hole, 21mm
Tire Size: 700x32c
Weight: 22.71 lbs / 10.30 kg
The Trek Domane AL 3 is a slight upgrade from the AL2, with better quality Shimano components and lower overall weight.
It also benefits from Trek's DuoTrap S compatible 100 Series Alpha aluminum frame and an IsoSpeed carbon fork.
Endurance geometry frame
The Domane AL 3 is built around Trek's lightweight 100 Series Alpha aluminum frame to provide a stable and comfortable ride over long distances.
Built for endurance, the Series 100 Alpha frames are stiff and responsive, instilling confidence in the rider.
The top tube is angled just enough to put the rider in a strong forward position without being overly aggressive while the seat tube angle strikes a balance between power and comfort.
Frame sizes range from 44cm (women) to 61cm, so they should fit riders of almost any height.
The smallest 44cm model on the women's Domane AL 3 has a 65.7cm standover height, with an 84.2 cm standover height on the largest unisex model.
Carbon Fork
Trek have complimented their fabulous 100 Series Alpha frame on the Domane AL 3 a carbon fork and headset.
The addition of a carbon fork helps to reduce weight and provide a much more comfortable ride.
Trek Domane's carbon fork has a unique dropout placement to optimize the wheelbase combined with a tight rocker cup for precise placement. The slightly wider fork fits a 5x100m QR and includes convenient fender mounts for those wet-weather riders.
Shimano Sora Groupset
The Domane AL3 is fully kitted-out with Shimano's Sora R3000 groupset which provides the derailleurs, shifters, chain, cassette, and cranks.
On the rear cassette, you have nine cogs ranging from 11T to 32T and on the front crank, a 50T, and 34T.
While Sora is one of the most widely-used Shimano gearing sets for road bikes and has been trusted for years, it would have been nice to see a Tiagra groupset on a bike of this price.
However, considering the high-performance frame and quality assurance that Trek provides, the overall package still offers good value for money.
Some gearheads might consider an upgrade but the Sora system works perfectly well in this instance.
DuoTrap S Compatibility
Trek's own line of Bontrager DuoTrap S digital sensors offer some of the best data measuring tools available.
Forget strapping on clumsy sensors to your fork with zip ties, the DuoTrap S screws subtly to the inside of your chainstay and sends data wirelessly to your phone or bicycle computer.
The DuoTrap S supports both ANT+ 2.4 GHz and Bluetooth signals so you can send data to both your phone or a Trip 300 cycling computer.
Blendr Compatible Stem
Trek's Blendr Stem which is part of its Bontrager components range provides a way to attach accessories securely to your handlebars.
The stem is compatible with a variety of Duo Base attachments that fit phones, lights, satnavs, computers, and cameras.
Rather than using up space on your handlebars by trying to squeeze in third-party attachments, the Blendr stem places your accessories directly into the handlebar stem.
The tight and secure attachment method ensures your devices are safe on even the roughest of terrain.
Trek Domane AL 3 Sizes
There are 7 sizes of Domane AL 3 available from riders 4'11" to 6'3″
44: 4'11" – 5'0″
49: 5'1″ – 5'4″
52: 5'4″ – 5'6″
54: 5'6″ – 5'9″
56: 5'9″ – 5'11"
58: 5'11" – 6'1″
61: 6'1″ – 6'3″
Is it worth the money?
The Trek Domane AL 3 is not the cheapest bike in the range of aluminum frame road bikes with Sora components.
If you aren't picky about build quality and materials you could certainly find something cheaper.
However, unless you are willing to fork out the extra for a full carbon frame you'll be hard-pressed to find a better bike at this price.
It's incredibly lightweight for a non-carbon frame and carries the undisputable Trek stamp of quality.
Yes, for a similar price you could get a bike with disc brakes or a Tiagra groupset but you would be sacrificing on quality elsewhere.
Overall, the Trek Domane AL 3 delivers value for money.
Check out our other reviews on Trek Domane bikes: AL 2, SL4, SL 5, SL6.
Related: Trek Bikes Explained – In-Depth Overview
Is The Trek Domane AL 3 Right Choice For You?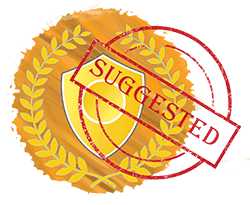 The Trek Domane AL 3 is the highest quality entry-level bike in Trek's Domane range before moving up to professional full carbon disc brake bikes.
It's affordable while still offering everything a rider needs in a competitive road bike.
The Domane AL 3 is a good bike for that upcoming cyclist looking to go the distance and spend some serious time in the saddle.
Sure, it'll do you fine for the occasional weekend ride but for the money you'll want to get a decent amount of use out of this bike.