Trek Domane SL 4 has been discontinued. For the next bike in the line, see our review of Trek Domane SL 5.
The Trek Domane SL4 is a high-quality racing bike for competitive riders looking to upgrade to their first carbon frame.
The Domane SL4 is built with Trek's 500 Series OCLV carbon frame and includes front and rear IsoSpeed technology.
This gives the frame excellent stability and strength which can be felt in how responsive the bike is.
It comes with a slightly heavy wheelset and uncharacteristically thick tires which add comfort but also extra weight.
This makes the bike slightly heavier than even some high-quality aluminum bikes and is most noticeable on hill climbs.
Trek Domane SL4 Quick Overview
---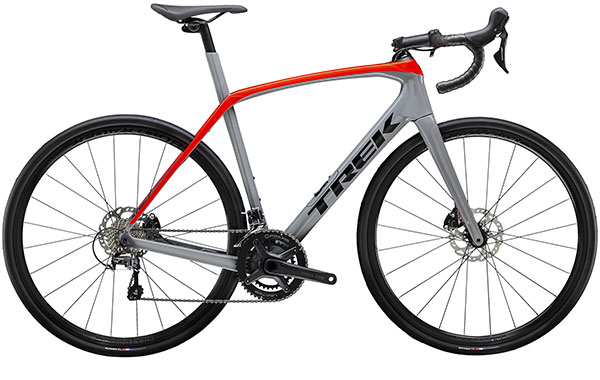 MSRP $2,399.99
To keep costs down, Trek has fitted the Domane SL4's high-quality OCLV carbon frame with some mid-range components. This sacrifice means it is not as lightweight as other carbon bikes.
Key Specs:
Frame: 500 Series OCLV Carbon, front & rear IsoSpeed
Fork: Domane SL carbon, tapered carbon steerer
Front Derailleur: Shimano Tiagra 4700
Rear Derailleur: Shimano Tiagra 4700, 10-speed
Crank: Praxis Alba M30, 50/34 (compact),
Number of Gears: 20
Brakes: Shimano Tiagra hydraulic disc
Tires: Bontrager R1 Hard-Case Lite, wire bead, 700x32c
Weight: 21.75 lbs / 9.87 kg
Main Features
---
The Domane SL4's central feature is its 500 Series OCLV Carbon frame. To compliment it, Trek has fitted a Shimano Tiagra groupset and hydraulic disc brakes.
500 Series OCLV Carbon material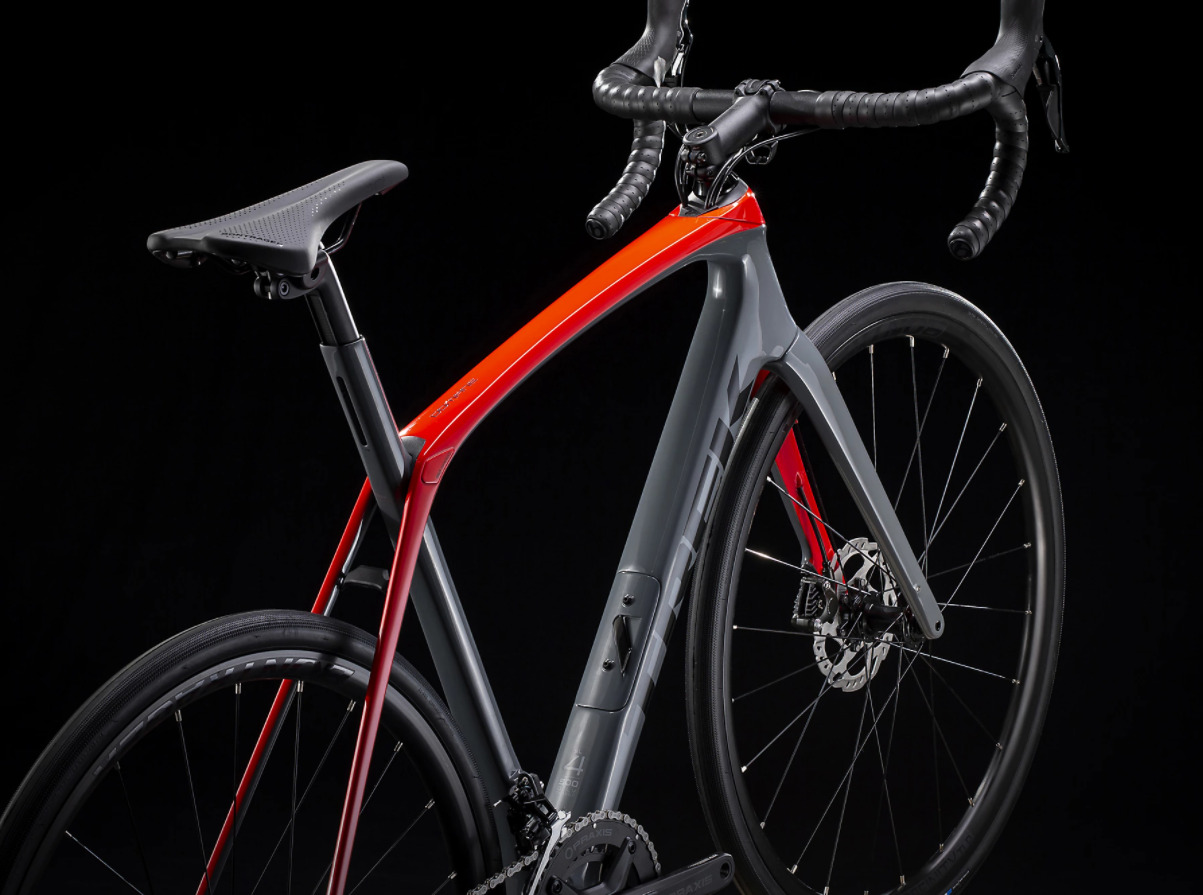 Trek's patented 500 Series Optimum Compaction Low Void (OCLV) carbon frame uses heat and pressure to minimize the existence of strength-compromising voids in the material.
This makes the carbon incredibly strong and resilient while maintaining its lightweight properties.
The frame is designed around Trek's endurance geometry for maximized control, handling, and responsiveness.
The midsized 52cm model has a 74.2-degree seat tube angle and 71.3-degree head tube angle with 53cm effective reach. The standover height ranges from 65.7cm on the low end to 83.5cm on the largest model.
IsoSpeed frame technology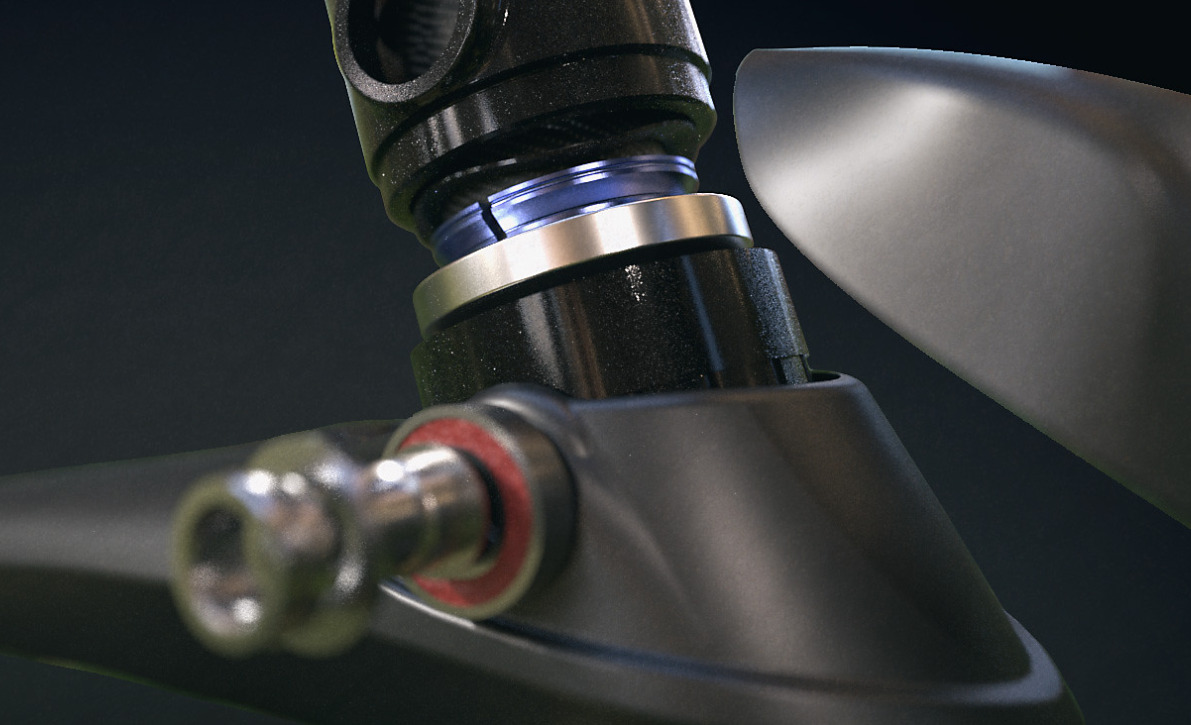 Trek's IsoSpeed frame features front and back decouplers to dampen vibration while maintaining efficiency.
The system has been featured on bikes that have won the Strade Bianche, Ronde van Vlaanderen, and Paris-Roubaix races.
The IsoSpeed integrations feature a rocker cup that allows flex in the seat tube and steerer tube while maintaining zero lateral movement.
If you haven't ever ridden a bike with IsoSpeed technology, you'll notice the difference – it offers a completely solid feel while dampening almost all vibration from the road.
Bontrager BITS Internal Frame Storage Bag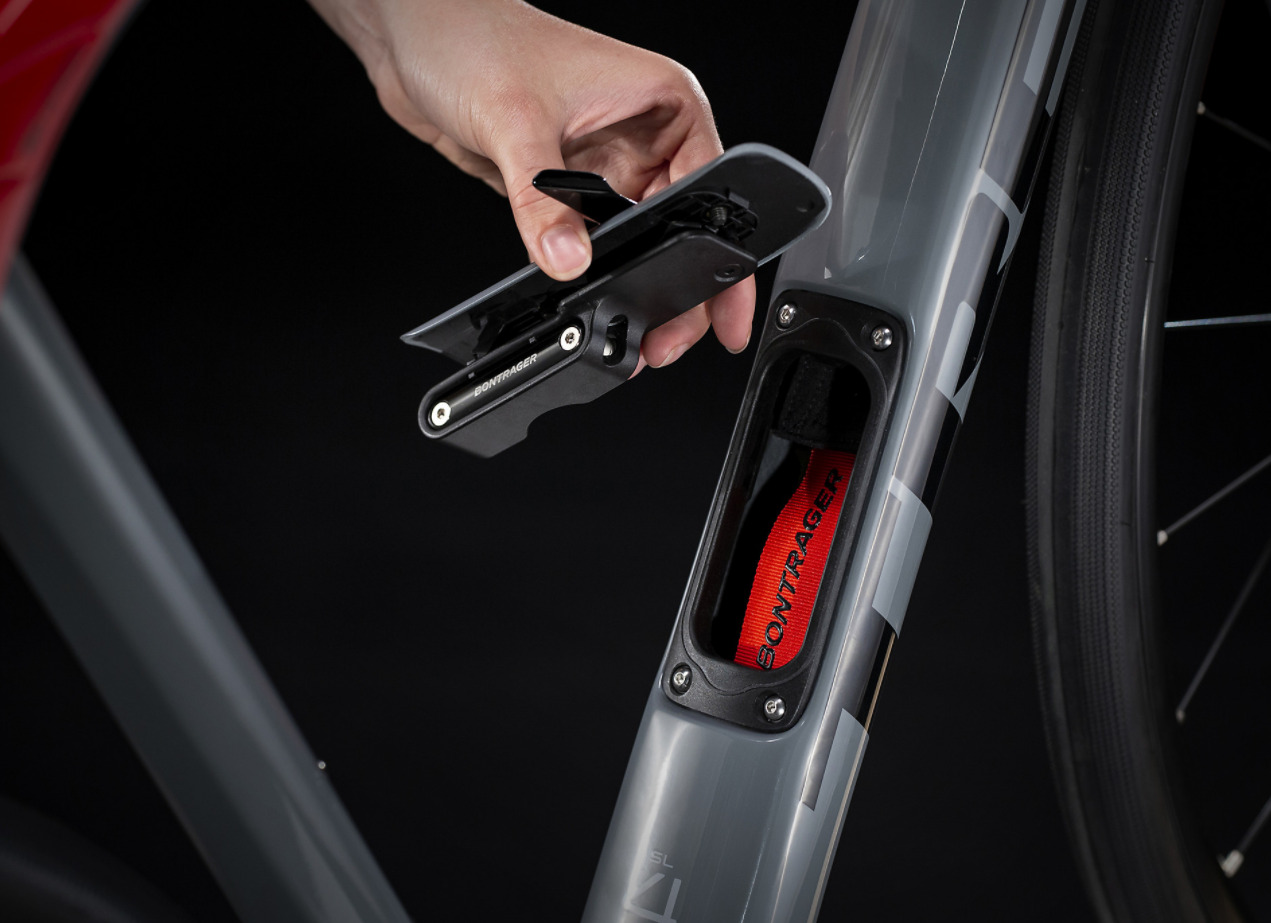 The Trek Domane SL4 features the Bontrager BITS Internal Frame Storage which is a hollow compartment in the downtube that fits a puncture repair kit.
It's large enough to fit a spare tube, tire levers, CO2 cartridges, and an Air Rush Elite inflator.
It replaces the need for a bulky seat bag and ensures that you'll never get caught out on the road with a flat again.
Everything fits snugly and conveniently under the water bottle cage to maintain a clean aerodynamic design. Other riders will wonder where you keep your spare tubes and repair kit!
Shimano Tiagra groupset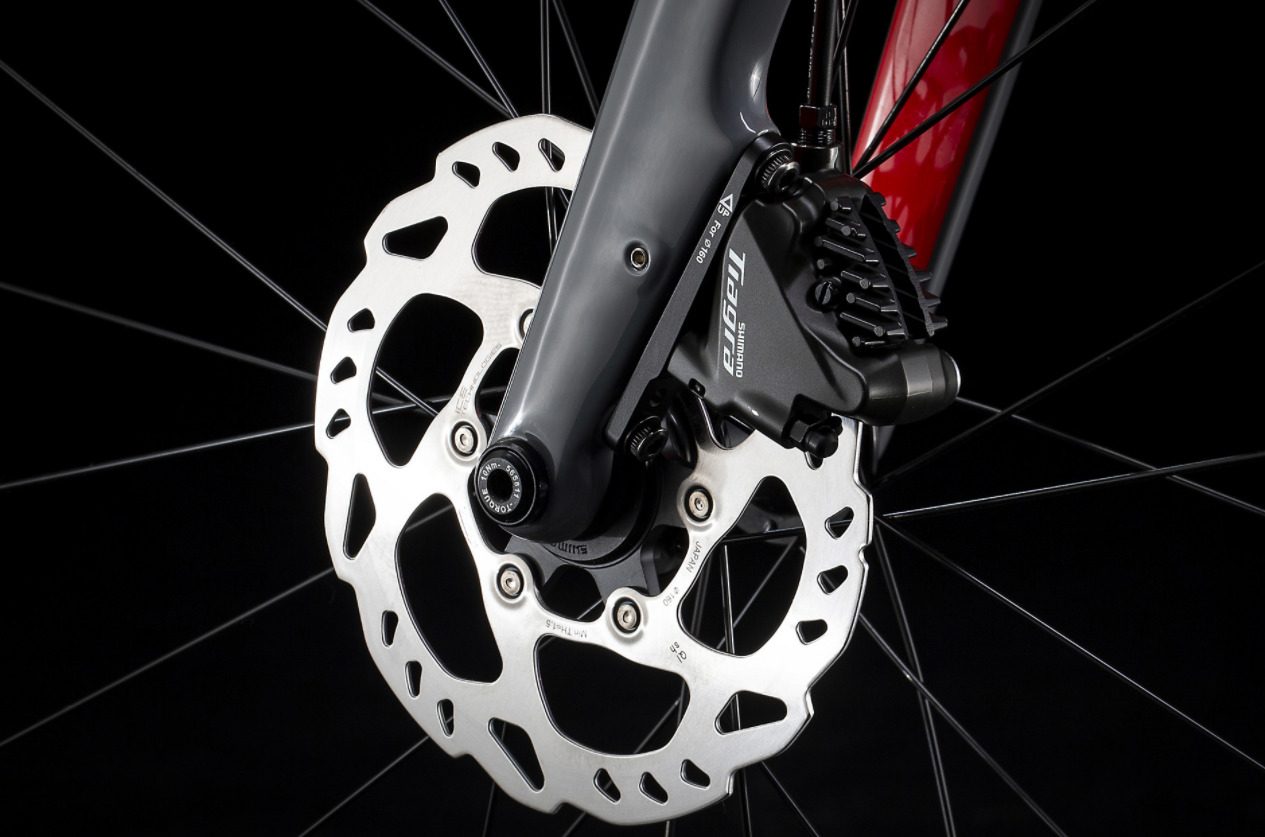 The Trek Domane SL4 is kitted-out with a full Shimano Tiagra groupset, including the shifters, chain, front and rear derailleurs, and 10-speed cassette.
There is also an option for a slightly upgraded Shimano 105 R7000 front derailleur. The Tiagra HG500 rear cassette features cog sizes from 12-28T.
It would have been nice to see the slightly lighter 11-speed Shimano 105 groupset on a bike of this quality but the Tiagra is by no means a bad product.
It's a groupset that has stood the test of time and proven itself in many professional events over the years.
Shimano Tiagra hydraulic disc brakes
The Trek Domane SL4 is finished off with Shimano Tiaga flat mount hydraulic disc brakes.
This is another feature that adds a dose of extra quality to the Domane SL4, allowing for wider tires and instant stopping power in any weather.
For any rider serious about attempting some adrenaline-pumping, high-speed downhill racing, hydraulic disc brakes are a must.
On the Domane SL4, they are supported by 160mm Shimano SM-RT70 brake rotors with Shimano's Centerlock mounting system for quick and easy removal.
Sizes
---
There are 8 sizes available from riders 4'11" to 6'3.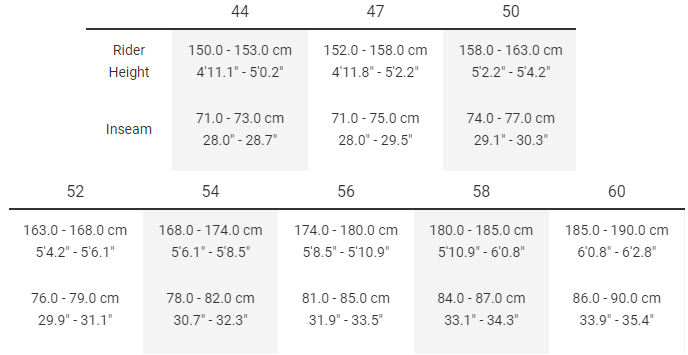 Is The Trek Domane SL 4 Right Choice For You?
---
The Trek Domane SL4 is a good entry-level carbon frame racing bicycle but it may be frowned upon by a rider who has owned previous carbon bikes.
For a carbon frame bike, it is simply too heavy to impress a professional rider.
However, if it's your first carbon bike you'll appreciate the additional stiffness and stability that the larger wheels offer.
The Domane SL4 is not a flat-out speed machine, but rather a carbon bike that can handle rougher terrain than most.
Check out our reviews on other Domane models: AL 2, AL 3, SL 5 and SL 6.
Related: Trek Bikes Explained – In-Depth Overview
Is it worth the money?
---
The Domane SL4 is not expensive for a full carbon bike with Shimano components and hydraulic disc brakes.
Plus, it holds the Trek badge of guaranteed quality. However, riders that really want to attack uphills at speed will likely need to upgrade the rims and put lighter, tubeless tires on.
It is also uncommon to see Shimano's Tiagra groupset on a high-quality carbon bike.
If it came standard with a Shimano 105 groupset then I would say it's excellent value-for-money. As it stands, it's simply a decent carbon bike for the price.