A pair of quality front and rear bike lights is an absolute must if you ride after dark or in low visibility conditions. We'd even go as far as advocating for all-day lights as well, which is something many riders agree with. 
In recent years, bicycle lights have become cheaper, more powerful, more durable, lighter, and more diverse. Therefore, the common excuses cyclists used in order not to carry lights are no longer valid.
If you're considering making the smart step forward and investing in a solid pair of bike lights, you're going to need some help.
Check out our guide below that will teach you all you need to know, as well as our recommendations for the best bike lights on the market.
Jump to REAR | Front | Sets | Night
---
Two types of lights
Not all lights are made the same. There are two main types you should know about when shopping:
Making you visible
Seeing in the dark
The first kind is the so-called "blinkers" and their purpose is to make you more visible to other drivers and riders. They are commonly mounted on the handlebar and the seat post and work in several blinking modes.
If you only ride in the city with well-lit streets, or you only ride in daylight and low light, blinkers will suffice.
On the other hand, if you ride before sunrise or after dark, or you frequent routes with poor street lights, you need proper front and rear lights that will help you see where you're going and make you more visible to others.
Moreover, if you ride in the city, you can use only frame-attached lights. However, if you ride a mountain bike off-road at night, a helmet-attached flashlight is a must!
Rear? Front? Or Both?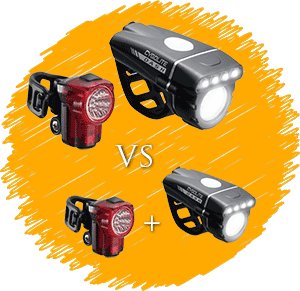 Whenever possible, the answer is always BOTH. If you have a limited budget, a rear blinker is a good place to start. It will make you significantly more visible in low light settings.
However, a front blinker or a front light is crucial for visibility as well. Front and rear blinkers are usually bought in pairs, so it is easy to get both.
However, if you're buying a proper front light, it's a good idea to hunt for a set that includes a rear light as well, because you'll pay less compared to buying both lights separately.
How many lumens?
Lights are usually measured in lumens, which is a unit that represents the light output of the setup. The more lumens your lights have, the brighter they will be.
That said, there isn't a simple answer to this question. Generally, if you ride on decently-lit city streets, a 400-500 lumen front and a 50 lumen rear light will suffice.
Don't believe "Chinese lumens"! Cheap bike lights from China usually have misleading lumen readings that overestimate the power output of the setup.
If you ride off-road or on unlit roads, you'll need something more powerful — around 800-1,000+ lumens front and 50+ lumens on the rear.
Many modern lights come with several power modes, so you can choose how bright you want them to be, depending on where you're riding. This way, you can preserve battery life and make your lights more efficient.
What features to look for?
Lumens are an important factor to consider when deciding which bicycle lights to buy. However, the best bike lights also have some or all of these features as well:
Adjustable beam pattern: A feature that allows you to choose how wide or how far you want your lights to reach.
Multiple power settings: Changing the light output of the setup so it preserves battery life.
Sturdy attachment: You want an attachment that's sturdy, stable, and won't move around or fall off when you're pedaling over bumpy surfaces.
Durable body: Bike lights are exposed to various types of impact. You want a set that's has a strong and durable body that will not break the first time your bike tips over.
Intuitive battery indicator: Many modern best bike lights have flashing or beeping indicators that alert you when it is time to recharge your batteries.
Water-resistant housing: Ideally, look for an IPX water-resistance rating of five or higher that can withstand riding in wet conditions.
Mount on the Helmet or the Handlebar?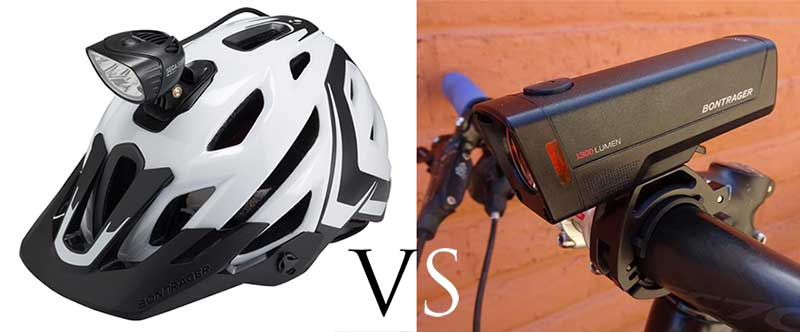 Most bike lights are mounted on the handlebar.
This is a good starting position, but it is no ideal for all situations.
Bicycle Guider TIP: If you're riding on a trail on a mountain bike, you definitely need a light that points exactly where you look. The problem with handlebar lights is that they point where the bike is pointing. So, when cornering, you will have blind spots. Also, crossing bridges is quite risky, especially if they're narrow or in poor condition.

A helmet light will solve this problem, especially if it is used in combination with a handlebar-mounted light. Two beams from different positions will eliminate dark spots in front of you and give you the best possible visibility.
The problem is that there are not that many helmet lights available for sale in the US. You can find some Chinese bike lights on Aliexpress, but these usually come with some disadvantages.
How we tested
All of the lights that we recommend here have been thoroughly tested by our team for the purposes of this review or used before as our go-to lights for daily rides.
To compile the list of the best bike lights you see below, we relied on our experience, knowledge, user reviews, and market trends.
We thoroughly researched and tested many of the most popular bike lights in numerous categories, rode lots of miles with them illuminating our way, and tried to push their limits.
The result is what we believe to be a list of the best front and rear bike lights you'll find on the market right now.
---
Best Rear Bike Lights
---
Light & Motion Vya Pro
Super Visible
MSRP $60 on REI
100-lumen SafePulse beam
1 lithium-ion battery
Battery Life Flashing 6 hours
Auto-on smart sensors that sense motion
The Light & Motion Vya Pro is a premium rear bike light jam-packed with clever solutions that make it easy to use it and improve your visibility.
You mount it on the seat post and forget that it's there until the time comes to recharge it. Thanks to the auto-on smart sensors, the light will turn on whenever your bike is in motion and turn off when you're no longer moving. There's no chance to forget to turn it on.
The Light & Motion Vya Pro is powered by a rechargeable lithium-ion battery that provides you with 6 hours of battery life in flashing mode. It recharges fully in just 2 hours, so you'll quickly be ready to go again.
This light also has two subtle sidelights that make you more visible at intersections and is waterproof so you can use it in all weather conditions.
Best bike light with a worry-free design.
Blackburn Local 10
Lowest Price on the List
MSRP $15.95 on JensonUSA 
Two bright modes at 10 lumens
Powered by replaceable AA batteries
Up to 140 hours of battery life
A large power button that's easy to press
Blackburn Local 10 is an affordable and straightforward rear light that shines bright and gets the job done. It will make you seen at night from afar and you'll forget when you changed the batteries the last time.
This light is powered by two AA batteries that you can simply replace when they die. You can use this light in two modes — High Power and Steady Flash. The first guarantees 70 hours of battery life and the second 140 hours. But make sure you're using high-quality batteries.
Blackburn local 10 is mounted in a few seconds on any bike thanks to a universal silicone mount that will fit on any bicycle you have in your garage.
It has a large power button that you can easily press even when riding or wearing gloves, without stopping or taking them off.
If you have a limited budget and you just want something that will make you seen, Blackburn Local 10 is the best affordable bike light.
Lezyne Zecto Max Drive 250
Powerful Daytime Mode 
MSRP $50 on JensonUSA
250 lumens maximum power output
Durable USB rechargeable battery
6 – 24 hours run time
Daytime mode
If you want to make sure you gain the attention of any car driver that drives behind you, the Lezyne Zecto Max Drive 250 rear light is your best bet.
This powerful light emits up to 250 lumens of light that one can simply not ignore. It's compact and weighs just 69 grams, so you can easily carry it in your pocket.
Lezyne Zecto Max Drive 250 is powered by a USB rechargeable battery that recharges in 2.5 hours and offers up to 24 hours of runtime, which is pretty impressive.
You can use this rear light in 8 different modes, including nighttime and daytime modes. It mounts anywhere on the bike with a handy silicone band, in a matter of seconds.
Consider getting the Lezyne Zecto Max Drive 250 if you don't want to take any chances when it comes to being seen and you need the best bike tail light.
Lezyne Strip Drive Pro 300
Maximum Power Output
MSRP $40 on JensonUSA
Super-powerful 300-lumen light output
Integrated USB charging stick
20+ hours of run time
Side visibility ensured
The Lezyne Strip Drive Pro 300 is one of the most powerful rear lights you can find. It's ridiculously bright! It has a 300-lumen maximum power output which will ensure you remain seen at night or during the daytime.
You can use this rear light in 11 different modes, depending on the external factors and your requirements. The Blast mode emits 50 lumens and lasts for 2 hours, whereas the Flash mode emits 5 lumens and lasts 20+ hours.
Lezyne Strip Drive Pro 300 has a unique design that emits light to the sides as well, making you visible at intersections from all directions.
It comes with an Integrated USB charging stick that recharges the battery in just 2.5 hours. You can then attach the light to your bike in a second, even on aero seat posts.
It's, without a doubt, one of the best rear bike lights you can get at any price.
---
Best Front Bike Lights
---
Lezyne Zecto Drive 250
Most Powerful Front Blinker
MSRP $35 on JensonUSA
250 lumens maximum power output
USB rechargeable battery: 2.5 hours
Up to 15 hours run time
Heavy-duty and weather-resistant construction
Lezyne Zecto Drive 250 is a front light that will help make you more visible to drivers and other cyclists. It won't help you see where you're going, so it's suitable to be used before it gets pitch black or in well-lit areas.
The light is packed inside a durable and weather-resistant casing that will protect the internals from external factors. You can mount it on your handlebar or any other bar with a silicone band.
Lezyne Zecto Drive 250 recharges in just 2.5 hours via USB and provides between 3.5 hours and 15.5 hours of runtime. The entire light weighs just 47 grams, so it's super-light.
You can run this powerful front light in 7 bright modes, including a daylight mode that can flash for up to 4.5 hours.
If you want the best possible visibility from all sides, get the Lezyne Zecto Drive 250 front light in combination with the Lezyne Zecto Max Drive 250 rear light.
Best Night and Day Front Light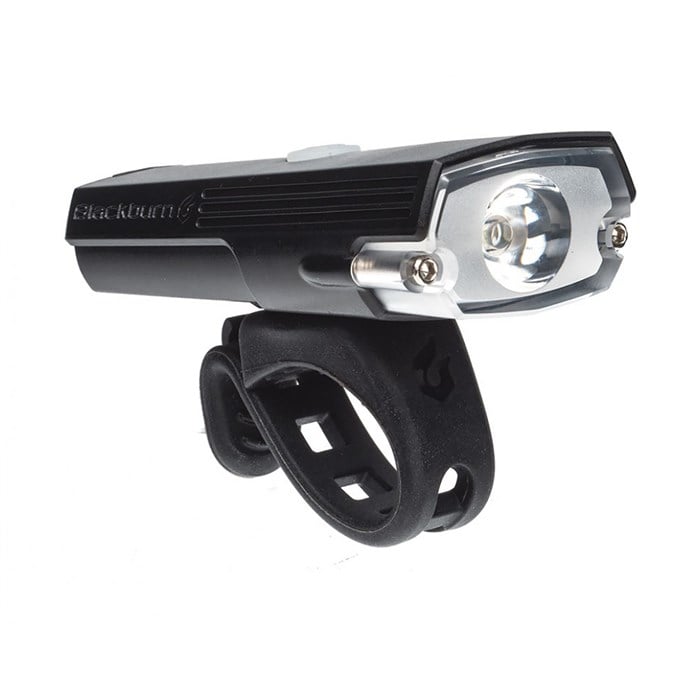 MSRP $33 on evo
Up to 400 lumens of continuous light output
Micro-USB Rechargeable battery
Up to 10 hours runtime
Smart LED Charge Indicator
If you ride your bike at night, having front and rear lights is not something that can be negotiated — they're a must. If you want a front light that will help you see where you're going and make you more visible to others, you should consider the Blackburn Dayblazer 400.
This USB rechargeable front light runs in four modes: Blitz, Low, Pulse, and Strobe. It's equipped with the famous Total Internal Reflection (TIR) lenses that focus the light beam where you need it the most.
The battery recharges fully in just 3 hours and lasts for up to 10 hours of continuous use, depending on which mode you use the most.
Thanks to the Blitz mode, Blackburn Dayblazer 400 is useful during the day as well, as its name tells you.
See and be seen with the best front bike light.
Blackburn 2'Fer
2 in 1 Front and Rear Light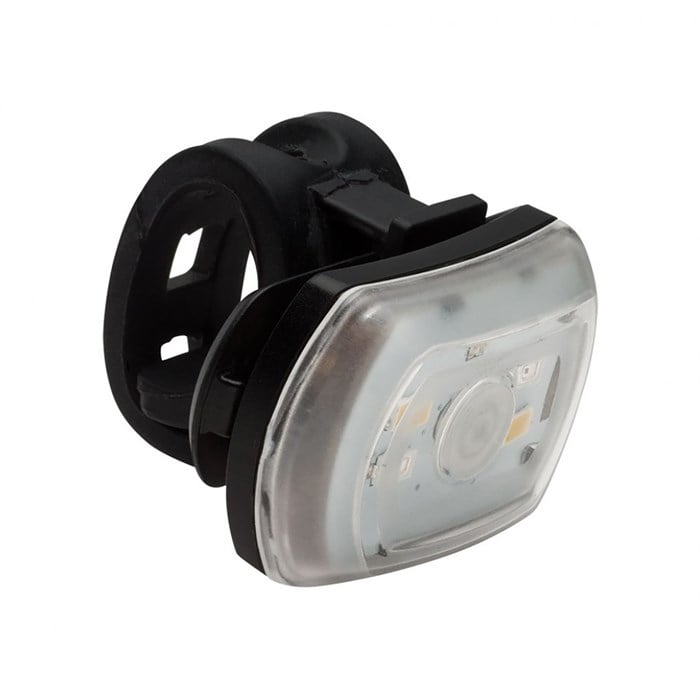 MSRP $27 on evo
20 to 60 lumens power
Micro-USB Rechargeable in 3 hours
Up to 5 hours runtime
Can be used as either front or rear light
Blackburn 2'Fer is a unique bike light because it can be used both as a front and as a rear light. By changing the mode, the color will change as well between bright white and red.
As a front light, Blackburn 2'Fer emits 60 lumens of light, whereas as a rear light it emits 20 lumens. You can mount it on the handlebar or on the seatpost with a durable silicone band.
This universal light comes with a LED charge indicator that shows you when you need to recharge it. It is recharged fully in 3 hours, so you can do it fairly quickly.
Apart from front and rear visibility, Blackburn 2'Fer also provides excellent side visibility due to its smart design. Therefore, it will ensure that you're seen from all directions at all times.
---
Best Bike Light SETS
---
Lezyne Zecto Drive
Brightest Blinker Set
MSRP $68 on JensonUSA
Up to 250-lumen power output
Li-ion USB rechargeable batteries
2-hour charge time and up to 15 hours of runtime
Weighs under 50 grams
Lezyne Zecto Drive front and rear lights are one of the most popular choices among cyclists of all kinds. They can be purchased individually or as a pair. If you don't have any lights on your bike, we recommend going for the set because you'll save some money that way.
These powerful lights operate in numerous modes that are suitable for daytime and nighttime riding. The most economic mode will give you 15+ hours of runtime, whereas the most powerful mode will drain the battery in around 3 hours.
One of the biggest advantages of Lezyne Zecto Drive front and rear lights is how light they are. The pair weighs under 100 grams, which is much less than your smartphone. You won't feel them in your pocket.
Thanks to their low weight, these are the best road bike lights, as roadies are always worried about the weight.
Simply speaking, it's hard to go wrong with the Lezyne Zecto Drive lights as they're small, convenient, and run for a long time.
Knog Plus Twin Pack
Most Affordable Bike Light Set
MSRP $34.95 on REI
40-lumen max light output
USB rechargeable lithium polymer batteries
Up to 40 hours of battery life
Attachable on the bike or on clothes
Knog Plus Twin Pack are front and rear bike lights with a budget price and an advanced list of specifications. They can be used on the bike with a silicone strap, or on your cycling clothes or bags thanks to a handy clip.
These lights recharge fully via USB in 4 hours and provide up to 40 hours of runtime. However, light modes include steady, pulse, strobe, fancy flash, eco flash, so you can drain the battery in 2 hours if you use it in the highest.
Knog Plus Twin Pack makes sure you get the highest power for as long as possible with its efficient Chip on Board (COB) LED design. It provides maximum power for 90% of battery life.
These lights are also fully waterproof, so don't be afraid to use them when it's raining.
For just $35, Knog Plus Twin Pack provides phenomenal value for your money.
Specialized Stix Sport
MSRP $43.95 on JensonUSA
95/18 front and rear lumen output
USB rechargeable battery
Up to 23 hours of runtime
Six modes ranging from steady to flash
Specialized Stix Sport is everything a cyclist could ask from a set of bike lights. They're small, light, easy to use, charge fast, and run for a long time.
These are the best bike lights for commuting and city riders who want a pair of bike lights that will make them seen day or night, rain or shine.
The front light has a 35-95-lumen output, whereas the rear light puts out 7-18 lumens. That's plenty bright to attract the attention of drivers and other cyclists.
Specialized Stix Sport lights are USB rechargeable and require no cables. You can simply stick them into a USB port for a few hours until the LED indicator show's the battery is full.
You can use them in six different modes and mount them on any tube that is 22.2mm to 35mm in diameter, so they're suitable for all types of bikes.
---
Best Bike Lights For Night Riding
---
When riding in the dark, you need power. And lots of it! Especially when going for a ride in the deep forest and in pitch-black darkness. These lights will illuminate your way and turn night into day.
Light & Motion Seca 2500
The best cycling light for maximalists
MSRP $400 on REI
2,500 lumens maximum light output
6-cell li-ion USB rechargeable battery
2.5 to 20 hours of battery life
Includes handlebar mount, GoPro mount, helmet mount,
When you need the best possible vision at night, you need the most powerful bike lights. The one we recommend is the Light & Motion Seca 2500. It is the best bike light for night riding.
This front light has a maximum light output of 2,500 lumens through a custom-made reflector that ensures a smooth beam pattern.
You can use Light & Motion Seca 2500 in three modes: High, Low, and Flashing. The modes are easily selected with the press of a button, so you can do it while you're riding, even with your gloves on.
The daytime pulse mode is perfect when commuting during the day, as it will make you a lot more visible to car and truck drivers.
If you are a maximalist and you need a race-ready light, there are few more powerful at this price than Light & Motion Seca 2500.
Gloworm X2 1700
Most Practical Wireless Remote
MSRP $249 on JensonUSA
1700 Lumens maximum light output
USB rechargeable batteries
3-hour runtime on max brightness
Operated with a Wireless TX Remote
Gloworm X2 1700 is every mountain biker's perfect light. It has a 1,700 lumen light output which will allow you to see every pebble and branch on the trails in front of you.
Its casing is CNC-machined from durable aluminum, so it weighs just 89 grams and is resistant to weather and impact.
The biggest selling point of Gloworm X2 is the Wireless TX remote that lets you control the light without touching it even when it's on your helmet. You can even configure it to operate multiple Gloworm lights at the same time.
Its lithium-ion battery takes 4 hours to recharge and ensures a 3-hour runtime on max brightness, which is good enough for a long night ride in the mountains.
By far one of the best mountain bike lights around.
Blackburn Countdown 1600
Revolutionary Countdown Display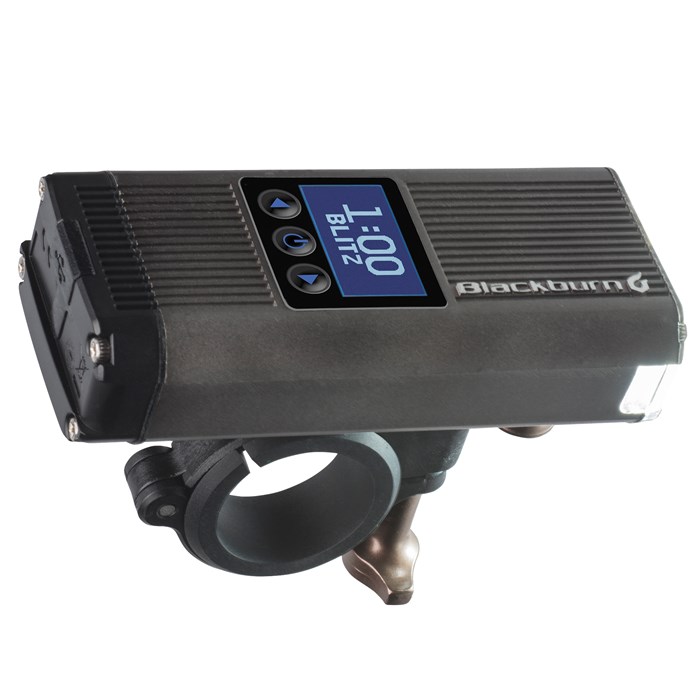 MSRP $170 on evo
1,600-lumen maximum output
Micro-USB Rechargeable li-ion battery
Up to 12 hours of runtime
Backlit display shows remaining runtime in minutes
Last but not least is the high-quality Blackburn Countdown front light with some interesting engineering solutions. First of all, it has a lightweight aluminum construction, so it's perfect for mountain biking as it is resistant to impact.
It's also completely waterproof, so no need to worry if it starts raining cats and dogs. Blackburn Countdown can be used in 6 modes (Blitz / High / Med / Low / Pulse / Strobe) and offers excellent front and side visibility.
It's equipped with a backlit display that shows you the remaining runtime in minutes, in real-time, depending on the mode you choose. That's a very useful feature that will ensure you're never out of power completely.
Depending on the mode, the lithium-ion battery will provide enough power for 1.3 to 12 hours of illumination. When you drain it, you can recharge it in 4 hours using a standard USB port.
In the high mode, Blackburn Countdown reaches 131 meters, so you can avoid unpleasant surprises.
Bottom line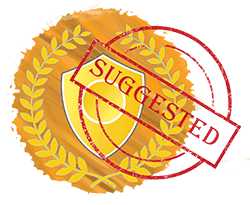 Using a bike light is essential and there's no debating about it. It is crucial when riding in the dark, but it's a good idea to use it during the daytime as well.
If you still don't have front and rear lights on your bike, we urge you to invest in a pair straight away. Lights are the biggest and the cheapest safety upgrade you can make.
Hopefully, after reading our guide, you now have a better understanding of exactly what kind of bike lights you need for your type of riding.
Consider one of the front and rear lights or sets that we have recommended above to get the most bang for your buck and turn day into night.