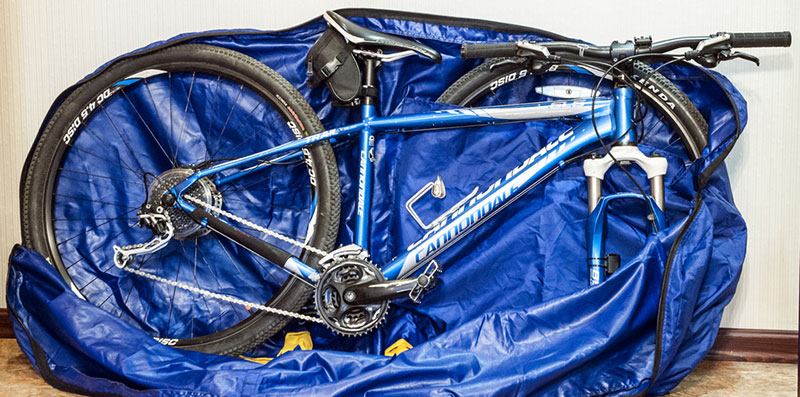 When you need to haul your bike hundreds or thousands of miles, there is no better option than a sturdy bike travel case.
More than just boxes, these high-tech bike travel cases are specifically designed for all different types of bikes, big or small.
I'm not sure what they did in the old days, but it was probably something along the line of 'tape up the cardboard box and cross your fingers.'
Nowadays, bike travel is easier than ever with tens of different bike travel cases uniquely designed for bike travel.
A bike travel bag can come in all different shapes and sizes, hard shell or soft shell, and include wheels or shoulder straps. Whatever your goal, there is a bike travel bag designed just for you.
In this guide, we're going to dive into the details of eight different bike travel bags. In the end, we're going to help you decide which bike travel case is best for you.
Bike Travel Cases
Bike travel cases are used for transporting bicycles from one place to another and are usually used for long-haul travel. This includes being packed into cars, box trucks, and airplanes, places where the bike is likely to get moved around or pressed up against other cargo.
Consider also: Best Bike Racks For Cars
These travel bags are specifically designed for bicycles, including unique shapes and features that fit the curves of a bicycle frame, wheelset, handlebars, and more.
Bicycle travel cases are quite large, though they are much more compact than a put-together bicycle. All bicycle travel cases require some disassembly, with some requiring more than others.
Ranging from hard shell to soft shell casing, bike travel cases offer many forms of protection for the bike inside. In most cases, you won't have to worry about your bike being thrown around or dropped down a luggage chute when it's packed in a bike travel bag.
Most commonly used for flying, bicycle travel cases are also used for long-haul travel in cars and trucks. Especially when packed into tight spaces, a bicycle travel bag can protect against bumpy car rides, other luggage, and the slipping and sliding of long-haul travel.
Here is our list of the top 8 best bicycle travel bags.
Best Bike Travel Cases
---
Scion Road AeroComfort 3.0 TSA
MSRP: See on Amazon
Minimal disassembly required
MTB and triathlon-specific bags are available
Traveling is stressful enough, let alone doing it with a hefty bike bag. So it's time to remove the stress, minimize disassembly, and make traveling with a bike as easy as possible. The Scion Road AeroComfort 3.0 TSA is designed to do exactly that – all you need to do is remove the wheels.
Scion's specialty case comes at a cost, but we argue that it's one of the best bike travel bags available. The Road AeroComfort 3.0 is light, sturdy, and well-padded to provide the best protection for your bike. Even so, it uses a soft shell case which can be packed down when the bike is no longer inside.
The standout feature of the Scion Road AeroComfort 3.0 TSA is the minimal disassembly. Unlike other bicycle travel bags, you won't need to remove the pedals, handlebars, or rear derailleur from your bike.
Instead, it's only the wheels that need to come off. There is even a special design around the rear derailleur to completely protect it from travel.
Its base is made of a metal frame defender that is strong and rigid, yet the entire bag weighs just 9kg without the bike. The 360-degree wheels are both good and bad – they give you the most flexibility around tight corners, but they can also take you on a bit of a rollercoaster ride.
EVOC Travel Bag
MSRP: See on Amazon
Includes internal bike stand
Removable wheels
EVOC bike travel cases are known for being some of the very best, and it's easy to see why. Not only does this soft-shell bike travel bag have everything you'll need, but it comes with a number of handy features that you'll struggle to find elsewhere.
For one, the EVOC Travel Bag Pro comes with an internal bike stand and removable wheels. This makes the (dis)assembly process easier than ever.
At 47 x 36 x 85 cm, the EVOC Travel Bag Pro is large enough to accommodate anything from a large road bike to an enduro MTB.
There is a tray inside the soft shell case which attaches to the bike's axles. This feature helps secure the frame for all travel scenarios.
There are also velcro straps and plenty of padding inside the case, plus pockets for tools and more.
Overall, the EVOC Travel Bag Pro is arguably the best all-around soft-shell bike travel case. It folds up into a fraction of its original size. And on the plus side, there's plenty of padding to protect your bike from all sorts of travel.
Orucase Travel Bag Airport Ninja
MSRP: See on Amazon
Best for avoiding bike travel fees
Super lightweight
Includes shoulder straps
The Airport Ninja caught the cycling industry's eye a few years ago when it claimed to be the first bike travel case that would avoid bike travel fees.
Indeed, the case is incredibly small and stealthy at 69cm x 82cm x 30cm and weighs just 11lbs without the bike. It looks like a large backpack or carrying case.
As small as it is, the Airport Ninja still has plenty of padding including plastic panels and reinforced foam. However, the biggest downside of the Airport Ninja is the amount of disassembly required.
In order to fit your bike into such a small case, you'll need to pull off the wheels, pedals, and handlebars at least. For most bikes, you'll also need to remove the front brake, fork, and seat post.
Once your Airport Ninja is packed and ready to go, you can carry it around on your back. Surprisingly, it's not as painful as it sounds.
You'll need to be relatively fit to carry 20+lbs on your back, but it is logistically easier than wheeling a large bike travel case through an airport.
You'll be surprised at how much room is inside the Airport Ninja, and the case costs significantly less than most others on our list of the best bike travel bags.
Dakine Bike Roller Bag
MSRP: $535.00
Lockable main zipper
360° bike protection with five internal padded sleeves
Dakine Bike Roller Bag has one of the best user-friendly designs for any bike travel case.
To keep your bike safe during transit, the case features 360-degree coverage with tons of padding and five internal sleeves to help keep your bike safe.
Dakine Bike Roller Bag is specifically designed for mountain bikes and it can fit downhill, trail, fat bikes, or a 29'er.
Of course, with all that space, you can easily fit a large road bike into the case, too.
Inside the case is a robust anchoring system and structure that is interconnected to maintain the most structural integrity and bike protection. The bike-specific EVA padding covers disc brakes, dropouts, and the entire drivetrain. There is even specific protection for the wheels and fork.
In addition to the padding and protection, the Dakine Bike Roller Bag comes with a roll-up tool bag that fits right into the case.
The entire case rolls on replaceable urethane wheels and includes multiple grab handles which is a feature that we surprisingly don't see on most bike travel cases.
Related: Best Bike Storage Solutions
Finally, the entire bag is collapsible (without the bike inside, of course) so that you can easily move and store it.
B&W International Bike Box II
MSRP: See on Amazon
Very affordable
Protective hard shell case
For those looking for a bike travel case on a budget, the B&W International Bike Box II is one of the very best. Costing a third of many of the other bike travel bags on this list, the Bike Box II isn't as failable as you might think.
Built with a hard shell casing that offers tons of protection against outside forces, the Bike Box II has room for up to a 62cm frame and weighs 24lbs without the bike.
However, your bike won't be as secure inside the box as in other bike travel bags. Inside the Bike Box II are layers of foam that you can use to pack your bike and all its parts. In order for it to fit, you'll have to disassemble your bike quite a bit.
Outside the Bike Box II, there are six Velcro buckles that help hold the box together. There are lots of handles to use, plus four wheels for easy transport.
The biggest takeaway here is that you need to pack your bike carefully inside the Bike Box II since it doesn't include many of the easy-use features of other (and much more expensive) bike travel cases.
Thule RoundTrip
MSRP: $999.95
Great use of hybrid shells
Includes repair stand
MTB version available
The Thule RoundTrip is one of the best bike travel cases with a repair stand. That is the standout feature of this bike bag and one that is rare to find.
Even with the stand included, the entire case weighs 27 lbs. 9.6 oz. and packs down tightly without the bike. There is even protection for disc brake rotors.
However, 28lbs. is heavy in the airline world and it's going to be difficult to back the Thule RoundTrip with a bike without incurring an overweight fee. The case does have a large volume at 48.8 x 33.5 x 13 inches including the work stand.
Thule RoundTrip requires a healthy amount of bike disassembly, but you could argue that this offers better protection for each part of the bike.
And of course, there is the work stand to help you put your bike back together. In addition to the original RoundTrip, there is an MTB-specific bike travel case as well.
FREEDOM Speed Hound Bike Travel Bag
MSRP: See on Amazon
Fits most road, time trial/triathlon, or MTB
Lightweight soft shell padding
FREEDOM Bike Travel Bag from Speed Hound is the classic bike travel case. It is a softshell case that is significantly lighter than hardshell travel cases. There is a separate compartment for the drivetrain to increase protection and prevent grease from smearing on the rest of the bag's contents.
Bike-specific straps help anchor the bike securely inside the sea, including points on the frame, chainstay, bottom bracket, fork, and seat tube.
There are multiple internal compartments in the FREEDOM Speed Hound Bike Travel bag. The main compartment holds the bike frame, while there are separate compartments for the handlebars, seat, shoes, helmet, and clothing.
An added bonus is a separate compartment and protection for each wheel individually. There are even compartments to store your pedals, skewers, and tools.
The outside of the travel case has seven different handlers and large wheels which makes it easy to maneuver the case through the airport, along the sidewalk, or towards the taxi.
At 53″ x 31″ x 15″ (with the bike inside), this case fits most mountain, road, and triathlon bikes. The softshell case is made with ripstop nylon and uses a smooth and durable zipper closure.
When collapsed, the entire case measures just 53″ x 13″ x 15″ which makes it easy to store and travel with when you don't have a bike.
Buds MTbag
MSRP: See on Amazon
Super affordable
Rated for ground transportation such as cars, buses, or trains
The Buds MTbag is the most affordable bike travel case on our list, costing just a fraction of many of the other cases.
Surprisingly, the MTbag still offers great protection and padding for almost any mountain bike. Specifically, the Buds MTbag fits any MTB up to 29″. The entire softshell case is flexible, easy to carry, and user-friendly.
All you need to do is remove your rear wheel and you will be able to fit your MTB into the Buds MTbag. There is even a dedicated pocket inside the MTbag to store the front wheel with extra protection.
With its relatively tight dimensions, the MTbag is perfect for quick ground transportation such as cars, buses, trains, or metros.
Larger bikes have minimal disassembly required. You can keep the rear wheel in the frame, though you may have to adjust the seat height or rotate the handlebars. All in all, it's a simple process that should take just a minute or two.
The reason that this case is so affordable is that it is not rated for air travel. With its softshell casing, the MTbag does not offer as much protection as other bike travel cases, specifically those rated for flying.
However, the MTbag comes with its own shoulder straps so you can carry your bike in more ways than one.
Finally, the MTbag is made with high-quality and eco-friendly materials. The case uses PE600D with 0% PVC, a stronger material that is rip- and abrasion-resistant, making it ideal for protected bike transport.
---
How Do Bike Travel Cases Work?
---
With each bike travel case, there is more or less disassembly required. You will always have to remove the wheels, though you won't always have to remove the handlebars or pedals. These parts stick out quite far from the frame, but some bike travel bags have plenty of extra room.
Many bicycle travel cases come with a rigid frame inside the case. Regardless of whether the case is a hard shell or a soft shell.
Here, you will attach your bike's frame to the case via the front and rear axles. The wheels are typically packed around the frame. Some cases include extra sleeves or padding between the frame and wheels.
Some bike travel cases come with extra pockets or partitions that help add layers between the bike, wheels, components, and equipment. Every bike travel case works differently.
Make sure to check with the manufacturer before packing your bike for the first time.
How to Choose?
Most travel cases are built for road bikes up to 60cm or 62cm in size. A few of the bike travel cases on our list have MTB versions available which are typically larger, wider, and better equipped to handle flat handlebars, wide tires, suspension, and large disc brakes.
Bike travel cases are always designed to be packed tightly. So don't try to fit more than what is recommended into a bike travel case. If the manufacturer limits the case to 58cm bikes, don't try shoving a 60cm frame inside.
Hard Shell vs Soft Shell Travel Cases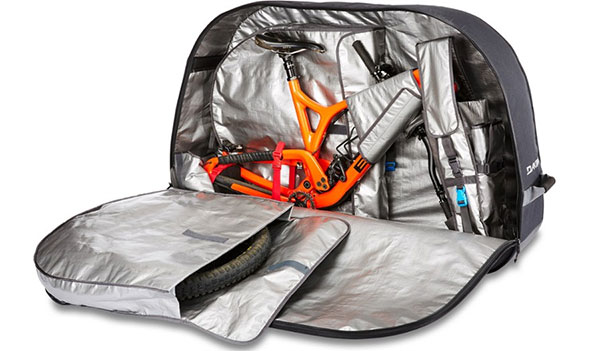 Between hard shell and soft shell bike travel cases, there is no "best fit" for any style of bike.
Each case has its own unique dimensions and features, and some are made specifically for one type of bike. Larger and more rigid cases, for example, may be better for mountain bikes which are larger and could be more fragile in regards to their suspension and brakes.
A good rule of thumb is to ask yourself how much you value your bike. If you are traveling with a $5,000 race-ready carbon fiber frame, it is probably worth upgrading to a more expensive bike travel bag with tons of specific padding and features to ensure maximum protection.
On the other hand, if you're traveling with a more casual $1,000 aluminum frame, you could opt for one of the best value bike travel cases.
You may also ask: should I get a hard shell or soft shell bike travel case?
Hard shell bike cases are made of a stiff material that cannot be bent or folded. These cases offer the best protection for your bike, but they are also large and can be difficult to transport.
Soft shell cases are made of foldable padded materials which can be compacted for easier storage. Without a bike inside, many of these soft-shell travel cases fold up to a fraction of their original size.
Don't be fooled by the flexibility of a soft-shell travel bag. They offer nearly the same level of protection as a hard shell bicycle travel case, despite being significantly lighter. You can also get around more expensive fees when it comes to flying with a soft-shell bike travel bag.
Weight
When it comes to road travel – cars and trucks – the weight of your bike bag doesn't really matter. A lightweight bike case is easier to lift into the back of a car.
However, weight does matter when it comes to flying with a bike travel case. Many airlines have a 50 lb weight limit before they start charging an overweight baggage fee. These fees can range from $20 to over $200. All of a sudden you're paying for half a plane ticket.
When you're packing your bike travel case, you need to factor in the weight of the case, the weight of your bike, and any extra gear that you are going to throw into the case.
Some airlines have rules about the size of your bike case. So make sure to check before committing to a certain case.
Smaller soft shell cases may sacrifice size and protection, but they will often avoid the oversize and overweight bag fees incurred by hard shell bike travel cases.
Protection Levels
Both hard-shell and soft-shell bicycle travel cases offer different levels of protection.
Hard shell cases are typically made from plastic and will not fold under any moderate load. Soft shell cases are usually made of nylon and include lots of padding to keep your bike protected.
Without a hard shell casing, there is a higher chance of a soft shell travel case being compressed in storage – but that's the padding's job.
The vast majority of travel situations won't crush your travel case among other luggage, so a soft shell case will be more than sufficient.
Additionally, most soft-shell bike travel bags have a rigid frame that helps protect against these crushing forces.
The best bike travel cases have additional padding and structure to hold the frame, fork, wheels, and components in place. Especially that pesky rear derailleur hanger.
There are no comments yet, add one below.