Transporting your bike without a bike rack is a massive hassle. You need to fold down the seats, take the bike apart, stuff it inside at an angle, and risk getting everything smeared with grease.
Having a bike rack allows you to explore more and ride further since you can combine a bike ride with a car ride. No need to ride the same routes again and again just because they're close to your home.
Purchasing a bike rack is an easy and sensible solution if you frequently take your bike with you. However, there's a seemingly endless variety of racks on the market, so it can be confusing trying to figure out which one to get.
Check out our detailed review of the best bike racks on the market, split up into different categories.
What Type of Bike Rack Do I Need?
The first question is: how far and how frequently do you need to carry your bikes? Then, what type of bikes and how many bikes do you need to carry? Which vehicle — or vehicles — do you have? Will you be taking a mixture of bikes? Are they heavy? Do they have thru-axles? And will they be getting dirty?
Related: How To Prepare For a Bike Trip
The next question is how do you want to carry the bikes? On top of the vehicle? Off the back? Does your vehicle have a receiver hitch? Bike's front wheel on or off? Another thing to consider is whether or not you want or need to carry other sporting equipment.
Bikes vary widely in cost, style, size, and weight, all of which are factors when looking for a means of transporting them. You probably won't want to risk carrying your expensive superbike on a rack that costs less than one of its ultra-light tires.
Also, consider practicality: whether the rack will suit your needs now and in the future; ease of use — how easy it is to fit it onto the vehicle and load; security — whether it holds the bikes safely and locks the bikes to the vehicle; and how much storage space it will take up when not in use.
The main types of bike racks are roof-mounted, boot or trunk-mounted, and towbar or hitch-mounted. Plus there are options for truck beds and specialty racks for unique situations.
An in-depth guide is available here: How to Choose Bike Racks & Carriers
Thule T2 Classic
Best in Class! Best for Fat Bikes
MSRP $550 (REI)
Takes 2 bikes
SnugTite Lock
60 lbs. load capacity per bike
Thule T2 Classic is a high-priced, hitch-mounted bike mount for a car that can take up to two bikes at the same time. It's the best one we've found in this category because it addresses many issues that users usually have with other hitch-mounted racks.
First of all, this Thule bike rack takes two bikes of up to 60 lbs. in weight each, which basically incorporates all types of bikes out there, apart from some electric bikes that might be heavier.
Thule T2 Classic is one of the more expensive bike racks out there, but its premium features more than justify the price.
The maximum recommended tire width is 5.0″, which is more than enough for any fat bike out there.
The design allows you to tilt the rack while it is still loaded and open the trunk, which will make your life a lot easier.
Thule T2 can also be expanded to carry four bikes with the Classic Bike add-on that's not included in the package.
Last but not least, Thule T2 Classic is one of the best hitch bike racks because it's installed without any tools, so even newbies can do it easily.
Thule Helium Platform 2
Best Ease of Use
MSRP $800 (Jenson USA)
Takes 2 bikes
Takes up to 3″ wide tires
Swings to the side for easy access
Thule Helium Platform 2 is a heavy-duty hitch-mounted bike mount for a car with a few features that might cement your choice. This rack takes two bikes up to 75 lbs. That means that you can basically take any bike you have in your garage.
It fits wheels between 26″ and 29″ in diameter and up to 3" in width. The distance between the bikes is 10″, so there's no risk of scratching.
One of Thule Heilum's main selling points is that the entire rack swings to the side, which offers full access to the trunk. This works no matter if the rack is empty or fully loaded.
If you ride a fat bike and you need a reliable, heavy-duty rear bike rack to take it everywhere with you, Thule Helium Platform 2 is the one.
Another reason why this is one of the best hitch bike racks for the money is that it comes with a locking hitch pin and a cable lock, so there's little chance that someone could take the rack or your bikes off and make a run for it.
This Thule rack is also decently light as it is made from aluminum which is another reason why we included it in our review.
Allen Sports
Best 4 Bike Hitch Rack (Cheapest We Recommend)
MSRP Check on Amazon
Takes 4 bikes
Lifetime warranty
Tilt-away main mast for easy access
Price is one of the main reasons why many cyclists still transport their bikes in trunks. However, you don't necessarily have to spend hundreds of dollars on a rear bike rack that might even be more expensive than your entire bicycle.
Even though Allen Sports Deluxe Hitch is cheap, it still provides plenty of value reflected in durability and safety.
Check out the Allen Sports Deluxe Hitch rack that takes up to four bikes. This is the best bike rack we could find and recommend at this price. The value for money is pretty hard to believe.
The low price means you should approach with caution. We recommend checking every link and element before every ride, making sure you don't exceed the maximum weight limit.
If you do this every time, there's no reason why you shouldn't be happy with this vehicle bicycle rack. The reviews on Amazon are overwhelmingly positive.
Some great features this rack comes with include:
Fits 2″ trailer hitch only
Top tube bike mount type
Folding 22-inch long carry arms
Individual tie-down cradles
Wide range of frame sizes and designs
If you have entry-level bikes and you occasionally need to transport them, the Allen Sports Deluxe Hitch rack is the best bike rack for your car. It has good value for the money and several neat features.
MSRP $430 (REI)
Takes 2 bikes
HitchSwitch feature allows rack to be easily tilted down
Rack Weight: 19 lbs
Thule Helium Pro 2 is one of the simplest hitch bike mounts for a car we tested. The rack takes just a few minutes from the box to get it ready to accept bikes. It is truly tool-free, as it already comes fully assembled. It is ready to use, contrary to some other hitch racks we tested, which came with Allen keys and multi-page instructions.
Helium Pro 2 is easy to secure in the hitch and remains rock solid even after driving on bumpy roads. It's one of the lightest models out there, which makes it worth every penny.
This Thule bike carrier's biggest advantage is its wide range of adjustments. That makes it a piece of cake to fit different types of bikes. Moreover, it comes with adapters for 1.25″ or a 2″ hitch. After sliding the rack into the hitch just turn the knob on the rack to find the ideal fit. To achieve the perfect fit, just turn the knob a few turns.
Once you've secured it as tight as possible, make sure to use the locking mechanism to prevent thieves from stealing the rack. We have never heard of anyone stealing it, but better be safe than sorry.
Consider also: Kuat Bike Racks
A quick lift of a lever near the arms of the rack allows you to tip it backward and get free access to the rear of the vehicle. If it's an SUV with a rear window, then it can be opened separately.
Key Features
Ultra-Light: Its aluminum weighs half the weight of most hitch racks.
HitchSwitch feature allows the rack to be easily tilted down to access the trunk of the car
Its no-sway cages prevent bike-to-bike contact and absorb the road shock as well.
Sleek Aero-design improves ground clearance and increases the distance between bikes to offer maximum protection.
Interested in more options? Take a look at our full list of the best hitch bike racks.
Thule OutRide
Best in Class! Best Selling World-Wide
MSRP $200
Takes 1 bike
Compatible with standard 9mm axles and most disc brakes
Weighs 5 lbs. 8 oz.
The Outride is the lightest Thule bike rack for the roof that you can get your hands on. Its lightweight aluminum construction means you can easily lift it up and mount it on your car. It takes just one bike but has a low-profile design and plenty of safety features.
The maximum weight of the bike you can fit on it is 37.5 lbs. which is pretty impressive considering the constructions weighs just 5 lbs. The maximum tire width is 3″, so you can feel free to strap a road bike or a mountain bike on it.
One of the reasons we think Thule OutRide is the best roof bike rack is that it has a super-secure locking mechanism.
It locks the bike rack to the vehicle and the bike to this rear bike rack, so the two are not going anywhere unless you want them to.
Apart from being light, this Thule rack is also pretty easy to use. It has a lockable skewer with an adjustment lever located on the same side, which allows for fast loading and added security.
One of the downsides of many roof-mounted bike racks is that you need to remove the front wheel before you mount the bike. That's the case with the OutRide as well. Therefore, consider whether or not you'll find room in your trunk for the wheel.
Yakima HighRoad
Best Wheels-On-Roof Bike Rack
MSRP $249 (REI)
Takes 1 bike
No wheel removal and no contact with the frame
Integrated lock loop
Yakima HighRoad is a premium rear bike rack that comes at a pretty affordable price. It's one of the best roof bike racks on offer that do not require front wheel removal, which is a big plus. All you need to do is lift the bike up, strap the wheels, and you're good to go.
HighRoad is constructed in such a way that it makes no contact with your bike's frame. Therefore, if you have a carbon bike or a delicate custom paint job, this is the feature that you'll appreciate the most.
Yakima HighRoad is extremely easy to use with different types of cars and bikes and is available at a tempting low price.
Yakima's wheel hoop fits wheels between 26″ and 29″ in diameter and tires between 23 mm and 3.25″ in width. That means you can take all sizes and types of bikes with you. Unfortunately, that excludes kids' bikes with wheels smaller than 26 inches.
This bicycle rack for cars is easy to use overall thanks to an integrated TorqueRight knob that firmly secures the bike in a few easy steps. To mount HighRoad onto your car, you do not need any tools, and it fits almost all bike roof racks out there.
So if you want the best roof bike rack for your good-looking high-end bikes, Yakima HighRoad is a pretty foolproof vehicle bicycle rack.
Yakima Universal ForkLift Bike Roof Rack
MSRP $199 (REI)
Takes 1 bike
Fits most forks with disc brakes
Weighs 9 lbs.
Yakima Universal ForkLift is another one of the best roof bike racks you can get if you are a carbon bike owner. It features a 3-way mounting system that can securely fasten almost any bike that you have.
This Yakima model takes just one bike and its mounting system is compatible with most forks. It also comes with a lockable skewer that allows for simple one-handed operation.
Yakima Universal ForkLift is the best rack for owners of expensive high-end bikes with delicate carbon frames.
This roof bike rack has a maximum weight capacity of 35 lbs. and weighs just 9 lbs. Therefore, it's best suitable for road bikes, but you can mount pretty much any type of bike, except for some e-bikes due to their weight.
Moreover, the sliding rear tire strap means that you can adjust the rack to fit different wheelbases and thus different types of bikes. When you make a stop to take a break, you don't have to worry about your bike thanks to the lockable skewer that secures both the bike.
Yakima Universal ForkLift is a safe and affordable bicycle rack for cars for all carbon bike owners!
Saris Bones 2
Best in Class! Best Arc-Based Design
MSRP $180
Takes 2 bikes
Anti-sway design
Fits sedans, hatchbacks, and minivans
Saris Bones 2 is an innovative bike rack for car trunk with plenty of handy features make it the best pick in this category, in our opinion. It takes two bikes that strap to the top tube. That means that you can only take step-over bikes with you. However, with a special adapter that you can buy separately, you can take step-through bikes as well.
Its arc-based design is important because it allows you to separate two bikes to different levels, which will help you mount them more easily and protect the frames from chipping.
Saris Bones 2 is one of the most dependable trunk-mounted bike racks suitable for different types of cars, including those with spoilers.
Saris Bones 2 is made from heavy-duty recyclable plastic that will never rust or decay. It also features a cradle design that's suitable for different frame designs and won't damage the paint.
Another great feature is anti-sway feet that prevent bikes from hitting your car and damaging the trunk or other parts.
Saris Bones 2 weighs just 10 lbs. 8 oz. which is not the lightest out there, but it's still more than light enough for anyone to lift and strap to the car. The maximum weight per bike is 35 lbs., which means you can take most bikes with you, except for some e-bikes that are heavier than that.
Saris Bones EX 3
Best for Saloon and Estate Cars
MSRP $250 (REI)
Takes 3 bikes
Premium cradles with road damping technology
Weighs 13 lbs.
Saris Bones EX 3 has soft rubber cradles that protect your bike frame while holding it securely. NoSway clams with integrated soft-touch strips prevent bike-to-bike contact, as well as bike-to-vehicle contact.
There's no chance of paint chips anywhere. When not in use, the arms of this bike rack for car trunk can be folded down and soft leg pads protect the trunk and hatch.
It quickly secures the trunk and/or hatchback seams with straps just like other carriers in its class. What makes Saris Bones EX 3 special is its wing adjustment knob and numerous combinations with recommended numerical positions for specific cars.
It means that the assembly is quite easy for everyone.
Key features

:
It can carry up to 3 bikes on the trunk of your car.
No scratching – it has Soft rubber cradles which protect your bike while holding it securely.
Its soft cushion pads protect the trunk and hatch.
It has a firm multi-strap system that secures the rack to the vehicle.
If you're driving a sedan or an estate car, Saris Bones EX 3 is by far the best bike rack you can get. It mounts quickly, it's suitable for all bike types and fits most cars out there.
Yakima Halfback 2
Most Adjustable Model
MSRP $219
Takes 2 bikes
4-strap design
Comes with a Yakima signature bottle opener
Yakima HalfBack is the best rear bike rack considering the price, design, safety features, and additional functionalities. Yakima is a renowned brand in the bike rack world, meaning you get a guaranteed high level of build and quality.
This trunk bike rack can carry 2 bikes that attach via the top tube. The maximum weight per bike is 35 lbs, whereas the total weight of the entire rack is just 20 lbs.
Yakima HalfBack is an all-around high-quality bike rack for car trunk that comes with premium features and an accessible price.
Thanks to numerous adjustment points, Yakima HalfBack can fit different types of cars. Before loading it with bikes, it's important to follow the instruction properly and check whether the straps are tight enough. If you attached it properly, this bicycle carrier will not budge at all.
The arms fold, so you can get them out of the way when you dismount the bikes. Yakima's anti-sway cradles prevent the bikes from swaying and hitting your car, no matter how bumpy the ride.
Last but not least, Yakima HalfBack comes with a bottle opener, so you can enjoy a cold one once you finish the ride.
Thule Spare Me 2
Most Adaptable Bike Carrier for Cars
MSRP $350 (REI)
Takes 2 bikes
Attaches to the spare-tire bolt pattern
Includes locking cable and locking knob
Actually, I didn't know about the Thule Spare Me 2 before, which is quite interesting. It is probably the best bike rack for SUVs as they usually have a spare tire on the outside and they are quite high.
I can say that it's a nightmare to put a bike on a tall car's roof. So, it's a pretty brilliant golden bike transporting solution for SUVs.
Related: Best Bike Rollers and Trainers
Key features:
Can be attached to any spare tire with a heavy-duty mounting plate.
Fits any spare tire size.
Has a locking knob for protection against theft.
It has Stay-Put Cradles which hold the bike in place and an anti-sway system that protects the bike(s) and offers stability against bike to bike or bike to vehicle contact
Arms can be folded down when you don't use the carrier
Thule One-Key is compatible with it.
If you ride an SUV and you have a spare tire, then don't even bother yourself with other types. If you don't have a spare tire or you don't trust this type for some reason, then I suggest you use the hitch type.
Thule Spare Me 2 provides the most value for money and the most adaptability, which will definitely come in handy if you ride an SUV with a rear-mounted spare tire.
They also provide 2 different sized brackets with additional thread extenders for the main support bolt.
EXTRA SECURITY: There are 2 locks included with it, one that secures the rack to the car and another one that secures bikes to the rack.
Yakima SpareRide 2
Best for Off-Road Travel
MSRP $349 (REI)
Takes 2 bikes
TireTread pads for stability
Integrated SKS locking cable
If you drive a car with a rear-mounted spare tire, the Yakima SpareRide 2 is a must-have. It attaches to all sizes of tires, including oversized truck tires (P195 to P318). So, no matter what kind of a monster truck you're driving, you'll be able to take two bikes with you.
As you can guess from the name, SpareRide 2 takes two bikes of up to 35 lbs. each. The weight of the bicycle carrier itself is 29 lbs, which is not the lightest, but it's reasonable considering its heavy-duty steel construction. As a result, you can expect maximum strength and durability.
Yakima SpareRide 2 is a no-brainer for SUV owners due to its adjustability and a super-strong steel construction.
The cradles feature Yakima's SuperCush padding, so there's no need to worry about any damage to your loved bikes. They also feature anti-sway technology which prevents bike to bike contact and bike to car contact.
Apart from attaching your bikes firmly and securely with Yakima's ZipStrips, you also get an integrated SKS locking cable to lock your bikes to the rack. Thieves can just watch and cry.
If you have bikes with step-through frames, you can use a TubeTop attachment to carry them as well. However, you'll have to buy it as it's not included in the original package.
Thule Bed Rider Bike Rack
Best Rack for Pickup Trucks
MSRP $250 (REI)
Takes 2 bikes
No bolting or drilling
Weighs 9.9 pounds
If you have a truck, you can carry your bikes using a hitch-mount bike rack, but there's one alternative you should consider as well. I've personally never used it but it seems to be the best. The truck bed should be the place to store your items, so pick the right bike rack for your pick-up truck.
This model also offers protection from rear collisions, which is a pretty big concern. The best truck bed bike rack we're talking about is Thule Bed Rider!
It takes two bikes with wheels between 20″ and 29″ in diameter, so you can bring either yours or your kid's bike along. This bicycle carrier makes absolutely no contact with the frame, so you can forget about chipping and frame damage, even if the ride is bumpy.
This Thule rack basically has no weight limit, so you can strap any bike to it. The bikes attach in a matter of seconds, by the front wheel, so mounting is super easy.
Key Features:
More bikes can be fit with the Bed Rider Add-On Block
It is quick to install in a pick-up bed, its installation does not require any drilling or bolting, wheel removal or frame contact.
Truck's tailgate bed gap should not be greater than half an inch.
Three 1-key lock cylinders are included to lock bikes to the carrier and the carrier to the truck
Thule Gatemate Pro
Premium Protection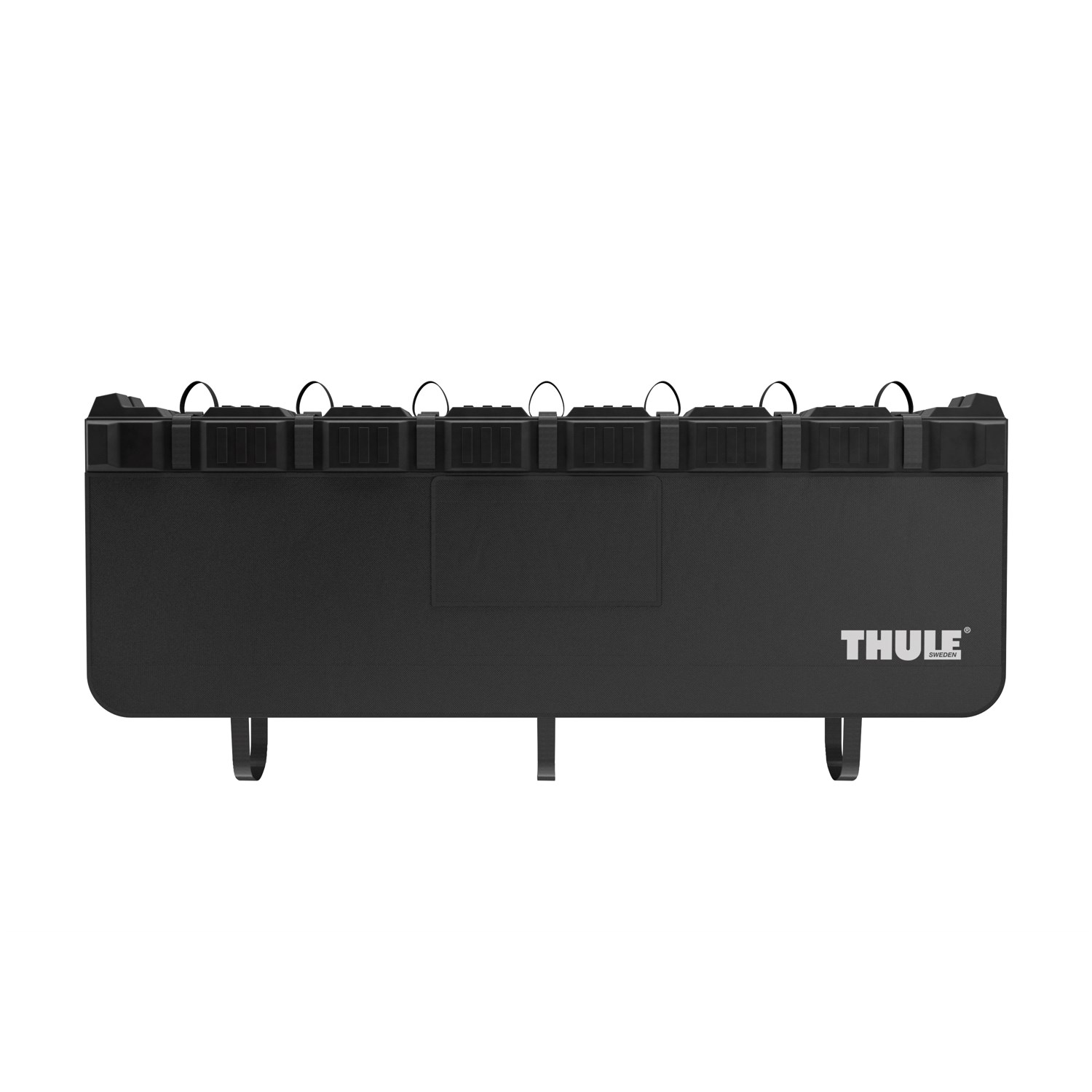 MSRP starts at $200 (evo)
Takes 7 bikes
Available in one size
Weather-resistant fabric
One of our favorite ways of transporting a large number of bikes if you have a pick-up truck is using a tailgate pad. Think about it, if you have a truck, you already have a bike carrier. All you need is some padding and straps to protect your bikes and your truck. That's exactly what the Thule Gatemate Pro tailgate pad is.
Thule Gatemate Pro Tailgate Pad takes up to 7 bikes which is more than enough for yourself and most of your buddies if you're the one on shuttle duty.
It's made from nylon vinyl materials that repel water, offer maximum cushioning for your bikes' and truck's delicate paint, and are pretty durable. They're resistant to wear and tear, so this tailgate padding should last you for a long time.
You can get this Thule bike rack in one size that's 62″ wide, so make sure it is compatible with your truck.
Thanks to downtube straps and foam dividers, there's no reason to worry about your bikes in the back, so you can fully focus on the road in front of you — they're not going anywhere.
RMU Tailgate Locker 2.0
Best Tailgate Pad with Storage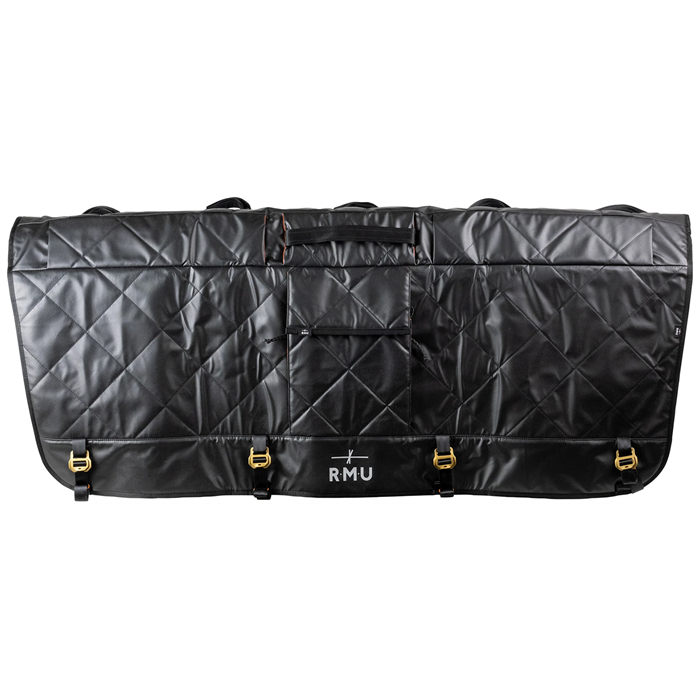 MSRP $229–239 (evo)
Takes 5 bikes
Plenty of storage
Aluminum buckles and straps
If I had a truck, the RMU Tailgate Locker Truck Pad would be the one I'd choose. The reason is simple, you get the most bang for your buck from all the available bike carriers for cars out there.
First of all, RMU Tailgate attaches quickly and easily to your truck and straps up to 5 bikes securely. It comes in two distinct sizes, so make sure to do the necessary measurements before purchasing:
Size Large (61″ x 20″) – Fits a 2015 Ford F150 Best
Size Small (54″ x 18″) – Fits a 2015 Toyota Tacoma Best
The models mentioned up there are just the best fits, that does not mean you can use this bike carrier with other trucks if the size is right.
If you are a beer lover and you have lots of bikes you want to take along, the RMU Tailgate locker truck pad is packed with features you will absolutely love.
The main selling point are the numerous pockets you can use to carry multitools, spare parts, food, clothing, and so on. You can organize everything nicely and have it at hand's reach at all times.
Some other great features you should know about include:
Reflective screenprints
Weatherproof
Aluminum buckles
Scratchproof
In-bed storage pockets
EVA padding
---
—OTHER—
---
Sea Sucker Bike Roof Rack
Attaches Anywhere
MSRP Check on Amazon
Takes 1 bike
Unique feature 1 or weight
Unique feature 2 or weight(if it has)
When I first saw it a few years ago, I was in awe and thought, "Is that a bike on a Porsche?!" Today it's still a superb idea!
If you cannot find a suitable bike roof rack for your car and you need a good alternative, then there's something for you we can recommend and it's called the Sea Sucker. This is a suction cup bike rack that can be attached to all car body types.
If you have a car with a unique body type, the Sea Sucker is the best rack. It fits any car out there and is 100% secure.
You can simply attach it to your car and that's it. Its main disadvantage is that it is not secure enough and it might easily be stolen.
This suction cup roof rack can be attached basically to any vehicle by using three powerful, safe and easy-to-use vacuum mounts. To attach your bike, you'll need to take the front wheel off and use the fork as the pivot point.
The rear wheel is secured with a heavy-duty strap that won't let it move anywhere.
The main advantage of using this type of bike carrier, apart from its versatility, is that the vacuum mounts can never damage your car. Even if you attach it to a Porsche or a Lamborgini, there's nothing to worry about.
Each one of the suckers is rated at 210 lbs, so don't be afraid to strap any bike to it. It will be in safe hands.
Three bike option also available on Amazon
FAQ
Read, how to choose bike racks
Sharing is Caring
P.S! Found this article useful? If you have, please share my page below and help me spread the word. This keeps me motivated to keep the information on this site accurate and up to date. 🙂