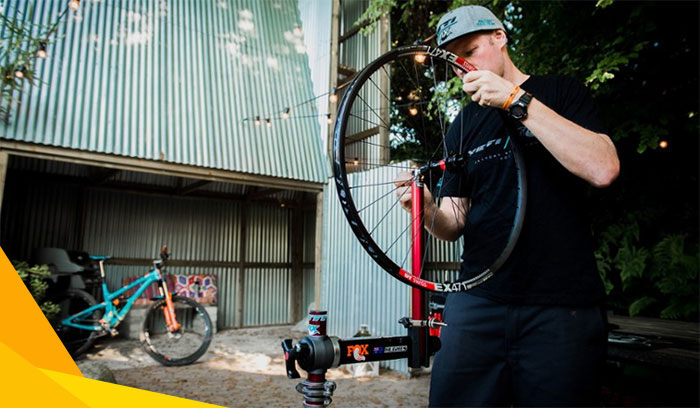 Best bike repair stands for home mechanics and those with aspirations of setting up a permanent workshop.
We're all guilty of flipping our bikes upside down to do a quick adjustment or repair. All too often, that results in a scuffed handlebar or damaged saddle.
That's why a good bike work stand is a must, no matter if you're an avid cyclist or an occasional rider.
It makes bike repairs safer and more convenient, freeing up your hands and giving you a better view of the components you're working on.
Read our in-depth review of the 8 best bike repair stands and then scroll further down for a quick guide on how to choose the one that's right for your needs.
A Short Introduction to Bike Repair Stands
Technically, a bicycle repair stand is a simple tool. All it needs to do is keep your bike aloft so you can have an easier time working on it.
But, as is usually the case, things are a bit more complicated than that, which is why some bike repair stands work better than others.
Bicycle stands come in different shapes and sizes. They differ in the way they hold the bike, the two most common types being clamp-style (a clamp mechanism grips onto the frame or seat post) and euro-style (hold the bike via the bottom bracket and front axle) bike stands.
They differ in terms of portability and storage as well. Some have legs that fold for easier storage and travel, whereas others can be permanently mounted to a wall or a workbench.
Weight limit is also an important consideration, especially if you have a hefty e-bike that would put a strain on some cheaper models.
We've tried to include as many different types as possible in our list of the best bike repair stands below. But if you're still unsure of which type is the best for you, we recommend reading the guide first.
---
Best Bike Repair Stands
---
Park Tool PCS 10.3
Best for All-Around Home Mechanics
Weight: 21 lbs 6.4 oz.
Height range: 39-57 inches
Maximum capacity: 80 lb. (36 kg)
A high-quality Park Tool bike stand is almost a must in any serious home mechanic's arsenal. Though Park Tool is a favorite in professional workshops as well.
Its Deluxe Home Mechanic Bike Repair Stand that we have here has been around for a long time.
Related: Why Bike Maintenance Is Important
It has been refined time and again to achieve maximum stability and practicality while remaining reasonably affordable for the average cyclist.
The clamp has a cam-actuated design that allows micro-adjustments and fits all shape tubes, including aero and dropper posts. It's rubberized, so it will protect even a carbon frame from damage and scratches.
When opened, the base forms a triangle of 36 x 36 x 48 in., whereas when closed it measures 45 x 14.5 in. It can easily hold bikes that weigh up to 80 lbs (e-bike friendly) and has a 39-57″ height range, so you can work on your bike standing and seated.
This Park Tool bike stand is a no-brainer if you want a tried and true product that gets the work done.
Feedback Sports Ultralight Work Stand
Best Bike Repair Stand for Travel and Easy Storage
Weight: 10.5 lbs (4.8 kg)
Height range: 35.6″ – 57.7″
Maximum capacity: 65 lbs (29.5 kg)
If you're looking for an easily portable bike repair stand to take on cycling travels, the Feedback Sports Ultralight Work Stand is a great choice.
Related: Bike Repair Kits
The entire stand weighs just 10.5 lbs and has a 65 lbs maximum capacity. While that might not be enough for some beefy e-bikes, it will easily support all other bicycles.
Feedback is famous for its high-quality clamp mechanism that is easy to use and allows for very small quarter-turn adjustments.
This bike work stand is also completely corrosion and rust-resistant as it's made from anodized aluminum. Therefore, you can use it to wash your bikes or even permanently leave it outside.
Feedback Sports' Recreational repair stand is a durable, steady, and budget-friendly option. Therefore, you may rest assured that all the tiny details have been covered.
The 60lbs load capacity means, that this repair stand can be used on most road, fitness, mountain, and electric bikes.
The stand's 360° rotating clamp design provides easy access, so you can easily get to every part of your bike.
Related: Bicycle Chain Cleaning + Maintenance Tips
The stand is portable and compact, coming in at 10″ x 4″ x 55″
Feedback Pro-Elite Work Stand
Best Clamping Mechanism
Weight: 12.6 lbs
Height range: 42 -71″
Maximum capacity: 85 lbs
The Feedback Pro-Elite Work Stand is an excellent option on the road, in a home mechanic's garage, or in a professional workshop.
It has by far one of the best and most practical clamping mechanisms off all the bike repair stands we're showing you today.
Its ratchet-style closure allows for super delicate adjustments and a quick-release button lets you unclamp the bike in a second.
The Feedback Pro-Elite stand is made from aluminum, so it's super durable and has an 85 lbs maximum capacity.
With a 42–71″ height range, it's suitable for even the tallest mechanics out there.
Best Bench-Mounted Repair Stand
Weight: 7 lbs 5.25 oz.
Clamp size range: 1 to 3 in.
Maximum capacity: 80 lbs
If you have a designated workbench where you're always working on your bikes, this Park Tool bike stand will make your life easier.
It mounts directly to your bench, at your preferred height, and holds bikes that weigh up to 80 lbs. Thus, you can work on pretty much all two-wheelers in your arsenal.
The construction is made from durable steel and the clamp has a cam-actuated mechanism that's easy to use.
You can use it on bikes with tubes 1 to 3 inches in diameter and the clamp is 360° rotatable, so you can get to all the weird nooks on your bike.
Foundation Bench/Wall Mount Repair Stand
Best Wall-Mount Repair Stand
Clamp size range: 1 to 3 in.
Distance to wall: 16″
Maximum capacity: ~50 lbs
This Foundation bicycle repair stand is an affordable option that you can attach to the wall or your workbench. Therefore, it's extremely versatile.
The distance from the wall to the middle of the jaws is around 16″, so there's plenty of space there even for mountain bikes with 780 mm handlebars.
Related: Best Mountain Bikes
The clamp is easily adjustable, rotates through 360°, and some height adjustment is possible as well.
The only disadvantage this work stand has is that it has a ~50 lbs maximum capacity, according to Jenson USA's staff. Therefore, it might not be suitable for heavy e-bikes.
Bikehand E-Bike Repair Stand
Best Bike Repair Stand for E-Bikes
Weight: 13.85 lbs
Height range: 39–59″
Maximum capacity: 110 lbs
The Bikehand E-Bike repair stand is the best deal if you want the highest weight loading capacity at the best price.
This bike floor stand is ideal for heavy e-bikes as it has a 110 lb weight limit. Not that we've heard of e-bikes that weigh that much, but it's better to be safe than sorry.
Consider also: Best Garage Bike Racks
The two-legged design is similar to a Park Tool bike stand, so rest assured it's stable even when adjusted to the highest position (39–59″).
The clamp rotates 360°, has a quick-release mechanism that's easy to adjust, and the rubberized jaws won't damage your paint.
On top of that, the package also includes a metallic tool tray that will securely hold your tools and parts.
Topeakmart Portable Mechanic Bicycle Repair Stand
Best Cheap Bike Stand for Home Mechanics
Weight: 17.6 lbs
Height range: 42.5″-74.8″
Maximum capacity: 66 lbs
In case you're looking for an affordable bike floor stand to use for washing your bike and occasional tinkering, we recommend checking out this Topeakmart model. Not to be confused with Topeak, though.
It's not as sturdy as the other models we've shown you, it will get the job done. It's perfect for tall people thanks to the 42.5″–74.8″ height range, and it can hold bikes up to 66 lbs heavy.
The clamp is solid, but the clamping mechanism is cumbersome as there's no quick-release handle. Instead, you need to turn a knob a few times to get the desired tension.
Surprisingly, this bike stand comes with a balance bar to keep the handlebars from turning, as well as a handy tool tray. Not bad for the cheapest model on this list.
Styles of Repair Stands
---
Depending on the free space you have at home and the type of bike you have, you might be better of with a clamp-style or a euro-style/race-style bicycle stand.
These are the two most common types that differ in the way they hold the bike up.
Clamp-Style
Clamp-style bike repair stands are the more common and the less expensive of the two.
They use a clamp mechanism to grab onto the top tube or seat post and hold the bike up.
Versatility is their main advantage, so you can use them to work on any bike you have.
The clamp is circular, but with some additional padding or a soft rag, you can safely hold even an aero bike with weirdly shaped tubes.
Of course, if you're working on an expensive carbon bicycle, it's best to hold the bike by the seat post to avoid scratching the paint or damaging the frame.
Clamp-style bicycle repair stands come in different shapes and sizes. Some fold down and store away, others are static, whereas some mount to a wall or a workbench.
If you're an average cyclist looking to work on different bikes, this is the type to go for. It's the same reason that most bike shops use clamp-based stands as well.
Euro-Style / Race-Style
The euro-style or race-style bicycle stands hold the bike by clamping the front or rear axle and resting the bottom bracket on a cradle.
They are not as common as clamp-style stands, but they're a great choice for aero bikes with irregular tube shapes and expensive carbon frames.
A race-style bike workstand lets you rotate the bike through 360 degrees, but that requires enough room in your workshop to maneuver.
The fact that you need to remove a wheel to attach a bike can be a pain if you're trying the wheels or adjusting the brakes. Once you're finished working on one side, you need to flip the bike around, remove/attach wheels, and then continue working.
Also, if some of your bikes use QR skewers and others have thru-axles, you'll need special adapters to work on both.
So, unless you have an aero bike or an ultralightweight carbon race road bike with paper-thin tubes, a clamp-based bike stand would be a better choice.
Key Features to Look Out For
---
In addition to differing in the way they hold the bike up, there are other nuances to keep in mind when looking for the best bicycle stand, such as materials, stability, portability and storage, weight limit, and so on.
Stability
Stability is an important factor to consider when shopping for a bike repair stand.
A stable stand won't tip over and damage your bike while you're working on it.
Of course, the bicycle stands with the largest footprint are the most stable ones. Though flimsy materials that some very cheap models are made from can negate that.
In most cases, simply centering the bike on the work stand would be enough to avoid a catastrophe.
However, when doing high-torque tasks, such as removing the pedals or taking off the crankset, a heavy-duty bike workstand can make a huge difference.
In general, tripod-style stands are the most stable and have the best value for the money. The winner on our list is the Park Tool PCS 10.3.
Storage & Portability
Unless you have a dedicated workshop where you're tinkering with your bikes, storage and portability are important factors to consider.
The majority of the best bike repair stands we've revised fold down conveniently, which makes it easy to put them away when not in use or bring them along when traveling.
Related: Best Bike Travel Cases
The weight of the work stand itself is an important aspect as well, especially if you're neglecting your upper body strength (like most cyclists do).
Some models even come with a carrying bag that keeps everything tidy.
The models on our list with the smallest footprint when folded are the Feedback Sports Ultralight and the Unior Pro Road Repair Stand.
Clamp Quality
Not surprisingly, the clamp is one of the most important parts of a clamp-based repair stand. It's the only part that comes in contact with your bike.
For that reason, you need to ensure that it has grippy rubber-covered jaws that won't damage the bike's paint.
Less expensive work stands have skewers that you need to fidget around to find the right amount of pressure to hold the bike safely.
More expensive models come with ratcheting systems and quick-release buttons that make everything easier and more precise.
It's also important to make sure that the clamp allows for angle adjustments, which are crucial for some repairs, such as bleeding hydraulic disc brakes.
Angle & Height Adjustment
As mentioned previously, angle adjustments are very important when doing certain repairs.
Changing the bike's angle will also give you a better view of certain components, such as brake pads or the headset.
In addition to that, having a good range of height adjustments is something you should think about as well. This is especially important if you're tall, in which case you'll want to hold the bike higher to have easier access to certain components without bending your back.
The Feedback Pro-Elite Work Stand is the best option in this regard on our list, with a 71-inch maximum height. However, keep in mind that the taller your bike is, the less stable it will be as well.
Weight Limit
Most bicycle repair stands have a weight limit of around 65–85 lbs. That's more than enough for the majority of carbon, aluminum, and steel bikes out there. Even when outfitted with heavy-duty accessories.
The only exception when the weight limit might become a problem is if you're working on an unwieldy e-bike. Though most of them are lighter than 85 lbs, except for some cargo e-bikes.
If you want the highest maximum capacity you can get, we recommend the Bikehand E-Bike Repair Stand that can handle up to 110 lbs.
However, the weight of the stand itself increases along with the capacity, so keep that in mind if portability is also an important factor for you.
FAQ
There are no comments yet, add one below.